Trainer Reports
Hear all about conditions and up-and-coming dogs
August 2, 2022
Source: Dinora Wellman
Department: UKC Hunting Ops/American Field
Email: dwellmann@ukcdogs.com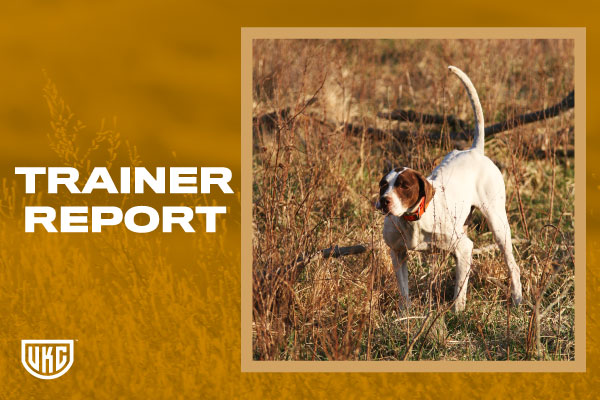 In this column, hear all about conditions around the country and up-and-coming dogs. Think of it as a notebook shared among the field trial community.
August 2022
Date posted: 8/2/22
Location: Pennsylvania
Robert Ecker/Midnight Kennel
Summer 2022 has been especially busy here at Midnight Kennels. Pennsylvania's weather has been very cooperative thus far; cool damp mornings are ideal for our roading and conditioning program. All the dogs are getting into shape as the season looms right around the corner. Birds have been great! Pheasants are growing fast and have been extremely pointable! Woodcock and grouse numbers aren't available yet, but we are hopeful for good numbers. Derbies Buck of Piney Woods (owned by Richard Warters and Dr. George Najor), Grouse Hill Rambo (owned by John Capocci), and Hunter Run's Calais (owned by Bill and Kasey Lenz), all look like they are on track for exciting seasons! Our setters, Sterlingworth Jack and Dun Rovens Midnite Ike (owned by Jim and Dr. Peter Millett), will lead the charge into the Fall wild bird championships. Wishing all our friends great training the rest of the summer!
Are you a trainer with a report to share? Email Dinora
An official entity of United Kennel Club (UKC), the American Field legacy, mission, and Field Dog Stud Book certified pedigree database is carefully managed by UKC for the continued betterment of field trial dogs. UKC is committed to the American Field community, and all hunters, breeders, clubs, associations, and participants.
Back to American Field News >