Result: Florida Open All-Age Championship
Location: Branford, Florida
Post Date: Jan 22, 2022
Submitted By: Tom Word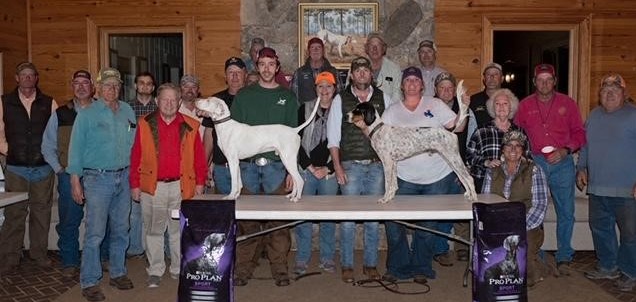 The Winners. In foreground, from left: Josh Norman with the winner, Miller's Unfinished Business, Haily Hayes Moreland with the Runner-Up Woodville's Yukon Cornelius. Behind: Slade Sikes, John Russell, Dusty Derringer, Tom Word, Jamie Daniels (scouted winner), Joel Norman (handled the winner), John Milton, William Smith, Judge Cecil Rester, Holly Rester, Carl Owens (owner of runner-up), Howard Brooks, Judge Woody Watson, Mark Mclean (handler of runner-up), Jerry Raynor (scouted the runner-up), Tommi Smith, Maria Bassham, Ray Warren, and Don Sparrow.
BRANFORD, FLA. -- The Florida Championship commenced Sunday, January 9, at Chinquapin Farm, Branford, Fla., for its 52nd running. Forty-two of the continent's top all-age pointing dogs were entered and birds were plentiful -- wild and wily birds skilled at escape on foot and difficult to flush or relocate and likely to disappear and become un-pointable for periods any time of day.
Judging for the second consecutive year were Cecil Rester of Angie, La., and Woody Watson of Leesburg, Ga., two of the best qualified available. Cecil has bred, developed and campaigned pointers to champion status in major trials for years. He has a formula that works for him, keeping two carefully selected pointer brood bitches and breeding them to champions he selects, then selecting prospects from their offspring and training and campaigning them fearlessly.
Woody has followed a similar strategy, and living in a hotbed of bird dogging is constantly exposed to the best. Both men love trials and give their time generously as judges, while they would prefer to be competing. Such patrons are key to the sport's survival and their ranks shrink inevitably.
The completion was fierce and multiple strong performances emerged in the qualifying 40-minute heats and one-hour finals. Three full days of qualifying and one of finals were uninterrupted. The winners clearly separated themselves with truly outstanding performances. Owners rode and some were disappointed, but none were disappointed by the opportunity Chinquapin provides.
The one cloud on this year's championship was the absence of Ted Baker, the man who makes it possible. All present lamented his absence and are pulling for his quick return. The affection and gratitude of all present were expressed in this, included with a card for Ted signed by all attending the traditional ham supper on Monday evening:
Thank You Mr. Ted
We are the handlers
Here at your trial
The second week of January 2022
We want you to know
How much we appreciate
What you've done for us
You've sponsored the Florida
And before it the Suwannee River All-Age
Back to 1969
Given us Chinquapin
This incomparable place
To run on a week in mid-hunting season
There is no place like it
And no friend of field trialers
Like you
And we want you to know
We love you
Just as you have loved us
The Callbacks and Top Qualifier
The judges called back fourteen of the 42 entries. They did not count finds, rather rewarded all-age qualifying races with bird work that were searching, deep and forward. The best of these was Touch's Red Rider for Luke Eisenhart and owner Tucker Johnson of Hobe Sound, Fla., which in the eighth qualifying brace on Monday morning ran an ideal all-age race and scored with style and manners at 3 left of pipeline and at 24, 31, 33 and 35, all at the front and on reaching casts to win Top Qualifier honors. We will present the qualifying series first, then the finals.
The Qualifying Series
Supreme Confidence (Eisenhart) suffered an unproductive at 7, and handler asked for retrieval unit at 28. Game Ice (Raynor) suffered like fate at 26. Chinquapin Hank (Sikes) scored at 10 and 35 in a moderate race. Rebel Cause (Daniels) scored at 28 in a solid race.
Miller's Stray Bullet (Norman) scored at 30 and at time in a searching race. Erin's Wild Atlantic Way (Eisenhart) was lost at 29.
Touch's Breakaway Fred (McLean) scored at 25 in a mostly forward race. Miller's Blindsider (Daniels) found no birds. Touch's White Water (McLean) found no birds on "27." Lester's Boss Man (Lester) successfully relocated at 20 and scored at 30 and had a strong finish to gain a callback.
Erin's Prime Time (Raynor) found no birds. Knight Moon (Eisenhart) scored at 8 and suffered an unproductive at 27. Touch's Whitey Ford (McLean) found no birds. Dominator's Bull Market (Daniels) scored at 15 and 31 with a far-flung race and good finish to gain a callback.
Touch's Red Rider's qualifying race Monday morning for Eisenhart has been described. Stash the Cash (Lester) scored at 12 but suffered two unproductives.
Touch's Folsom Blues (McLean) scored at 38 and at time with a strong race to be called back. Lester's Another Shockwave (Lester) scored at 5, 22 and at time to be called back. Tommy and Bonnie Hamilton rode to watch their Another Shockwave. They also own Lester's Shockwave and Lester's Storm Surge in Lester's string and rode their braces as well.
Confident Nation (Eisenhart) scored at 11 and 15 in a handling race. Lester's Georgia Time (McLean) found no birds. Touch's Malcolm Story (McLean) scored at 17, 35 and 38 in a strong race to be called back. Miller's Heat Advisory (Carleton) backed a 7 but found no birds.
Miller's Speed Dial (Lester), 2020 National Champion, found no birds. Erin's Silver Lining (Raynor) scored at 15 in a searching race. Dunn's True Reign (Eisenhart) had flight of birds called at 14 and suffered an unproductive at 27. Touch's Joy Ride (McLean) scored at 28 and ran a strong race.
Lester's Storm Surge (Lester) scored at 9 and 12 but suffered a long absence. Dominator's Rogue Rebel (Daniels) scored at 12 and 39 and hunted wide and forward to gain a callback.
Touch's Gallatin Fire (McLean) suffered an unproductive at 4 and was lost at 28. Miller's Unfinished Business (Norman) scored at 7, 15 and 30 in a sweeping race to gain a call back.
Chief's Rising Sun (Carlton) scored at 35 and time and backed at 30. Bonner's Hot Rise (Lester) scored at 5, 8 and 30 in a strong race to be called back. His owner Jannie Chapman rode. Hilltopper's Top Dog (Russell) scored at 15 and 25 and was picked up on handler's motion. Chinquapin Dynasty (Sikes) scored at 11 and was picked up on handler's motion.
Erin's Tin Star (Carlton) suffered two unproductives to be lifted. Woodville's Yukon Cornelius (McLean) scored at 15 and ran an intelligent searching race to gain a callback. Chinquapin Legacy (Sikes) had a find at time in a moderate race. Shadow's Lord Magic (Eisenhart) found no birds.
Lester's Shock Wave (Lester) scored at 19 and suffered an unproductive at 31. Stan Wood Creek (Raynor) scored at 17 in a strong race to gain a call back Senah's Back in Business (Norman) found birds at 3,14 and 20 in a moderate race. He suffered an unproductive at 28. Chinquapin Bill (Warren) backed at 3, found birds at 17, suffered an unproductive at 21 and was picked up to complete the qualifying.
The Finals
Miller's Stray Bullet (Norman) was lost after handler's horse stepped in a gopher tortoise hole and unseated him before the road crossing.
Woodville's Yukon Cornelius, recent winner of the National Free-for-All for McLean, wasted no time, scoring at 6 on an opening cast that took him deep left and forward, a limb find. He repeated at the front at 15 before the road crossing, then scored handsomely again at 25 on course ahead. He reached through the piney woods with forward casts and McLean gathered him for the turn back down the power line to finish where he angled left across power transmission line right-of-way and into cover where at the climax of a deep cast he stood near a palmetto thicket at time. Asked to relocate, he drew on scent fifty yards for a spectacular pin of a single from the covey and all was in order.
It earned him runner-up honors. He had impressed in the finals and qualifying with his long, graceful strides, use of the wind and enthusiasm and his classic style on his birds. Owner Carl Owens of Charleston, S. C., rode.
Knight Moon (Eisenhart) suffered an unproductive at 15 and another at 28 to be lifted. Dominator's Bull Market (Daniels) was forward and deep, scoring in the south-west corner at 21, and again at 43. He had a rabbit at 45 and finished well for a good race overall.
Touch's Red Rider (Eisenhart) scored at 13 but was picked up. Touch's Folsom Blues (McLean) scored at 45 but was also picked up.
After lunch on "27," Lester's Another Shockwave (Lester) was picked up at 45. His owners Tommy and Bonnie Hamilton rode. Touch's Malcolm Story (McLean) was also picked up at 20.
Dominator's Rogue Rebel (Daniels) was picked up at 20. He is owned by Jack and Sarah Schwarz who rode. Lester's Boss Man (Lester) scored at 35 after backing Rogue at 20. He scored an unproductive at 53 and finished.
Miller's Unfinished Business (Norman), laid down a spectacular hour, scoring at 5, 15, 43 and 50, with an unproductive at 37. He hunted with great intelligence, boring deep into the country, always in search of birds. He is a worthy Champion and an exceptional bird dog, as his record shows. He is that rare individual which can compete with ease in top shooting dog or all-age competition, open or amateur. Brace-mate Touch's Joy Ride (McLean) found no birds
Business (call name Dan) was Runner-Up here last year, won the National Open Shooting Dog Championship in 2018, the Masters OSDC in 2016 and 2017, and runner-up in the NAFFA Championship in 2017, handled there and at the 2016 Masters OSDC by Fran Miller.
He is by Just Irresistible x Miller's Bring the Heat and was bred by Fran and Jack Miller and is owned by Senah Plantation at Leesburg, Ga., property of Benjy Griffith.
Sand Wood Creek (Raynor) and Bonnor's Hot Rise (Lester) went on the first morning course to the road crossing but continued on the second morning course at the road crossing which they bypassed. Creek, runner-up at the Georgia last week, laid down a good hour and scored at 32 on left side of Buck's Hill. Rise's handler asked for tracker at 32.
Branford, Fla., January 9
Judges: Cecil R. Rester and Woody Watson
FLORIDA OPEN ALL-AGE CHAMPIONSHIP
[40-Minute Qualifying Heats; One-Hour Finals] -- 40 Pointers and 2 Setters
Winner--MILLER UNFINISHED BUSINESS, 1661405, pointer male, by Just Irresistible--Miller's Bring The Heat. Benjy Griffith owner; Joel Norman, handler.
Runner-Up--WOODVILLE'S YUKON CONELIUS, 1673091, setter male, by Caladen's Davinci--A Tarheel Miss Bo. Carl Owens, owner; Mark McLean, handler.
The Rest of The Story
The Suwannee River Association greatly appreciates Purina's support financially and with dog food. Purina's Greg Blair was present all week riding and was most welcome.
Scouting is key to handling all-age pointing dogs and today's pro handlers work together to accomplish it, a great tribute to the sportsmanship that permeates the sport. And frequent switches because of unavoidable bracings makes it all the more difficult. Somehow there is always someone to help.
This week Mark McLean and Jerry Raynor, who have been working together, teamed for scouting. Luke Eisenhart, Jamie Daniels and Judd Carlton teamed. Jamie helped Joel Norman. Gary Lester had Chris Peek, who works puppies and Derbies for him, to scout. Slade Sikes and Ray Warren pitched in to help with scouting when needed.
As we have come to expect, the staff at Chinquapin worked hard and efficiently to make this trial come off smoothly. Manager Slade Sikes, head dog trainer Ray Warren, and scout-assistant Matt McAllister marshalled efficiently throughout the running. Don Sparrow drove the dog truck, which also serves as chariot for the unmounted gallery (Chinquapin is unique among major trial venues in providing from the dog truck a good view of the action to all the unmounted attending). Dusty Derringer and others wrangled and saddled horses for the judges and guests.
T. Hicks and Belinda Sikes served delicious sandwiches and sides for lunch for all each day, plus vegetables, salad and desserts for the Monday evening traditional ham dinner for all at the Club House.
Special attendees at the Championship were William and Tommi Smith of Moscow, Tenn., staying in their long living-quarters-plus-horse-trailer parked at headquarters. William reports ably the National Championship and is a longtime member of the venerable Memphis Amateur and frequently judges across the nation and in Canada. They are a fun couple and full of trialing inside knowledge. William is a skilled horseman.
Claudia McNamee rode throughout the trial. A resident of suburban Atlanta, she and her deceased husband, a master chef, had interesting accomplishments in the culinary and hospitality industry, catering for Citicorp executives and operating a unique Adirondack corporate retreat. Claudia loves trials and has reported widely, including the Invitational. She sponsors dogs with Luke Eisenhart including currently Dunn's True Reign, Supreme Confidence (owner), and Rentz's Hijacked (co-owner)
Jannie Chapman of Memphis who owns Bonner's Hot Rise with handler Gary Lester rode all week. She is an excellent horse person with great balance for she rode mostly with her feet out of the stirrups. When asked why she said "because my knees hurt." She owns and shows walking horses.
Gary Lester's lovely wife Joy rode horseback one afternoon, then opted for the dog wagon. Ray Warren's wife Janet as well as Slade Sikes' father Gerry also joined the dog wagon entourage one morning.
No one loves field trials more than Haily Moreland who rides front for her cousin (she calls him uncle) Mark McLean. She is the daughter and granddaughter of George (Bubba) Moreland III and George (Big George) Moreland, Jr. (FTHOF). She grew up on Coney Lake Plantation at Leesburg and as a very young girl was training horses, schooled by John Thompson who was like a member of the Moreland family. She works in the critical care industry and undertakes overtime in the summer so she can earn time off for trials. You will see her posing Mark's winners in their photographs, always wearing a big smile.
It was great to see Joe and John Hicks together laughing. Joe's health seems much improved and he enjoys working pups and breaking Derbies at Chester Stokes' The Farm just east of Chinquapin, recent host of the Region 16 Amateur Shooting Dog trial. Chester, a member of the Suwannee River Club, is battling medical problems and was missed at this year's Florida Championship. We all wish him a quick recovery.
It was also good to have Bonnie and Tommy Hamilton riding well mounted at Chinquapin, sponsoring three entries with Gary Lester. Tommy has long been a stalwart of our game -- we remember multiple champions Hamilton's Big O and Hamilton's Blue Diamond, a major breeding influence.
A longtime devotee of the Florida Championship is John Russell of Kentucky, chairman and workhorse of the Quail Championship Invitational for two decades and author of a great book on its history. John brings an entry each year, plus a pup or Derby to work on Loncalla. In 2006, the first year the Championship used qualifying braces, John's Solid Hilltopper, scion of Champion Solid Reward, won Top Qualifer honors for John, a proud moment. There were 90 entries. John has judged the Florida Championship five times. Solid Hilltopper went on to win for John runner-up in the National Amateur Quail Championship and runner-up in Region 4 Amateur All-Age Championship.
The week at the Big House was vastly enhanced by the presence of Holly Rester who provided a dinner of crawfish etouffee and deep-fried speckled trout caught by Cecil, plus Holly's ebullient personality. John Milton as usual proved a master chef with roast chicken, roast turkey and roast pork tenderloin, but most important grits for breakfast to complement T. Hicks smooth scrambled eggs from the blender, plus sausage. Woody Watson provided grouper and snapper from the Gulf. John and Howard Brooks partnered on the fresh ham for Monday's clubhouse banquet. Only Ted Baker's absence distracted.
Present all week was Chris Mathan, professional photographer and much more. She manages the superb Strideaway website, devoted to field trial news and history launched in 2008 with her partner Mazie Davis and since 2019, to promoting youth field trials through Youth Field Trial Alliance, a cooperative project to get young people involved with bird dogs and field trials. It has caught on like wildfire across trialing clubs and among outdoors organizations as Chris explains.
Before moving to Pavo, Ga., Chris lived in Maine and competed in grouse trials while operating her professional design and photography businesses. As a teenager and young woman, she competed with horses in hunter/jumper/dressage competition. She is still an avid grouse hunter.
Chris says: "Youth Field Trial Alliance (yfta.strideaway.com) is a Strideaway Project. Mazie and I started Strideaway to promote field trials and present input from knowledgeable participants in our sport.
"Many outdoor organizations around the country have been cropping up . . . lots of people are seeing the devastating impact social media and mobile phones are having on kid health-wise, mentally and socially. Our sport has so much to offer to counter these things. Our purpose is to promote youth field trials, training days, seminars. We don't get involved in how youth trials are conducted, we just help however we can, connect people etc.
"Our brochure/handout reads:
"Just some of the benefits derived from getting kids involved in our great American sport of Bird Dog Field Trials:
Promotes physical and mental health and wellbeing by having kids active and outdoors -- and off their digital devices! Teaches responsibility through caring for and working with animals. Instills confidence and healthy competition while fostering real life social skills -- friendship, cooperation and sharing. Promotes a lifelong love of the outdoors, dogs, horses and wildlife. Engages young people in local community activities and builds their understanding and appreciation of longtime traditions. Nurtures interest, support and involvement in wildlife conservation.
"Kids are the future of our field trial sports, upland bird hunting, conservation and our sporting life!
" . . .We started the Tips from the Pros email blasts to give to the kids and also involve busy pros in a way that's easy for them. So far that is really successful and we'll continue doing those and providing ad space for our supporters. YFTA has a lot of potential to expand and really help more than we can now if we can get more supporters. For example, we're going to try to design some easy hands-on training seminars that anyone can do at field trials or separately where kids don't need horses or even their own dogs. We have to push the walking trials more . . . parents will run away if the first thing they learn is their kid needs a horse to play.
"One great thing about current youth trials is the number of girls . . . and they're serious and winning. Alabama's Addie McDuffie, age 13, ran a dog in the Amateur Free-for-All last year. They're fearless!"
Those We Lost
Ray Wooten Griffin, Jr. ("Skip") of Dayton, Tenn., died May 7, 2021. He had been long time director of the Suwannee River Field Trial Association, a vice-president of Robinson Manufacturing, headed by his colleague and fellow Suwannee director T. Jack Robinson who died June 28, 2010. Skip and T Jack were vital parts of the club.
Deeply felt this week at Chinquapin was the loss of Charles Darrell Summers, "Cowboy" to all. He drove the dog truck for many years and was top hand in the upkeep of the grounds and feeding of birds, plus mowing, disking and control burning in spring. Cowboy had worked at Chinquapin since 1982. He was an expert horseman and a leader in youth rodeo with his children and grandchildren and other youth in Florida. He was beloved by all.
Recent losses among trialers associated with the Florida Championship include Luke Weaver (June 1, 2021) who loved the trial and Ted Baker and judged here in 2002 when Silverwood won with an epic performance, and Robin Gates (February 19, 2020), the all-time leading winning handler here.
If You Ever
If you ever as a boy or girl
Shot at a grouse or quail
Over a dog pointed
You will know the thrill
For some that thrill persists
And becomes a way of life
An escape from countless worries
A way to capture joy and banish strife
And for a few
The connection with the dog
Becomes the crucial thing
And bird dog field trials an obsession
The beauty of the country
Where game birds live and thrive
Enjoyed aboard a walking horse
Becomes the central drive
Then if you're plum rich
You may buy a quail plantation
If you're not you may work on one
Or you may like most just come and visit
When the trial dogs come to run