Result: Alabama Youth Handler Awards Presented
Location: Union Springs, Alabama
Post Date: Aug 3, 2023
Submitted By: Darron Hendley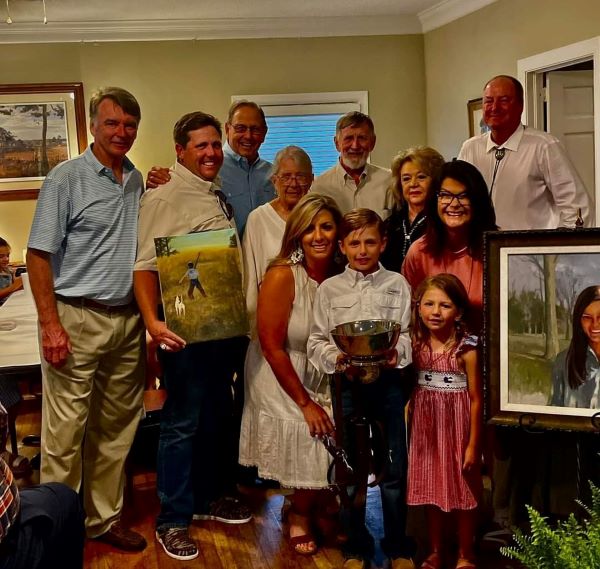 Sterling Woodruff with Darron Hendley, Woody Woodruff (father), Emily Woodruff (mother), Missy Lawrence, Hunter McDuffie, and extended family.
The Alabama Youth Field Trial Association's Handler of the Year awards were presented at its annual meeting on June 24 at the Union Springs Country Club. A delicious steak dinner expertly prepared by Ban Stewart was enjoyed by all before getting down to business.
The AYFTA had five youth trials this year with eighty-six total canine entrees. One trial was rained out. Next season we have seven youth trials scheduled beginning in November through March. This year the AYFTA had nine different youth handlers earn qualifying points toward youth handler of the year. They came from Tennessee, Alabama, and Georgia. At year-end, only two points separated the top two points earners.
This was the first year for a new category of youth handlers for ages 12 and under called the Junior Division. Each youth trial recognizes a top dog handled by a youth handler in the Junior Division. AYFTA put into competition a new revolving trophy in memory of the late Mrs. Pat O'Neall to be awarded annually to the top junior division handler. The first name engraved on the trophy is Hayes Green. Hayes is a fourth-grade native of Union Springs, Ala. He took top dog awards in the Bama Quail, Shenandoah, and Central Alabama trials. In the off-season, Hayes also excels in baseball.
The AYFTA Handler of the Year runner-up is Reese Green. She, too, is from Union Springs. Hayes and Reese happen to be brother and sister! Reese received the Johnny Capps Memorial Trophy for Handler of the Year runner-up and will be awarded a $500 scholarship by the Hartley Carter Foundation when she furthers her high school education. Reese earned her qualifying points by winning the Central Alabama trial and placing at Conecuh Station, Greenway, and Shenandoah. Reese is also the reigning Dixie Trace Youth Handler of the Year. Reese also makes time for her ninth-grade studies, volleyball, and cheerleading.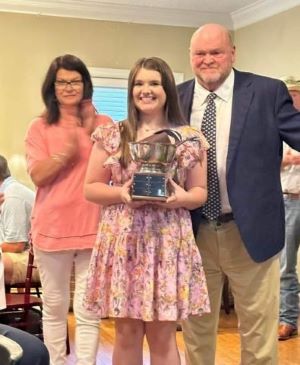 Reese Green with Missy Lawrence and Dr. Rueben Richardson
The 2022-2023 AYFTA Youth Handler of the Year reigns from Shelbyville, Tenn. This remarkable young man is only a fifth grader yet has raised, trained, and shown his six-year-old horse "Shiny" to not one but two World Grand Championship titles in the saddle-horse youth division. He got into bird dogs on a quail hunt with his father at Shenandoah Plantation. He never looked back. In just his third season, he won first place in what is believed to be the two biggest youth trials in the country last season, the Greenway and Shenandoah trial. The AYFTA John William Barnett Memorial Trophy for the Youth Handler of the Year was presented to Sterling Woodruff. Sterling was accompanied by a loving entourage of his proud parents, grandparents, and extended family. Sterling will be back when he furthers his high school education to collect a $1,000 scholarship from the Hartley Carter Foundation.
The AYFA wishes to thank everyone that supports this sport. Individuals and businesses from near and far have helped bring special opportunities to youngsters who otherwise would not know what horseback quail hunting is like. In this day in time, it is more important than ever to expose youngsters to nature, the outdoors, and wildlife. If you or your business would like to know more about the goals of the AYFTA or how you can help, please call Darron Hendley at (334) 300-5836.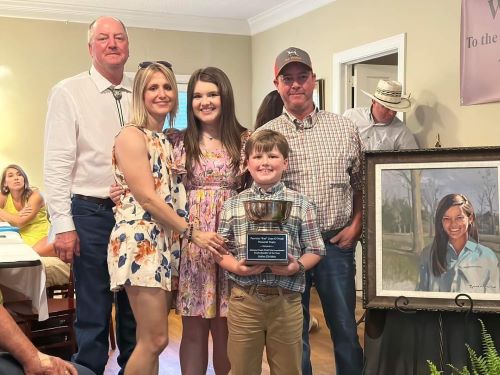 Hayes Green with Hunter McDuffie, Laci Brabham Reese Green, and Justin Green.