Result: Region 1 Amateur All-Age Championship
Location: East Windsor, Connecticut
Post Date: Aug 14, 2023
Submitted By: Jeff Olfson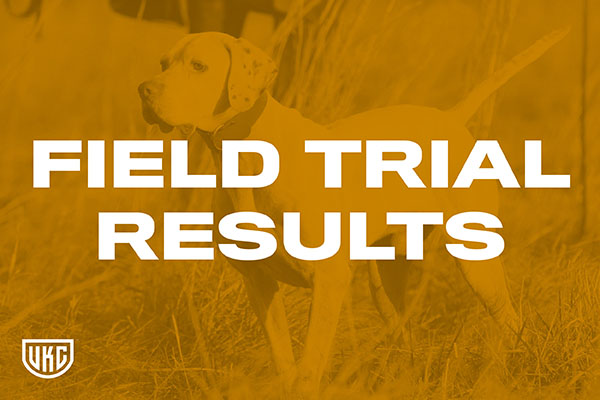 The Region 1 Amateur All-Age Championship commenced Saturday April 29 in East Windsor, Conn., at the Dr. John E. Flaherty Field Trial Area with Judges Doug Ray and John Stolgitis mounted and ready for action. Doug and John are Professional pointing dog handlers and trainers, both with many championships under their belt. We are most appreciative they accepted the assignment.
Under the joint effort of the Dr. John E. Flaherty Field Trial Clubs Association, and it's devoted President Dick Frawley, as well as the State of Connecticut Department of Energy & Environmental Protection, Eastern District Wildlife Biologist Ann Kilpatrick, the grounds were in as good of condition as could be expected. We are thankful and appreciate this continued joint effort.
Pointer female, Calico's Guns N Roses was named Champion. Running in the 2nd brace she set the tone early. She ran a hard charging forward race with 6 perfect finds. She was always forward, and turned up in the right places for her handler Alex Smith. She is a multiple champion, coming off being named Champion of the March 2023 Region 3 Amateur Horseback Shooting Dog Championship with Alex. She is the 2021 Region 2 Horseback Shooting Dog Champion as well as the 2020 Region 1 Horseback Shooting Dog Champion. It was nice to see Frank Henderson, part of the Calico Kennel ownership group in attendance together with his daughter Tiffany Smith, Alex's wife. Calico Kennels has a lot to be proud of with this dog, she has over 10 placements, 5 of which are Championship wins.
Pointer male, Navajo Cody was named runner-up. He ran a strong race, taking edges, always hunting, gorgeous on point. Veteran handler Joe Lordi got him around with 5 finds and 2 backs. Owner Sal Morelli has a lot to be proud with Cody, in addition to this win he also is the 2021 National Amateur Shooting Dog Pheasant Champion.
Many thanks to Greg Blair and Purina for their continued support. We are proud to award PRO PLAN Sport to the winners. We all appreciate Purina's effort and support of all sporting breeds, they are far and away second to none! In fact I know of no one in our New England group of field trailers who does not feed PRO PLAN.
East Windsor, Conn., April 29
Judges: Doug Ray and John Stolgitis
REGION 1 AMATEUR ALL-AGE CHAMPIONSHIP [One-Hour Heats] -
Winner-CALICO'S GUNS N ROSES, 1682136, pointer female, by Dominator's Rebel Heir-Calico's Touch of Class. Calico Kennels, owner; Alex Smith
Runner-Up-NAVAJO CODY, 1668520, pointer male, by Great River Ice-Blaze's Isis. Camille Masiello & Saverio Morelli, owners; Joe Lordi, handler.