Result: Region 13 Amateur All-Age Championship
Location: Ioni, Michigan
Post Date: Aug 28, 2023
Submitted By: William Branham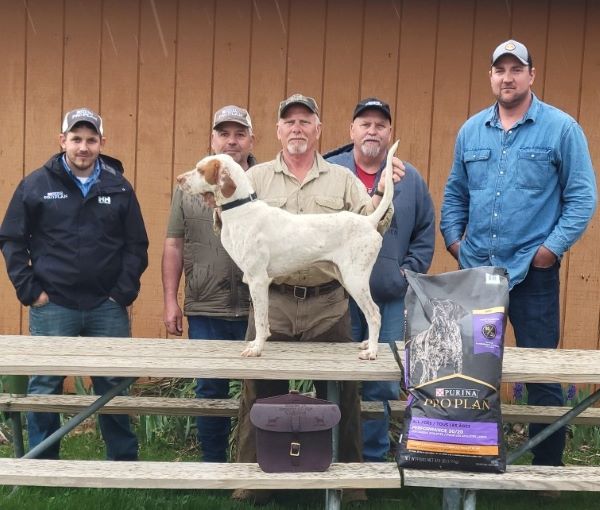 Region 13 Amateur All-Age. Tim McClurg with Mac's Real Macoy. Behind is Mike and Frank Vicari, Ron Williams and Matt Haggis.
The Farmers sportsmen club Hosted the Region 13 Amateur All-Age Championship. At Ionia field trial grounds. We had a great turn out for this Event the weather was great for April in Michigan. Would like to thank our judges the father son team of Frank and Mike Vicari who made the trip from Hampshire, Ill. They were definitely first class judges they gave there undivided attention to each brace. Even though it was a small group of people everyone pitched into make the trial run as smooth as possible.
After Saturday's running we had a small dinner that was put on by the club would like to thank my wife who took the time to organize and cook the dinner. Lastly and most importantly we have to Thank Purina for there support because with out it these trials would not be possible.
The winner Mac's Real Macoy ran in the 2nd brace Saturday morning ran a fantastic forward race for owner handler Tim McClurge with several spaced out finds.
Runner-up was Erin's Rebel Attraction handled by Sean Patrick Derrig for owner Pat Shehan who was injured while judging at another trial.
Ionia, Mich., April 15
Judges: Frank Vicari and Mike Vicari
REGION 13 AMATEUR ALL-AGE CHAMPIONSHIP [One-Hour Heats] - 11 Pointers and 8 Setters
Winner-MAC'S REAL MCCOY, 1686791, pointer male, by Mac's Silver Chief-Mac's Silver Shadow. Timothy McClurg, owner and handler.
Runner-Up-ERIN'S REBEL ATTRACTION,1 691807, pointer male, by Erin's Country Rebel-Erin's Fatal Attraction. Brian Sheehan, owner; Sean Patrick Derrig, handler.
Judges: Bill Branham and Tom Vanecek
AMATEUR DERBY - 9 Pointers and 4 Setters
1st-G F PARABELLUM, 1701640, setter male, by Grouse Feather Hawk-Sky's The Limit. Allen Dunbar, owner and handler.
2d-COCHISE B, 1695918, setter male, by Shagtime Max-Shagtime Hope. Marion Brown, owner and handler.
3d-WINDFALL MACKINAW STRAIGHTS, 1701992, pointer male, by Knight's Last Chipster-Windfall Queen of Soul. Joseph Guzman, owner and handler.