Result: National Amateur Grouse Championship
Location: Philipsburg, Pennsylvania
Post Date: Oct 23, 2023
Submitted By: Dick Brenneman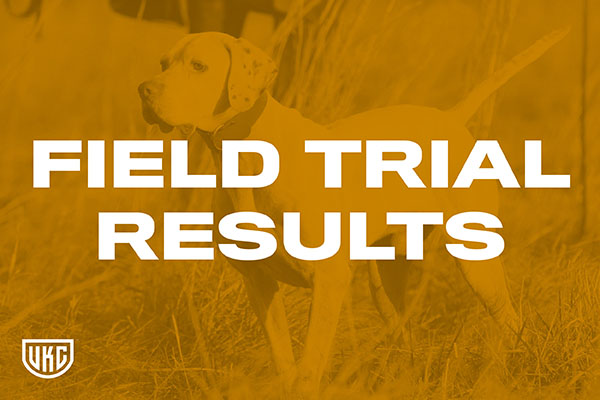 The National Amateur Grouse Championship was held at the Black Moshannon State Forest on September 22-23, 2023. The Black Moshannon Trial Club hosted the event.
The winner was Sudden Silence, a pointer female owned and handled by George Hetrick. She was the bye-dog on course No. 3. She had a limb find at 20 on a woodcock. She was scouted by Doug McMillen, who pointed the handler in the right direction. After a five-minute search, she was found high and tight with perfect manners. Her race was steady and classy on the ground, with excellent rapport with her handler. She hunted the full hour always to the front.
Runner-up was Flambeau River Meg, a female setter owned and handled by Joe Colglazier. Meg ran a big and classy moving and forward championship-type race. She had some difficulty with sharp curves. Meg was called back for a second series with her bracemate Doodle Ridge Elroy. The two dogs were put down for 20 minutes in a woodcock area. Meg had a divided find with Elroy on a woodcock at 10 and a find at 18 in which she had perfect manners.
This was only the fifth field trial ever held on these grounds. Jeff Keller was a one-man crew laying out nine one-hour courses last winter. He spent countless hours during the winter. He had some help from Rob Boos, Brian Ralph, Bruce Mueller, Mark Hughes, Dave Hughes, Eric Munden and your reporter. Jeff has continued to change the courses as needed in order to get into better bird areas and eliminate areas where we were not finding birds.
Moving cars can be a challenge as this is a large area, with some courses taking the full hour to move all the cars. George Tinkerhoff and I were the primary movers, with help from Brian Ralph, Joe Colglazier, Bruce Mueller, John Capocci, and Marty Festa.
Jeff Keller and the Black Moshannon Field Trial Club hosted a lunch after the running at his home in Sandy Ridge. At the end of the running on Saturday, there was also a lunch served at the Black Moshannon State Park, where the winners were announced. Purina sponsored a dinner on Saturday evening, which was held at St. Paul's United Methodist Church in Sandy Ridge.
Judges for the trial were Justin McGrail of Nunica, Michigan, and Dave Hawk from Athens, Ohio. Justin has trained bird dogs and has also guided bird hunting for many years. Dave had many outstanding field trial dogs, including several champion English setters. The judges gave each dog their full attention.
The first brace was turned loose at 8:10 a.m. on course No. 6. Eagle Magnum was hunting to the front, where he had an unproductive at 3. His first half was good, but after the up, his race was interrupted by a number of stops. Two grouse were flushed. Ralphy's Hillbilly was not willing to handle and was picked up at 20.
The second brace was turned loose at 10:10 a.m. after a coffee break. GTF Jack's made some nice casts but was on the path too much because of heavy cover. Doodle Ridge Fern was a classy-moving setter but was also having trouble with the heavy cover, which kept her on the path too much. Two grouse were seen.
The third brace was on course No. 2 starting at 11:40 a.m. Bell Stop Boomer had a woodcock find at 54. He had a hard-driving race but was behind at times. Faith's Maximum Justice was too much dog on this day with a number of absences. He had an unproductive at 50. Three woodcocks were seen during this brace.
The fourth brace was underway at 1:15 p.m. on course No. 3. Grouse Hill Bullet Proof ran a large, classy race but was a little rough at times, being gone for periods of time. Blue Ribbon's Harper Bella ran a nice, forward race. She had a woodcock at 40. She also had a stop to flush on a grouse at 55 and an unproductive at 58.
The second day started at 8:12 a.m. on course No. 6 in the rain. Mountain Top Ryn was a classy running dog that hunted the course well, but with the rain, the handler had a difficult time hearing the bell, so the dog was hard to keep to the front. Dust Devil Maisie ran a big, strong race but was erratic as the handler also had a hard time hearing the dog with the rain. Five grouse were flushed during the brace.
The second brace of the day started at 10:18 a.m. on course No. 1. Stokely B Annie had a grouse find at 10. She ran a classy race at a modest range. Grouse Hill Pepper ran a big race but was gone for periods of time and stayed on the path in heavy cover.
The third brace of the day ran on course No. 2 starting at 11:37 a.m. in hard rain. Doodle Ridge Elroy and Flambeau River Meg both ran big races. The judges commented that both races were championship caliber. Both dogs were called back for a second series. Meg was covered above. Elroy had a divided find with Meg, ran a big race in the callback, and was picked up at 20.
The fourth brace was a bye with Sudden Silence. She was covered above.
Philipsburg, Pa., September 22
Judges: David A. Hawk and Justin McGrail
NATIONAL AMATEUR GROUSE CHAMPIONSHIP [One-Hour Heats] - 7 Pointers, 7 Setters, and 1 Brittany
Winner-SUDDEN SILENCE, 1688968, pointer female, by Double Deuce Zeke-Bucket List Bella. George Hetrick III, owner and handler.
Runner-Up-FLAMBEAU RIVER MEG, 1670686, setter female, by Grouse Busters Zeke-Cornerwood Mya Storm. Joe Colglazier, owner and handler.