Event: Hirollins Bad Boy Wins Title; Waybetter Rebel, Runner-up
Result: Northeastern Open Championship
Location: East Windsor, Connecticut
Post Date: Oct 25, 2023
Submitted By: Tom Gates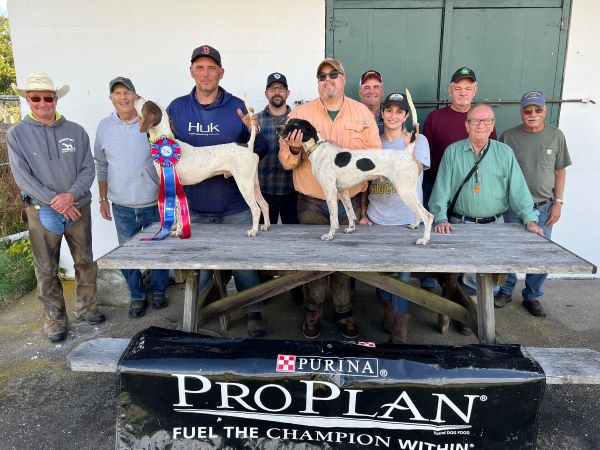 Northeastern Open Championship Winners (front, l-r): Matt Basilone with Hirollins Bad Boy, Craig Santos and wife with Waybetter Rebel, and Pete LaBella. (Behind): Chris Catanzarite (judge), Tom Gates, Ed McKay, Mike Tracy, Kevin Stuart (judge), and Gene Casale.
This pointer male duo was braced together Wednesday morning, October 11. It was by far one of the most thrilling braces ever run at Dr. John Flaherty Field Trial Area in East Windsor, Connecticut.
Hirollins Bad Boy is owned by Ed and Megan McKay of Wall, New Jersey, and was handled by popular professional Matt Basilone. The 3 -half-year-old white and liver pointer male was a sight to behold.
Waybetter Rebel is co-owned by Muriel Primm and Allen Linder. The classy black and white 3 -half-year-old pointer male was handled by our good friend Mike Tracy. Really the kind of dog that you want to take home with you!
Braced together, they were loosed in the 9th brace on Wednesday morning. It was quite evident, right from the breakaway, that this brace was something special! Their ground race was something to behold. High-cracking tails and an abundance of speed had the duo out of sight in a minute. Bad Boy on the right edge and Rebel on the left behind the pond saw Bad Boy scoring the first find with a single. Boy was high and tight, motionless at shot as Rebel backed from 30 feet away. In the back area, Rebel was found standing a single at Fox Hill. Very impressive pointing style! Perfect at flush. At the Tobacco Barn, Bad Boy had the find with Rebel backing. This looked like a Herb Booth or John Donaldson painting! Wow!
Up toward the clubhouse, Rebel was found standing off to the right edge. A covey of quail was flushed for the pretty pointing dog. All in good order. Out to the Dearborn property, Rebel carded another sizable covey find. It was more than thrilling to see birds lift over the head of this handsome pointer - who didn't move a muscle - staying perfectly high and tight! Bad Boy traded ends at the back corner with a pair of bobwhites taking wing at shot. These dogs didn't let up one bit but just got bigger and better as time went on! Always taking an edge or seeking great objectives, both dogs exhibited a fantastic style running. Bad Boy scored his fourth find near time before taking the left edge at the end. Rebel was a driving dot on the edge at time. Awesome brace!
I must take a minute here to commend these two handlers. There's a huge difference between running a dog and showing a dog. In today's world, many handlers and judges don't know the difference. These men are as good as they get as professionals. There was no 'push and pull' at this event. These men exhibited a huge amount of respect and professionalism for each other, complementing each other's moves. Also, it was evident that these two dogs were 'in tune' with Mike and Matt. They looked as if they were having a good time, having fun. Watch how a dog flows with the handler's horse or how the dog reacts to handler after a find. This was special, right to the point where Rebel jumped up on Mike at pick-up and licked his face. I enjoyed watching these two men and these two dogs. Great job. Thank you both!
The judges named two dogs for Honorable Mention that were close to the winners. Southpoint's Hog Wild, a pointer male, who was handled by Mike Tracy and owned by Mark Janier (who rode every brace), was awesome. Hog Wild tallied four exceptional finds and a very competitive race. R Q's Saddle in the 14th brace impressed everyone for Jeanette Tracy. His three finds, and stellar ground race made him a top contender.
The Field Trial
The 65th renewal of this prestigious championship was staged October 9-12, 2023, at the popular Dr. John Flaherty Field Trial Area in East Windsor, Connecticut. Gene Casale, Jr. again chaired the event. Gene has run this trial for more than 30 years. His attention to detail and dedication to the running has greatly elevated the stature of the Purina-sponsored event.
Judges for this year's renewal were Kevin Stuart of Schenectady, New York, and Chris Catanzarite of Scenery Hill, Pennsylvania. I have run dogs and judged many championships with Kevin since the mid-1970s. There is not a more dedicated or qualified judge. Chris needs no introduction. He is also a tenured championship-caliber judge with many titles to his credit. We wish Chris good luck with his champion, Backcountry Bruiser, at the National Amateur All-Age Invitational! Thank you both. The decisions were well made and applauded by all in attendance.
The club would like to thank Mike Tracy, Matt Basilone, and Jeanette Tracy for their entry and continued support of the trial. Missing this year was our old friend, George Tracy, of Glennville, Pennsylvania, due to a medical issue. I cannot remember a year since the early 1970s that George has not had dogs in this championship. I believe George has won this event 20 times and earned over 28 runner-up titles!
This championship has always been known for its professionally detailed structure and famous "Handlers' Dinners." Working with Dick Frawley, president of the Dr. John Flaherty Field Trial Association, and Anne Kilpatrick of Connecticut DEEP, Gene Casale labors all year with the help of David O'Brien to ensure that the grounds are perfect. This year was outstanding! The well-planned mowing, culvert replacements, and clubhouse work must be applauded. In the 50+ years I have been running dogs at this venue, I have never seen it as perfect as this fall. Thank you to the State of Connecticut DEEP and all the Flaherty Association club members for a job well done!
John Olfson and Anna (Casale) LaRose were out every brace to help with bird planting. Mark Janier, Kevin Joyce, Craig Santos, Gary Tavares, Tony Forte, Dick Frawley, David O'Brien, and Pete La Bella were in attendance, lending a hand when needed. Thank you all!
Purina has sponsored the Northeastern Championship for as long as I can remember, which is over four decades! Greg Blair of Purina is a very knowledgeable dog man who provides a huge amount of assistance and support to this championship. A great man and a great dog food! Purina is the choice of everyone that I know in New England. Thank you again, Greg!
Even though retired, Sue Way of Manchester, Connecticut, caters breakfast and lunch for this event every day and every year. For over 25 years, Sue has supported the Northeastern. Thanks again, Sue! "Chef" Tony Forte called me in June after recovering from a debilitating fall to proclaim that he was again planning an Italian Handlers' Dinner for this event. With more than 40 years of cooking for the New England field trial fraternity, the 84-year-old outdid himself this year with a generous dinner of sausage, onion and peppers, chicken parmesan, meatballs, ziti, salad, and all the fixins' on Tuesday night. Wow, what a great meal. Thank you, Tony!
Gene Casales's wife, Pam, presented a fantastic fried chicken dinner Wednesday night. To top that, she served leftovers and pizza after the running on Thursday. Thank you, Pam!
The Running
Away at 8:11 on Tuesday morning, the coveted event saw perfect New England fall weather. Sunny and temperatures in the 40s and 50s prevailed all day.
Brace No. 1: Trumped (PM/M. Tracy) with Smoke N Mirrors (PF/M. Basilone). Off to a hard-driving start, Trumped was found standing with Smoke stylishly backing. Smoke carded a single midway with good manners. This was the only bird work for the two pointers.
Brace No. 2: Hillhavyn's Wild Child (PF/J. Tracy) with Raag's Rich and Rare (PM/M. Tracy). The two stylish pointers were off to a very competitive start. This became a foot race, and neither dog was seen again under contention.
Brace No. 3: Miller's High Heat Index (PM/M. Tracy) with Limbsmoke Urban Lullaby (PF/M. Basilone). This hard-charging duo was exciting to watch. On the right, Lullaby was found standing a single with Index backing. Rolls reversed at Fox Hill; Index logged the find with Lullaby backing from 25 feet away. Nice job. Index scored a single again out on the Dearborn corner. Both dogs finished driving on an edge.
Brace No. 4: Pine Straw Hot Chocolate (ESF/J. Tracy) with Miller's Extreme Heat (PF/M. Tracy). Loosed at 1:30 after lunch, the pointer female brace went bird hunting! Heat scored first with a stylish find on a single. Five divided finds were then recorded with dogs high and tight. Chocolate then logged a covey at time.
Brace No. 5: Jolene Jolene (PF/M. Tracy) with Island Fantasy (ESM/M. Basilone). These two looked fantastic off the breakaway but got bigger and bigger, eventually being lost.
Brace No. 6: Miller's Strolling For Gold (PF/M. Tracy) with Steel Valley Raven (PF/J. Tracy). Gold was a powerful running dog, almost being lost on two occasions. Raven was found standing off course behind the first pond, but birds could not be produced. Attacking the course, Raven scored three picture-perfect singles before a nice finish.
Brace No. 7: Harbor City Sure Shot (PF/M. Basilone) with Miller's Miss Congeniality (PF/M. Tracy). The first brace away on a sunny Wednesday morning at 8:15 under crisp cool skies, although Jeanette Tracy had reported a brief rain shower an hour before. I had promised sunny, clear skies all week! These two were intent, anxious, and deliberate on the ground. Shot logged a nonproductive off-course behind the pond. Congeniality stood a single in good fashion on the right of the road. She was found standing, a covey near Fox Hill with Shot recording a fashionable back. Congeniality was again found standing at the top of the hill, but no birds could be produced. She scored another single five minutes later with all in order. Congeniality logged a nice quail covey going into the Dearborn property, and Shot had a classy quail find in the back of the Dearborn property, then finished far to the front.
Brace No. 8: Iron Bull (PM/M. Tracy) with Steel City Avenger (PM/J. Tracy). A good match for each other, these pointers were powerful and aggressive going. Iron Bull was fast and purposeful on the ground. His only find was near Fox Hill with perfect style and manners. Avenger had an absence after the breakaway but managed to get to the front. He scored a small covey while looking like a picture on point!
Brace No. 9: This brace has been covered.
Brace No. 10: Pine Straw Sweet Tea (ESF/J. Tracy) with Faithful (PF/M. Tracy). An eye-catching brace of pointer females was off at 1:23 after lunch. Sweet Tea took the lead with a stylish single find on the right. At Fox Hill, Faithful was found standing with Sweet Tea backing. Each dog had a find in the Tobacco Barn area with perfect manners. Sweet Tea scored twice more with impressive finds before finishing hard on the left edge.
Brace No. 11: Erin's Big Casino (ESM/M. Tracy) with Fort River's Lucky Charm (ESM/M. Tracy). These two setter males were big-going and a handful at times. Big Casino scored first with a fine covey on the right. Lucky Charm was found standing a single in the backside near Fox Hill. Big Casino added a second covey find out to the Dearborn property and finished strong. Lucky Charm also added a covey near the end with a powerful driving race.
Brace No. 12: The Secret (PF/J. Tracy) with Miller's Automatic Upgrade (PM/M. Tracy). The Secret had a huge, powerful opening cast for Jeanette and was found well to the front with a small covey. Upgrade was on fire, racing forward and swapping ends near Fox Hill for a single. He added a very nice pair of bobwhites at the top of the hill near the Tobacco Barn site.
Brace No. 13: Red Alert Lane (PM/M. Basilone) with Miller's Upgraded Design (PM/M. Tracy). Breaking away under sunny but chilly skies at 8:10 on Thursday morning, these two pointer males were off like a rocket! Their races got bigger and bigger, with neither being found under contention.
Brace No. 14: Miller's Lock and Loaded (PM/M. Tracy) with R Q's Saddle (PM/J. Tracy). Saddle was an exciting dog to watch. He was just incredible on the ground with an abundance of style running. Saddle was found standing an off-course single behind the pond on the left with a high head and on his tiptoes! Perfect at flush. Both dogs had a single at Fox Hill in good order. Saddle found a big covey near the corn at the Tobacco Barn, looking classy on point. Very nice find! Loaded traded ends out back in the Dearborn edge. A pair of bobwhites exploded out low at flush. Both dogs finished strong on the left edge.
Brace No. 15: Southpoint's Hog Wild (PM/M. Tracy) with Southern Shadows Rick (PM/M. Basilone). Hog Wild owner Mark Janier was in the gallery to see a very exciting performance by his handsome pointer. Hog Wild was found standing a covey on the right with more than adequate style. Wow! He made you look at him with his animated gait and high tail, a nice running dog. Rick scored a single at Fox Hill with great pointing style. Hog Wild locked up on the Tobacco Barn covey. Nice find! He traded ends for an off-course single toward the clubhouse. Rick got the covey at the barway going into Dearborn. Aggressive and driving on the ground, Hog Wild scored again in the back of Dearborn on an elusive single. He finished just like he started - driving hard on an edge. Nice dog!
Brace No. 16: Miller's Heat Seeker (PM/M. Tracy). Bye-Dog. Scratched.
Brace No. 17: Miller's Southern Gossip (PF/M. Tracy). Bye-Dog. Ride this dog if you want to see a stellar ground race. What a nice dog! Gossip started very strong and finished the same way - running the edges and hunting the oak tree islands in fine form. She had one covey find at Fox Hill. With more bird work, this dog would have been a contender.
Brace No. 18: Miller's Little Duce Coupe (PF/M. Tracy). Bye-Dog. Another nice running Tracy charge, Coupe found a sizable covey on the right. Nice style on point. A prolonged relocation at Fox Hill and the dog moved on. Her last find was at the Tobacco Barn, with a running single finally taking flight. Great edge running dog.
East Windsor, Conn., October 9 - One Course
Judges: Chris Catanzarite and Kevin Stuart
NORTHEASTERN OPEN CHAMPIONSHIP [One-Hour Heats] - 28 Pointers and 5 Setters
Winner-HIROLLINS BAD BOY, 1689634, pointer male, by Stoney Run's Buddy-Hirollins Fancy Lady. Ed & Megan McKay, owners; Matt Basilone, handler.
Runner-Up-WAYBETTER REBEL, 1689139, pointer male, by Dominator's Rebel Heir-Calico's Country Strong. Allen Linder, William & Muriel Primm, owners; Mike Tracy, handler.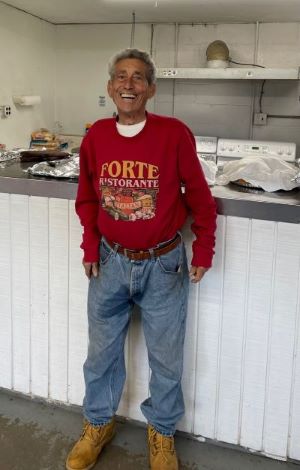 "Chef" Tony Forte