Event: Mo's Curtain Call named first in breeder's Derby Classic
Result: National Shooting Dog Futurity
Location: Bloomingdale, Ohio
Post Date: Oct 30, 2023
Submitted By: Mike Husenits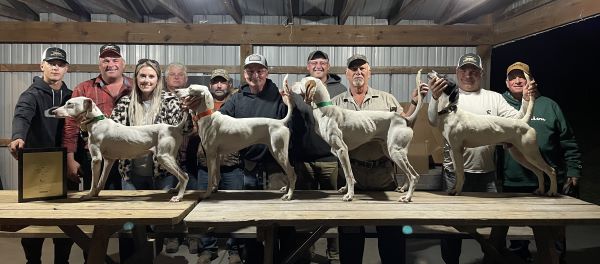 National Shooting Dog Futurity Winners (l-r): Mo's Curtain Call with Madison McDonald, Backcountry Champagnesupernova with Chris Catanzarite, Mac's Slim Jim with Tim McClurg, and Pal's Prestigious Pete with Will Dunn. (Standing, l-r): Rylan Foster, Mike Tracy, Brian Riggle (judge), Aaron McAfee (judge), Mark Hughes, and Lou Palazzolo.
The 60th renewal of the National Shooting Dog Futurity was conducted September 20 at the Mingo Sportsman's Club grounds near Bloomingdale, Ohio. The Futurity and its companion National Open Pheasant Shooting Dog Championship have been conducted at Mingo since departing from their original founding location of Baldwinsville, New York, where the Futurity ran for some 56 years, the Pheasant Championship even longer.
The writer apologizes for not being in attendance at the trial due to a family illness. The information in this report is based on observations made by the secretary and notes from the judges. Thanks to all.
The Futurity appreciates the hospitality extended by the Mingo Sportsman's Club members for providing this excellent venue, complete with a field pavilion where lunches are available, electric hook-ups, sanitary outhouses, and a nearby main clubhouse with shower facilities and a restaurant.
The primary sponsor is Purina; they have generously supported this trial for many years. Thank you, Greg Blair and Karl Gunzer. Thanks also to Lion Country Supply representative Eric Munden for providing gifts and awards.
Weather conditions were a bit on the warm side by afternoon, with temperatures hitting highs around 75 degrees, clouds, and light wind but no rain in sight.
As breeders' stakes, Futurities require that all entrants be duly nominated. The nomination process has been simplified to encourage breeders to enroll their litters within 60 days of whelping. However, in spite of this simplification process, many owners who call to enter their derbies discover their litter was not nominated, and a late penalty fee is then required. In these cases, the breeder's share of the purse goes to the party that paid the nomination. This fact gives reason aplenty for breeders to nominate litters as soon as possible after whelping to avoid confusion later on.
The 26 entries were all whelped in 2022 from 14 nominated litters. The list of breeders with entries included Jack and Fran Miller with five, Tim McClurg and Casey Hollander with three each, Chris Catanzarite, Larry Earls, Tom Brigman, and Sandy Maclean with two each plus seven with a single entry.
One of the trial highlights was the oil painting presentation of gifted artist Mary McPherson of last year's Futurity winner Backcountry Pure Gold, an orange-marked pointer female owned, bred, and handled by Chris Catanzarite, for sure one of Mary's finest. Chris and Nina Catanzarite accepted the painting and provided a catered dinner at the pavilion in honor of Gold's win.
As is the case at most field trials, the bulk of the work falls on the field trial secretary, in this case, Mark Hughes. Mark handled the pre-trial paperwork, advertising, procurement of judges, winner's painting, and sponsors' assistance, plus obtained a supply of chukars for release. Futurity Vice President Chris Catanzarite marshaled, obtained, and released the pheasants. Dave Hughes handled the dog wagon duties, and Carl Bishop generously shared his side-by-side.
Judging was in the capable hands of Aaron McAfee of Clinton, Illinois, and Brian Riggle of Graysville, Pennsylvania. Both brought many years of experience, rode attentively, and rendered their decision based on the performances they witnessed and potential for farther down the campaign road.
The Winners
Mo's Curtain Call, a white and orange marked pointer female owned by Theresa and Jim Morrel and Tim Moore of Fort Gains, Georgia, bred by Casey Hollander and handled by Mike Tracy, gained the judges' fancy for the top spot. From a litter whelped January 31, 2022, sired by Miller's High Heat Index, her dam Osceola's Seminole Wind. Her pedigree is stacked with prominent pointer winners and producers influenced by the genes of Just Irresistible, Dominator's Rebel Heir, Miller's Bring The Heat, extending back to the great Miller's Silver Bullett.
Second-placed Backcountry Champagnesupernova, an orange-marked pointer female owned, bred, and handled by Chris Catanzarite of Scenery Hill, Pennsylvania, was a strong contender for the top spot, from a litter whelped April 1, 2022, sired by consistent winner Dragonfly, her dam Apple Annie's Sweet Delight. Dragonfly is by The Crowd Pleaser x Miller's Calamity Jane Lady. Chris won this Futurity last year and nearly repeated with another fine-looking prospect this year. The dam's side shows multiple champions--Waybetter Rocky, Belfield Silver, and Island Grove Brute.
Named third was Mac's Slim Jim, an orange-marked pointer male owned, bred, and handled by Tim McClurg of Fowler, Ohio, whelped January 6, 2022, sired by Tim's winner Mac's Silver Chief x Mac's Silver Shadow, a line strong in the genetics of Belfield Silver, Miller's Silver Bullett, Rocky River Hank and Bases Loaded, et al. Over the past two decades, Tim McClurg has been quite successful with this bloodline.
Pal's Prestigious Pete, a pointer male owned by Lou Palazzolo of Clarksville, Maryland, and handled by Mike Tracy, was fourth. The stylish youngster was whelped January 10, 2022, from a litter bred by Billy Kerr of Beaufort, South Carolina, sired by Waybetter Jay x Clarendon's Black Eyed Sue. Jay is a progeny of Carl Bishop's line of winning Waybetter bloodlines.
The Running
Pride N Joy (Martino) and Rivertown Gunslinger (M. Tracy). Joy ran an attractive forward workmanlike ground race, notched a barren stand at 18, and recorded a fall derby find at time. Gunslinger, the only English setter in the stake, performed well with a medium-range forward race, pointed stylishly once but unproductive.
Millers Big Upgrade (Fran Miller) and Mac's Slim Jim (Tim McClurg). Upgrade covered ground in attractive fashion at a somewhat restricted range. He tallied a nice back, an unproductive and a mannerly find. Jim rendered a winning performance, being rewarded with third place after rendering a wide forward ground race where Jim showed mature application, a pheasant find at 5, and a chukar at 26, both handled with high tight pointing style and approved manners.
Backcountry Snake Eyes (Catanzarite) and Harbor City Moon (M. Tracy). Eyes hunted at medium range, notched an unproductive early, then contacted birds on several occasions where she gave way to merry chase. Moon ran at medium range, scored an early find, then disappeared and counted out at 27.
Dunn's 10 West (Will Dunn) and Glenmere's Silver Roo (Jeff Haggis). West started fast with an unclear bird contact off the breakaway, continuing on with a very classy wide-range ground race that could have altered the outcome with more definitive bird work. Roo got off to a fast start but soon shortened after notching a well-handled find.
Reason To Believe (Martino) and Hollander's Drinkaby (M. Tracy). Believe hunted hard and wide but failed to connect with birds. Drink was well forward with plenty of style at medium range, scoring a pair of finds at 9 and 20, shortening up at the finish.
Mo's Curtain Call (M. Tracy) and Millers Authentic Version (Fran Miller). Curtain Call won this futurity on the merits of a consistently applied wide-ranging ground heat combined with four well-earned evenly spaced finds, all handled with superb pointing style and advanced manners. The judges felt his application was most mature, handling response precisely and finish going away strong. Version hunted the fore with an attractive way of going and notched a pair of stylish barren stands, a bit short on overall range.
Miller's Dusty Version (Mark Hughes) and Getaway Driver (Martino). Dusty was forward with fancy running style and scored stylishly on a large covey of chukar at 28 with fall derby manners. Driver made a fast getaway, turned the wrong direction, and soon counted out of contention.
Pal's Prestigious Pete (M. Tracy) and Glenmere's Cruiser (Jeff Haggis). Pete's performance was impressive, earning this black-marked pointer fourth place in the winners' circle on the virtues of a hard-driving forward race with a fancy way of going, a stylish, well-handled find at 6, and a strong finish. Cruiser's performance had him in contention with a steady forward race and a pair of finds at 16 and 19, shortening just a little to finish.
Wicked Pursuit (Sandy Maclean) and Jack Daniel's If U Please (M. Tracy). Pursuit started fast and wide but soon shortened in the heavy cover. Please ran an overall short to medium-range ground race, scoring a pair of immaturely handled contacts.
Caladen's Sterling Ridge (M. Tracy) and Backcountry Champagnesupernova (Catanzarite). Ridge started fast with a divided find at 6, then stretched wider and wider until counted out at 22. Nova's performance earned the nearly all-white classy pointer second place. In addition to the divided find at 6, Nova added solid mannerly finds at 20, 23, and 26, then a strong finish following her wide-ranging, consistent ground race.
Millers Enhanced Upgrade (Fran Miller) and GJF Oakley (M. Tracy). Upgrade started fast and wide but failed to maintain a forward pattern. Oakley hunted hard at short range, no contacts recorded.
Gimmie Some Sugar (Mark Hughes) and J C L's Joleene (Martino). Sugar had a slow start but widened as time advanced, scored a well-handled find early, and unproductive at 27. Jolene scurried away quickly but soon out of pocket, returned by scout too late.
Miller's Upgraded Dot Com (Fran Miller) and Harbor City Bell (M. Tracy). Dot Com got through the country with fancy style to burn but failed to hold the front. Likewise, Belle ran with pleasing animation but short in overall range, no finds recorded.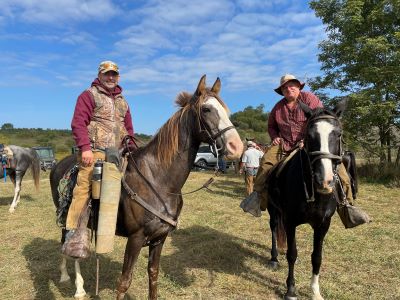 The Judges (l-r): Aaron McAfee and Brian Riggle.
Bloomingdale, Ohio, September 19 - One Course
Judges: Aaron McAfee and Brian Riggle
60th NATIONAL SHOOTING DOG FUTURITY - 25 Pointers and 1 Setter
1st-MO'S CURTAIN CALL, 1705285, pointer female, by Miller's High Heat Index-Osceola's Seminole Wind. Tim Moore, Jim & Theresa Morrell, owners; Mike Tracy, handler.
2d-BACKCOUNTRY CHAMPAGNESUPERNOVA, 1701699, pointer female, by Dragonfly-Apple Annie's Sweet Delight. Chris Catanzarite, owner and handler.
3d-MAC'S SLIM JIM, 1700897, pointer male, by Mac's Silver Chief-Mac's Silver Shadow. Tim McClurg, owner and handler.
4th-PAL'S PRESTIGIOUS PETE, 1702741, pointer male, by Waybetter Jay-Clarendon's Black Eyed Sue. Louis Palazzolo, owner; Mike Tracy, handler.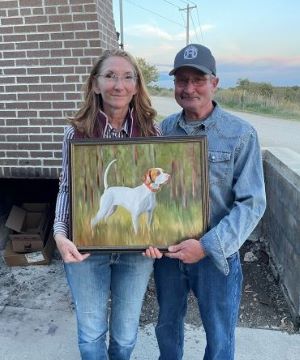 Painting of 59th Futurity Winner. Nina and Chris Catanzarite accept Mary McPherson's painting of Backcountry Pure Gold.