Event: Winner Duck Hook; Runner-Up Wynot Lottie
Result: Northeastern Grouse and Woodcock Championship
Location: Frankfort, Maine
Post Date: Nov 1, 2023
Submitted By: Russell Ogilvie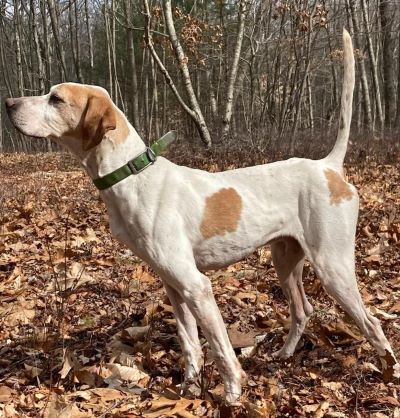 Duck Hook, Winner of the Northeastern Grouse and Woodcock Championship.
On a hill in the small town of Frankfort, Maine, judges, handlers, owners, dogs, and others gathered for the 2023 edition of the Northeastern Grouse and Woodcock Championship. With favorable weather conditions for this time of the year but having one of the wettest springs and summers that could be remembered, anticipation and apprehension was abound. The courses, the judges, and, more importantly, the dogs and handlers were ready. This year's champion, Duck Hook, an orange and white male pointer owned and handled by Mike Flewelling, came out of the 3rd brace on Powerline. "Brute" was paired with Sudden Silence (PF/Hetrick). Both dogs raced down the two-track from the breakaway. Brute was making strong moves right from the start. Both dogs made it to the first turn, with Brute deep to the front on the left of the course. "Belle" would be to the right. Brute's bell fell silent at 15. The thick vegetation made the search difficult. A grouse was walked up, but no sign of Brute. As the search continued, a tinkle of a bell gave just enough direction, and Flewelling was able to locate his dog. On the flush, a woodcock would take flight with all in order. Brute was taken back to the course, where he powered forward, never letting down. Belle was picked up at the crossing. The combination of the ground performance and the limb find set the tone early and carried him to the end.
The runner-up, Wynot Lottie (PF/Robbins), came out of the 7th brace on the cut. Lottie was braced with Elhew Snake Dancer (PF/Doherty). Lottie started strong right from the start, returning to only power forward and deep. She zipped through the pole timber, and when she finally got to the cut, she went to work. Her bell fell silent at 46. Ideal for birds but not for a dog to be found, Lottie was finally located, and a woodcock fluttered out. Taken back to course, Lottie headed back down into the cut, and her bell fell silent again at 57. A little easier to find this time, and Robbins did his due diligence on the flush, sending the woodcock skyward. Lottie finished strong, impressing the judges to the end. "Lizzie" had a good ground race for Doherty but was unable to connect.
The Mid-Coast Maine Field Trial Club would like to thank Purina and Greg Blair for their continued support of our sport. This year, we had 31 dogs take their shot at the grounds. Thank you to all the handlers and owners for entering dogs, especially those traveling far and wide to attend. While there were only two take-home ribbons, the judges had a number of dogs to consider, so it came down to splitting hairs. Those judges, Bruce Mueller and Jamie Leitch, had their work cut out for them, and we appreciated the three days of climbing hills through mud holes and over logs to watch every dog with a keen eye. Given the never-ending rain, the course was in very good shape thanks to the dedication of the club members. For those that do not know, we run on town-owned land. The town of Frankfort supports what we do by repairing the road for access, and in turn, the trials we cut get used for walking and skiing. With the weather this summer, we knew the grouse numbers would be down. We ended up moving 32 woodcock and 11 grouse for the three days. As tradition lends itself to, the Saturday evening meal of steak and lobster was enjoyed by all. There is nothing better than ending the day sitting around with friends and sharing a meal on a warm afternoon. Till next year!
The Running
Day One
Brace No. 1: Sunkhaze Vera Masardis (PF/Flewelling), braced with Elhew Snakewood (PM/Doherty), kicked off the 2023 edition of the Northeastern Grouse and Woodcock Championship. Vera, a young but bold dog, took to the woods early. She drove deep and out to the right. "Cobe" also went right and to the edge of the bell. Both dogs showed up and swung left before Vera went deep right. Cobe would be the first to strike when he stopped at 33. With the flush, Doherty sent the woodcock up and away. Vera, coming from the big woods, went deep into the cut on the left of the trail. Her bell fell silent at 48. After a long search, she was located in the thick cut with a woodcock as well. Vera would finish strong.
Brace No. 2: Cairds Cracklin Rosie (PF/Stolgitis) took to the Beaver Hole course paired with Magic Mist Sydni (ESF/Dahl). Rosie, already having a tremendous fall, went to work early when her bell stopped at 5 on the edge of the powerline. Stolgitis quickly produced a woodcock for her. Rosie made a brief stop at 16 and was moved on. Sydni was deep and to the left. Both dogs made it past the beaver pond, and that is when Sydni became too much, and the tracker was called. Rosie, having the course to herself, stopped again at 40, and another woodcock was produced. Just before the powerline crossing, Rosie would stop again at 49. This didn't end well as she moved up during the flushing attempt, ending her bid.
Brace No. 3 was previously mentioned.
Brace No. 4: Asper Hill Bandit (ESF/Cullen) and Ellwood (PM/Robinson) had the second go around of the cut. Both dogs ran smooth-forward races. Ellwood stopped in the trail just at the edge of the cut. After a quick flushing attempt, he was moved on. As the handler and judge took a few more steps on the course, a woodcock was seen walking away, but credit could not be given. Bandit would move into the cut, and both dogs stopped at 30. Cullen flushed, a woodcock lifted, and a divided find was given. Once back on course, Ellwood would stop quickly with Bandit honoring. Robinson was unable to move a bird. Bandit dove down to the left of the course and stopped at 36. After a little search, Cullen scored on another woodcock. Ellwood, running a smooth forward race, carded two more woodcock finds at 41 and 52. Bandit was strong on the ground and finished that way--a nice brace to watch.
Brace No. 5: Pee Dee (PF/Joyal) and Wild Apple Hard Cider (PF/Doherty) worked their way around the Beaver Hole course. The temperatures had warmed a bit. Cider had an unproductive at 34 and a second at 40. Doherty picked her up after an unsuccessful relocation. Pee Dee would take an unproductive at 34.
Brace No. 6: Bell Stop Boomer (PM/Hetrick) and Wynot Roscoe (PM/Robbins) finished the day. Boomer and Roscoe covered some ground. Boomer would go birdless. Roscoe stopped first at 50, and nothing was produced. Once he was returned to the course, he would go forward and cut to the left, where his bell stopped at 54. Robbin was able to send the woodcock to flight with all in order.
Day Two
Brace No. 7 was previously mentioned.
Brace No. 8: Old Glory Ben (ESM/Parsons) and Mohawk Mill Double E (PF/Stolgitis). Ben and "Doll" broke away strong down the edge of the powerline. Ben would hunt the strip along the powerline and stop at 8. The scout called point and went to the front. Parson was unable to produce a bird, so Ben was sent on. Doll suffered an unproductive of her own at 12. Doll stopped again at 24, and already riding one unproductive, was sent on, and the young dog popped a bird, ending her day. Old Glory Ben and Parson connected just before the powerline at 38 on a woodcock. Crossing the powerline and going strong, Ben stopped at 46, right on the edge of the trail. Parson opted to flush without success. Ben tapped on but without success and was picked up.
Brace No. 9: Movelle's Chewy (PM/Movelle) and Ralphy's Chasehill Rip (PM/Stolgitis) headed down the two-track. Both dogs cut in, and Rip was strong. Chewy made it to the powerline and was picked up. Rip, having the course to himself, went hard and deep. As we turned back onto the two-track, Rip went in on the left and stopped. Even knowing where the dog was, it was challenging to find him. He was located, and a woodcock was produced. Rip would finish strong.
Brace No. 10: Chasehill Snoop Dog (PM/Stolgitis) and Tucker (ESM/Short) took their chances on the cut. Tucker would quickly dive to the right in prime bird cover, and his bell would stop. A long search finally located him, but nothing was home. Being behind, Tucker started forward and went deep into the cut where he was MIA. Snoop scored on a grouse at 34 and finished with a strong race.
Brace No. 11: Boomer of Blackwater (PM/Flewelling) and Kalamity Cinder (ISF/Sloan) took it to the Beaver Hole. Boomer laid down a strong race but was unable to score. Cinder was solid, but she moved on a bird, ending her day.
Brace No. 12: Chasehill Poison Ivy (PF/Stolgitis) and Bluey (PF/Joyal) finished the day on the powerline course. Ivy laid down the race of the trial. She was smooth, strong, and to the front. Ivy would stop to the right at 50, and a woodcock was walked up, but credit was not given. Bluey finished the hour.
Brace No. 13: Wynot Sullie (PM/Forrest) and Crown (Joyal) were cut loose. Sullie had a quick woodcock find at 3; however, his steering was a little off and was picked up at 30. Crown was good on the ground and scored at 29 with a woodcock for Joyal. Joyal got to fire his gun a second time when Crown stopped at 53.
Brace No. 14: Wild Apple Pop's Dorothy (PF/Doherty/Steingraber) and Chasehill Wicked Wilma (PF/Stolgitis). "Dottie" is strong on the ground and fancy. However, on this day, she could not come up with a bird. Wilma was strong as well and had a stop at 55. She was tapped on, and without success, she was picked up.
Brace No. 15: Panola Bacon (PM/Stolgitis) and Wynot Pete (PM/Forrest) drove down the two-track. Bacon was strong and deep. Pete was similar but stopped to the left of the course at 12. He looked good at the start of the flush but loosened up and took the unproductive. Back running hard, both dogs had to be worked to get across the powerline. Pete stopped to the right of the course, and Forrest fired his gun as a pair of grouse took flight. Both dogs made it to the turn headed up the two-track when they stopped to the left. Forrest finally found Pete. Stolgitis had just found Bacon and fired. Pete wasn't looking sure of himself and was sent on. A woodcock popped, ending his day. Bacon finished going away.
Brace No. 16: Chasehills Wango Tango (PM/Stolgitis) finished the trial as a bye-dog. Often, dogs lack a little drive when braced alone, but Tango maintained his tempo going strong. The young dog suffered an unproductive at 3. He stopped again at 43, and at this point in the trial, it had to be all or nothing. Tango ended up going with a bird to end his bid.
Frankfort, Me., September 29
Judges: Jamie Leitch and Bruce Mueller
NORTHEASTERN GROUSE AND WOODCOCK CHAMPIONSHIP [One-Hour Heats] - 27 Pointers, 3 Setters, and 1 Irish Setter
Winner-DUCK HOOK, 1668288, pointer male, by Erin's War Creek-Brave Heart Cassie. Michael Flewelling & Richard Straub, owners; Mike Flewelling, handler.
Runner-Up-WYNOT LOTTIE, 1696083, pointer female, by Woodcock Haven War Paint-Woodcock Haven Fire Sky. Allen Robbins, owner and handler.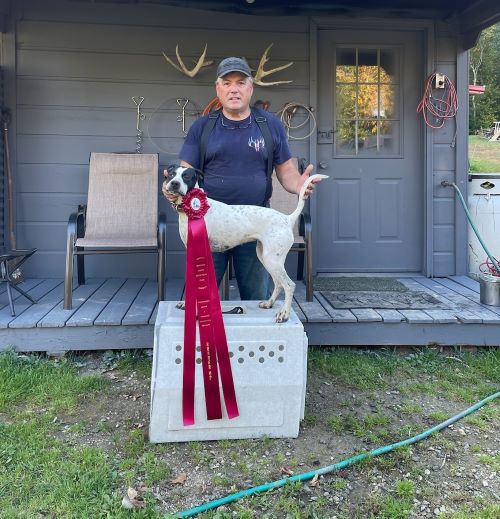 Wynot Lottie With Al Robbins, Runner-up in the Northeastern Grouse and Woodcock Championship.