Result: Region 13 Amateur Walking Shooting Dog Championship
Location: Meredith, Michigan
Post Date: Nov 2, 2023
Submitted By: Ann Naus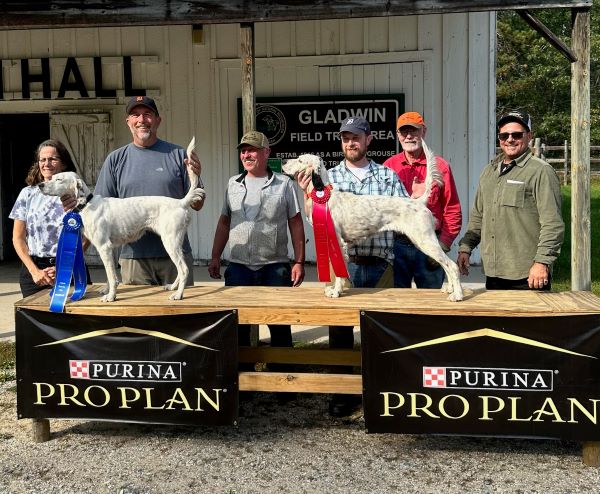 Region 13 Amateur Walking Shooting Dog Championship Winners (l-r): Diane and Bob Wheelock with Tupelo Honey, Scott Forman (judge), Dale Ash with Pine Straw Fatbottom Girl, Harold Holmes, and Robert Ecker (judge).
This year's Region 13 Amateur Walking Shooting Dog Championship started on Friday, October 1, 2023, and was judged by Robert Ecker from Midnight Kennels alongside Scott Forman from Shady Hills Kennels.
Day One began with cooler temperatures that continued into the afternoon with overcast skies, a stark difference from the high humidity and temperatures during the week. The dogs of the first seven braces performed well as a result. There were birds pointed on every course throughout the day, with the fifth brace showcasing a performance that would carry through to the top placement.
The winning run was on course Nos. 11-12, drawn for Tupelo Honey, a female setter owned and handled by Bob Wheelock. She had a big race from the blast of Bob's whistle, showing an enthusiastic and strong run, handling to the front easily. "Bertie's" bold casts for more cover rewarded her at 40 when her bell was last heard deep on the left, near the end of course No. 11. With the judge in-tow, Bob found Bertie after a couple minute search with a nice grouse pinned. She maintained good manners and steadiness with the flush and shot. All in order, she continued on to finish strong, to the front and still searching in the scrub oaks just past the beginning of course No. 12.
The runner-up came from the first brace of Day Two. Pine Straw Fatbottom Girl, handled by Dale Ash, drew course Nos. 1-2. This female setter utilized all of her course and took advantage of the cooler temperatures of the early morning. She ran with lots of energy and determination. She required minimal handling and was always to the front. Her bell stopped at 36 midway through course No. 2, just on the left of the path. With a nice grouse find, she was on to the aspen cut of the course. Fatbottom Girl added a woodcock find to run, finishing strong and spirited.
The derby stake was on Sunday and showcased the great management of the Gladwin grounds, providing an exciting display of training and development as dogs made contact with grouse and woodcock on every course.
Mia Star, a female setter handled by Steve McKalko, took the top prize with a solid run and a grouse find at 25 on course No. 6. Second place went to Archie, a male setter handled by Mike Brown, with two woodcocks at 5 and another woodcock find at 18 on course No. 9. Third place went to Breeze, a female setter handled by Chris Wasserman, with her grouse find at 18 on course No. 5.
The puppy stake is always a joy to watch the future potential of young dogs. No one was disappointed this weekend with a lively group of puppies and a new course to challenge them and their handlers. Out of nine entries, three came out on top. First place went to Sunny, a pointer female handled by Chris Wasserman; second went to Salute, a setter male handled by Gary Vitale; and third place went to Pinyon, a pointer female handled by Sarah Gomes.
Congratulations to all the winners; your hard work and dedication to this sport have paid off. Keep it up!
Big thanks to everyone who entered dogs, walked braces, moved cars, and provided meals, support, and encouragement; it is always greatly appreciated and keeps this sport going strong year after year.
A gracious thank you goes to Purina for all their continued support in all field trial events.
Meredith, Mich., September 29
Judges: Robert Ecker and Scott Forman
REGION 13 AMATEUR WALKING SHOOTING DOG CHAMPIONSHIP [One-Hour Heats] - 6 Pointers, 21 Setters and 1 Brittany
Winner-TUPELO HONEY, 1681583, setter female, by Ponderosa Mac-Out of the Shadows. Bob & Diane Wheelock, owners; Bob Wheelock, handler.
Runner-Up-PINE STRAW FATBOTTOM GIRL, 1692898, setter female, by Erin's Hidden Shamrock-Pine Straw Sweet Tea. Dale Ash & Reeves, owners; Dale Ash, handler.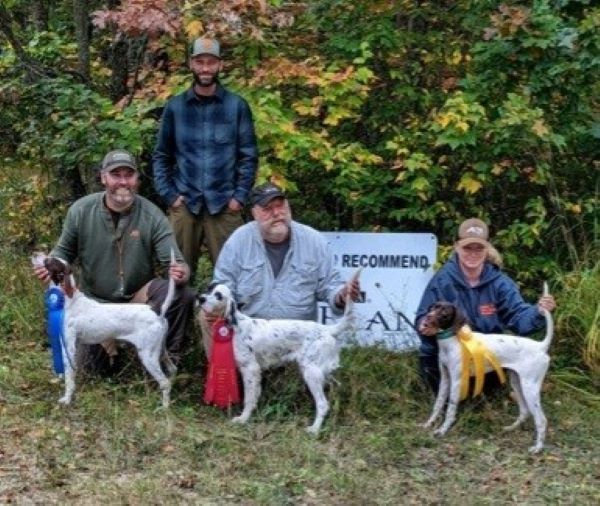 Amateur Puppy Winners (l-r): Creekside's Sunshine and Chris Wasserman, Abraham Downer (judge), Vitale's Grouseringer Salute with Gary Vitale, and Cal Peak Matter of Opinyon with Sarah Gomes.
MICHIGAN AMATEUR FIELD TRIAL CLUB
Judges: Abraham Downer and Marc Dozeman
AMATEUR PUPPY - 2 Pointers and 7 Setters
1st-CREEKSIDE'S SUNSHINE, 1704976, pointer female, by Creekside's Riptide-Creekside's April Fools. Chris Wasserman, owner and handler.
2d-VITALI GROUSERINGER SALUTE, 1705007, setter male, by Emert's Grouse Ringer T-Emert's Sho Me Patty. Gary Vitali, owner and handler.
3d-CAL PEAK MATTER OF OPINYON, 1705501, pointer female, by Double Deuce Miles-Sandland Dolly P. Sarah Gomes, owner and handler.
Judges: Christy Forman and Sean McKellop
AMATEUR DERBY - 1 Pointer and 11 Setters
1st-MIA STAR, 1702751, setter female, by Windstar-Hometown Queen. George Najor, owner; Steve McKalko, handler.
2d-ROUGE RIVER PIG PEN, 1702926, setter male, by Chip's Charlie Brown-Rouge River Wing Nut. Michael Brown, owner and handler.
3d-CREEKSIDE'S AUTUMN BREEZE, 1701601, setter female, by Ponderosa Mac-Meredith Grade Mae. Chris Wasserman, owner and handler.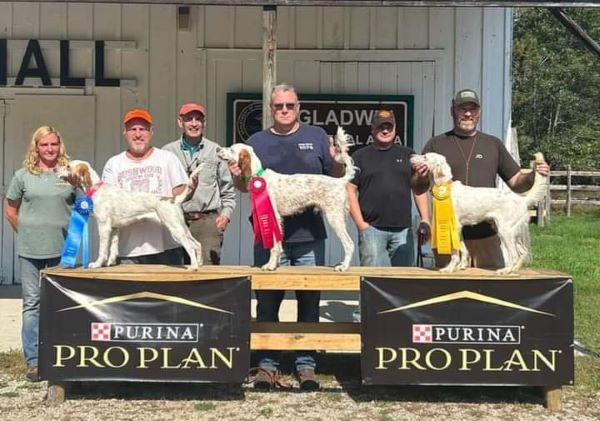 Amateur Derby Winners (l-r): Christy Forman (judge), Steve McKalko with Mia Star, George Najor, Mike Brown with Rouge River Pig Pen, Sean McKellop (judge), and Chris Wasserman with Creekside's Autumn Breeze.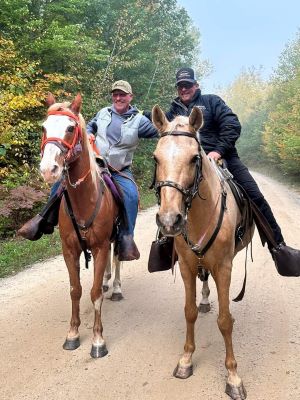 Judges Robert Ecker and Scott Forman.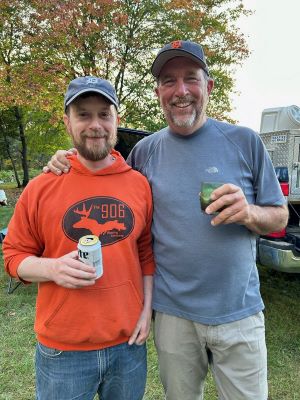 Winning Championship Handlers: Dale Ash and Bob Wheelock.