Result: National Brittany Open Grouse Championship Association
Location: Meredith, Michigan
Post Date: Nov 8, 2023
Submitted By: Kenny DeLong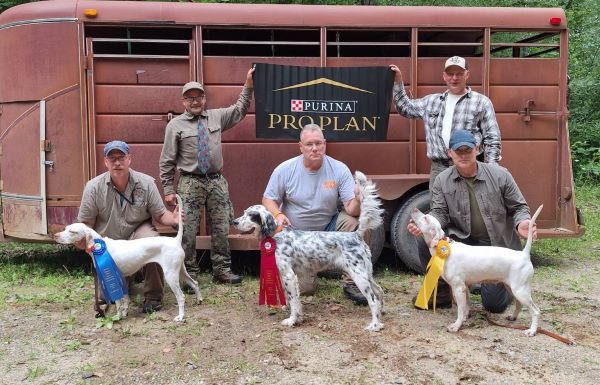 Open Shooting Dog Winners (l-r): Grouse Hill Bella with Marc Forman, Bruce Barlow (judge), Springpond C Note with Mike Brown, Brian Ralph (judge), and Hifive's Golden Nugget with Mike Lareau.
The last weekend in August saw several dozen bird dog enthusiasts gather at the Gladwin Game Refuge, enjoy pleasant summer weather, and witness some admirable canine performances on native grouse and woodcock. Once again, we thank Purina for their support, the Hollister Family for their horses, Steve and Shelly McKalko for the awesome lunches, all participants for their entries, and everyone who lent a hand moving vehicles and marshaling braces. Birds were plentiful. Ten single grouse and a brood of eight young birds, along with nine woodcock, were moved over the weekend competition.
The Open Shooting Dog Qualifier saw 10 hopefuls run under the careful observation of judges Brian Ralph from Pennsylvania and our local DNR fave Bruce Barlow. Both woodcock and grouse were moved in this stake. First place was awarded to the pointer female "Bella," handled by Marc Forman. Running very forward and athletically in the last brace on course 5, Bella and her bracemate "Dot" (also a pointer female) alternately came upon a dispersed brood of eight grouse. Each dog established a solid point (Dot arriving in the area several seconds after Bella) on different birds in the thick cover out of sight of one another. Two birds got up in front of Dot, and a running single was flushed in front of Bella. Eventually, all eight birds took flight as the dogs stood. Dot's more moderate race, coupled with fine work on grouse, earned her a yellow ribbon for Mike Lareau. Second place went to Mike Brown's setter male "Luther," who put down a very nice race on course 3, locking up staunch and stylish on an adult grouse not too far off the path.
The Open Derby drew 20 dogs watched by Ken DeLong and Chris Wasserman on Saturday afternoon and Sunday morning. Judges presided over a very competitive stake and enjoyed every brace! Mr. Brown finished out a nice weekend with his younger setter male, "Archie," who laid down a truly excellent race and pointed grouse at 11 and 15 on course 14 Sunday morning. Judges were in total agreement, awarding the blue ribbon to this outstanding, mature performance. "Lefty," a pointer female handled by Marc Forman in brace No. 5 late Saturday afternoon, ran well and finished strong, having established a very stylish point on grouse at 19 on course 10. Judges agreed this was good enough for the red ribbon. Long-time veteran professional Scott Chaffee handled the young male setter "Percy" around course 7 shortly after Saturday lunch. Percy ran a moderate race and STUCK a very young grouse (2nd hatch?) at the 18-minute mark, securing this team the third-place spot.
We were blessed with a great weekend of wild bird field trialing for all to enjoy!
Meredith, Mich., August 27
Judges: Bruce Barlow and Brian Ralph
OPEN SHOOTING DOG - 4 Pointers, 5 Setters, and 1 Brittany
1st-GROUSE HILL BELLA, 1699351, pointer female, by Silver Ko Kane Ty-Smoke'm Up Jill. John Capocci, owner; Marc Forman, handler.
2d-SPRINGPOND C NOTE, 1677261, setter male, by Springpond Rockin Autumn-Wild Bird Faith's Beauty. Michael J. Brown, owner and handler.
3d-HIFIVE'S GOLDEN NUGGET, 1675697, pointer female, by Titanium's Hammer-Leet's Sinderella. Mike & Kathy Lareau, owners; Mike Lareau, handler.
Judges: Kenric DeLong and Chris Wasserman
OPEN DERBY- 5 Pointers and 15 Setters
1st-ROUGE RIVER PIG PEN, 1702926, setter male, by Chip's Charlie Brown-Rouge River Wing Nut. Michael J. Brown, owner and handler.
2d-SHADY HILLS LEFTY, 1703772, pointer female, by Double Deuce Zeke-Shady Hills Zeena. Debra Nihart, owner; Marc Forman, handler.
3d-PONDEROSA ACE, 1701552, setter male, by Ponderosa Mac-Meredith Grade Mae. Bruce E. Cartwright, owner and handler.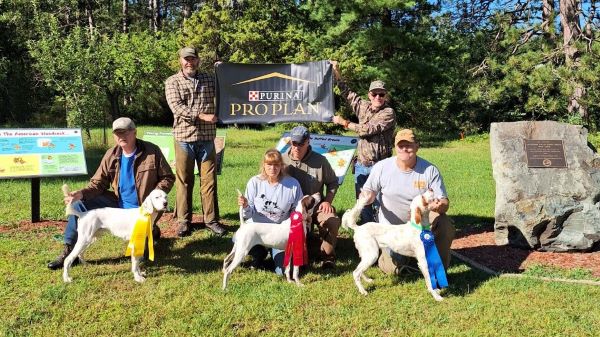 Open Derby Winners (l-r): Ponderosa Ace with Scott Chaffee, Chris Wasserman (judge), Shady Hills Lefty with Deb and Marc Forman, Ken DeLong (judge), and Rouge River Pig Pen with Mike Brown.