Result: NBHA Sharptail Championship
Location: Danbury, Wisconsin
Post Date: Nov 15, 2023
Submitted By: James C. Kleve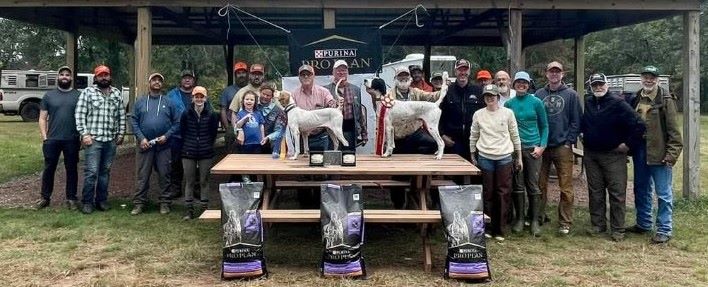 NBHA Sharptail Championship Winners (l-r): John Clough, James Kleve, Mike Rosario, Terry Boatright, Amber Dequaine, Brian Vander-Maazen, Tyler Wolcott, Mary Sue Schalk (judge) with her niece, Rod Lein with Over The Hill Merry, Mike Crouse (judge), Ben McKean with Northwoods Sir Gordon, Jordan Pharris, Betsy Danielson, Greg Blair (Purina rep), John McKellop, Hannah Peterson, Jeff Sullivan, Lindsey Saetre, Eric Saetre, Ken Millikin, and Jim Kleve.
The second renewal of the NBHA Sharptail Championship started Friday, September 22, 2023. The Chippewa Valley Grouse Dog Association proudly hosts this flourishing event at the Namekagon Barrens Wildlife Management Area near Danbury, Wisconsin. The "Barrens," as called by locals, is part of the Northwest Sands, a rare ecosystem that once was a sprawling sight across Wisconsin. The pine and scrub oak terrain, spread across the sandy soil, is a great test as well as an equalizer for our canine competitors.
The National Bird Hunters Association team has been incredible to work with. The support and infrastructure that they offer is second to none. Great thanks go to all the sponsors. We are very thankful to Purina, who proudly sponsors this event, and we are just as thankful to have Purina representative Greg Blair on hand, who helped keep the trial moving. Seven one-hour courses are laid out with the help of OnX, a mapping program and app. Unfortunately, OnX representative Ben Brettingen was not able to join us again this year due to prior commitments, but we hope to see him next year. Garmin, Gun Dog Supply, and Mule Brand Gear & Apparel also provided winners gifts. Other sponsors we are thankful for their support are Gun Dog Central and Park Cities Quail Coalition.
The workload of a trial this size is not for the weary. People who step up and help keep trials moving forward are irreplaceable and are the backbone of our sport. The "road crew" of Rod Lein, Brad Peterson, and Jim Kleve keep the trial on task by getting the dog and horse wagons where they need to be and keeping the next brace of handlers ready. Mid-morning breaks are handled by Katie Cook, who keeps everyone's coffee cup filled and with fresh doughnuts in hand. Saturday's pizza lunch was provided by John McKellop, whose Grouse Trails Warrior Cat won last year's championship. Others who worked to keep everyone fed were Roger King and Tom Goltz on Friday, Pat Golat on Sunday, and John Clough on Monday.
We were lucky enough to secure Mary Sue Schalk of Princeton, Kentucky, for another year in the judicial saddle. To fill out the judicial card in the championship, her father, Mike Crouse of Dixon, Kentucky, graciously traveled with her. This father-daughter judging duo makes a phenomenal team. They work well together, are attentive, and courteous. For this trial, a better pair could not be asked for. In the Derby stake, Mary Sue Schalk was joined by Ben McKean of Minnetrista, Minnesota. The Puppy stake was judged by Rod Lein of Chippewa Falls, Wisconsin, and Jeff Sullivan of Litchfield, Minnesota. With the unpredictable weather constantly changing and ever-threatening, all the judges fulfilled their duties with a positive demeanor, and their decisions were well received.
Championship Winners
Over The Hill Merry, owned and handled by professional Rod Lein, was named the champion, running on the second morning course on Saturday. Breaking loose near St. Croix Trail heading north, her opening minutes were a little sporadic and unsettled. Merry then quickly showed her maturity and settled into a forward-reaching but always purposeful search. She scored twice on Sharptail, her second find requiring what one judge referred to as a "spine-tingling" expert relocation that could not have been more perfect. She was well-conditioned and finished her hour strong. Everyone that had seen this brace knew what they now had to overcome.
Runner-up was Northwoods Sir Gordon, owned and handled by amateur Ben McKean. Sir Gordon ran on the first and hottest day of the trial in the fourth brace Friday. He had three well-spaced finds on Sharptail, the first of which had some extra distractions involved; the trust in which the handler put in his dog was of note. Due to the unfavorable weather conditions, his race shortened some, but Sir Gordon's desire to keep working and stay on task while many others faltered on that day was not a fact that was lost as he finished his hour going away.
Danbury, Wis., September 22
Judges: Michael D. Crouse and Mary Sue Schalk
NBHA SHARPTAIL CHAMPIONSHIP [One-Hour Heats] - 20 Pointers, 20 Setters, 4 Irish Setters, and 2 German Shorthairs
Winner-OVER THE HILL MERRY, 1678045, pointer female, by Grouse Trails Cracker Jack-Diva Dot. Rod Lein, owner and handler.
Runner-Up-NORTHWOODS SIR GORDON, 1674314, setter male, by Erin's Prometheus-Northwoods Carly Simon. Ben McKean, owner and handler.
Open Derby Winners
Outcast Siren Song, owned by John Clough and handled by James C. Kleve, won the hotly contested Derby. Her lofty way of going caught the judges' eye, and her consistency on the ground, coupled with bird work, secured her victory. Dauntless Rogue took second for owner Bert Benshoof and handler Jordan Pharris. She worked the cover hard for her half hour and showed the intelligence to get to likely objectives, which proved fruitful in producing birdwork. Jewett's Creek Beauty, owned by Jeff Sullivan and handled by Rod Lein, took third. She ran in the second brace, and many felt the standard had been set early. Her strong and forward race was eye-catching, and a piece of birdwork near time was icing on the cake.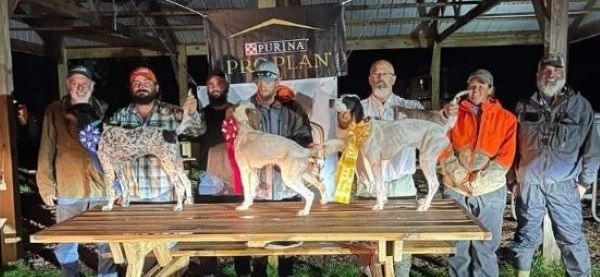 Open Derby Winners (l-r): Jim Kleve, James Kleve with Outcast Siren Song, John Clough, Jordan Pharris with Dauntless Rogue, Jeff Sullivan with Jewett's Creek Beauty, Mary Sue Schalk (judge), and Ben McKean (judge).
Judges: Ben McKean and Mary Sue Schalk
NBHA OPEN DERBY - 9 Pointers, 10 Setters, 2 Irish Setters, and 1 Gordon Setter
1st-OUTCAST SIREN SONG, 1703063, setter female, by Outcast Jericho Hilltopper-Outcast Clear Vision. John Clough, owner; James C. Kleve, handler.
2d-DAUNTLESS ROGUE, 1701391, setter female, by Ponderosa Mac-Moss Meadow Lil. Bert Benshoof, owner; Jordan Pharris, handler.
3d-JEWETT'S CREEK BEAUTY, 1703337, pointer female, by Toth's Tornado Reloaded-Grouse Trails Warrior Cat. Jeff Sullivan, owner; Rod Lein, handler.
Open Puppy Winners
Northwoods Eddie Setter, owned and handled by Ben McKean, took first. A strong, sometimes rough, race separated him from the crowd. Second was Mud Lake's Money Maven, owned and handled by Hannah Peterson. Maven, a very young and youthful female setter, worked the cover well and showed a connection with her handler. Cazadors Spirit Lake Forbes garnered an honorable mention for handler Hannah Peterson.
Judges: Rod Lein and Jeff Sullivan
NBHA OPEN PUPPY - 2 Pointers and 3 Setters
1st-NORTHWOODS EDDIE SETTER, 1705580, setter male, by Northwoods Sir Gordon-Northwoods Valencia. Ben McKean, owner and handler.
2d-MUD LAKE'S MONEY MAVEN, 1704637, setter female, by Jackson's Let Er Rip-Jones Big Sky Lanius. Hannah Peterson, owner and handler.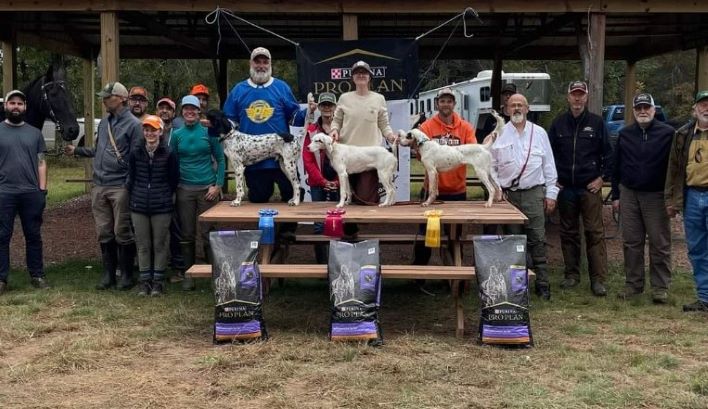 Open Puppy Winners (l-r): John Clough, Paul Cook, Tyler Wolcott, Amber Dequaine, Mike Rosario, Lindsey Saetre, Brian Vander-Maazen, Ben McKean with Northwoods Eddie Setter, Betsy Danielson, Hannah Peterson with Mud Lake's Money Maven, Jordan Pharris with Cazadors Spirit Lake Forbes, Zach Erne, Jeff Sullivan, Greg Blair (Purina rep), Ken Millikin, and Jim Kleve.