Result: Region 19 Amateur All-Age Classic
Location: Danbury, Wisconsin
Post Date: Nov 16, 2023
Submitted By: Todd Manns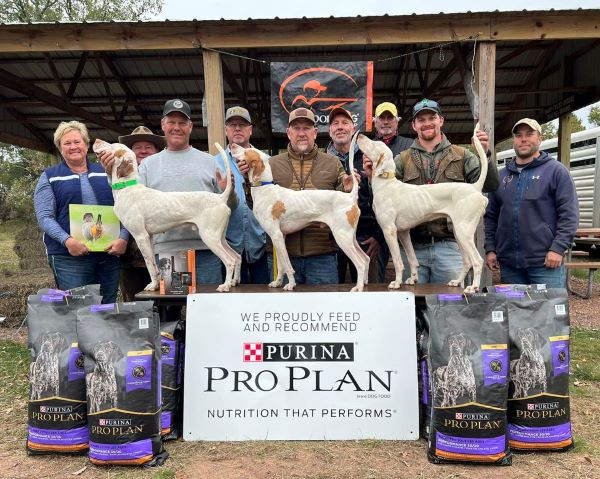 Region 9 All-Age Classic Winners (front, l-r): Scott Jordan with Erin's Doc Holliday, Dave Moore with Cold Creek Single Malt, and Sean Patrick Derrig with Erin's Southern Comfort. (Behind): Krysten Moisson, Jerry Moisson (judge), Todd Manns, Ian MacTavish, Dean Renneke, and Sean Anderson (judge).
The Northwest Field Trial Club hosted the AFTCA Region 19 All-Age trial at the beautiful Namekagon Barrens. We had 24 dogs entered and had a total of 22 dogs run. It's always enjoyable to meet new handlers as well as see the veterans of the Barrens. The weather was very cooperative, with highs in the 50s and lows in the 40s at night. We want to thank all who attended and a special thank you to Jerry Moisson and Sean Anderson for sitting in the judges' saddles and giving the dogs their full attention. In addition to donating their time, they also generously donated all their expenses and fees to the Namekagon Barrens grounds fund. This says a lot about their dedication to the sport and their love and appreciation of this amazing wild bird venue. Don Dack also has our sincere appreciation for his outstanding handling of the dog wagon duties. We would also like to thank our valued and generous sponsors, Purina Pro Plan and SportDOG.
As most know, this is one of the few championship wild bird venues in the country. We are fortunate to have a healthy Sharptail population spread over three one-hour courses. Unfortunately, in late fall, it can be a challenge to get wild birds to hold for a point that allows the handlers to flush in front of their dogs. We had a good number of bird contacts, but they were just not able to get a championship performance that allowed the judges to see the handlers flush over the dogs. At this year's running, a champion and runner-up could not be named, and the stake reverted to a classic based on quality all-age runs.
Danbury, Wis., October 9
Judges: Sean Anderson and Jerry Moisson
REGION 19 AMATEUR ALL-AGE CLASSIC [One-Hour Heats] - 22 Pointers and 2 Setters
1st-ERIN'S SOUTHERN COMFORT, 1693833, pointer male, by Erin's Lone Star Law-Erin's Irresistible Jane. Sean & Sean Patrick Derrig, owners; Sean Patrick Derrig, handler.
2d-COLD CREEK SINGLE MALT, 1697085, pointer male, by Dominator's Bull Market Bud-Erin's Lullaby. Ian MacTavish, owner and handler.
3d-ERIN'S DOC HOLLIDAY, 1704304, pointer male, by Erin's Lone Star Law-Erin's Little Lullaby. Jarrett Bell, owner and handler.