Result: Rock Springs Field Trial Club
Location: Eskridge, Kansas
Post Date: Nov 20, 2023
Submitted By: Jim Corpening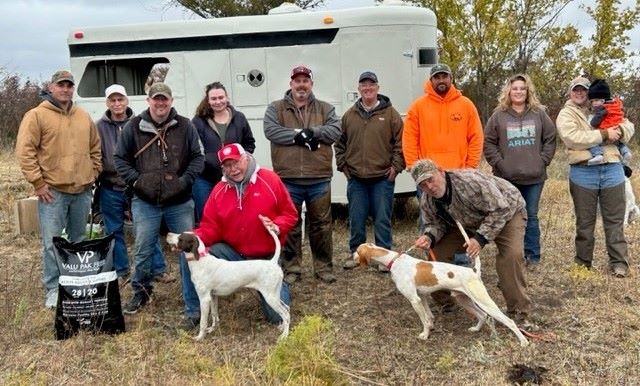 Open Shooting Dog Classic Winners (l-r): Fast Money with Bud Moore and Bitterark's Top Dollar with Frank Schoenborn joined by participants. (Not pictured: Stash The Cash).
The Rock Springs Field Trial Club held the fall ABHA, KFTCA horseback trial on their grounds just north of Eskridge, Kansas. These are provided by two landowners (Sandy and Norma Jean) on beautiful rolling Flint Hills. Without the support of these landowners for nearly 20 years, we would not be able to have the trials. Thanks to them and several others helping, the trial was great for the participants and dogs. The ABHA Open Shooting Dog Kansas Classic judges were Joshua Palmer and Tyler Buche. Dog wagon driver Bud Moore was greatly appreciated. Thanks to all the participants entering their dogs and helping throughout the trial.
We especially want to thank our sponsors, VALU-PAK and SportDOG. Without these sponsors, the trials would not be what they are. Rock Springs looks forward to working with them in the future.
Eskridge, Kan., October 12
Judges: Tyler Buche and Joshua Palmer
ABHA OPEN SHOOTING DOG CLASSIC [One-Hour Heats] - 12 Pointers
1st-FAST MONEY, 1681232, female, by Stash The Cash-Lester's Speed Queen. C. W. & Patty Moore, owners; Justin Crook, handler.
2d-NICKAJACK DOC HOLLIDAY, 1693508, male, by Touch's Smooth Rider-Cocklebur Stripper Candie. Mike Rost, owner and handler.
3d-BITTERARK'S TOP DOLLAR, 1685056, male, by Ninnescah Trumpeter-Bye Bye G G. Frank Schoenborn, owner and handler.