Result: Oklahoma Open Shooting Dog Championship
Location: Inola, Oklahoma
Post Date: Jan 21, 2022
Submitted By: Mike Griffin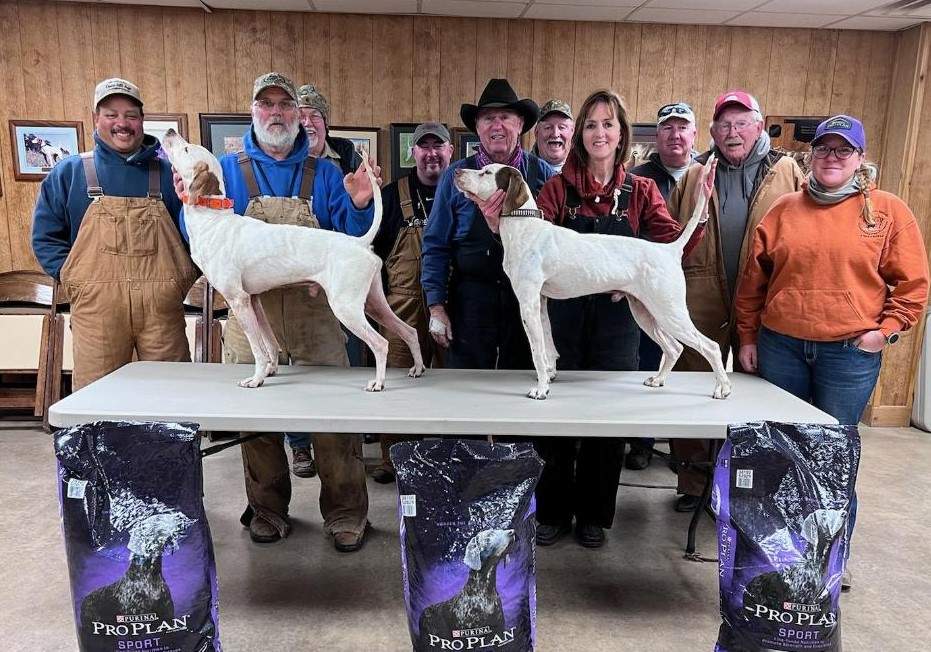 Championship Winners. Left to right: Kevin Guess, judge; Harold Gearhart with Highwall To Rebel Hell, Justin Crook, Chuck Stretz, Mike Griffin, Marla Stretz with Boumeester's Bar None, Barry Ward, C.W. Bud Moore, and Kelli Aitken, judge.
INOLA, OKLA. -- It was windy and cold but we started anyway and things got going on January 11 on the spacious McFarlin-Ingersoll Ranch in Inola, Okla. Appreciation to the Ingersoll Family for their generosity and hospitality in making this venue available for the trial.
We want to thank Greg Blair with Purina for all the help they provided for us. Without their support, it would be difficult to put on these trials. Again, thank you.
As I said, we got going. It was tough sledding but everybody kicked in. We had good results. The judges rode through some very difficult conditions from cold, strong winds to really cold temperatures. Special thanks to Kevin Guess and Kelli Aitken for doing a great job in those conditions.
We drew 32 dogs. It was tough going, but we had several dogs on birds. After three days, the judges decided on two very nice dogs.
The champion emerged in a first-year dog Highwall To Rebel Hell, owned by Dr. Buck Neil and handled by Virgil Moore on first course with big swings to the front, staying out there and keeping touch with his handler. Rebel Hell was rewarded with two nice finds on which he showed great style. He looks good going as well. An all-around good performance.
Runner-up was Boumeester's Bar None, owned by Chris Martin and handled by Chuck Stretz. Bar None also ran on the first course. Last year's champion again rendered a nice show, looking good running as well as pointing in a very controlled race. Bar None tallied three good finds, commendable birdwork. All in all, a very good choice for runner-up.
One again, we thank all for helping.
Inola, Okla., January 11
Judges: Kelli Aitken and Kevin Guess
OKLAHOMA OPEN SHOOTING DOG CHAMPIONSHIP
[One-Hour Heats] -- 30 Pointers and 2 Setters
Winner--HIGHWALL TO REBEL HELL, 1687901, pointer male, by Dominator's Rebel Heir--Good Times Girl. Dr. Buck Neil, owner; Virgil Moore, handler.
Runner-Up--BOUMEESTER'S BAR NONE, 1662742, pointer male, by True Confidence--Bar P Fizz. Christopher Martin, owner; Chuck Stretz, handler.
OPEN DERBY
The trial drew six in the companion Open Derby. Amateur owner-handler Bob Barker took first with pointer female Open Range Chigger. Justin Crook claimed the next two placements with setter Cactus Jet Juice and pointer Dark Rum Jasmine.
OPEN DERBY -- 5 Pointers and 1 Setter
1st--OPEN RANGE CHIGGER, 1696691, pointer female, by Open Range Terminator--Open Range Ice Breaker. Bob Barker, owner and handler.
2d--CACTUS JET JUICE, 1696305, setter male, by Cactus Jet Slim--Cactus Jet Lou. Mike Parnell, owner; Justin Crook, handler.
3d--DARK RUM JASMINE, 1695411, pointer female, by Rawhide's Aces High--Dark Rum Erin's Matty. Steven Burrus, owner; Justin Crook, handler.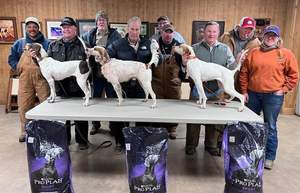 Open Derby Winners. From left to right: Kevin Guess, judge; Bob Barker with Open Range Chigger, John Gaines, Mike Parnell with Cactus Jet Juice, Justin Crook, Steve Burrows with Dark Rum Jasmine, C.W. Bud Moore, and Kelli Aitken, judge.