Event: Cajun Classic and Evangeline Derby
Result: Wolf River Field Trial Club
Location: Hickory Valley, Tennessee
Post Date: Jan 17, 2022
Submitted By: Amy-Snider Spencer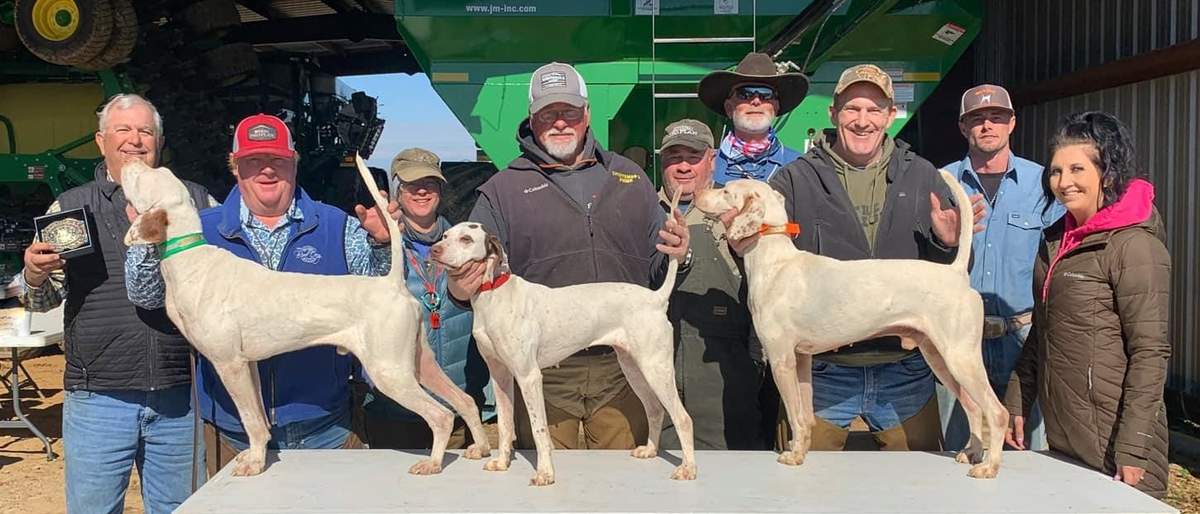 Cajun Classic Open All-Age Winners. Front row, from left: Lester's Boss Man with Scott Beeler, Miss Styling Sue with Allen Vincent, Miller's White Reign with Ric Peterson and Kaleigh. Back row: Gary Lester, Judges Kris and Tim Hammons; Bubba Spencer and Brody Byrd.
HICKORY VALLEY, TENN. -- The Cajun Classic and Evangeline Derby had a great draw this year with 43 all-age entries and 20 Derbies.
Every brace of the All-Age stake had bird work with Lester's Boss Man gaining first place for handler Gary Lester with three finds. Miss Stylin Sue was named second for handler Allen Vincent, also with three finds. Third was Miller's White Reign, handled by Brody Byrd with two finds and two backs.
The Evangeline Derby was won by Touch's Cocaine Blues for handler Randy Anderson with a big ground race and one find. Second was Quickmarksman's Excalibur for handler Mike Hester with one find and third was World Class Moonshiner for handler Randy Anderson with one find.
Judges for the Cajun Classic were Kentuckians Dr. Kristine and Tom Hammons; for the Derby, local sportsmen Chris Sellers and Chris Weatherly.
Thank you to the generous landowners, Ric Peterson, Jock Weaver, Conrad Powers, and Phillip White for the use of their property.
A big thank you to Amy and Bubba Spencer, Squeaky Powell, and David Wynn for making sure the trial ran smoothly.
Hickory Valley, Tenn., January 24
Judges: Kristine Hammons and Tim Hammons
CAJUN CLASSIC OPEN ALL-AGE [One-Hour Heats] --
40 Pointers and 3 Setters

1st--LESTER'S BOSS MAN, 1691814, pointer male, by Lester's Sunny Hill Jo--D J's Miss Betty. David Thompson, owner; Gary Lester, handler.
2d--MISS STYLIN SUE, 1674906, pointer female, by Ransom--Coldwater Snow. Dr. Jim Mills & Steve Lightle, owners; Allen Vincent, handler.
3d--MILLER'S WHITE REIGN, 1675808, pointer male, by Miller's Dialing In--Grace's Sunshine. Ric Peterson, owner; Brody Byrd, handler.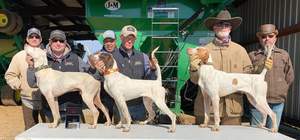 Derby Classic Winners. Front row: Touch's Cocaine Blues with Randy Anderson, Quickmarkman's Excaliber with Ryan Eichelberger and World Class Moonshiner with Bubba Spencer. Back row: Judge Chris Weatherly, Mike Hester, and Judge Chris Sellers.
Judges: Chris Sellers and Chris Weatherly
EVANGELINE OPEN DERBY -- 16 Pointers, 2 Setters and
2 Irish Setters
1st--TOUCH'S COCAINE BLUES, 1697541, pointer male, by House's Ring of Fire--Touch's Lemon Drop. Matt Griffith, owner; Randy Anderson, handler.
2d--QUICKMARKSMAN'S EXCALIBUR, 1695554, pointer male, by Bonner's Excalibur--Tallgrass Piper. Larry Earls, owner; Mike Hester, handler.
3d--WORLD CLASS MOONSHINER, 1697108, pointer male, by Miller's Speed Dial--World Class Makin Bank. Michael Marietta, owner; Randy Anderson, handler.