Result: Woodlawn Field Trial Club
Location: Laws Hill, Mississippi
Post Date: Mar 7, 2022
Submitted By: Lisa Suiter Little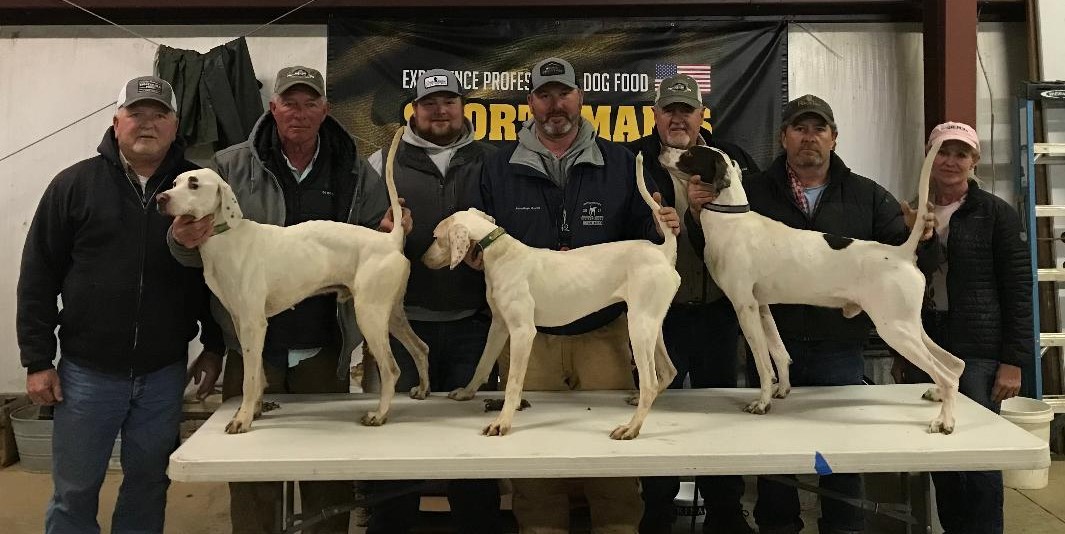 Amateur All-Age Winners. L- R: Brad Kennedy, Daniel Bolden with Hendrix's Touch Up, Hunter Clark, judge; Jonathan Burch with Coldwater Paradise, Guy Hendrix, Burke Hendrix with Rebel Dreams, and Betty Shearouse, judge.

LAWS HILL, MISS. -- The Woodlawn Field Trial Club was honored to host their amateur trial on the wonderful grounds of Hendrix Farms during the weekend of February 25-27.
Mr. Guy Hendrix and Mr. Burke Hendrix graciously agreed to the club's use of the grounds after the club was not able to secure the Fort Campbell Outdoor Recreation Area. We cannot say "thank you" enough to these fine gentlemen.
During the three-day event competitors experienced unusually cold and rainy weather, with the ground becoming more saturated each day as the rains poured down. Temperatures barely held above freezing on Friday and Saturday. This unseasonable weather did not damper the competitors' spirits as bird work was plentiful each brace of the trial.
The Hendrix family has worked very hard to clear wooded areas, establish cover, and improve the horse paths for the participants and canine competitors, the club officials heard multiple times how wonderful the grounds were.
We are also for thankful for the trial sponsorship by Sportsman's Pride through assistance with advertising and gift cards for the winners.
We were blessed to have three fantastic judges for the trial. Judging the Amateur All-Age Stake was Betty Shearouse. Betty hails from Kimball, Tenn., and is an experienced, highly knowledgeable field trailer. Betty has competed successfully in all aspects of the amateur circuit with her English setters. Most notable in my mind is the success story of High Anxiety's Bonfire, aka Bonnie. My husband, Scott Little, spent many a field trial scouting this strong-willed, stylish female. Bonnie achieved the pinnacle of her career by qualifying for the National Championship under the guiding hands of professional handler Ray Warren. As fate would have it, Bonnie came in season the morning of her brace and was unable to compete. Bonnie is now retired, but happily greeted her former scout Friday night with barks and a wagging tail. Betty has always been eager to help our sport succeed. She has served as a club officer, trial reporter, demonstrations at promotional events, and much more.
Hunter Clark fulfilled the judicial saddle for all three Amateur stakes of the trial. Hunter lives in Ethel, Miss. He grew up in the Holly Springs, Miss., area where his grandfather served as the minister of a local church.
Through church membership, Hunter met Jonathan Burch, Elton Bray, and Joey McAlexander. Hunter has been attending field trials in Region 6 for several years and has served as a scout for many members. His fun-loving personality and ethic of hard work have endeared him to us all. He has a strong interest in the sport and eagerness to learn about all aspects of the competition. I hope we each encourage his continued involvement.
Elton Bray, of Holly Springs, Miss., served as judge for the Amateur Derby and Shooting Dog Stakes with Hunter. Elton has also been an active member of Region 6 for several years and has a wealth of knowledge of the sport. His experiences with field trialing in Marshall County developed his loved of the sport. Over the years Elton has served as a judge, scout, club officer, and reporter. Most recently, Elton was the reporter for the National Open Shooting Dog Championship held at Sedgefield Plantation in Union Springs, Ala. Elton keeps the mood light and fun with his endearing sense of humor. Elton moonlights in horse training and sales; he has a keen eye for a good field trial prospect. I must also add that we were honored to have the company of Elton's sweetheart Kayla at the trial. She is a joy to be around.
THE WINNERS

The Amateur All-Age Stake drew twelve entries and was won by Hendrix's Touch Up for owners Guy and Burke Hendrix, with Burke in the handler's seat. The orange and white male pointer impressed the judges with his five pieces of clean birdwork, to the front ground race, and big range casts in the agricultural fields of the Friday afternoon second hour brace. Second place honors were awarded to Coldwater Paradise, three-year-old orange and white female pointer that is owned and handled by Gary McKibben. Paradise had the second hour of Friday morning. During her brace she garnered three finds, an unproductive and a very nice ground race. David Williams took home the third placement with his three-year-old liver and white female pointer Rebel Dreams. Rebel Dreams ran in the very first brace of the trial and had two divided finds and a back that earned her the attention of the judges.
The Amateur Derby drew twelve entries and was won by Phillips Linebacker, orange and white pointer male that is handled by Mike Small for owners Nathan Phillips and Orrin Ingram. Linebacker was reported by the judges to have one find, a pile of feathers, and a strong ground race during the fourth brace. Second was awarded to Shagtime Buck, orange and white male English setter for owner-handler Chris Cagle. Buck had one find and a very nice ground race during the first brace of the stake on Saturday morning. Rounding out the winners' circle was Lam's Prime Choice, a white and liver male pointer owned and handled by Jon Lam. Judges reported an impressive ground race by this up-and-coming prospect.
Kent Walker took home top honors in the Amateur Shooting Dog Stake with his liver and white pointer male, Game On. "Griz," at eight years old, put on a show in the last brace of the trial with three well-mannered bird finds and a ground race that required very little effort from his handler. Warioto's Crazy Daisy garnered the second for her handler Scott Little. This orange and white female is co-owned by Scott with his wife Lisa. "Daisy" overcame a slow start to her brace with three stylish finds and increased intensity in her ground race. Completing the winners' circle was Shearjoy's Smooth As Silk for owner-handler Betty Shearouse. Silk is an orange and white setter that proved her worth with a strong forward race and a steadiness on point of a superb piece of bird work at pickup time.
The officers would like to thank again the Hendrix family, judges, and competitors for making this a trial filled with fun and fellowship. I would be remiss if I did not mention the efforts of the dog wagon crew of Guy and Lily Kate Hendrix along with Brad Kennedy.
I would also like to thank Jonathan Burch, Burke Hendrix, Joe Hughes, Joey McAlexander, John Chandler Strickland, and Lowry Strickland for serving as marshals and scouts for the trial. It takes a team to run a successful trial and we are blessed with the best in Region 6.
Laws Hill, Miss., February 25
Judges: Hunter Clark and Betty Shearouse
AMATEUR ALL-AGE [One-Hour Heats] -- 10 Pointers and 1 Setter

1st--HENDRIX'S TOUCH UP, 1681400, pointer male, by Pleasant Run Bob--House's Wild Bess Again. Burke & Guy Hendrix, owners; Burke Hendrix, handler.
2d--COLDWATER PARADISE, 1684062, pointer male, by Coldwater Spectre--Coldwater Belle. Gary McKibben, owner and handler.
3d--REBEL DREAMS, 1687736, pointer female, by Dominator's Rebel Heir--Rebel Maiden. David Williams, owner and handler.
Judges: Elton Bray and Hunter Clark
AMATEUR DERBY -- 5 Pointers and 5 Setters
1st--PHILLIPS LINEBAKER, 1695679, pointer male, by Phillips Off Line--Phillips Silver Lady. Orrin Ingram & Nathan Phillips owners; Mike Small, handler.
2d--SHAGTIME BUCK, 1697777, setter male, by Smoke Rise Buck--Shagtime Hope. Chris Cagle & Fred Rose, owners; Chris Cagle, handler.
3d--LAM'S PRIME CHOICE, 1696981, pointer male, by Game Wardon--Wiggins White Angel. Jon Lam, owner and handler.
AMATEUR SHOOTING DOG [One-Hour Heats] -- 8 Pointers
and 6 Setters

1st--GAME ON, 1652764, pointer male, by River City Gambler--Memphis Southern Belle. Joe & Kent Walker, owners; Kent Walker, handler.
2d--WARIOTO'S CRAZY DAISY, 1666448, pointer female, by Boxwood Hotline--Suncrest Showgirl. Scott & Lisa Little, owners; Scott Little, handler.
3d--SHEARJOY'S SMOOTH AS SILK, 1693150, setter female, by Shearjoy's Unforgiven--Erin's Smooth Shammy. Betty Shearouse, owner and handler.