Result: Region 16 Amateur Shooting Dog Championship
Location: Lake City, Florida
Post Date: Jan 6, 2022
Submitted By: Don Price
The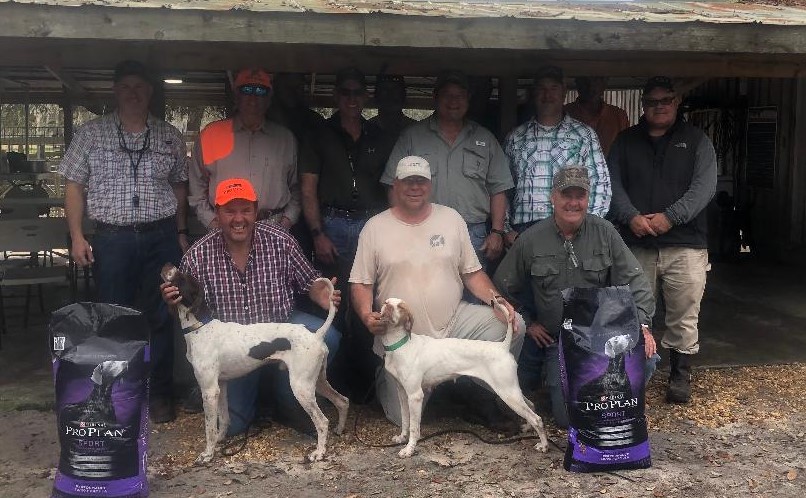 Winners. Kneeling, from left: Lance Servais with Lester's Top Recruit, Brian Peterson with Southern Ritz Lane, and Mark Hinote Standing: Joe Rentz, Chester Stokes, Jesse Brown, Dr. Kent Cantrell, Leroy Griffis, Gary Futch, judge; Paul Daniel, Woody Watson, judge; Joe Hicks, and Robert Moorer.
LAKE CITY, FLA. -- The Region 16 Amateur Shooting Dog Championship was held December 17-19, 2021 at the "The Farm" in Lake City, Fla. "The Farm" is the personal bird-hunting plantation of Chester Stokes. Chester is very familiar with field trials. He competed very successfully some years ago as an amateur. Later he teamed with John Milton to campaign Frontline Beck on the major circuit in the string of Fred Dileo. Region 16 will never be able to thank Chester Stokes enough for allowing us to hold this trial on this beautiful plantation.
"The Farm" consists of approximately 2,000 acres of slightly rolling piney woods typical of a southern bird hunting plantation. The grounds are open so your dog can be easily seen. Most notable are the birds. They are plentiful. A combination of wild and pre-released gave every entry the opportunity for multiple contacts. It was estimated that around sixty coveys a day were seen.
The plantation is managed by Leroy Griffis. Leroy is assisted by Noah Sikes and Dakota Hall. They had worked tirelessly to prepare for the trial. Joe Hicks is the resident dog trainer and when he is not working a dog he is on a tractor mowing strips and cleaning up underbrush. Leroy, Joe, Noah, and Dakota were on the job every minute taking care of everyone. Steve Allison, former manager, came over and drove the dog wagon.
Dr. Kent Cantrell was field trial chairman. Kent had prepared for many months to have all matters in order for the trial. We must say "A ob well done" to him.
Three trustees from Florida, Mike Moses, Paul Daniel, and Don Price, were in attendance and assisted where needed. Three trustees from Georgia, Woody Watson, Gary Futch, and Joe Rentz, were present. Brian Peterson. a trustee from Alabama. was in attendance also. Region 16 was well represented.
Daily lunches were provided by Region 16 for everyone. Paul Daniel treated everyone to a steak dinner on Saturday night. Friday night's dinner was provided by Courtney Vanderbeck of the Zoetis Company.
Judging this year's Championship was in the very capable hands of Woody Watson of Leesburg, Ga., and Gary Futch, Statesboro, Ga. These gentlemen really need no introduction to the field trial fraternity as they are well known for their competing and putting on field trials. Both have competed at the highest level and have chaired championship trials. They gave every entry their undivided attention.
THE WINNERS
Twenty-seven of the top amateur shooting dogs in the Southeast were drawn to compete for the two top prizes. Several good performances were witnessed. The judges were looking for the two that separated themselves from the rest and they found them in the seventh and thirteenth braces.
Brian Peterson and Lance Servais made the long haul from Cecil, Ala., with winning on their minds. Winning is just what they did. Lance handled Lester's Top Recruit to the Championship with Brian scouting. Recruit ran in the next to the last brace of the trial. He recorded four stylish finds with a strong, forward race.
The runner-up honors went to Southern Ritz Lane, also handled by Lance Servais. Lane ran in the seventh brace of the trial. He tallied five beautiful finds and a big race.
Lake City, Fla., December 17
Judges: Gary Futch and Woody Watson
REGION 16 AMATEUR SHOOTING DOG CHAMPIONSHIP
[One-Hour Heats] -- 27 Entries

Winner--LESTER'S TOP RECRUIT, 1681841, pointer male, by Lester's Sunny Hill Jo--Rivertons Funseeker Riley. Lance Servais, owner and handler.
Runner--Up-SOUTHERN RITZ LANE, 1687633, pointer female, by Phillips Warning Line--K H Dialing Dots. Brian Peterson & Lance Servais, owners; Lance Servais, handler.