Result: Masters Open Shooting Dog Championship
Location: Albany, Georgia
Post Date: Apr 26, 2019
Submitted By: Steve Standley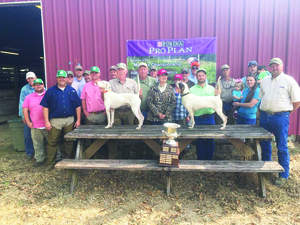 Championship Winners. In foreground, from left: John Neely with Miller Unfinished Business and Tommy Rice III with Hale's Southern Touch. Back: George Hickox, Chris Cuncle, Judge Geoff Beane, Robbie McCue, Shon Powell, Judge Nathan Phillips, Ray Pearce, Joel Norman, Kevin Beane, Martha Neely, Debbie Ozner, Jim Smith, Tim Moore, Tommy Rice, Jr., Lila, Hannah, Travis and Forrest Chaffin, and Shawn Kinkelaar.
ALBANY, GA. -- The Masters Open Shooting Dog Championship began on its traditional March 1 date under heavy skies and a balmy 64 . There was a light rain on and off during the entire day. The thermometer moved very little and the sky never cleared as we spent the morning on Joe Davenport's Wildfair Plantation and the afternoon on Ted Turner's Nonami Plantation.
This description of the day's running will give evidence of the number of quail pointed and handled during this glorious day afield. The full story is that during this one day there were approximately 100 separate coveys of quail observed, either pointed or seen as they flushed wild. This occurrence is the result of the landowners' commitment, the managers' and their staffs' work and the valuable information gleaned during the Albany Quail Project's work here.
Wildfair, Nonami and Pineland Plantations have been invaluable to the development of pointing dogs both for hunting and field trials. These totally realistic settings allow honest measures of breeding programs. Science and nature both are able to tell their story across these hallowed grounds. The Southern Field Trial Club has hosted trials in this area since the 1930s thanks to these plantations' landowners. Qualifying standards for this Championship were adjusted this year in order to control entry numbers. This writer feels sure those standards will continue to be well-discussed in order to insure the continuation of trials on these properties.
Thanks go to Nonami Plantation owner Ted Turner and his entire staff. Appreciation is also extended to Joe Davenport for the use of his Wildfair Plantation. Wildfair manager Kevin Beane and Nonami manager Ray Pearce are indispensable to the success of this Championship. A major tip of the hat goes to Southern Field Trial Club members Ronnie Beane, Tim Moore, Aubrey Iler, and Steve Wiley. All were involved in the planning and execution stages of this wonderful event. Grant Rudolph's involvement with this club is important and helpful. Also present was long-time club member Bill Griffin. Missed was Southern FTC President Paul DeLoach, who is always present but was sidelined this year with orthopedic surgery. Also missed this year was Eddie Lee Parks, former Blue Springs Plantation stalwart and Southern FTC tractor driver.
The Southern Field Trial Club is proud to have Purina's support with this important Championship. Thanks are extended to all involved for bringing this sponsorship to fruition. Purina Associate Jim Smith joined us for the trial. The club is also grateful for the John Deere tractor supplied by Flint Equipment of Albany, Ga., which pulled the dog wagon. Ivey's Farm and Garden as well as Bennett's Feed are both local businesses that can be counted on over the long-term.
The Southern FTC hosted a delicious fish fry on Friday evening. Everyone enjoyed the mullet and catfish prepared by Wayne Etheridge of Wayne's Restaurant in Dawson, Ga. Wayne also brings tasty hot lunches each day.
Judges for this year's renewal were Geoff Beane and Nathan Phillips. Geoff's history is with Wildfair which his father, Ronnie, managed until he retired. Kevin Beane manages Wildfair now. Geoff just finished his second season as Central Florida Project Manager for Tall Timbers Research Station. His position is habitat and hunting grounds manager on Escape Ranch in Kennansville, Fla.
Nathan Phillips of Oakland City, Ind., is the dog trainer on Escape Ranch. Nathan also runs a training facility at his home in Indiana.
Both men have a long history with bird dogs and quail hunting. They are both fair and honest and look to place the best dog.
The Winners

Miller Unfinished Business, white and orange pointer male owned by Benjy and Teresa Griffith of Leesburg, Ga., won the crown with a most laudable performance. This champion, known as Dan, won this stake three years ago as a Derby under the whistle of Fran Miller. Dan was handled in this year's renewal by Senah Plantation manager Joel Norman. The five-year-old pointer has added a second Masters Championship to his resume. Very nice bookends to go with his 2018 National Open Shooting Dog Championship title.
Hale's Southern Touch, owned by Dr. Jeffery Hale of Russellville, Ark., was awarded the runner-up honors and this placement was well-earned.
Dr. Hale had dogs with the late Fuzzy Smith. Hale's Southern Touch was in Buz Daugherty's string until he passed away.
Shawn Kinkelaar has run the attractive eight-year-old pointer female in open stakes since that point. Dr. Hale likes to keep her close to home so that he can compete with her himself. As her placements this year moved her up into the strike zone for Purina Open Shooting Dog of the Year Award this year, Shawn has carried her on the road.
Eight dogs had six or more finds during this Championship. As Judge Nathan Phillips later stated, "There will be a number of championship performances that go unrewarded at the conclusion of this trial." These comments are here to cast a light not only on these two fine dogs, but to honor the numerous other strong performances here, where quail is king and quality dogs are well-tested.
Miller Unfinished Business (Norman) and Seekin a Thrill (Rice) were released onto Nonami's third course at 4:10 on Friday, as the afternoon heat continued. There were high clouds paired with a bit of on and off light misting precipitation. Away from the white sand main entrance road, Business, known as Dan, pointed at the 30 second mark. The bevy was handled in perfect form.
As we approached the service road at 6, Norman raised his hat, waved it off and then recommitted as Dan was stacked up high and tight with Thrill honoring the stand. A large covey took wing as Joel approached and all was good. Both dogs hunted the left side of the course and Dan pinned another strong covey at 13 with all in order. Ahead, at 21 on the right near the old double pivot field, Rice had a good connection with his pointer. This writer rode up a nice covey on the way to cover the find. With the Nonami horse barn in sight, Dan stood and Joel elected to collar his dog away. The judges had not seen any birds; perhaps Joel saw them lift at a distance.
It had cooled ever so slightly as we entered into bird alley and the action was quick. Rice put a covey up for the composed Thrill at 24 and immediately thereafter some 60 yards ahead Joel did the same thing for Dan. Rice flushed for his dog at the half as Dan backed. After a relocation attempt Tommy accepted the unproductive and we continued. The pace continued when Rice shot as his pointer stood ahead at 36 all in good form. At 37, some 200 yards to the left, Dan handled a clean limb find for Norman. To emphasize the title "bird alley," both dogs had independent finds at 46. This kind of bird contact has to be reflected on and savored at a later time.
In the last ten minutes, Tommy Rice had good finds at 49 and 52 and Seekin a Thrill finished with a good race. Unfinished Business continued his strong ground effort punctuated with an attractive stand at 58 and a pleasing finish to win the gold.
The runner-up emerged at 3:45 on the second day as we began Saturday's last brace. We were on the north end of Nonami since the previous brace ended early.
Hale's Southern Touch was down with Mobile Strike (Doug Ray). They began to hunt ahead toward the edge of the double pivot field and toward the famed bird alley. At 3 both handlers' hats were in the air and a light canter ensued. Touch was spied standing. Shawn dismounted to walk toward his dog. Doug swung around Touch to find his dog pointing some 100 yards distant. Both handlers moved in to flush separate strong coveys and a pair of guns fired. Southern Touch pointed next at 8. As Shawn walked in, Mobile Strike came into the area and Kinkelaar put his hand up to successfully encourage the back. The action was clean.
Both dogs went on to hunt ahead in hot and dry bluebird conditions. Just past the main entrance, point was called for Touch at 16. Mobile Strike also had birds some 100 yards distant on a separate individual covey. Both dogs handled their birds in good form.
It became increasingly hot as Doug Ray called point for Strike at 21. As we approached, Touch was posed staunchly and Shawn moved in to flush as Doug accepted the back. All was in order for the gun.
Hale's Southern Touch continued to push past the heat and the dry to offer a forward race. Her fifth find was at 31 followed by No. 6 at 38. Both finds were perfect and to the front. Storm-scattered pine tops marked the area around sparse oaks where Touch scored mannerly again at 42. Shawn watered her. When released the pointer continued with game effort to score her eighth find at 58 and complete her hour. A gutsy performance by the Hale pointer.
The Running
Upfront's Southern Star (Kinkelaar) and C S Pressure Test (Ray) were featured in our first morning foray onto Wildfair. The Conecuh Station setter was away and remained out of touch until Ray pulled the plug at 12. Star's owner, Lance Schulz, was in the saddle to witness his charge producing game cleanly at 4. Star was strong on the ground and was composed and attractive for his second bevy at 13. The lone competitor hunted ahead and pointed at 17; several relocations followed, an unproductive the final outcome. The morning's temperature dropped a bit by the half as Star had a good stand near piled pine tops. Star continued ahead and pointed again at 34 with appropriate manners. As we approached Colquitt Ford Road, we rode a small ridge. Star offered several driving casts. Scout Tommy Rice called point and a light canter brought us to Star's next find at 40. He was wrapped up in birds and remained composed as they took to wing in twos and threes from perfect cover. At 44 Kinkelaar called flight of birds but they were not officially seen. Shawn collared his dog away. As we continued on Wildfair's Middle Road course, Star pointed at 56. When Shawn flushed, Judge Geoff Beane called flight of a single in the general area and asked the handler to shoot. Soon after Star had a quick stop to flush after which we finished the last few minutes of the brace.
Strut Nation (Jordan) and Miller's Stray Bullet (Norman) were off on our course parallel to the dirt Colquitt Ford Road. At 3 point was called ahead in an oak thicket. At our arrival Jordan announced that the birds had already left and he collared his dog away. Shortly thereafter a shot rang out from up front. Norman emerged from the area with Bullet on a rope and Strut Nation now had the course to himself.
There was a light, on and off rain as we next found Strut posed high under a single live oak at 12. From this pristine setting Jordan urged a strong Wildfair covey to wing and it was all good. This was followed up with a good find at 17. The pointer was on a field edge and the birds lifted as the judges rode up. Upon release Strut ran over a rise and pointed amid some scattered pine tops. Jordan went in to flush and a cooper hawk lifted from the area. As Scott reached for the collar, a bevy took to the air.
The air freshened and Strut's next contact was at 27 beyond the view of this writer. The gun sounded and the pointer was carried on to mark what must have been a clean find. At 35 Strut pointed under the broad sweeping limbs of a large oak. After a flushing attempt, Scott requested a relocation. The dog did not want to go. Urged ahead, Strut hunted the area and pinned a nice covey in an attractive form at 37.
The contender was released on one end of a fallow field, some 300 yards long. Strut made use of the opportunity to show his heels on the left edge and on into the far cover ahead. By 40 the dog appeared to be making game. He worked the area enthusiastically and when nothing happened Jordan called him on. When he left the area, riders put up a covey. The dog was not involved but he stopped to flight. After asking judicial permission, Scott took Strut on. Scout Kinkelaar called point at 43. Strut was staunch, head high as Jordan put his covey up and shot. At 51 we turned right at Gator Pond. Jordan pointed Strut out ahead. The mowed swaths parallel the wet weather pond on the long side and Strut was on a nice cast on that line. Scott raised his hat and we rode ahead to a classic find. Birds were well-located, out front, Strut's manners impeccable. Strut seemed to get bolder in the closing minutes and was out of sight at time. Scott rode ahead to find him pointing. The judges were advised that five deer had just left the area. Scott was encouraged to flush and a relocation followed. The dog swung around the area and pointed a covey at 1:04. All acceptable.
Friday morning's last brace -- Bombs Away (Rice) and Crown's Black Ice (Swearingen.) Ice won this Championship on this course in 2017. Action was fast paced and many coveys were handled and seen. Within about seven or eight strides, Ice pointed with high intensity. Tracy moved in front of his dog and kicked up a strong bevy. Shawn Kinkelaar rode up and said, "Alright, Tracy, you've got 59 minutes and 30 seconds left to go." Laughter abounded.
Tommy Rice called point at 2 in sight of the pigeon house. Bombs Away stood in tall sedge as Tommy moved in to complete a picturesque find. Both dogs were out of sight at 12 when Tommy rode left to locate his and Tracy continued riding to the front. Tracy moved up and when he crossed a long perpendicular grid Ice was espied some 200 yards distant pointing high and tight. Tracy performed the formalities for his well-mannered charge. Tommy returned with his dog; another cast to the left resulted in a find at 20, Judge Phillips presiding. On the way back to the front Bombs Away had another connection at 21. Tracy called point for Ice some 120 yards to the right and all was good at 23.
The fast-paced action continued as Bombs Away was found dead to the front at 33, birds well-located here and all as one would want. That was quickly followed by the call of point for Ice about 300 yards to the left. Back-to- back finds kept everyone's interest up. At 40 on our way to the duck pond, Tracy rode quickly to the right to connect with his dog. At some distance on the far side of a large oak, point was called for Ice, the find well-handled.
Both dogs were very stylish on their birds. The races were a bit scattered, but they offered a good show for those in the field. Past the three-quarter mark Tracy had Ice out front and her sixth find was in the book at 47. Tommy Rice came in for his retrieval unit to end his morning. Ice's next find was some 400 yards off to the right. Scout Justin Swearingen called point. Tracy had Ice in front during the closing minutes and she styled up again just seconds before time. Tracy stepped down, the birds flew, his gun fired as the judges called time.
Wildfair was at its best this morning.
The first afternoon on Nonami had Erin's Prometheus (Ray) and Chelsea's Thunder Bolt (Kinkelaar) off at 2:00 p. m. This writer's notes are unclear in the beginning minutes of this brace, but I believe Prometheus had an early find. Apologies to those concerned. Conditions were much different than the morning; it was hot and dry with little getting done. Bolt had a covey at 26 on our approach to Blue Springs headquarters. As Shawn shot, Doug Ray fired his some 250 yards distant. Both dogs had clean finds at 26. Bolt was up at the half. He had only recently arrived in the deep-south and the heat and humidity were hard on him. Prometheus had a find at 31. Ray finished his setter at Middle Road without further contact.
It was 3 o'clock when Zip Tye (Ray) and Thrill Me (Rice) made their northward casts. Thrill Me, known as Pea, won this Championship last year. Pea hunted in front of Rice and scored with style at 2, 7, and 10. The last find, Tommy walked all over the birds as they held tight only to be forced to wing about the third time he flushed through the area. At 27 both dogs were off to the left and point was again called. The birds evidently left as we approached and Tommy fired his gun when he walked in front of his pointer. Doug withdrew Zip Tye at this time. High heat can be a menace to dogs and handlers are well-advised to be safe rather than sorry.
Pea hunted the grids forward and located birds again at 32 with all in order. After we bent to line out for our swing back in on Nonami she once again stood stylishly at 45. This bowl-shaped area was historically a setting for a grove of large moss-laden live oaks. The oaks are now gone, but the quail are still there and Pea handled them well. After seven finds, Pea suffered an unproductive at 49 after which she finished her hour at the main entrance road crossing.
The 6th brace was covered in the winners' section.
Saturday morning on Wildfair Knight's White Lady (Gellhaus) and Southern Sparkling Jule (Kent Cantrell) were away at 8:00 a. m. Jule pointed at 8 in a known covey location and she looked great. But the stand was fruitless after flushing and relocation efforts. On the way back to the front Jule redeemed herself with a cleanly handled covey at 12. Gellhaus requested his retrieval device during this time period. Jule hunted ahead and turned 90 to dig in and find a nice covey at 17. We lined out to go to the front when the mostly white pointer styled up on a cover line for a second empty stand. Undeterred, Kent Cantrell later commented that "any day running a dog at the Masters is a good day".
The 8th brace was disappointing. Doug Ray had a good opening cast and a nice find at 8 with S C Little Ann only to ask for the retrieval device at 17. Born on Fourth July (Gellhaus) had an infraction at 10 and was up.
In the 9th brace, scout Tommy Rice called point for In Swami's Shadow as she stood under a large spreading live oak. Kinkelaar could not raise a bird. On the way back to the front, Swami scored at 14. She hunted ahead to offer a good stand at 23 with all in order.
Bill Owen of Santa Barbara, Cal., made his second trip to the Masters and he ran his Lone Tree Splish Splash. The Owen pointer stood high and tight at 25, but Bill could not make anything fly. Point was called at 28 on the south end of Wolf Pond on a birdy knoll. Splash handled the find in good form. Shortly after, point was called for Splash and the birds were there, with all good. This was followed by another Swami find at 30. The back-to-back action continued with the dogs offering independent hunting efforts and again having separate finds at 39 (Swami) and 40 (Splash). Splash worked in front of Owen, not at great range, but attractively. Swami was using up some real estate in a more dramatic searching effort. As we approached the duck pond in the closing minutes, Kinkelaar called point ahead. When we arrived at the brushy area both dogs were pointing, although probably not aware of each other. Handers flushed and shot for good finds as time was called.
It was over 80 on Saturday after lunch when Grand Prairie Thrill (Rice) and Zumbro Stinky Pete (Gellhaus) were released onto Nonami. Pete's owner, Terry Reinke of Longmont, Colo., was on her first pilgrimage to Albany. Prairie Thrill was staunch and looked like a million at 4 and at 14; unfortunately both stands were barren. Pete hunted ahead and suffered an unproductive at 23. He overcame that on a scattered covey near the Blue Springs headquarters. The white and black pointer slugged it out in the high heat and dry conditions to offer birds for the gun at 41 and 45. It was far from bird hunting conditions but he pointed a nice covey at 49 in sight of Sam's church. He stood high on both ends for his bird work and he finished his time ahead.
Near the single pivot field Just Thrillin (Rice) and Class Act Express (Ray) began their abbreviated brace. Express stood for a nice covey at 5 in sight of the Middle Road crossing. At 12 Just Thrillin was pointing ahead between two green fields as we approached Scott's house. The pointer was composed for the action. He followed that with a strong find at 20. Express was pointed out at the north end of the property at all-age range and blowing out the front. It looked good for a bit, but Doug soon asked for his retrieval unit. At 39 Tommy asked the judges if he was moving anything and elected to end his charge's day in the heat.
The 12th brace included the championship performance as described earlier.
Sunday morning was on Wildfair and this was the setting for Zorra (Kinkelaar) and Irresistible Thrill (Jason Sanders). Sanders' charge pointed ahead at 5. He was tight and the birds were right in front of him. Thrill handled it excellently. As the course eased to the right, Zorra was standing at 7 as Thrill backed. After a short relocation, Shawn put the birds up and shot with all in order. About the time the dogs were lined out, Thrill pinned another covey at 11. When released, Thrill drove about 100 yards down a gridded line and pointed on a rise near two oaks. Jason flushed and relocated his dog but an empty stand ensued. As we turned right in sight of Colquitt Ford Road, Zorra pointed at 24. The culmination of this had the dog on the rope. We moved ahead and Thrill offered game again at 27 with appropriate manners. Jason ended his dog's day at 39 in the demanding conditions.
The last brace was released Sunday at 9:00 a. m. and featured Charitable Deed (Rice) and Northwoods Charles (Owen). During the first quarter hour little was seen of this pair as they toured the course. Deed, or Rachael, was hunting with style along a mowed grid. She continued to the logical conclusion of that cast and was found pointing ahead with all in order. On the south end of Wolf Pond scout called point for Charles. Prior to judicial arrival flight of birds was called. When Judge Beane could not confirm, Owen collared his setter away.
Rice had to ride to collect Rachael after our bend to the right. He soon brought her to the front as we paralleled the side of the wet weather pond. She hunted ahead and offered a covey at 36 amid light sedge. At 45 both dogs stood near the duck pond and both handlers chose to flush. Nothing was raised and Bill Owen elected to harness his dog.
It was hot and Rachael was probably not as crisp as normal, but she did find birds at 54 and at 60. She pointed with high tail and good demeanor. On the last stand a single bird which appeared crippled just hopped over Rachael's back and sat back down. This did not faze the white and liver pointer. On this note the 2019 Masters Open Shooting Dog Championship was concluded.
As we rode in, Judge Phillips remarked that this was the third time he had judged this trial. Entries were down this year, but he felt like it was the best in terms of high quality performances. It is this writer's opinion that this was a most remarkable trial held on some of the most remarkable grounds in the country.
Albany, Ga., March 1
Judges: Geoff Beane and Nathan Phillips
MASTERS OPEN SHOOTING DOG
CHAMPIONSHIP [One-Hour Heats] -- 25 Pointers and 3 Setters
Winner--MILLER UNFINISHED BUSINESS, 1661405, pointer male, by Just Irresistible--Miller's Bring The Heat. Benjy & Teresa Griffith, owners; Joel Norman, handler.
Runner-Up--HALE'S SOUTHERN TOUCH, 1644260, pointer female, by Whipoorwill War Dance--Whippoorwill G M A. Dr. Jeffrey Hale, owner; Shawn Kinkelaar, handler.
SOME SIDELIGHTS
It was good to have Harold Johnson come from Alabama to ride with us one day. Dr. Tom Jackson joined George Hickox in support of their famed Chelsea's Thunder Bolt. Debbie Ozner accompanied George.
Cunkle, former employee of Wildfair, was up from his job at Escape Ranch in Florida, where he assists Nathan Phillips with the dogs. Jerry Kolter came over and rode to see the Northwoods setter compete. As noted earlier Lance Schulz came from Bismarck, N. D., to support his Upfront's Southern Star. Also previously mentioned was Terry Reinke of Longmont, Colo., who pulled her own horse trailer to Union Springs first and then on to Albany.
Saturday was March 2, and Nathan Phillips recalled that it was his dad Gary's birthday. The bittersweet reflection was of a son remembering how much his father loved the sport. Nathan also recalled how thankful he is that his Dad introduced him to the love of the dogs and the field.
We lost Greg St. John of South Fulton, Tenn., this year. He is missed. This writer had the good fortune to share one of the Wildfair guest houses with Greg and his wife Sheral on several occasions and it was a pleasure to know them. The Beane family grew up around the St. John family in the Tennessee/Kentucky area. Those life-long bonds are important.
S. S.