Result: ABHA National Open Shooting Dog Championship
Location: Berea, Kentucky
Post Date: Apr 23, 2019
Submitted By: Rhonda Palmer-Crum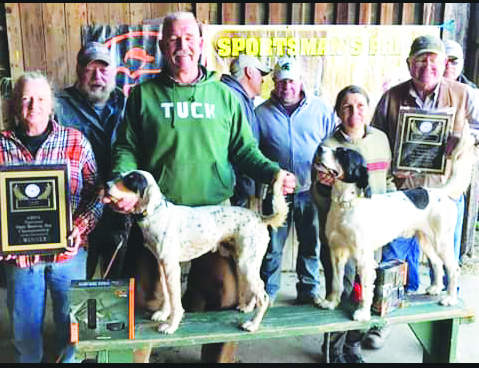 Championship Winners. From front left: Rhonda Palmer-Crum, judge; Kelly Shepherd with Long Gone Wallace, Magda Lear with Jaguar Za Czeshka and Bill Brown, judge. Behind: Gary Vitali, Eddy Smith, Terry Boatright and Bill Hoover.
BEREA, KY. -- Fishing Creek ABHA Open Shooting Dog Championship was held March 26-27 at the Miller Welch Wildlife Area in Berea, Ky.
The trial was sponsored by Sportsman's Pride and SportDog. Without their generous contributions such trials as this would not be possible. We would like to give a big thank you to both sponsors for their help in putting on this Championship.
The winner of the Open Shooting Dog Championship was Long Gone Wallace, white and black setter male, coming seven (June 1), owned and handled by Kelly Shepherd of Waverly, Ohio. "Wally" garnered a total of six finds throughout his hour. Five of his bevies were on quail with his last find on a woodcock. Wally executed good ground manner while hunting and on each of his finds. This was truly a nice brace to watch.
Runner-up was found in Jaguar Za Czeshka, white and black setter male coming nine (July 14), owned by Dylan Lear and handled by Magda Lear of Louisville, Ky. Jaguar had three nice coveys with a great forward ground race. Jaguar has a nice way of moving with a desire to locate birds for his handler.
The Derby Classic was yet another stake that found great future contenders for their owners-handlers.
Boatright's Boomerang, setter male, located four coveys while all the time enjoying his race with enthusiasm. This fourteen-month-old has a bright future ahead of him as it is apparent that he was bred for hunting. Runner-up was awarded to Frozen Chosen, callname Little Bit, owned and handled by Eddy Smith of Fruitvale, Tex. Little Bit made some nice casts and was able to garner four finds in her 45-minute brace. This nice pointer female held well on all her birds and put down a nice forward race.
Judging the Championship and Derby Classic was Bill Brown of Waco, Ky. Bill has been handling dogs since this reporter was a young girl. He has had some great dogs in his time, has experience in judging numerous trials along with running trials. This reporter worked side by side with Bill to name the winners in these stakes.
The Open All-Age horseback stake was won by Ronnie Rogers with setter male Daphne's Gage. Bill Brown's Buckeye White Knight was awarded second. Outlaw Rocky River was third for Bill Hoover.
Mike Branscum of Nancy, Ky., and Kelly Shepherd judged the Open All-Age; their decisions were well accepted.
We thank the judges for their time in the saddle and looking at the dogs.
Berea, Ky., March 26 -- One Course
Judges: William Brown and Rhonda Palmer-Crum
ABHA NATIONAL OPEN SHOOTING DOG CHAMPIONSHIP
[One-Hour Heats] -- 2 Pointers and 10 Setters

Winner--LONG GONE WALLACE, 1649032, setter male, by Stillmeadow's Jim--Kelly's Rainbow Daisey. Kelly Shepherd, owner and handler.
Runner-Up--JAGUAR ZA CZESHKA, 1625177, setter male, by Charko My Czeshka--Lishko Be Czeshka. Dylan Lear, owner; Magda Lear, handler.
Judges: Mike Branscum and Kelly Shepherd
ABHA OPEN ALL-AGE -- 1 Pointer and 5 Setters
1st--DAPHNE'S GAGE, 1641559, setter male, by Long Gone Nixon--Rogers Terrific Trixie. W. R. Rogers, owner and handler.
2d--BUCKEYE WHITE KNIGHT, 1652264, setter male, by Quail Trap Tom--Nutter's Sweet Briar. Edward Teiga & Bill Brown, owners; Bill Brown, handler.
3d--OUTLAW ROCKY RIVER, 1651274, pointer male, by Erin's Stoney River--Erin's Sweet Alabama. Bill Hoover, owner and handler.
Judges: William Brown and Rhonda Palmer-Crum
ABHA DERBY CLASSIC -- 5 Pointers and 1 Setter
Winner--BOATRIGHT'S BOOMERANG, 1681974, setter male, by Boatright's Desperado--Boatright's Zena Re Call. Terry Boatright, owner and handler.
Runner-Up--FROZEN CHOSEN, 1683618, pointer female, by Fiddling Rocky Boy--Travis Princess of Ozarks. Eddy Smith, owner and handler.