Result: Georgia Open Shooting Dog Championship
Location: Waynesboro, Georgia
Post Date: Mar 18, 2019
Submitted By: Nell Mobley and John Ray Kimbrell
WAYNESBORO, GA. -- Our local newspaper, "The True Citizen," features a looking back column weekly. In the January 16, 2019 publication, the following was printed: "75 years ago -- January 20, 1944. Dogs trained and handled by George Crangle of Waynesboro won first and second place in the Georgia Field Trials Open All-Age Stakes at the conclusion of the trials here. Crangle received prize money totaling $1000." Have times changed! George was elected to the Hall of Fame in 1965.
The following other people from Waynesboro, along with the year of induction to the Hall of Fame, are: Henry Berol, 1976; Fred Bevan, 1987; Elwin Smith, 1978; Inez Smith, 1997; Harold Ray, 2006.
Though not from Waynesboro, two other sportsmen worthy of mention are: John Ray Kimbrell, 2009, and George Tracy, 2011. Both of these gentlemen have not missed a year since the early 1970s to run dogs in our competition.
Waynesboro is known worldwide as "The Bird Dog Capital of the World." Recently our city has been recognized as a "Purple Heart City." It is quite fitting to recognize our Armed Forces individuals who gave so much for our country.
We are proud of our facilities at Di-Lane Plantation. The property was acquired through mitigation in the early 1990s. In 2010, stables were built and named "Lamar Mobley Stables" in memory of Lamar for his driving force to keep the trials running for many years. At that time a meeting room, along with bathrooms, were constructed.
John Bearden came to manage Di-Lane for the Georgia Department of Natural Resources in the beginning. After some twenty years, John and his family took sabbatical leave and went on the mission field.
Steve Kyles assumed his duties and retired in 2015. John Vescuso was with us for three seasons. John Bearden has returned and plans to stay until his retirement. John makes certain the grounds and courses are groomed to perfection.
Longtime employee of the DNR, Henry Williams, knows exactly what we need done. Many thanks to John and Henry.
So many favorable comments were made by the owners and handlers. The grounds looked the best ever and both wild and released birds were prevalent.
John Ray and Mary Kimbrell arrived in Waynesboro on December 30 in time for the Derby and Quail Championships and remained until the Shooting Dog Championship was concluded January 18.
John Ray serves as stake manager and marshals along with Gary Futch and Jack Schwarz. An accident with his horse limited John Ray's riding in the saddle a few days. His duties continued as he rode in the truck with Mack Carter, who is 93 and pulls the dog wagon with a truck furnished by Mizell Ford.
The birds are picked up by Gene Ward and banded for release the next morning at 5:30 by Chuck Miller. These two are to be commended for these chores that must be done and it takes special people to perform their duties.
Drawing for the Georgia Derby Classic and Open Shooting Dog Championship was on Monday, January 7. Sitting around the table for the task at hand were John Ray, Mike Jackson, Chuck Miller and Dawn Mallard. Chuck completed the running orders and Mary Kimbrell and Dawn prepared the judges' books. Thirty-one entries were drawn for the Classic and 57 for the Shooting Dog Championship.
GEORGIA DERBY CLASSIC
Riding up front in the judicial saddles to render the decision for the Derby Classic which began on January 11 were Harold Johnson of Shorter, Ala., and Gary Futch of Statesboro, Ga. Harold has retired from the U. S. postal service and is quick to say he is now "his own boss" and has time to spend with the sport he loves.
It seems that Gary has had to step in on a short notice to judge one of the All-Age or Shooting Dog Stakes on several occasions. He serves the Georgia Association as president in a very professional manner. He sold his plumbing business a few years ago. He and his wife Becky enjoy the sport together, and Gary's name is in The American Field having served in the saddle at numerous trials as a judge.
DERBY CLASSIC WINNERS
It is interesting to note that the first and second place winners were bracemates running on course No. 3 the last brace of the day. As a usual thing, this course appears to have more obstacles, but proved lucky for this pointer male and pointer female.
Osceola's Rebel Chief was handled by Jason Loper for Osceola Kennels of Thomasville, Ga., and was placed first. When he was loosed, he took to the course and hunted in the right places. A nice stop to flush was witnessed shortly after breakaway. Excellent manners with a back of bracemate on her second find. Chief was always to the front covering the terrain in high fashion.
Earning second was Miller's Blazing Hot Chick under the whistle of George Tracy for New Jersey owners Muriel and William Primm. This good-looking youngster carded two all in order finds. To complement her bird work was a good forward race.
Named to third was Hightailing Penny, pointer female owned by New Yorker Kevin Joyce and handled by Mike Tracy. She also competed on course No. 3. A fruitless attempt was noted on the first point followed by a slight absence. Two well-spaced finds followed with a good race.
THE OTHERS
First up Friday morning -- Hightailing Pearl (M. Tracy) and One Penny More (Martino). Pearl had a breach of manners and was taken up. A nice find was noted at 19 for More but she was up following a second unproductive.
Kid Rock (Liesfeld) was lost following an unproductive. Calico's Country Strong (G. Tracy) was credited with two finds but went with the birds on No. 3.
A good start for Molly Bare Hill (G. Tracy), last seen at 27. Third placed Hightailing Penny was noted.
Hirollins Talkin Smack (Tobiassen) ran a good race, one good find and back of bracemate. Calico's American Made (M. Tracy) was harnessed early.
No. 5 was shortlived for Rolex (Martino) and Miller's Big Iron (G. Tracy).
Cracker (Roger Duerksen) pointed early but went with birds when flushed. Miller's War Bonnet was not pleasing Mike Tracy and was picked up.
Short hour for Tultra (Liesfeld) following two fruitless attempts. White Knuckles was not pleasing Mike Tracy and was harnessed early.
Two nice females were drawn for brace No. 8. Two Jump (Martino) and Casey Creek Crystal Ice (Tucker). Point was called and birds were seen at 24 and 56 for Two Jump, which also had a stylish back of bracemate with a medium race. Crystal Ice had a find at 32 and 57 with birds in flight. A stylish back was noted, along with a medium race.
Suemac's Missouri Jane was not pleasing George Tracy, with retrieval unit requested. Bittersweet War Cry (Tobiassen) had two finds but moved on the second and was up.
Irrevocable Trust (M. Tracy) had a nice find early but was lost before the hour ended. Martino chose to harness Nor'Easter at 24.
Mike Tracy picked up Rag Popper for not heeding training. Hard Way Jill (Martino) was stylish on finds, had a fruitless attempt followed by bad manners.
Miller's Blazing Hot Chick and Osceola's Rebel Chief's efforts were reported earlier.
Short time for Iron's Sold Alabama (M. Tracy) and Walden's Ridge Storm King (G. Tracy). Discipline most likely followed.
Handlers recognized that neither Out on Bail (M. Tracy) nor Magnificent (Loper) was pleasing them so they were taken up. Osceola's Seminole Wind (Loper) and War Creek Daizie (M. Tracy) were not pleasing handlers and were harnessed early.
Pepper Creek Game Point, a bye dog, did not please Michael Martino and was picked up at 12.
Waynesboro, Ga., January 11
Judges: Gary Futch and Harold Johnson
GEORGIA DERBY CLASSIC [One-Hour Heats] -- 30 Pointers and 1 Setter
1st--OSCEOLA'S REBEL CHIEF, 1682755, pointer male, by Dominator's Rebel Heir--Hilltopper Debutante. Osceola Kennels, owner; Jason Loper, handler.
2d--MILLER'S BLAZING HOT CHICK, 1681098, pointer female, by Kiki's Black Diamond--County Lines Elhew Dot. Muriel & William Primm, owners; George Tracy, handler.
3d--HIGHTAILING PENNY, 1674285, pointer female, by Bail Me Out--Calico's Redhot Ember Annie. Kevin Joyce, owner; Mike Tracy, handler.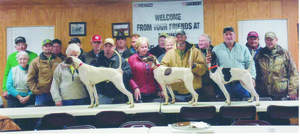 Open Derby Classic Winners. In foreground, from left: Osceola's Rebel Chief with Michael Martino, Miller's Blazing Hot Chick with Eric Russell and Hightailing Penny with Mike Tracy. Behind: Mary Kimbrell, John Ray Kimbrell, Tommy Rice, Jack Schwarz, Nell Mobley, Mack Carter, Jason Loper, Jack Kimbell, Bill and Muriel Primm, Harold Johnson, judge; Mary Tracy, George Tracy, Gary Futch, judge, and Purina rep Jim Smith.
OPEN SHOOTING DOG CHAMPIONSHIP WINNERS
Tommy Walker of Gay, Ga., joined Harold to adjudicate the Championship. Tommy should know a good performance when he sees one. He is on a plantation and working dogs is his thing. He guides hunting parties and is very happy with his duties. Both judges rode hard, remained attentive and rendered their opinion based on what they saw.
When the stake was completed and winners were named, can you believe littermates took top honors? And very young! Whelped on June 1, 2016, both are white, orange and ticked.
Miller's Heat Seeker, pointer male, was handled by George Tracy for multiple owners, William and Muriel Primm, Dennis Hood and Jack and Fran Miller.
Seeker captured first place in the Derby Classic in 2018. Seeker was named champion based on five well-spaced finds and an outstanding race. Covering the course in good fashion, he could be seen to the front running strong -- excellent on his game and manners.
Runner-up honors went to Miller's Just Plain Rowdy, pointer male handled by George Tracy for owner Allen R. Linder of Livingston, Tenn. Rowdy carded four well-spaced finds. One would think he practiced his race and style before he was put down.
The judges noted that the winners ran in unfavorable conditions and located birds in adverse circumstances.
THE OTHERS
It was Sunday afternoon, very cold and windy when the first two dogs were on the line for the Shooting Dog Championship. Two all in order finds and a strong race were credited to Lone Tree's Splish Splash (Gellhaus). Charitable Deed (Rice) ran a good forward race but went birdless.
Miller's Vanilla Snow (G. Tracy) honored Glassilaun War Paint (Tobiassen) along with two finds with birds flown. She finished the hour looking good. Paint was running a good race and was credited with one find. No birds lifted on her second point.
Four mannerly finds with a good race were noted for Backcountry Tornado (M. Tracy). Gellhaus elected to end Attitude's Candy Crush's brace at the road at 35 for not running enough.
Good style was witnessed for Erin's War Creek (G. Tracy). He had two finds with game seen along with a divided find with Osceola's Gunsmoke Man (Loper). Following a fruitless attempt, handler chose to pick up.
Mike Tracy's Adjusted Attitude went missing early with the retrieval unit requested. Creative Cause (Liesfeld) ran a medium race with four well-spaced finds to his credit.
No birds were produced for Kingsman at 20, taken up early by Mike Tracy. Thrill Me (Rice) carded four finds and finished the hour.
The performances of Miller's Handsome Ransom (G. Tracy) and Tallokas Sun Dial (Loper) complemented each other with finds on two points, running at medium velocity to end the hour.
Miller's Miss Calamity Jane (G. Tracy) covered the course forward and had three well-spaced finds. Knight's White Lady (Gellhaus) was lost and the retrieval unit was requested.
Backcountry Bonnie (M. Tracy) knew what she was turned loose for -- to hunt, point birds and run strong until time was called. Birds were flushed on each of her six well-spaced finds. Rice chose to pick up Grand Prairie Thrill following one find and one fruitless attempt.
North Country Girl (M. Tracy) was off to a good start with three commendable finds. She went missing with the retrieval unit requested at 49. The second setter of the trial was Thunderbird Flynnigan (Gellhaus) which had two commendable finds but on the third flush he had a breach of manners.
Sugarknoll War Paint (G. Tracy) and L F Samantha (Liesfeld) had a short hour. Following three all in order finds, War Paint was picked up at road when not pleasing handler. The retrieval unit was requested for Samantha when she was not be seen for awhile.
Short heats for Bail Me Out (M. Tracy) and Cory's Easy Holy Water (G. Tracy). Bail Me Out was not pleasing handler. Holy Water was lost.
Navajo Cody (M. Tracy) moved with birds and was harnessed. Miller's Honor Code (G. Tracy) was credited with two successful finds but was lost.
Following a second fruitless attempt to raise game, Sandhill Miracle Hodge (M. Tracy) was taken up at 50. No bird contact for Northwoods Charles and Gellhaus chose to pick up at the road.
Miller's Lock and Loaded (G. Tracy) had five mannerly finds and an honorable back of bracemate with a strong race for the hour. Irresistible Thrill (Rice) had a fruitless attempt and was picked up at 35.
Brace No. 16 was a nice one to watch with Bulltaeo (M. Tracy) and Lonestar Showbiz (Gellhaus). A slow start for Bulltaeo but he got stronger and birds were flushed at three points. He was also credited with a nice divided find. He finished the hour to the front. Showbiz was credited with two good finds along with a divided find with bracemate. He had a nice race to the front.
Coosawhatchie Smooth Ride (M. Tracy) and Just Thrillin (Rice) had performances that complemented each other. Smooth Ride had three mannerly finds, and Thrillin carded two. They had very nice forward races and a divided find, going on to finish their hour.
Erin's Saint Louis Jimmy (M. Tracy) went missing early and the retrieval unit was requested. Miller's Braveheart (G. Tracy) was taken up early with no bird work.
Bad luck for pointer males The Slight Edge (M. Tracy) and Born on Fourth July (Gellhaus). Edge looked good on point at 30 but was picked up for a breach of manners at flush. Point was called for July at 25 but he moved with birds.
Moonlight Yellow Jacket was picked up early by Mike Tracy. Miller's Unbridled Forever's performance was not pleasing George Tracy and he harnessed the dog following one good find.
The heat was short for Armstrong Mountain Dustie (M. Tracy) which was out of sight shortly after breakaway and not returned for judgment. Neely's Paint the Town was not pleasing George Tracy and was harnessed early.
Reedy Creek Dial Tone honored his bracemate but was not pleasing Mike Tracy. Erin's Country Thunder had an early find with birds flushed and shortly thereafter was not pleasing George Tracy and was picked up.
Bully Bragg (M. Tracy) had a find early followed with a fruitless attempt on his second point. Handler chose to harness. Shortly after Rice turned Bombs Away loose, he stopped with birds seen at flush on two occasions. No game was lifted on the third point. He finished the hour to the front.
Cheyenne Jack (M. Tracy) was picked up after a second attempt to flush. Miller's Just Plain Rowdy (G. Tracy) was reported previously.
Waybetter Rocky (M. Tracy) had three mannerly finds to complement a medium forward race. Not pleasing George Tracy, Touch's Mae Mobley was harnessed early.
Taking to the course favorably, Packin a Punch was lost and Mike Tracy requested the retrieval unit. Zumbro Stinky Pete (Gellhaus) started in a good way, had a point with birds seen. He slowed some and Gellhaus chose to pick up at 48 at the road crossing.
The performance of the champion, Miller's Heat Seeker, was reported with the winners. A fruitless attempt twice for Walden's Ridge Shadow Dancer resulted in early pickup.
Friday morning we had two braces to conclude the running.
Crow Creek Sugarbaby (Daniels) had hunting on her mind. She was credited with five well-spaced finds. She had a nice medium race to the front. Sand Mountain Icy pointed three successful times, one back with no birds lifted on the fourth attempt. The hour was finished at medium range.
Crow Creek Duce (Daniels) ran as a bye. A breach of manners shortened the hour.
Judges: Harold Johnson and Tommy Walker
GEORGIA OPEN SHOOTING DOG CHAMPIONSHIP [One-Hour Heats] --
53 Pointers and 4 Setters
Winner--MILLER'S HEAT SEEKER, 1674886, pointer male, by Just Irresistible--Miller's Bring The Heat. William & Muriel Primm, Dennis Hood & Fran & Jack Millers, owners; George Tracy, handler.
Runner-Up--MILLER'S JUST PLAIN ROWDY, 1674985, pointer male, by Just Irresistible--Miller's Bring The Heat. Allen R. Linder, owner; George Tracy, handler.

Open Shooting Dog Championship Winners. In foreground, from left: Miller's Heat Seeker with George Tracy and Miller's Just Plain Rowdy with Eric Russell. Behind: Mary Tracy, Jack Schwarz, Muriel Primm, Mack Carter, Bill Primm, Judge Harold Johnson, Nell Mobley, Gary Futch, Judge Tommy Walker, Mary Kimbrell and John Ray Kimbrell.
Some Sidelights
Nestl Purina Pet Care is fortunate to have Greg Blair, area manager, on their staff to promote their products. In the fall, I contacted Greg to let him know what we would like to have for our trials. Certificates for dog food to the winners, caps and individual bags to the handlers were received in a timely manner.
For the last four years, our Burke County Chamber of Commerce has partnered with the GFTA to provide a family fun day for the public to see what we do at field trials. Travis Gellhaus gave a verbal overview of the sport, Mike Tracy handled the running dog and Buck Daniels handled the dog to back. Purina provided items to be given to the children.
The owners/handlers' banquet is sponsored by Purina. The dinner is catered by Kathy Cannon and LeRoy Bell, with Dale and Gene Ward, Paula Adams, Polly Dailey, and Peggy and Jimmy Allen assisting. Some sixty people were in attendance including Jim Smith, field consultant representing Purina. Jim could be seen riding in the gallery a few days.
The Chamber of Commerce pays for our advertising in The American Field via hotel/motel tax revenue. This financial support is greatly appreciated.
Ashley Roberts, Executive Director of BCCOC, secures sponsors to host an oyster roast and grilled sausage event for the guests on Thursday evening. Wind jackets and hats were given to the trainers. They are quick to say that community support by us is equal to none other.
Gary and Becky Futch, Jack and Sarah Schwarz hosted a fried chicken dinner one day. And Lawton Huggins prepared his signature chicken bog for all in attendance on Sunday.
Always a big hit is the fish fry with hors d'oeuvres sponsored by last year's first place Derby and OSD champion winner. The owners of the dogs were Bill and Muriel Primm, Dennis Hood, Fran and Jack Miller and Allen Vincent. The Waynesboro Exchange Club members prepare the meal.
Complimentary lunches are prepared and served daily by Pauline Beard, Mary Kimbrell, Belinda Baker and your writer.
Gary furnishes John Ray with a pickup to use during the duration of January. He also provides an ATV for maneuvering around the grounds.
The final evening of the Championship, approximately thirty people enjoyed a delicious barbecue chicken and pork dinner hosted by Dawn and Michael Mallard.
A number of people were on hand during the trials. The list included, but was not limited to: Kenneth Black, Carl Bishop, Jack Kimbrell, Karen and Ernie Saniga; Randy Latty and Lauren; Randy Marsh, Lawton Huggins and friend; Dawn Mallard, Audrey and Ross; J. and Susan Moser; Mark McLean and family; Dr. and Mrs. Billy McCathern; Jim Scott, Casey Hollander and twins along with their nanny, Frannie Jones; Teresa Foster; Jim Morell; Lee, Daisy, and Fisher Avery.
I want to thank all who came to participate and the ones who support the GFTA financially. For the third year, Planter's Electric Membership Corporation, through their Operation Round-up Program, gave us a grant toward the purchase of birds. A great help!
On a sad note, word came on the final day of the Shooting Dog Championship that Mike Tracy's mother-in-law, Vickie Gobrecht, had entered into rest. She had suffered with ALS (Lou Gehrig's disease) for several years. Our very deepest sympathy is extended to Jessi, Mike and all the family.
I recall during the years that the Tracys have experienced good and bad instances in Waynesboro. Aidan, Mike and Jessi's oldest son, was born during the OSD championship. George suffered with a bad toothache one year and in 2018 he was having gallbladder problems. Upon his arrival in Hurtsboro, Ala., he went to the hospital immediately and had surgery. He was out of commission for several weeks.
I look forward to next season. If you missed us in 2019, hopefully the Georgia Championships will be on your calendar for 2020.
N. M.