Result: Alabama Open All-Age Championship
Location: Blue Mountain, Mississippi
Post Date: Mar 8, 2019
Submitted By: Tessa Hughes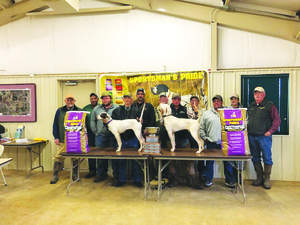 Championship Winners. From left: Ronald Thrasher, Mike Hester, Korry Rinehart, Billy Blackwell with Coldwater Thunder, Judge Quintin Wiseman, Brad Kennedy, Randy Anderson with Touch's Spaceman, Mr. Jordan, Judge Rich Heaton, Kim Sampson and Secretary Greg Bain.
BLUE MOUNTAIN, MISS. -- Twenty-Eight entries made up the field for the 2019 Alabama Open All-Age Championship, the last qualifying trial before the National Championship.
Coldwater Thunder, five-year-old white and liver pointer female owned by Rachel Blackwell of Batesville, Miss., and Doug Arthur of Eads, Tenn., and handled by Billy Blackwell, put on a masterful performance to snare this year's championship trophy.
Named runner-up was Touch's Spaceman, three-year-old white and orange pointer male owned by Matt Griffith of Shawnee, Okla., and handled by Randy Anderson. Coincidentally, both dogs were very capably scouted by Mississippi's own Korry Rinehart.
The stake was held on its traditional grounds, the Hell Creek Wildlife Management Area in Blue Mountain, Miss., starting on February 2.
Many thanks to our sponsor, Sportsman's Pride Dog Food Company, and its representative, Brad Kennedy of Red Bay, Ala., for all the continued support and the gift of dog food to the winners.
Thanks also to our judges (All-Age), Quintin Wiseman of Hogansville, Ga., and Rich Heaton of Boise, Ida.; and (Derby), Wiseman and Brad Kennedy. All are well-qualified and gave their full attention to each dog on the ground.
We were also delighted to have Kim Sampson of Santaquin, Utah join us and ride almost every brace of the All-Age.
The Alabama Field Trial Club also cannot express enough appreciation to Jack Coleman of the Mississippi Department of Game, Wildlife and Fisheries for all the hard work he does to keep the grounds immaculate, birds plentiful, and road crossings safe.
Much appreciation also to Carolyn Page and Melissa Bain who made sure everyone had delicious lunches each day of the trial.
We missed Club Secretary Greg Bain being in the saddle, but he is still recovering from surgery. We were pleased he was able to be on hand every day at the trial to keep us organized and keep every aspect of the trial running smoothly.
Marshals included Joe Hughes, Ronald Thrasher and Brad Kennedy.
The Winning Brace
The 2019 Alabama Open All-Age champion, the inimitable Coldwater Thunder, put on a show with three exciting finds in her third hour brace to secure the championship title.
Interestingly, Thunder also showed herself nicely at the 2018 Alabama Open, also garnering three finds that year.
The weather on Saturday morning started at a chilly 39 but warmed quickly to a high of 65 by hour three.
Thunder and her bracemate, Misty Morn Masked Man, pointer male (Joey McAlexander), were away fast from the breakaway. Masked Man had a very sharp find at 6 all the way around the big bear trap field on the right. All was in order for wing and shot. Thunder swept the bear trap field, making a magnificent cast, and carried on with Blackwell calling point for her at 14 in a feed strip. She stood high and tight for her bird work, looking beautiful, and was away again for an exciting race down to and across Hell Creek.
Both dogs swept the back bottom fields and took the hard right turn heading back toward the clubhouse with everyone sitting up in the saddle to watch the show. Blackwell then called point again for Thunder on the right at 48; she again looked sensational on point and handled her bird work flawlessly. McAlexander called point for Masked Man on the right at the little creek as the course goes left toward the last horseshoe fields. Masked Man also handled his bird work well.
Both dogs then swept on to make big casts in the horseshoe fields. Thunder was to the front and away across Hell Creek, moving on when pickup was called. Blackwell surged forward to find her and again called point for her on what were likely the same birds that had started us out on the hour in the bear trap field, this time on the left. When the judges arrived, Thunder looked magnificent on point and handled that find admirably as well.
The Running
The Championship began with Quickmarksman's Tom Tekoa, setter male (Mike Hester), and Hodges Beastmode, pointer male (Burl Hicks). Both dogs were away to the left from the clubhouse and showed nicely as we looped around and went through the piney woods behind the clubhouse. They hunted hard and to the front with Hester calling point for Tekoa at 51 on the right in the big field below the game warden's house. Tekoa looked beautiful. He went on to complete a very nice race, although he suffered an unproductive at 59. Beastmode ran a strong race but went birdless.
Rebel Pirate, pointer male (David Williams), and Hendrix's Touch Up, pointer male (Burke Hendrix), were in the second brace. These two dogs both had exciting ground races with Hendrix calling point at 41 for his dog near the road across from the game warden's house with Pirate backing, but no birds were moving. Both dogs crossed the road and Hendrix called point again for Touch Up with Pirate backing. Touch Up then had a very nice find with a big covey down below the game warden's house which he handled well. Pirate also had a find at 55 nearby and looked beautiful on his game. Both dogs finished strong.
The third brace was the championship brace covered above.
It was unseasonably warm after lunch with the sun shining brightly and a temperature above 65 . Valiant, pointer male (Anderson), and Shearjoy's Unforgiven, setter male (Betty Shearouse), started the afternoon. Both worked hard for handlers, but both suffered unproductives at 14 and 12, respectively. Valiant went on to have a nice find at 47 along Hell Creek with Unforgiven backing. Both dogs finished their hour.
The fifth brace of the day left from the game warden's house with Ransom's Jack Flash, pointer male (Blackwell), and Game Bo, pointer male (Weldon Bennett). Both handlers called point for their dogs at 39 but Flash was up after taking a step. Bo went on to have a lovely find at 49 in the long bottom going back toward the clubhouse and finished well.
Erin's Full Throttle, pointer male (Lefty Henry), and Rebel Maiden, pointer female (Williams), were up for the last brace of the day. Williams called point for Maiden at 5 in the first field; she handled her bird work well. Both dogs crossed Hell Creek and looked good working their way through the bottoms. Throttle had a find at 46 just past the old four-wheeler trail, and looked good on his game. All was in order as both dogs completed their hour.
Sunday, day No. 2, started warm and dry again. Shearjoy's Unforgiven, setter male (Shearouse), and Whippoorwill Mayhem, pointer male (Larry Huffman), comprised the first brace leaving the clubhouse. Huffman called point for Mayhem at 10 by the little pond on the right but no birds were flown. Unforgiven was up at 17 after a breach of manners on a find in the piney woods behind the clubhouse. Mayhem went on to have a very nice find on the right beside Hell Creek at 28 but was up at 45 after a second unproductive.
Runner-up Touch's Spaceman, pointer male (Anderson), and Coldwater Spectre, pointer male (Bennett), set a blistering pace for the second brace of the day, leaving the game warden's house. A historical note: these two young dogs placed second and third in our one-hour Derby Stake the year prior. Anderson called point for Spaceman at 41 in the hedgerow below the game warden's house and he looked sensational on his game. Bennett showed us all what great eyesight he has by finding Spectre at 48 in deep cover on the left in the big bottom. He went in and labored through briars to put birds in the air for his dog which handled his game admirably. Spaceman and Spectre both had very nice casts in their hour, with Spaceman shooting through the big bottom, carrying on down the farm road out into the bear trap field to have a find at 55 on the left. He handled this bird contact beautifully and went on to finish strong. Spectre danced on after his first find to sweep the bear trap field and then popped up at 59 to have a find in the last field, which he also handled impeccably.
Lester's Storm Surge, pointer male (Gary Lester), and Touch's Blackout, pointer male (Anderson), were up in the last brace of the morning. Anderson called point for Blackout at 12 in the long bottom going toward Hell Creek. Lester called point one feed strip over for Surge at 13. Both dogs handled their game well and were back rocking and rolling across Hell Creek. Both showed nicely in the big bottoms and were really putting on a show. Lester called point on the right at 45 for his dog in deep cover, with the judge and this reporter struggling to get through a briar thicket to reach him. Surge was undaunted by all the commotion, handling the pressure well for wing and shot. Anderson called point at 46 right before the steel bridge for Blackout which looked very nice on his birds. Both dogs went on to finish strong.
The next brace Sunday, the first brace after lunch, found horses laboring slightly in the unseasonable heat and mud. Touch's Adam's County, pointer male (Anderson), and Coldwater Odyssey, pointer male (Bennett), worked hard but produced no birds in their brace.
Whippoorwill Wild Assault, pointer male (Huffman), and Marques Armed Robber, pointer male (Henry), were in the second brace leaving the game warden's house. Both dogs went birdless. Huffman picked up before the rock road. Robber was harnessed at 45.
Quickmarkman's Dan, pointer male (Henry), and Stash the Cash, pointer male (Lester), were in the last brace of the day. Dan was up at 35 after not moving any birds. Cash suffered an unproductive at 20 in the piney woods and second unproductive at 29 and was also up.
Lester's Pete Rose, pointer male (Lester), and Lone Tree's Rod Iron, setter male (Hester), were in the first brace Monday morning with conditions having turned cool and misty. Lester called point for Rose at 15 in the big field but he was up after a breach of manners. Iron showed himself nicely through the piney woods behind the clubhouse but was not moving any birds and was up at 35.
Las Animas Fancy, pointer male (Huffman), and Lester's Jazz Man, pointer male (Anderson), finished the championship running with strong races but went birdless.
Blue Mountain, Miss., February 2
Judges: Rich Heaton and Quintin Wiseman
ALABAMA OPEN ALL-AGE CHAMPIONSHIP [One-Hour Heats] --
24 Pointers and 4 Setters
Winner--COLDWATER THUNDER, 1655558, pointer female, by Coldwater Warrior--Thunder Bess. Rachel Blackwell & Doug Arthur, owners; Billy Blackwell, handler.
Runner-Up--TOUCH'S SPACEMAN, 1669610, pointer male, by House's Ring of Fire--Touch's Sandy. Matt Griffith, owner; Randy Anderson, handler.
Open Derby
Seventeen pointers were entered in the one-hour Derby. For the third year in a row, Gary Lester captured first place in the Derby, this time with the young pointer male Miller's Justifiable which swept the field with two exciting finds, one a very nimble piece of bird work on relocation, and an impressive ground race.
Lester also took second place with Lester's Storm Surge which also distinguished himself with two nice finds, one unproductive, and an exciting ground performance. Hendrix's Copperline, pointer male (Hendrix), did a very nice job to take third place with two classy finds and a beautiful race.
Judges: Brad Kennedy and Quintin Wiseman
OPEN DERBY [One-Hour Heats] -- 17 Pointers
1st--MILLER'S JUSTIFIABLE, 1680372, male, by Miller's Dialing In--Old Road Lou. Al Bryson, owner; Gary Lester, handler.
2d--LESTER'S STORM SURGE, 1681624, male, by Ransom--Beane's Line Dancer. Gary Lester, owner and handler.
3d--HENDRIX'S COPPERLINE, 1681729, male, by Hendrix's Signature--Hendrix's Delta Queen. Burke & Guy Hendrix, owners; Burke Hendrix, handler.