Event: Associated Field Trial Clubs of Florida
Result: Association Field Trial Club of Florida
Location: Punta Gorda, Florida
Post Date: Dec 3, 2021
Submitted By: Don Wood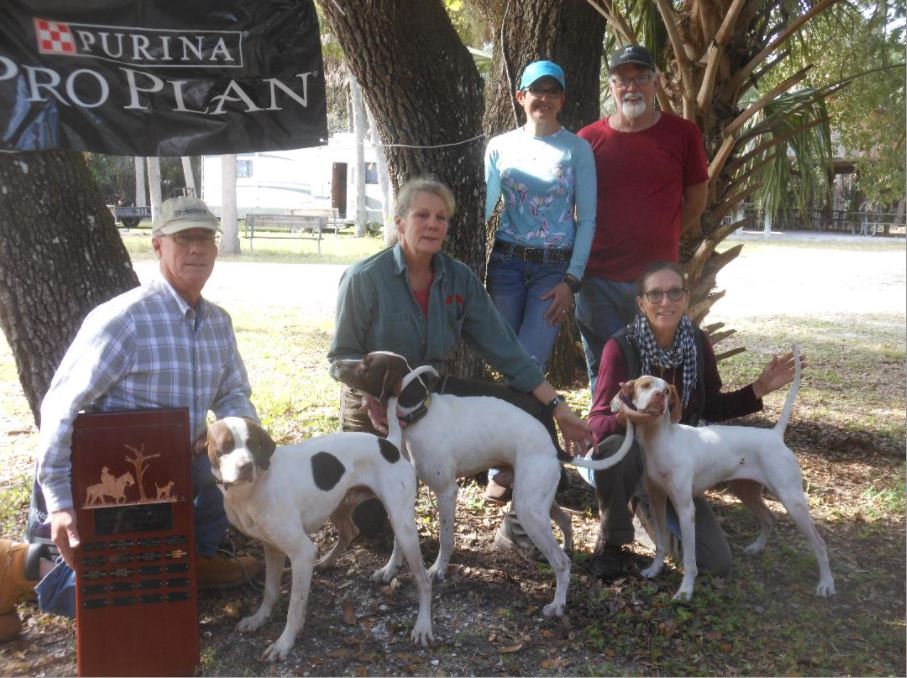 Char-Lee Open All-Age Winners. From left: Sam Arthur with Harry Spratley Trophy and posing Myakka Maxed Out, Beth Brown with Myakka Time Shifter, and Petie Brown with Myakka Lucy Diamond. Standing are the the judges, Tom (right) and Tiphiny Bass.
How good can it get? Robert Franks comes over from Arkansas and brings catfish from local rivers and we enjoy a great meal Friday night and then we continue with another great meal Saturday night with our usual cookout, meat grilled to perfection, many side dishes and those desserts that Terissa makes. You have to ride hard just to burn some of the calories.
We are fortunate to have Robert Franks visit every year. It all started when Debbie Hollingsworth purchased a couple of puppies from Robert many years ago. Since then Robert had to come to keep tabs on these puppies and has been coming back every year. Robert also brought several copies of his book Across the Prairie which makes good reading after working dogs all day.
Judges for the trail were Robert Franks and Paul Daniel for the Shooting Dog, Jim and Mary Ann Womack for the Derby and Tom and Tiphiny Bass for the All-Age. All of the decisions were well received.
The grounds were on the wet side with plenty of standing water to keep the dogs cool. This is normal for this time of year and we will probably be carrying water for our trial in two weeks. The temperatures got into the low 80s around noon but would start to cool by the afternoon running.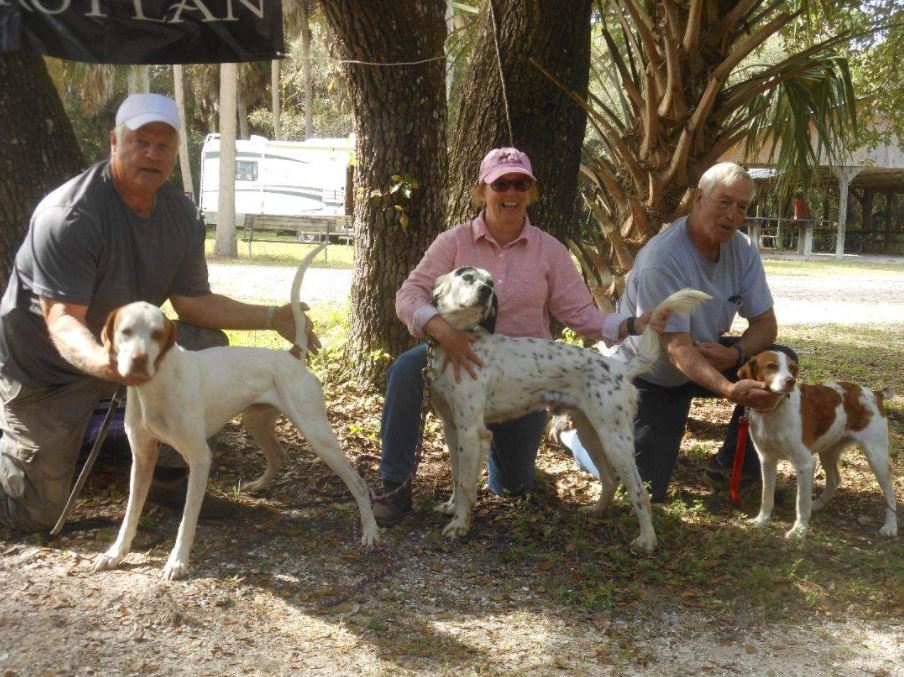 THE WINNERS
The Open Shooting Dog was captured by Dave Vernasco and his dog Double Down Trumpster. Trump scored on a covey at midday as we round the corner and headed toward the grapefruit head. This win gave Dave and Trump the possession of the Super Cells Trophy that was donated by Paul and Jeannie May several years ago.
Second was Jim and Mary Ann Womack's Cole Fusion. Cole had a covey on the second half hour and coupled his find with a strong race. Third place was Kahlua and Mike Tiberii. "Kallie" is always fun to watch and has given all of us an appreciation for the Brittanys.
The Derbies were run late on Saturday. These youngsters continue to show progress as they advance in their training. Holopaw's Rear Axel exhibited excellent manners as he was found on point by his scout. After a 5-minute ride he was still holding the birds, and continued to hold while Justin flushed the birds and moved only a small amount at the shot. Ken and Justin Muzynski continue to dominate the Derby, taking second place as well with Holopaw's Speed Shift. Third Don Wood's Funseeker's Double Trouble.
In the Open All-Age, the Brown sisters were able to accomplish that rare achievement -- they swept the stake! Their three entries as took all three placements. First place was Myakka Maxed Out. That win get his name on the Harry Spratley Memorial Trophy, a beautiful plaque donated by his wife Joyce and made by our club member Paul Daniel. Second was Myakka Time Shifter. Both first and second place dogs are owned and handled by Beth Brown. The third place dog, Myakka Lucy Diamonds, is owned and handled by Petie Brown.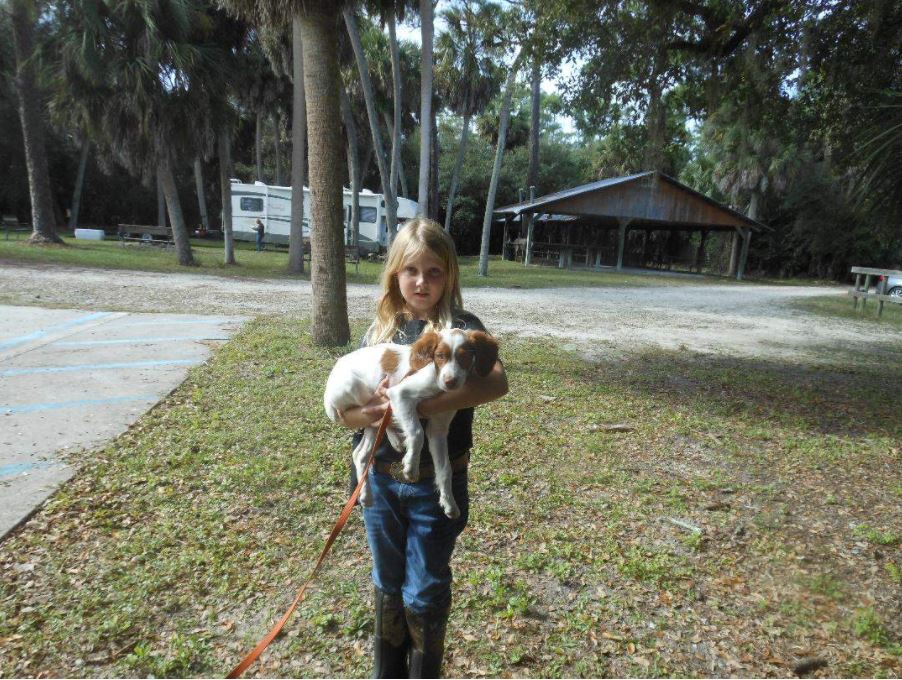 Punta Gorda, Fla., November 27
Judges: Paul Daniel and Robert Franks
OPEN SHOOTING DOG -- 7 Pointers, 2 Setters and 1 Brittany
1st--DOUBLE DOWN TRUMPSTER, 1670312, pointer male, by Funseeker's Rebel Tex--Nacho Myakka Miley. Diane & Dave Vernasco, owners; Dave Vernasco, handler.
2d--COLE FUSION, 1683517, setter male, by Awsum In Motion--Fast and Loud. Jim & Mary Ann Womack, owners; Jim Womack, handler.
3d--KAHLUA TIBERII, 1657153, Brittany female, by Birch Hill Jack is Back--Birch Hill's Jazzy Girl. Mike Tiberii, owner and handler.
Judges: Jim Womack and Mary Ann Womack
OPEN DERBY -- 6 Pointers
1st--HOLOPAW'S REAR AXEL, 1690238, male, by Holopaw's Axel--Hot Digity Dot. Ken & Justin Muzynski, owners; Justin Muzynski, handler.
2d--HOLOPAW'S SPEED SHIFT, 1690239, male, by Holopaw's Axel--Hot Digity Dot. Ken & Justin Muzynski, owners; Justin Muzynski, handler.
3d--FUNSEEKER'S DOUBLE TROUBLE, 1690076, male, by Nacho's Texas Rebel--Nacho's Drama Ma Ma. Don Wood, owner and handler.

Judges: Typhiny Bass and Tom Bass
OPEN ALL-AGE -- 7 Pointers and 2 Setters
1st--MYAKKA MAXED OUT, 1670323, pointer male, by Elhew G Force--Myakka Hey Jude. Beth Brown, owner and handler.
2d--MYAKKA TIME SHIFTER, 1670324, pointer male, by Guard Rail--Myakka T Marie. Beth Brown, owner and handler.
3d--MYAKKA LUCY DIAMOND, 1665013, pointer female, by Elhew G Force--Myakka Hey Jude. Petie Brown, owner and handler.