Result: Clarksville Pointer and Setter Club
Location: Huntingdon, Tennessee
Post Date: Mar 2, 2022
Submitted By: Lisa Littell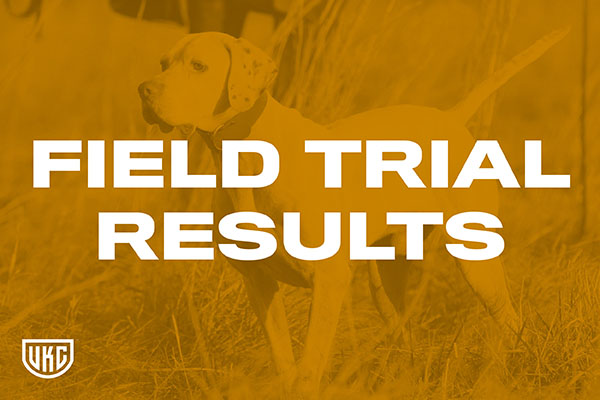 The Clarksville Pointer and Setter Club held its annual amateur trial on the Carroll County Field Trial grounds in Huntingdon, Tenn. The club officials are grateful to the family of David and Angie Williams for the use of the grounds and facilities to host our Open and Amateur trials.
Due to the loss of the grounds at Fort Campbell Military Installation two years ago, the club officers have had to seek other grounds to host trials. We would also like to thank the following individuals for their dedication to filling in the gaps where needed to host this trial: serving as marshals and scouts Michelle Williams Clark, Joe Hughes, Gary McKibben, Phillip Barnett, David Williams, and Angie Williams, and serving as dog wagon drivers John Burrow, Lebob Stanfill, and Dan Warrick.
We would also like to thank each handler that entered their dog(s) in our trial, without amateur owners and handlers our sport would not exist.
Judges for the trial were Shane Duckworth and Brandon (Bubba) Trowbridge. Both judges are lifelong friends that grew up in Morganfield, Ky. They both are avid outdoorsmen to include upland bird hunting. Each have been involved with field trialing and guided bird hunts in their native West Kentucky since childhood. Shane is a skilled farrier, horse trainer, and lives with his family in Fredrickstown, Mo., where they run an expansive cattle operation. Bubba and his family live in his hometown, he is a project manager of a construction company, and spends his spare time providing guided hunts through the family owned Bridge Boys Outdoors.
The trial was held during the very cold nor'easter weekend of January 27-30. Throughout the trial we experienced unusual daily temps below freezing to include a mix of snow and sleet with a bone chilling wind on Friday afternoon. Hand and foot warmers were readily available to all competitors to help keep toasty. Despite the frigid conditions, the dogs were able to produce birdwork during each brace of the trial.
David Williams and his team have worked endless hours to prepare the grounds and develop a bird program that is apparent with each field trial held on the grounds.
The judges reported that they had their hands full trying to choose the winners in each stake due to the amount of bird work, style in ground races, and ease of handling. The club officials would like to congratulate the following winners of each amateur stake.
Our trial began with the Amateur All-Age Stake that drew twenty entries, but one dog was scratched due to an unexpected travel issue. The pointer girls took the reins in this stake. Beating out nineteen other competitors was Pendy's Good Grace when she was awarded first place. Grace is owned and handled by Matt Pendergest.The seven-year-old orange and white pointer female continues to rack up the wins with her competitive spirit.
Taking home the second place honors was Rebel Grace, four-year-old liver and white pointer female that is owned and handled by David Williams. Rounding out the winners' circle was Gary McKibben's Coldwater Paradise, three-year-old orange and white pointer female with the third placement.
The inaugural winner of the U. S. Amateur All-Age Derby Invitational Classic continues to prove her winning style.
The Amateur Derby ran Saturday morning. Ten competitors entered the competition arena. The males dominated the winners' circle in this stake.
Taking home top honors with 1st place was Bubba, Amy, & Colt Spencer's Cocklebur Breaking Bad. "Walt" is an orange and white English Pointer male who has been making a name for himself with many placements during his first season. Jim Pendergest was back in saddle after a shoulder injury and earned the second placement with his orange and white male English Pointer, Imagine. Completing the winner's circle was Warioto's White Boy Rick, orange and white male English Setter, for his owner/handler Scott Little. The field of strong and sharp young dogs seen in this stake provided an inspiration to the future of field trials.
The Amateur Shooting Dog Stake had a field of twenty competitors that began running prior to lunch on Saturday. Entering the winners circle for the second time during the trial was Rebel Grace. Rebel Grace entered a first placement in this stake for her owner/handler David Williams. "Kate" is one to watch as she has been earning points in both the Amateur All-Age and Amateur Shooting Dog stakes held in Region 6 field trials.
Scott Little handled Burrow's Trip My Trigger to a second placement. The orange and white male English Pointer is owned by John and Cathy Burrow. Garnering a third placement was Warioto's Crazy Daisy. Daisy is a six-year-old orange and white female pointer that is lovingly owned by the author and her husband Scott Little. Again, we would like to thank everyone for their entries and assistance in making this a fun and successful trial!
Huntingdon, Tenn., January 27
Judges: Shane Duckworth and Brandon Trowbridge
AMATEUR ALL-AGE [One-Hour Heats] -- 13 Pointers, 2 Setters and 3 Irish Setters
1st-PENDY'S GOOD GRACE, 1664858, pointer female, by Reloaded-Dialed In. Matt Pendergest, owner and handler.
2d-REBEL GRACE, 1687737, pointer female, by Dominator's Rebel Heir-Rebel Maiden. David E. Williams, owner and handler.
3d-COLDWATER PARADISE, 1684062, pointer female, by Coldwater Spectre-Coldwater Belle. Gary McKibben, owner and handler.
AMATEUR DERBY -- 7 Pointers and 3 Setters
1st-COCKLEBUR BREAKING BAD, 1689927, pointer male, by Cocklebur King Tut-Cocklebur Regent Runaway. Bubba, Amy & Colt Spencer, owners; Bubba Spencer, handler.
2d-IMAGINE, 1693699, pointer male, by Touch's Grey Street-Dialed In. Jim Pendergest, owner and handler.
3d-WARIOTO'SWHITE BOY RICK, 1690367, setter male, by Shearjoy's Legacy-Lolita. Scott & Lisa Little, owners; Scott Little, handler.
AMATEUR SHOOTING DOG [One-Hour Heats] -- 17 Pointers and 3 Setters
1st-REBEL GRACE, 1687757, pointer female, by Dominator's Rebel Heir-ReEbel Maiden. David E. Williams, owner and handler.
2d-BURROW'S TRIP MY TRIGGER, 1674490, pointer male, by House's Ring of Fire-Touch's Sandy. John & Cathy Burrow, owners; Scott Little, handler.
3d-WARIOTO'S CRAZY DAISY, 1666448, pointer female, by Boxwood Hotline-Suncrest Showgirl. Scott & Lisa Little, owners; Scott Little, handler.