Result: Mingo Amateur Shooting Dog Classic
Location: Bloomingdale, Ohio
Post Date: Oct 18, 2021
Submitted By: Tim McClurg
Many trials are run on the good grounds of the Mingo Sportsman Club including amateur and open, shooting dog and all-age, different breed trials, and also hunt tests. Its rolling hills along with many small lakes and ponds make it a very conducive venue for any sporting dog event.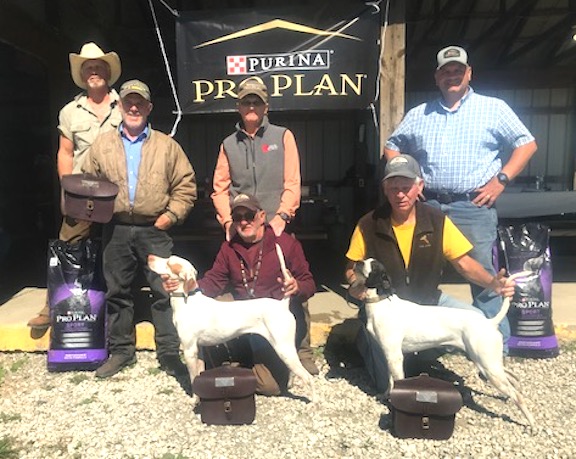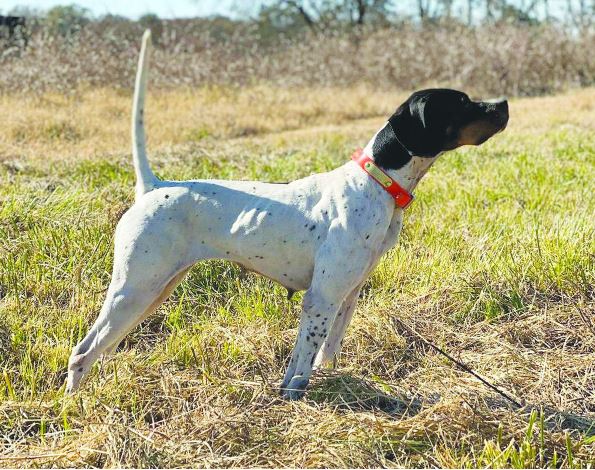 But this is Mingo's one and only trial put on by the club itself. Club members plan the trial, take entries, plant birds, and this year even judged the trial.
Bill Monk was one of our judges this year. Bill is head of the bird dog committee and oversees the grounds, mowing, and scheduling of the seasons events. Bill has judged trials all over the country and also trains and runs his own dogs with great success.
Our other judge was Cliff Messnard, also a longtime member of Mingo Sportsman Club. Like Bill, Cliff is very hands on at the club, and has also judged extensively all over the country. He also trains and runs his dogs. We thank these men for their time and close attention to the dogs.
This year we ran on pheasants as our trial was scheduled between the National Pheasant Shooting Dog Championship and the National Pheasant Futurity.
The birds were fully mature, full feathered ringnecks and hens that were beautiful, taxidermy quality, true pheasants. We had trouble putting them in the crates, their tails were so long.
Anyone who has worked dogs on pheasants knows how unnerving they can be when they come up cackling insults, or worse yet sneak off before the handler gets there. We saw many good dogs whose runs were cut short by birds that flushed wild or slinked off unseen. It takes some luck even with the best dogs and even more with pheasants.
We did catch a break with the weather, though. The mornings were in the low- to mid-40s going to the 60s to 70s in the last braces of the day, mostly sunny skies, just right.
THE WINNERS
Our first place dog ran in the second brace the first day of the trial. Hightailing Penny, stylish pointer female owned by Kevin and Maureen Joyce of East Northport, N.Y., and handled by Kevin. The judges carried her for the length of the trial based on her forward race with multiple finds and superb style.
Our second place dog was Miller's Packing Heat, just one of many fine dogs owned by Georgians Fran and Jack Miller and handled by Fran. This three-year-old pointer female did a good job and finished the hour with finds and lots of finish, which is hard to do on these birds.
Third was Reedy Creek Dial Tone, which also finished his hour with finds, the last was a tough one in thick cover that was finally spotted sneaking off by Marshal Greg Strausbaugh.
In closing, I cannot thank our sponsors enough, Purina and Greg Blair. They make a great product designed specifically for our type of athletic, endurance dogs. They support us and we should support them. You will be glad you did.
Also, I want to thank Ted Goodyear and Roger McPherson for their help driving the dog wagon. Thanks also to all who entered dogs. It was fun and good luck for the coming season.
Bloomingdale, Ohio, September 24
Judges: Cliff Messnard and Bill Monk
MINGO AMATEUR SHOOTING DOG CLASSIC
[One-Hour Heats] -- 33 Pointers, 1 Setter and
3 German Shorthairs
1st--HIGHTAILING PENNY, 1674285, pointer female, by Bail Me Out--Calico's Redhot Ember Annie. Kevin & Maureen Joyce, owners; Kevin Joyce, handler.
2d--MILLER'S PACKING HEAT, 1685699, pointer female, by Just Irresistible--Miller's Bring the Heat. Fran & Jack Miller, owners; Fran Miller, handler.
3d--REEDY CREEK DIAL TONE, 1673570, pointer male, by Miller's Dialing In--White Diamond Sally. Joe McHugh, owner and handler.