Event: Bear River Victory is Champion; Magic Mist Sydni Runner-Up
Result: North American Woodcock Championship
Location: Mcadam, New Brunswick
Post Date: Oct 25, 2021
Submitted By: Russell Ogilvie
The North American Woodcock Championship, lost to COVID in 2020, returned in fine fashion on September 10, 2021.
This year the Championship was contested on six courses through the New Brunswick countryside. From hardwood stands, spruce thickets, alder runs, to blueberry fields, the courses covered it all. With birds on every course, it would come down to the dogs getting it done.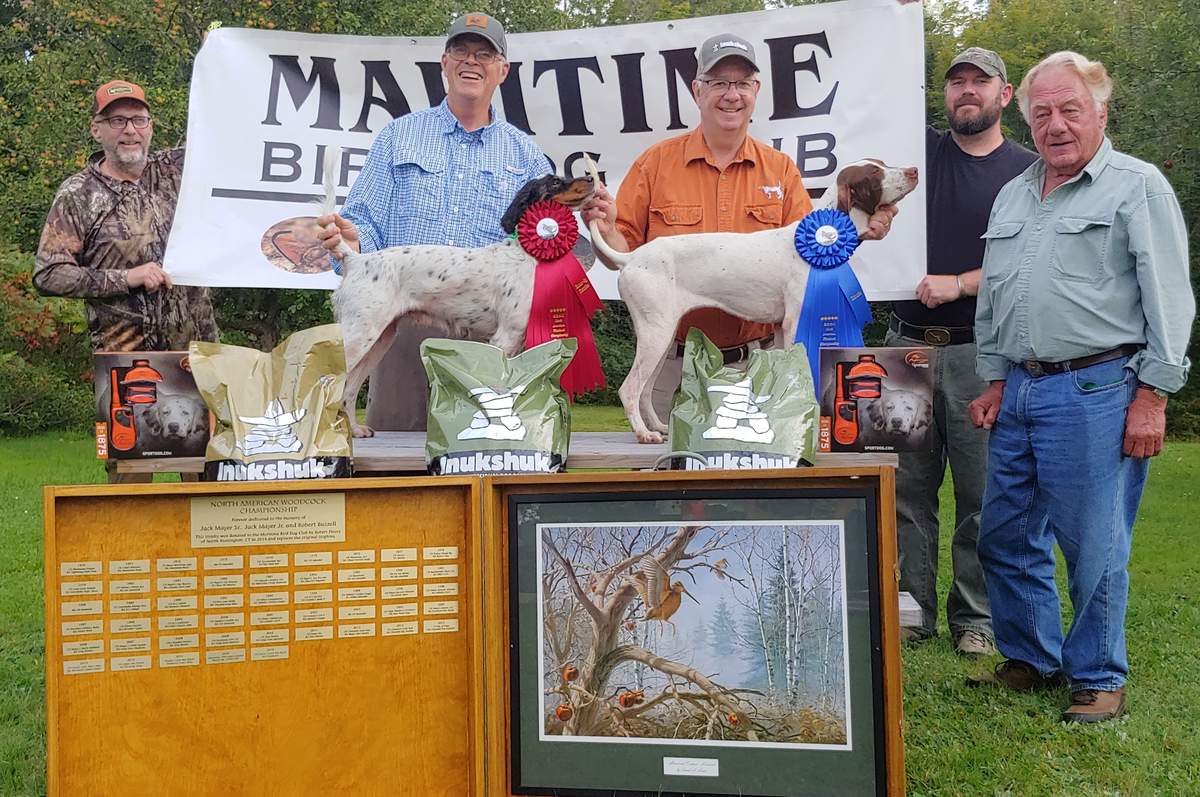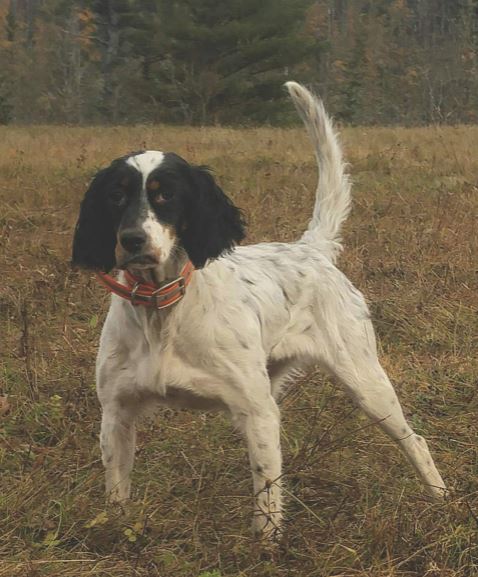 The 2021 Champion, Bear River Victory, white and liver pointer female, came out of the fourth brace. Tory, owned by Christopher Clarke of Liverpool, Nova Scotia, was handled by Bob Little. Tory was braced with Foxbrook Poker Face, pointer female handled by John Stolgitis.
With the rain gone, the dogs tore off down the course known as Casey Brook. Tina took the left side early and Tory went with the right. The right side was a better choice as at 6 her bell fell silent in a raspberry patch. As Little looked for her, grouse started taking flight. Tory was still standing high and tight when the last pair took to the air. In all, six grouse were moved on this stop.
Returned back to the course, she headed back down the trail but this time she thought the left side was the ticket and she was correct again. She stopped at 8 with Tina coming in to back. Little flew a woodcock out of the ditch with all in order. With both dogs back on course, they headed forward and deep, Tina to the left and Tory to the right. Tory carded her third find at 14 with a woodcock on the left side. That would all she would need as she opened up and ran to the edge of the bell. Both dogs covered the hillside in search for more game. Tory settled in and cruised. She did stop one more time at 48 but nothing was home. Little sent her on up the hill going away.
The runner-up came from the third brace. Magic Mist Sydni, white, black and tan setter female, owned and handled by Joe Dahl of Danforth, Me., was braced with Chasehill Little Lilly, pointer female and handled by John Stogitis.
With the rain winding down, it was still challenging keep track of the bells on county line north. Sydni, a very flashy dog, ran hard through the thick cover and handled well around the course. Lilly would be the first dog to stop at 9 with nothing produced. She stopped again at 14 and again nothing was produced but on her relocation, she pinned down a pair of grouse with glorious style. When she stopped at 26, Lilly moved up during the flush ending her day.
Sydni had the rest of the course to herself and she made the best of it. Stretching out and running hard, she stopped at 45. After a lengthy search, she was located in the thick cover with a grouse off her nose. Sydni going back at it, stopped at 50 but Dahl could not get a bird in the air. Returned to the course, she slammed on point at 52 and this time a pair of grouse took off with all in order. Sydni would finish strong searching for more birds.
Putting this trial together and making it happen was as challenging as it gets. With the border opening up just thirty days prior, there was complete uncertainty if the North American would even happen. Then, with all the requirements, there was concerns that people may not want to tackle those hurdles. Well, the show must go on and people came from far and wide. It was obvious the need to rekindle old friendships and to turn dogs loose on these grounds outweighed the border crossing struggle.
In a time like this, where does the thank you start or end? The Maritime Bird Dog Club would like to thank all the owners and handlers for entering dogs. There is a strong field trial history in New Brunswick, and holding this trial is important to keep it going.
They would like to thank the judges, Ian Corbett and Dale Hackett. From torrential rains to hot afternoons, they took it all in. They kept their eyes on the dogs and their ears on the bells. A tough job in any weather.
Thank you to our host, Norm DeWitt at the Hoof N Paw Outfitters who was assisted by his friend Ronnie Carreau from Massachusetts. Full belly's and laughter filled the weekend. Ronnie graciously donated his tip money to the Maritime Bird Dog Club, a very thoughtful and generous gesture.
A big thank you to our sponsors. Corey Nutrition, the makers of Inushuk dog food provides the support necessary to see a financially viable trial. Brian Conoley and David Corey were in attendance on the first day. They gave a thorough rundown of the why and hows of producing a quality product. They also battled the weather with us to see the dogs go. The winners would like to thank SportDog Canada and John Day for donating three collars. Again, great companies producing quality products.
THE RUNNING
Brace No. 1: Mooselook Fionn (ESM/McNulty) and Duckhook (PM/Stolgitis) broke away in heavy rain. The sounds of the bells were drowned out and virtually useless. Fionn worked close off the road and was reward with a woodcock at 12. Fionn would take an unproductive at 16. Brute worked well of the road but when he got too deep, neither the handler could hear the bell or Brute the handler. The tracker had to be called at 25. Fionn stopped at 26 but decided to go with the bird ending his day.
Wynot Pete (PM/S. Forrest) and Springbrook Maximus (PM/R. Ogilvie) had the go at the heavy rain and thick cover. They started out fine but as they opened up, it became difficult at best. Pete would have some trouble crossing the powerline. Both handlers walked and hoped the dogs would locate them. Max bell had gone silent at 26 but the location was hard to determine. Pete would help as his bell stopped and Max was located and a grouse took flight. Both dog were cut loose. Max got behind and then decided to exit stage right and the retrieval unit was out. Pete continued on but was unable to locate a bird.
Brace No. 3 featured the runner-up and was noted earlier.
Brace No. 4 had the winner, and was highlighted above.
Brace No. 5: Wild Apple Hard Cider (PF/C. Doherty) and Chasehill Poison Ivy (PF/Stolgitis) headed on down the hill. Ivy started of strong, making some big moves. Cider was closer working, pointed at 18 and a woodcock was produce. Ivy stopped at 29 and needed to be relocated. Ivy moved up thirty yards, slammed on point and all stacked up. A pair of grouse was flown. Cider would dig up another woodcock at 28 but also suffer an unproductive shortly after. Ivy finished well and was closely considered.
Wynot Sully (PM/Forrest) and Little Miss Margaret (PF/Stolgitis) had the shot at the big hill. A great course to show a dog, they both went out big and strong. Margaret tearing up the cover like no other dog had so far. She stopped at 25 to the left of the course. A grouse blew out and all was in order. She was cut loose and went right out the edge of her bell. She stopped again at 30 but moved up during the flushing attempt ending her bid. Sully ran powerful and forward for Forrest. We would stop at 45 deep to the left but kept starting back up. He finished the hour strong but without a bird.
Day No. 2, a new day, no rain but the temperatures would rise quickly.
Brace No.7: Wynot Roscoe (PM/Forrest) and Wild Apple Jonathan (PM/Doherty) headed on down the road working back and forth. Roscoe would have an unproductive at 18. He had a woodcock at 30. Roscoe and Jonathan had a divided find at 55. They finished with a moderate race.
Cairds Crackling Rosie (PF/Little) and Elhew Snakedancer (PF/Doherty) took off on county line south. Both dogs crossed the power line in fine fashion. Rosie would cut to the right stop and 11. Little and scout was went in and Rosie was found standing and a brood of grouse took of all around her. The shot was fired and all was in order. Back on the course, Rosie went hard and forward. Snakedancer stopped at 22 but went with a group of three grouse ending her day. Little had the rest of the course to navigate Rosie around. Her bell fell silent at 38 but nothing could be produced. He went ahead strong and her bell fell silent just before time. The scout was sent out and walked up a woodcock before the dog was located. Without being witnessed by a judge, credit could not be given. Rosie was another dog that had the judges talking.
Brace No. 9: Mooselook Mac (SM/J. McNulty and Elhew Snakewood (PM/Doherty) had country line north. Mac started out strong and big. Handler struggled to keep him focused and the retrieval device was called for. "Kobe" had a stop at 46 but moved up during the flushing attempt ending his day.
Cairds Remi (PF/Little) and Daddy's Little Boy Butch (PM/Stolgitis) went deep on the breakaway. Both handler worked to get them back in bell range. Butch would return first, followed by Remi. Both dogs would go deep again with Butch going to the left and Remi going straight out. Little lost Remi's bell and moved forward. Butch was on the edge going left to right and crossed the course. At 12, the judge looked over and spotted Remi standing. A woodcock lifted and all was in order. Butch swung past and failed to back, ending his day. Remi continued to impress the judges with her run. She seem to be getting stronger until 50 when she started to loose some steam. She finished the hour moving well and hunting. Remi's run was discussed at length as well.
Sweet Southern Belle (ESF/J. Wilkins) and Springbrook Sweet T (PF/Ogilvie) took off down the hill. Belle went strong and never returned. The retrieval device was called for. T ran a smooth forward race working both sides of the road. Her bell fell silent at 30 to the right of the course. The scout was sent in as the handler moved forward. A group of five grouse got up next to the road and a tinkle of a bell was heard. Ogilvie walked in and found T standing but loose. He relocated her and she move up and locked up. Ogilvie could not produce a bird and she was sent on again. She stopped briefly on the road and when she moved into the woods a grouse was heard leaving ending her day.
Twelfth and final brace: Wild Apple Spot On (PM/Doherty and Chasehill Little Spec (PM/Stolgitis) had the last go at a ribbon. Spot had an impressive race but could not produce a bird. Spec went large and Stolgitis had trouble working in around the course. When the bell could not be heard for an extended period, the retrieval unit was called for. Spec was found 300 yards forward pointing a grouse.
McAdam, N. B., Canada September 20
Judges: Ian Corbitt and Dale Hackett
NORTH AMERICAN WOODCOCK CHAMPIONSHIP
[One-Hour Heats] -- 21 Pointers and 3 Setters
Winner--BEAR RIVER VICTORY, 1672780, pointer female, by Daddy's Little Boy Butch--Hog Hill Katie. Christopher Clarke, owner; Robert Little, handler.
Runner-Up--MAGIC MIST SYDNI, 1659946, setter female, by Star's Southern Idol--Black Face Miner. Joe Dahl, owner and handler.