Result: Alberta Open All-Age Classic
Location: Longton, Kansas
Post Date: Oct 27, 2021
Submitted By: Stan Wint
The 2021 renewal of the Alberta Open All-Age was hosted by the Sunflower State Field Trial Club at the Westfall Ranch outside of Longton, Kan. The trial commenced on Friday, October 15, 24 hours after the completion of the Mid-America All-Age Championship.
Twenty-four dogs were drawn and competed for placement with twelve dogs in the accompanying Derby.
Enough cannot be said about the generosity and support Bill Westfall provides to the field trial community. Without the availability of his grounds for all-age and shooting dog trials, many of the trials in the Midwest simply would not happen.
Mark Livingston of Central City, Ia., and Barry Ward of Paola, Kan., presided over the trial and their judgments in both stakes were well received.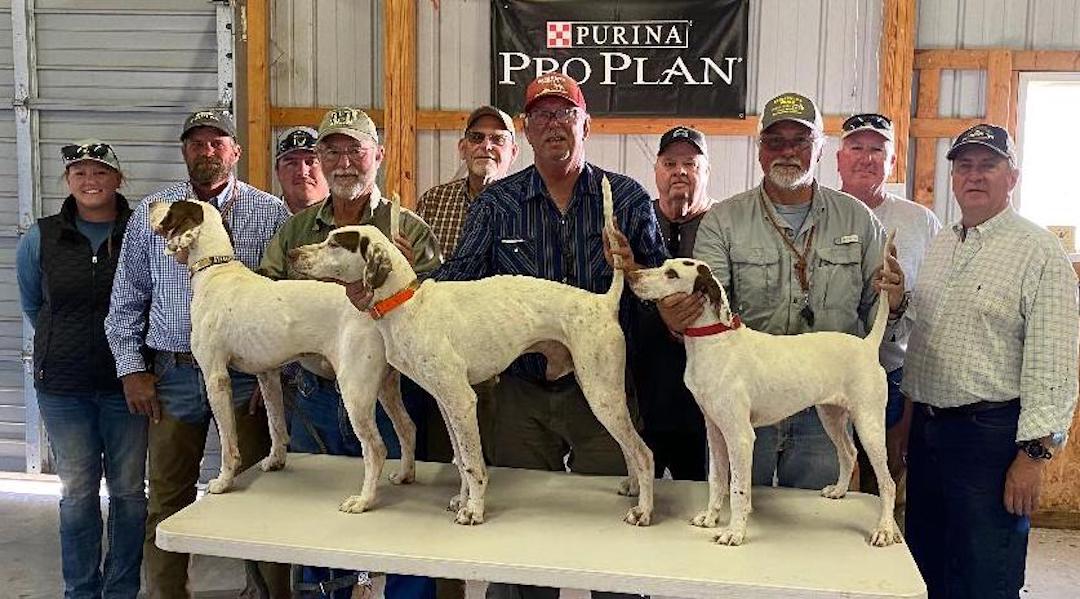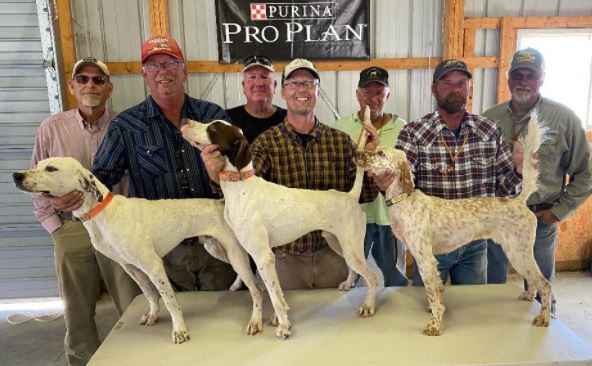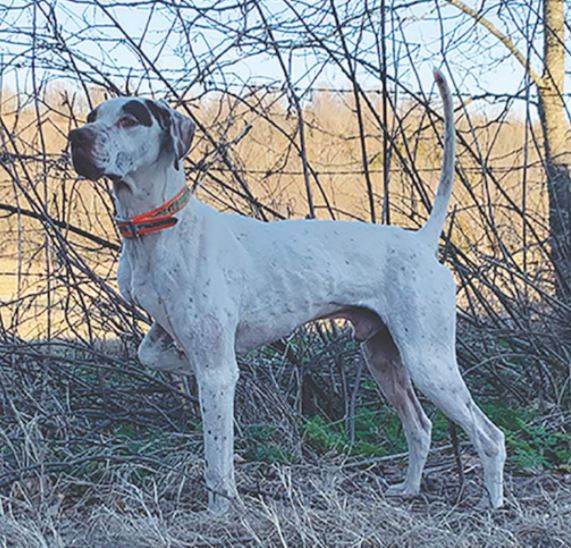 ALBERTA OPEN ALL-AGE WINNERS
In the second brace, Sadie Firefly, pointer female handled by Allen Vincent, ran on course No. 2 and had two expertly handled finds and a very acceptable race which helped her to garner third place.
Sadie Firefly is owned by Natlie Cooper, Steve Lightle and Dr Jim Mills of Searcy, Ark.
Westfall's True Grit, pointer male handled by Andy Daugherty ran in the 10th brace on course No. 1 and had a strong race that tested the limits of the course. Daugherty and Vincent worked well as a team to handle this strong running dog. Although gone at time, Vincent found the dog pointed on a hedgerow and Daugherty flushed a liberated bird to help True Grit gain second.
True Grit's owner is Ryan Westfall of Liberty, Mo.
The winner of the Alberta Open All-Age ran in the 7th brace on course No. 1. Matt Cochran handled Whippoorwill Forever Wild which broke away strong. As the course turns to the right at the 7-minute mark, scout Joe Worsham was dispatched and found Wild on the side of the hill pointing with picturesque style. Cochran flushed and was not immediately able to produce game; he decided to relocate the dog which pinned a wild covey with great intensity. After presenting birds to the gun, Cochran sent Wild to the front and he remained there. His race was strong, always forward and responding to his handler in a timely manner.
The seven-year-old white and liver pointer male is owned by Phil Witter of Baton Rouge, La. This win should qualify Whippoorwill Forever Wild for his third trip to the National Championship.
Longton, Kan., October 15
Judges: Mark Livingston and Barry Ward
ALBERTA OPEN ALL-AGE CLASSIC [One-Hour Heats] -- 24 Pointers
1st--WHIPPOORWILL FOREVER WILD, 1662663, male, by Whippoorwill Wild Agin--Sparkles. Phil Witter, owner; Matt Cochran, handler.
2d--WESTFALL'S TRUE GRIT, 1663635, male, by Erin's Brave Heart--Westfall's Irish Bell. Ryan Westfall, owner; Andy Daugherty, handler.
3d--SADIE FIREFLY, 1691207, pointer female, by Westfall's True Grit--Gin Smoke And Lies. Natlie Cooper, Steve Lightle & James Mills, owners; Allen Vincent, handler.
OPEN DERBY
In the companion Derby, Westfall's Power Trip and H P Shots Fired put on quite a show. Although no birds were pointed, they both had very strong races and were consistently to the front. Power Trip made a big cast around the pond on course No. 1 off the breakaway and hunted all the right places consistently ahead to earn first.
H P Shot's Fired is a big white and liver pointer which has great speed, style and animation moving making the judges' decision very difficult.
Wynona Nickelback Sugar is a snappy setter female that has consistently placed in almost every trial she has been entered in. All these dogs have a bright future.
It is not often all the planets align. As a National Championship qualifier, the performances in this trial were exemplary. The trial went smoothly. The grounds were picturesque. The weather was ideal. Birds were plentiful. You could not have asked for more.
In conclusion, thanks to all who made this event successful.
OPEN DERBY -- 10 Pointers and 2 Setters
1st--WESTFALL'S POWER TRIP, 1693198, pointer male, by Westfall's Black Ice--Westfall's Cutter. Ryan Westfall, owner; Andy Daugherty, handler.
2d--H P SHOTS FIRED, 1692506, pointer male, by Wiggins Mister Ronnie--Wiggins Miss Swami. Rodney Shoemaker, owner and handler.
3d--WYNONA's NICKLEBACK SUGAR, 1690017, setter female, by T's Nickleback--Carpenter's Don't Ya. Bruce Sooter & Brad Folsom, owners; Allen Vincent, handler.