Result: International Pheasant Championship
Location: Berea, Kentucky
Post Date: Oct 27, 2021
Submitted By: William S. Smith
The International Pheasant Championship kicked off the program on Friday morning, October 15, 2021 at the Miller-Welch Central Kentucky W.M.A. Sixteen pointers were entered in the competition. When the dust had settled, the four-year-old white, orange and ticked pointer male, Lester's Storm Surge, was declared the champion. Tommy and Bonnie Hamilton of Springfield, Ky., are the proud owners of Surge. Gary Lester handled the champion.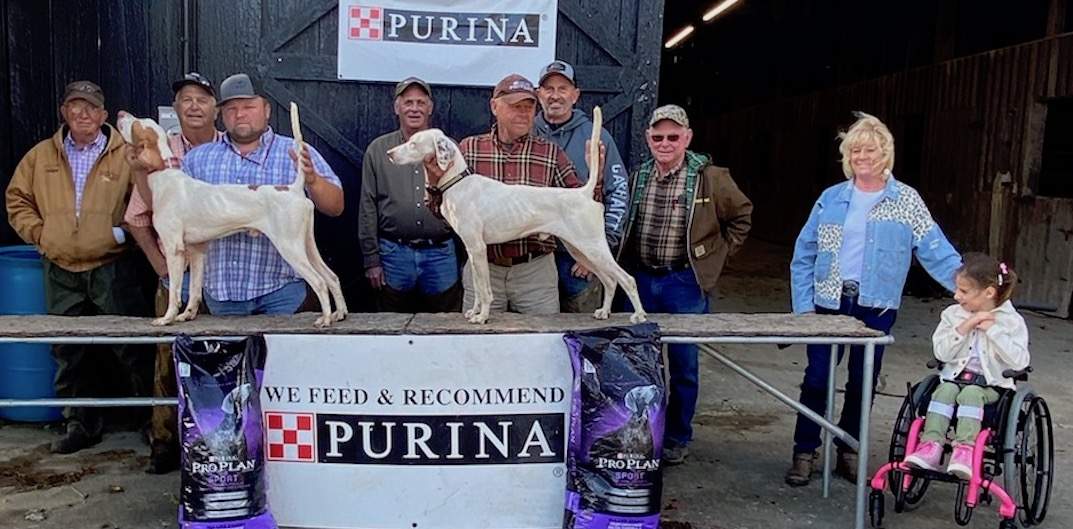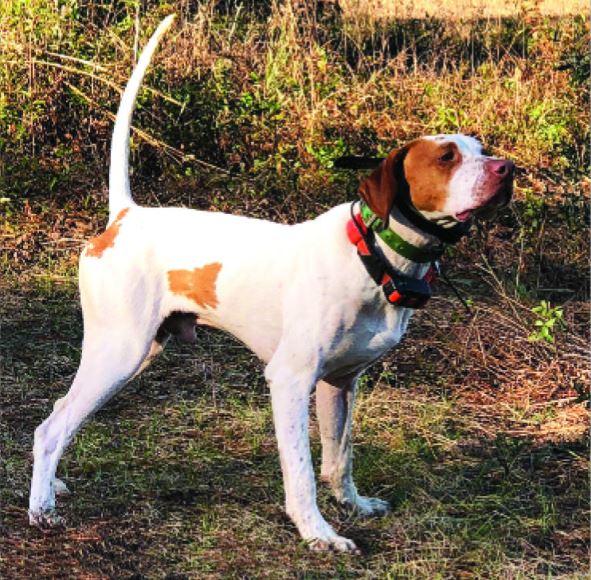 Game Wardon, five-year-old white and liver pointer male was handled by his owner, Dr. Fred Corder of Corinth, Miss., to the runner-up position. Surge and Wardon were braced together in the third brace and they filled up the hour with far-reaching races and exceptional bird work. Their performances are detailed the brace portion later in the report.
The International Pheasant Championship was first contested in Baldwinsville, N. Y. It ran there many years before a change of venue took it to the Killdeer Plains for goodly time. But that venue became inaccessible for horseback field trials when horses were judged to be "detrimental to the grounds". The clubhouse, barns, and the corrals were bulldozed down as soon as the ink dried on the paper, ensuring that field trials would never be run there again.
Killdeer Plains Wildlife Area is a 9,000 plus acreage located three miles southwest of Harpster, Ohio now used for outdoor activities such as ATV riding, hunting, and education concerning nature.
The trial was dormant a few seasons until Dr. Fred Corder of Corinth, Miss., took control of the trial after his friend, Tom Honecker, passed away suddenly in March, 2010. Trial headquarters were moved to Dresden, Ohio where the trial was held on reclaimed strip mine ground. Dresden was a challenging venue with little mowing done to the courses and high, dense vegetation. The steep hills were a test of stamina for dog, horse, and man. With little amenities from the Wildlife Department, entries dwindled to the point that it was not feasible to continue in Dresden. The trial was not conducted for a couple of years until the trial was resurrected this year in Berea, Ky., at the Central Kentucky W.M.A.
The Kentucky Field Trial Association's assistance was invaluable in the process to relocate the trial to Berea. Association members worked closely with Dr. Corder and the Kentucky Wildlife Department to ensure that every I was dotted and every T was crossed. Their involvement made for a smooth transition for the trial.
The Pheasant Championship Club hosted the trial. Dr. Fred Corder is president. Director Andy Cline of McArthur, Ohio was in attendance to assist as needed. The third member of the club, Mike Jackson, was not able to attend because of a prior commitment.
The trial is a Purina points trial for the Purina Top Dog Award, and the Purina Handler of the Year Award. It is also a National Championship qualifier.
Pam Tucker and Tommi Smith prepared hot sausage and biscuits for each morning. Tommi set out the sandwich and fruit trays for the lunches served in the clubhouse each day. Pam also baked home-made apple pies for all to enjoy. Pam is famous for her apple pies. She also prepared bite-size French toast and link sausage on some mornings. Pam is famous for her apple pies. Someone said, "If they eat like this at every trial, I'll be here every weekend." The lunches and dog wagon treats were at no charge to the participants.
Charlie Jackson piloted the dog wagon and also flagged at the road crossings. Charlie's dog won the Amateur Derby in the preceding amateur trial. Charlie went by Pam's house each morning to pick up the thermos of hot coffee and the groceries that Tommi and Pam had prepared for that day. Every day, between the first and second braces, everyone went straight to the dog wagon for the appetizing fare that Charlie spread out for everyone. It was a treat participants looked forward to.
Buster Tucker and Tim Hammons were the workhorses of the trial. They were up long before daylight each day to plant the pheasants. They put out 25 pheasants the first day of the trial and 15 the next morning. A total of 80 pheasants were released--40 in each Championship. In addition, they served as scouts and course marshals. They were seldom idle, always doing something to ensure the trial ran without any hitches. Their efforts were appreciated.
Many thanks to Purina for underwriting the ad on the American Field web site, donating Pro Plan to the winners, and for sponsoring a Purina dinner on Saturday evening. Everyone was invited to attend the dinner at Cooper's Restaurant in Richmond. The dinner was enjoyed by all and it was a good time of fellowship and food. Hats are off to Purina for its generous sponsorship.
Many thanks also go to SportDog for donating a model 2525 electronic collar for the champion and a model 1825 electronic collar for the runner-up. Their sponsorship is greatly appreciated.
Steve Towery, veteran judge from Murray, Ky., accepted the invitation to adjudicate. Steve is very knowledgeable on field trial requirements and the difference between a poor performance, a mediocre performance, and a very good performance. He has, it seems, a photogenic memory. He doesn't take many notes, but he can reconstruct a brace from memory. Your scribe filled the second saddle and it was a pleasure to work with Steve.
The International Pheasant Championship began on Friday morning with the mercury in the low 40s--ideal field trial weather.
THE RUNNING
Brace No. 1: Dunn's Hell'n Highwater (Dunn) kicked off the stake with bracemate Game Rebel (Corder). Highwater moved through the country at a fast pace, but was only occasionally in touch with Dunn. The retrieval device was taken at 43. Rebel had the first pheasant find of the stake when he pined a hen at 15. When Corder flushed the hen went straight up in the air and then looked for less crowded country. Rebel hunted the remainder of the hour with a good cast coming off the long hill. He was in front when time expired.
Lester's Shockwave (Lester) had a nice find on a pheasant at 11 when the scout found him standing. His luck turned at that point and he had unproductive stands at 25 and 27 ending his bid. Willow's Silver River (Stevenson) was off to parts unknown early and the retrieval device was taken at 14.
Lester's Storm Surge (Lester) and Game Wardon (Corder) were the last brace before lunch and they put on quite a show before intermission. Wardon was on the board first at 3 with a nice covey find on quail. Surge answered the challenged at 7 with another quail find. They were standing side by side at 12 and a divided find was recorded here on quail. Surge wasted no time pointing again at 14, but the stand proved to be barren. Surge scored a nice quail find on a long cast down a feed patch with Wardon backing nicely. Wardon was discovered by the scout at the end of a long cast in a long bottom at 42--Surge was backing at a distance. Corder put the hen pheasant to wing with everything in order. The course turned down the power line and Surge was stacked up again at 47 the end of a food patch looking into a woody thicket. Lester flew the pheasant as Surge stood steady. Wardon's scout found him standing at 51 and Corder, despite his best efforts, could not put feathers in the air. Wardon was credited with an unproductive stand. As the end of the brace neared, Surge made a big swing toward headquarters and followed the edge back toward Lester. Lester sent him down a long food plot and Wardon regained the front here. Surge scored the final find of the brace on a single quail at 60. Because Wardon was behind due to his unproductive stand, Surge had the better finish. A good hour.
Brace No. 4. Lester's Boss Man (Lester) was credited with a back at 3. He pointed a pheasant killed by hawks at 14. He had a barren stand at 23 and was out of pocket after that. Lester asked for the retrieval device at 47. Broken Halo (Stevenson) was quick to garner an unproductive at 3. He was on point again at 10 where a rabbit was seen leaving the vicinity. He backed Man at 23 on Man's barren stand. Halo finished the hour without the benefit of any bird work.
Cole Train (Corder) was scratched because of a torn pad. Casey Creek Crystal Ice was collared at 25 when she was not suiting Buster Tucker.
Stash the Cash (Lester) had unproductive stands at 34 and 40 ending his chances. Dunn's Tried'N True (Dunn) was lost soon after breakaway and Dunn took the retrieval device at 23.
Miller's Speed Dial (Lester) and Game Heir (Corder) started the action when they broke away at 8:03 a. m. Dial was ready to run today and Lester and his scout worked hard to keep in touch. Dial had a mind of his own and Lester took the retrieval at 30 when it was apparent that Dial was not responding to Lester. Heir suffered an unproductive stand at 17. He had a stop to flush on a pheasant at 26 but decided to chase before Corder arrived ending the brace and his chances at the championship.
Brace No. 8: Lester's Another Shockwave (Lester) hunted the country until 33 when he was asked to relocate and he bumped a pheasant. Pendy's Good Grace had a nice find on a pheasant after a relocation at 40. She finished the hour without benefit of any other bird work and this ended the stake.
Berea, Ky., October 15
Judges: William S. Smith and Steve Towery
INTERNATIONAL PHEASANT CHAMPIONSHIP
[One-Hour Heats] -- 16 Pointers
Winner--LESTER'S STORM SURGE, 1681624, pointer male, by Ransom--Beane's Line Dancer. Tommy & Bonnie Hamilton, owners; Gary P. Lester, handler.
Runner-Up--GAME WARDON, 1676189, pointer male, by Caladen's Rail Hawk--Game Creek. Dr. Fred Corder, owner and handler.
TOM HONECKER MEMORIAL OPEN DERBY
Twelve pointers were entered in the Derby that remembers the late Tom Honecker whose untimely death was a severe blow to the Pheasant trials that were held at the Killdeer Plains Area near Harpster, Ohio, then subsequently at the Tri Valley grounds near Dresden, Ohio. Tom was also involved with the Amateur Field Trial Clubs of America, serving as a trustee for several seasons and ultimately as AFTCA president.
The stake began on Saturday mid-morning October 16 under cloudy, misty skies and concluded that afternoon. Heavy rains had frequented the area the preceding night, but had moved out of the vicinity before the start of the stake. Six of the twelve starters were credited with bird work.
Dunn's Sneak'n In, white and orange pointer male handled by his owner, Will Dunn of Lebanon, Ky., topped the field to take home all the marbles. He ran an acceptable Derby race and scored a broke find on a woodcock at 24.
Rocky River Loaded for North Carolina owners Phil Stevenson and Carl Lefler, handled by Phil, garnered second place by the merits of a quail find at 15 and a far-reaching race.
R W Cool Breeze, handled by Gary Lester for owner Roger Watson of Evansville, Ind., was awarded third based on a strong application, but with an occasional absence coupled with a quail find at 26.
TOM HONECKER MEMORIAL OPEN DERBY-- 12 Pointers
1st--DUNN'S SNEAK'N IN, 1697090, pointer male, by Dunn's Tried'n True--K F Prairie Storm. Will Dunn, owner and handler.
2d--ROCKY RIVER LOADED, 1696572, pointer male, by Broken Halo--Morgan's Mountain Maggie. Carl Lefler & Phil Stevenson, owners; Phil Stevenson, handler.
3d--R W COOL BREEZE, 1697312, pointer male, by Lester's Storm Surge--R W Susie Q. Roger W. Watson, owner; Gary Lester, handler.