Result: Region 19 Brittany Amateur All-Age Championship
Location: Valentine, Nebraska
Post Date: Oct 28, 2021
Submitted By: Dr. Robert Rankin
The 2021 Brittany Region 19 Amateur All-Age Championship was again held at the Harms Cattle Co. Ranch twenty miles south of Valentine, Neb. They have graciously let us hold this event and the Pheasant Championship here since 2014, holding off all cattle operations during the running.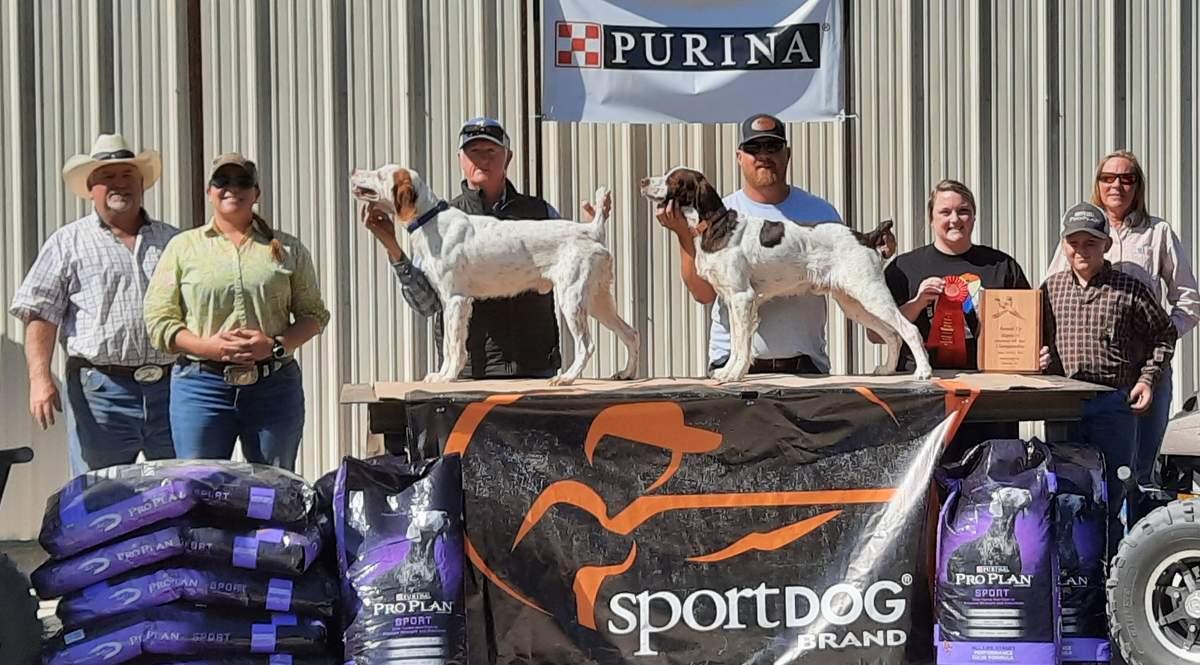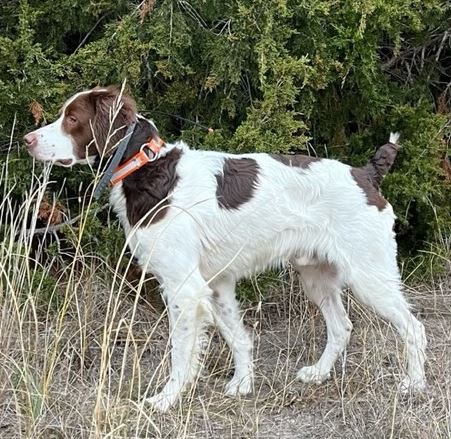 Both Jim and his son John help keep horse water buckets filled, help run the dog wagon, provide hay, help with food, etc. Our many thanks to the Harms!
An event like this takes a lot of coordination and workers for it to run smoothly. First of all thanks to the St. Croix Valley Brittany Club for hosting this event and for Steve Ralph taking the lead. Thanks to Lori Ralph for organizing all of the evening meals and to Alicia Harms and Barb Harms for helping prepare the meals. Thanks to John Harms for allowing us to use his Kawasaki Mule as a dog wagon and Kent Patterson for providing his Polaris Ranger as an additional dog wagon.
Thanks to John Harms and Steve Ralph for releasing the pheasants nightly. Thanks to Tom Tracy for marshalling all of the braces, and to Jim and Hunter Harms for taking care of the horses keeping them watered and fed.
Thanks to our judges -- Kelli Aitken and Rhonda Haukoos -- both seasoned field trailers who know what a good dog looks like. Rhonda graciously stepped in when the original judge tested positive for COVID the day she was to leave for the trial.
We'd like to thank Purina for their financial support and providing ProPlan product for all the placed dogs. We thank SportDog for presenting a training collar to the winner. We'd also like to thank Cosequin for providing their products that support joint health that is so critical to the longevity of athletic dogs.
This year's winner was Piney Run Jake, nine-year-old Brittany male handled by his Tennessee owner Kent Patterson. Jake had a nice find and a big forward race throughout the hour.
Runner-up was El Grande, handled by Nebraska owner Robbie Myers. Grande had a nice sharptail find at 51 and a big race but not quite with the consistency as the winner.
Pushing the winners were Spanish Dancer, also handled by owner Robbie Myers. She ran big but didn't quite have the handle as the first dogs. Out of pocket at 50, she was found on point with a nice find followed by a stop to flush 50 yards farther up. And J J's Levi The Lion Heart run by owner Joe Williams. He had a nice find at 10 and ran a forward race to garner consideratioin.
Thanks to all the handlers who came as far away as the East Coast and Western Colorado and multiple states in between. Everyone appeared to have a good time at this event. Thanks for coming to participate!
THE RUNNING
Day 1, brace 1: Marjo's Fille De La Bretagne (John Perry/Brie) and Cedar Valley Luke (Todd Babbel/Luke). Brie was under birds at 45 in the sparse covered sand hills and relieved of her duties. Luke ran the hour forward at moderate range and went birdless.
Prairie Wind Pistol Pete (Steve Ralph/PD) and Piney Run Jake (Kent Patterson). PD ran a good forward race at a distance for the first half but became a little more erratic the second half and went birdless. Jake ran big and forward for the first half but not quite as big the second half. Point called at 33 with a nice find and all in order. Taken on, he continued his forward race to finish the hour.
In. No. 3, Jagoub's Spell Caster (Tom Jagielski/Tabu) and Jowill's Dutchess Of Destiny (Joe Williams /DD) DD pointed at 4, moved up to establish with Tabu backing. DD chased at the flush which finished her hour. Tabu pointed at 20 and unexpectedly chased at the flush to end her hour.
WW's Gin and Tonic (Burton Wice /Ginny) and Brendi Brooks Cowboy Up (Ray Trimble /Tuff). Ray (the oldest person to ever win an American Field Championship) noted his dog Tuff to be lame and picked him up early. Ginny chased at 27 to end her hour.
Both CVK's Jungleland (T. Babbel/Clarence) and El Grande (Robbie Myers/Truman) ran big forward races but required a lot of handling through the sandhills. Robbie got Truman lined out and was rewarded with a find on sharptail at 51. Clarence is a young dog and tired near the end but had a good race otherwise.
J J's Sir Walter Raleigh (J.Williams /Raleigh) and Been There ( Dr. Bob Rankin/Tip) started somewhat slow but got better as the hour went on with both looking better the second half. Tip had a stop to flush on a pheasant at 55.
Day No. 2 , brace No. 7: CVK's Spartan King (Jack Alexander/Leo) and Blazin' E Z Mac (Steve Ralph). Both got off far to the right at 5 but were brought back. At 30 we entered the sand hills. Point was called for Leo at 33 but no bird could be produced. As the gallery went on they flushed the bird. He had a second unproductive after that. Mac had a good first half but shortened some as he hunted for birds but went birdless.
Spanish Dancer (R.Myers/Sassy) and Cedar Valley Zeke (T. Babbel ). Sassy had a big run but was lost to the side and back a couple times before returning. At 50 she had gone left when we were going right. The scout found her pointing, birds were flushed and all was in order. Following this she had a stop to flush and finished well. Zeke had a forward race with finds at 39 and 49 and looked great on both. His race was moderate at times but always forward and with a nice gait.
Big Mac (Susan Januschka) and Georgia's Tiger (T. Tangen) had forward moderate races until the day started to get hot and the dogs went through sand burrs, they were picked up.
Kashmir (S. Ralph/Kash) ran a nice forward race for Steve but went birdless. Piney Run Hilltop Blew (K. Patterson/Blew) had an unproductive at 10 but went on for the best race of the stake. He was always forward and "moving out." Both dogs handled the heat well and looked good throughout.
The temperature was up near 80 and both Second Amendment (J. Perry/Remi) and Roustabout's All In (T. Babbel/Al) got hot and were retired early.
No. 12: Jowill's Daniel in the Lion's Den (J. Williams/Daniel) and W W's Miss Wendy Peffercorn (Burton Wice/Wendy). Daniel got into a mess of sand burrs at 10 and couldn't recover. Wendy had a find at 15 with all in order. She continued around the course ignoring the heat and showed some good forward moves. Overall she had a nice race.
Day No. 3, brace No. 13: J W B Arctic Cat (J. Alexander/Kimber) and Maxwell's Prickly Pete (T. Babbel/Pete) started well down past the duck house and into the sandhills. Point called for Pete at 35 but he couldn't stand seeing a bird in the sparse cover and was relieved of his duties. Point called for Kimber at 41 but no birds produced. She then went on to make the cast of the stake, probably almost a half mile to the left and then back to the front. Unfortunately sand burrs shortened her day.
Ru Jem's Dirty Dingus McGee (S. Ralph) had problems with the heat and was picked up early. JJ's Levi The Lion Heart (J. Williams) had a nice find at 10 followed by an unproductive at 20. Then he ran a good, forward race through the hills to the meadows where he suffered a second unproductive at 45. Taken on, he had a good finish.
The final brace: T J's Black Diamond (J. Perry/Coal) and Georgia's White Lightening (Travis Tangen/George). George started off well with a big cast to the left followed by an unproductive at 18. At 35 he pointed again but moved up and a bird was seen to fly. Coal started off with a large cast but got behind and ended up birdless.
Valentine, Neb., September 24
Judges: Kelli Aitken and Rhonda Haukoos
REGION 19 AMATEUR ALL-AGE BRITTANY CHAMPIONSHIP
[One-Hour Heats] -- 30 Brittanys
Winner--PINEY RUN JAKE, 1659010, male, by Piney Run Art--Piney Run Gypsy. Kent Patterson, owner and handler.
Runner-Up--EL GRANDE, 1697401, male, by Cowboy Way--Special Hope. Robert Myers, owner and handler.