Result: West Tennessee Amateur Trials
Location: Dancyville, Tennessee
Post Date: Jan 30, 2021
Submitted By: Marty Todd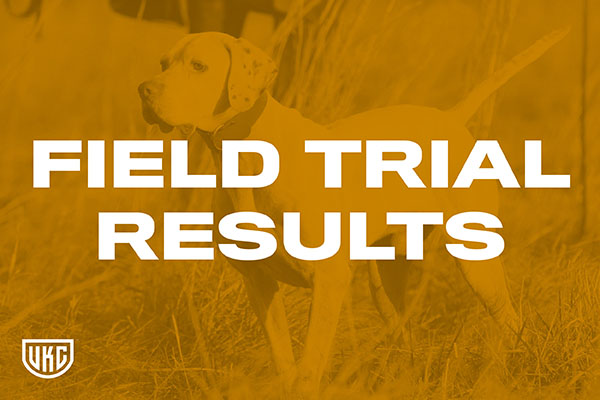 DANCYVILLE, TENN. -- A lengthy and successful weekend of 61 entries was enjoyed by the West Tennessee Field Trial Association in Dancyville, Tenn. The Amateur competition, Shooting Dog, All-Age and Derby was held from Thursday, January 7, until Monday, January 11.
Owners and handlers from near and far entered these competitions in hopes of rewarding their hard work and having an exceptional time. For five days, competition was high, bonfire hot, home cooked meals were enjoyed, and new memories made.
Each year, the WTFTA members begin the deep cleaning of the grounds to welcome the new year of competition, but this year was a bit more exceptional. There is new life in Thomas Currie IV's small but quaint home. Every room has newly stained floors, freshly painted walls, and modernized plumbing. Judges and guests are now welcome to stay and can just walk across the street after a hard day of fun.
The 90-year-old barn has newly repaired horse stalls. A bird dog mural is displayed on the west side of the clubhouse. Last but not least, Nashville's angel wings have nothing on WTFTA outstretched painted quail wings exhibited on a wall for the enjoyment of selfies and group pictures.
The field trial grounds are certainly ready for field trials.
AMATEUR STAKES WINNERS
The Amateur Shooting Dog competition began the festivities January 7 with a field of fifteen entries. Despite several unproductives and pickups, birds were plentiful to these winners. Thank you to the judges, Keith St. John and Ike Todd.
After winners were announced, dogs and horses were fed, and now it was time for participants to relax and be social. WTFTA top chefs, J. P. Hathcock (secretary) and Crutcher Stoots (treasurer), prepared an exquisite dinner of chicken thighs, green beans, and french fries. With a satisfied appetite, people moved to the open fire until its time for some shut-eye to be ready for the next big day.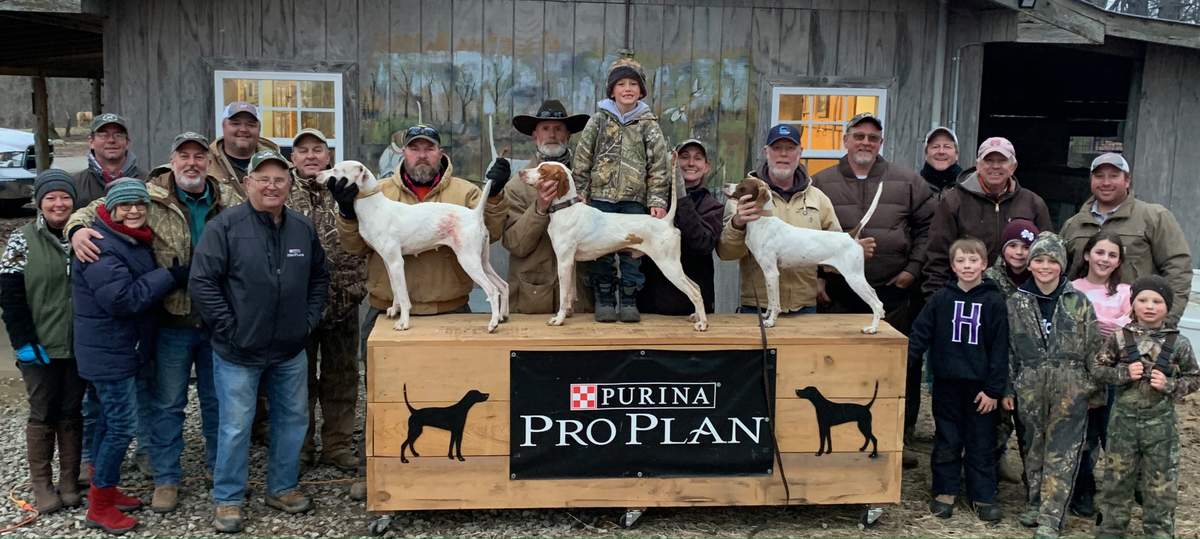 The Amateur All-Age had a whopping thirty entries. Judges, handlers, and the gallery withstood the cold wind and gray skies. Across the expanse crop fields, many white dogs beautifully ran the lines, and even had some finds. Thank you to the judges, Keith St. John and Charlie Frank Bryan.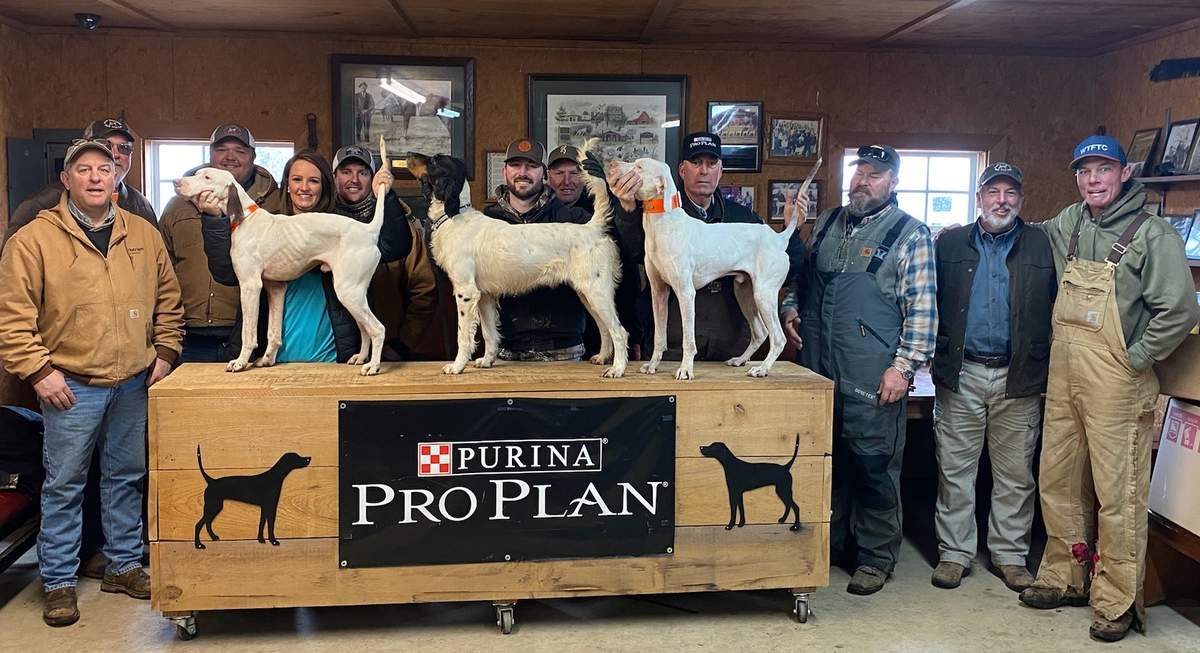 Once again, our top chefs showed out with pork tenderloins, baked beans, and the infamous french fries. The following Saturday night, local friends and longtime guests came out for the annual fish fry. Thank you to Hassell Smith and his family for cooking delicious catfish, hushpuppies, and yes, more, French fries. As traditions has it, once you fill up on good food, it is time to surround the hot coals for some entertaining stories.
Much to everyone's surprise, the weather gave a pleasant ending to these competitions. What once started as a drizzle became thick white snowflakes. The number of entries in the Derby was low, so only a half of a day was spent for these youngsters. Thank you to the judges, Keith St. John and Allen Currie.
Thank you to the landowners: Bill and Allen Currie, Dr. Gene Spiotta, Larry Humber, Skip Taylor, Rich Boumeester, and Blake Kukar. Thank you to John Butler for supplying the birds.
Thank you to Purina for sponsoring these trials and donating bags of feed for the winners.
Thank you to all of the owners and handlers that entered these competitions. Thank you to our top chefs and McDonalds for preparing each day's breakfast and lunch. Thank you to all of the folks who did not enter a dog, but were there to help every step of the way.
February 11 is the scheduled starting date for the West Tennessee Open All-Age trial. WTFTA is preparing for another successful and entertaining competition. Newcomers are always welcome to show their talents, share their experiences, enjoy good food, and feel right at home.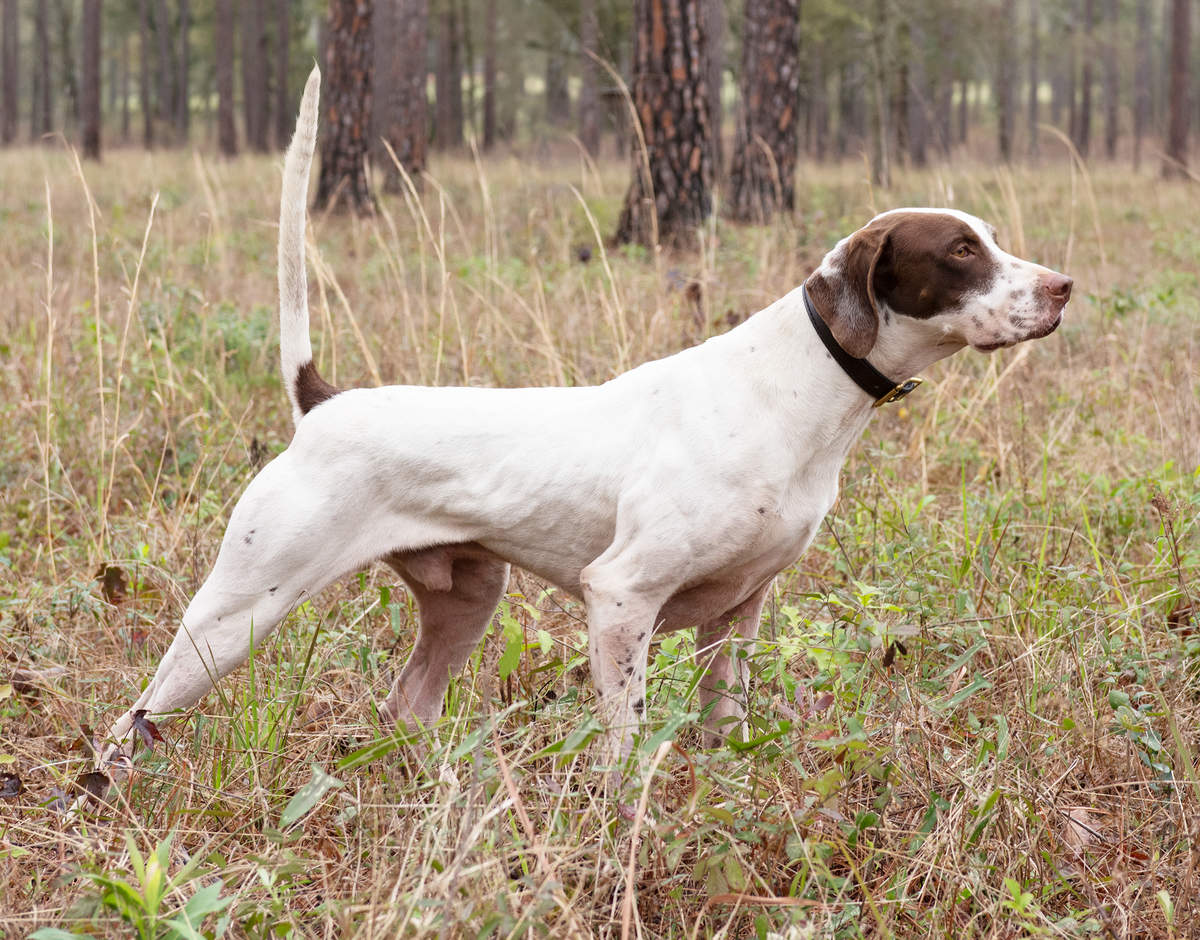 Dancyville, Tenn., January 7
Judges: Keith St. John and Ike Todd
AMATEUR SHOOTING DOG [One-Hour Heats] --
17 Entries
1st--LESTER'S PRIME POISON LANE, 1652018, pointer male, by Lester's Snowatch--Lady's Southern Charm. Brian Peterson, owner and handler.
2d--BIG CREEK'S COLDWATER FRANK, 1678773, pointer male, by Coldwater Warrior--Big Creek's Free. James Heimdal, owner and handler.
3d--COCKLEBUR DRAMA QUEEN, 1658664, pointer female, by Indian Creek Perfect Storm--Reedy Fork Katie. Bubba, Amy & Colt Spencer, owners.
Judges: Charlie Bryan and Keith St. John
AMATEUR ALL-AGE [One-Hour Heats] --
26 Pointers and 4 Setters
1st--PHILLIPS OFFLINE, 1656000, pointer male, by Phillips Warning Line--Phillips Bottom Line. Nathan Phillips, owner; Mike Small, handler.
2d--COCKLEBUR KING TUT, 1678129, pointer male, by Touch's Smooth Rider--Cocklebur Stripper Candie. Bubba, Amy & Colt Spencer, owners.
3d--NEMAHA RIO, 1668952, pointer male, by Nemaha Free Style--Wiggins Snow Rebel. Dr. Pat McInteer, owner and handler.
Judges: Allen Currie and Keith St. John
AMATEUR DERBY -- 12 Pointers and 2 Setters

1st--COMO THUNDER, 1687714, pointer male, by Skyfall--Cath Me Dot. B. K. & Rachel Blackwell, Doug Arthur & David Russell, owner; David Russell, handler.
2d--SHAGTIME SCOTT, 1690275, setter male, by Shagtime Zeke--Sky's The Limit. Chris Cagle, owner and handler.
3d--SMALL'S WHITE CHARGER, 1687724, pointer male, by Phillips Offline--Phillips North Line. Mike Small, owner and handler.