Result: Mississippi Open Championship
Location: Michigan City, Mississippi
Post Date: Feb 3, 2021
Submitted By: Piper Huffman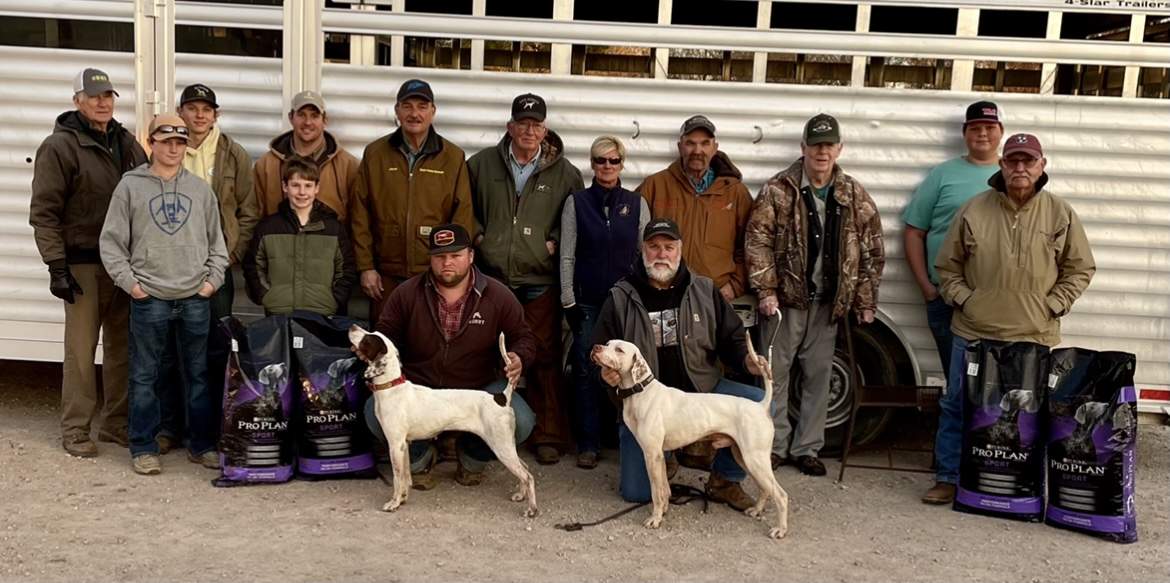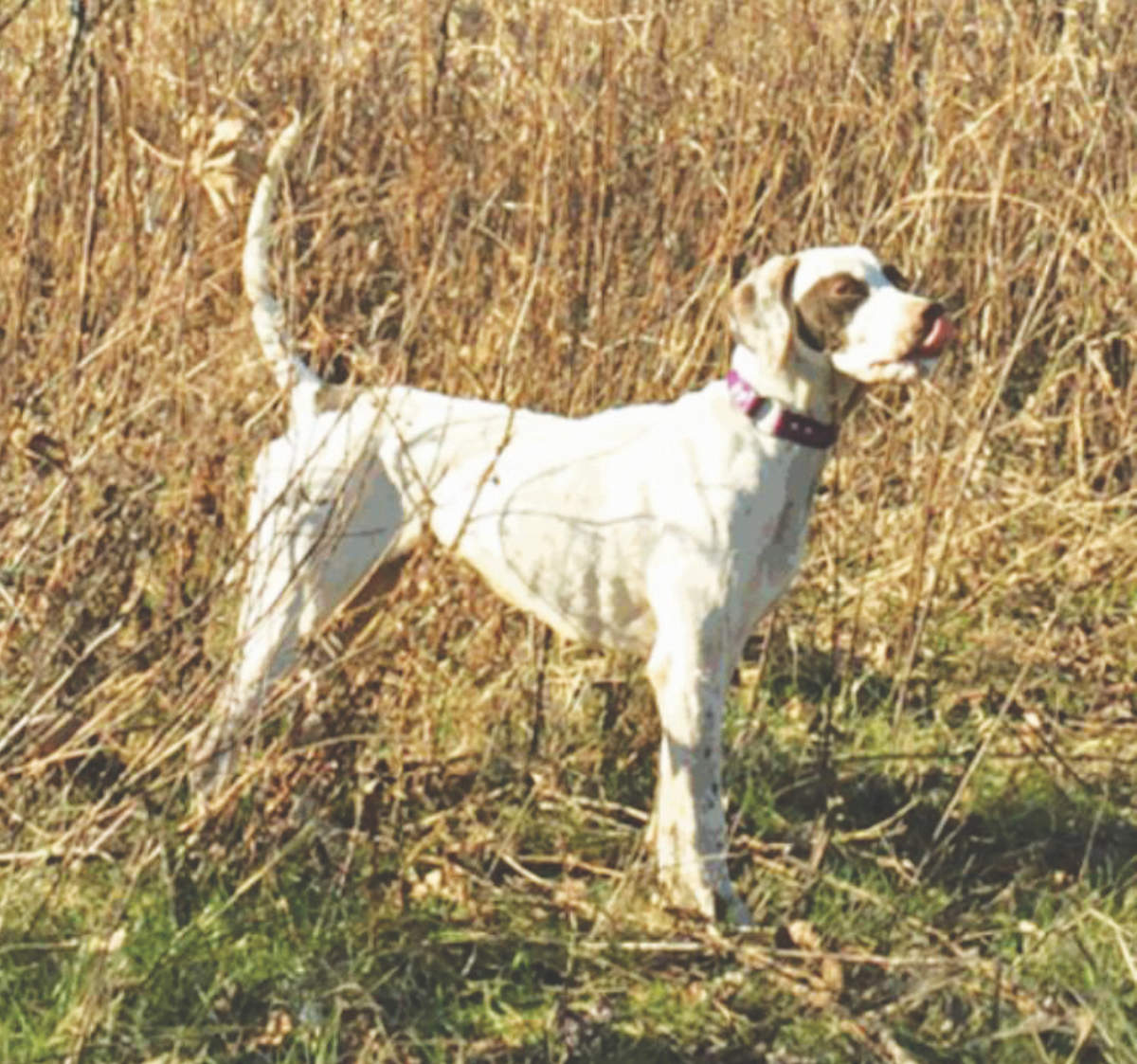 MICHIGAN CITY, MISS. -- Winner of the 2021 running the Mississippi Open Championship was Coldwater Thunder, six-year-old white and liver pointer female, owned by Billy K. Blackwell, Doug Arthur, Rachel and David Russell. Thunder was handed by Steve Hurdle.
Claiming runner-up was another Coldwater contender, Coldwater Odyssey, coming six-year-old pointer male owned by Debbie and Andy Agnew of Blaine, Tenn., and handled by veteran Weldon Bennett.
The winner put forth an impressive hour with a big race and plenty of reach and style. He chalked up one nice piece of bird work, showing high style and displaying perfect manners.
Coldwater Odyssey was a close runner-up. Odyssey kept you high in the saddle with a strong ground race, swinging nicely to Bennett's call. He scored once on game with high style, exhibiting excellent manners for wing and shot.
Larry Huffman took care of all aspects of this renewal which began on Sunday, January 17, after the completion of the Hobart Ames Open stakes in Grand Junction,Tenn.
The drawing was held at Whippoorwill Farm, with 23 all-age dogs entered in he Championship and 13 Derbies.
Earl Connolly kindly stepped in driving the dog wagon. Lunches were provided by the Benton County Field Trial Club.
William Smith of Moscow, Tenn., and Rich Robertson of Payette, Ia., rode the judicial saddles. Both are veteran judges and dog men, as well as Rich, a professional dog trainer. Their time and efforts were greatly appreciated with the results well received. A big thank you to Richie for staying over after the German Shorthaired Pointer Invitational at the Hell Creek Area.
A special thank you to our sponsor Purina for their support and generosities. Purina dog feed was given out to all the winners.
The Derby immediately followed the Championship with the same judges.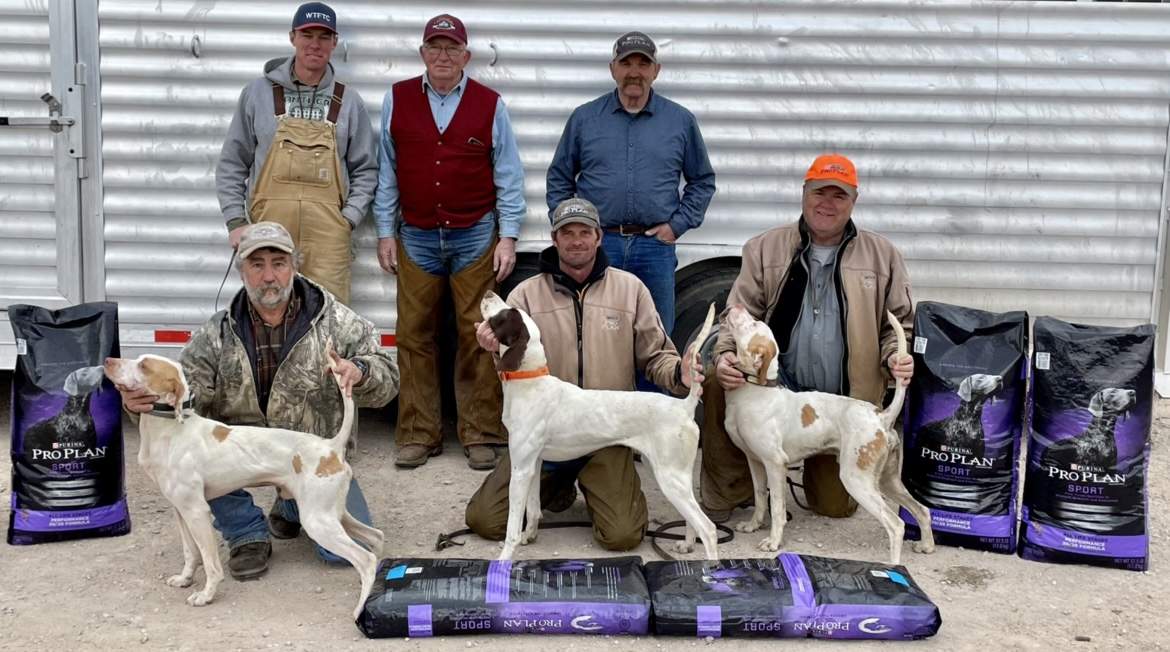 Touch's Wild Finale, owned by Keith Wright of Covington, Ind., and handled by Ike Todd, emerged the winner. Finale impressed with a strong race showing to the far front displaying a smooth gait and high cracking tail. He chalked up one nice find showing excellent manners.
Double Trouble Mike was named second place for handler Matt Cochran and owner Chris Craighead of Weatherford, Okla. Mike put forth a big ground performance showing plenty of reach and high style.
Las Animas Slim took third place for handler Larry Huffman and owner Dale Bush of College Station, Tex. Slim ran a nice race reaching with each step, showing nice style rendering a solid performance.
Michigan City, Miss., January 14
Judges: Rich Robertson and William Smith
MISSISSIPPI OPEN CHAMPIONSHIP [One-Hour Heats] -- 23 Pointers
Winner--COLDWATER THUNDER, 1655558, pointer female, by Coldwater Warrior--Thunder Bess. B. K. & Rachel Blackwell, Doug Arthur & David Russell, owners; Steve Hurdle, handler.
Runner-Up--COLDWATER ODYSSEY, 1669589, pointer male, by Coldwater Warrior--Tibbs Avatar. Debbie & Andy Agnew, owners; Weldon Bennett, handler.
OPEN DERBY -- 13 Pointers
1st--TOUCH'S WILD FINALE, 1692346, pointer male, by Whippoorwill Wild Agin--Touch's June Carter. Keith A. Wright, owner; Ike Todd, handler.
2d--DOUBLE TROUBLE MIKE, 1691805, pointer male, by Whippoorwill Forever Wild--Washita River Wild. Chris Craighead, owner; Matt Cochran, handler.
3d--LAS ANIMAS SLIM, 1684561, pointer male, by Las Animas Rip--Las Animas Mollie. Dale Bush, owner; Larry Huffman, handler.