Result: Region 6 Amateur Shooting Dog Championship
Location: Blue Mountain, Mississippi
Post Date: Feb 3, 2021
Submitted By: Lisa Little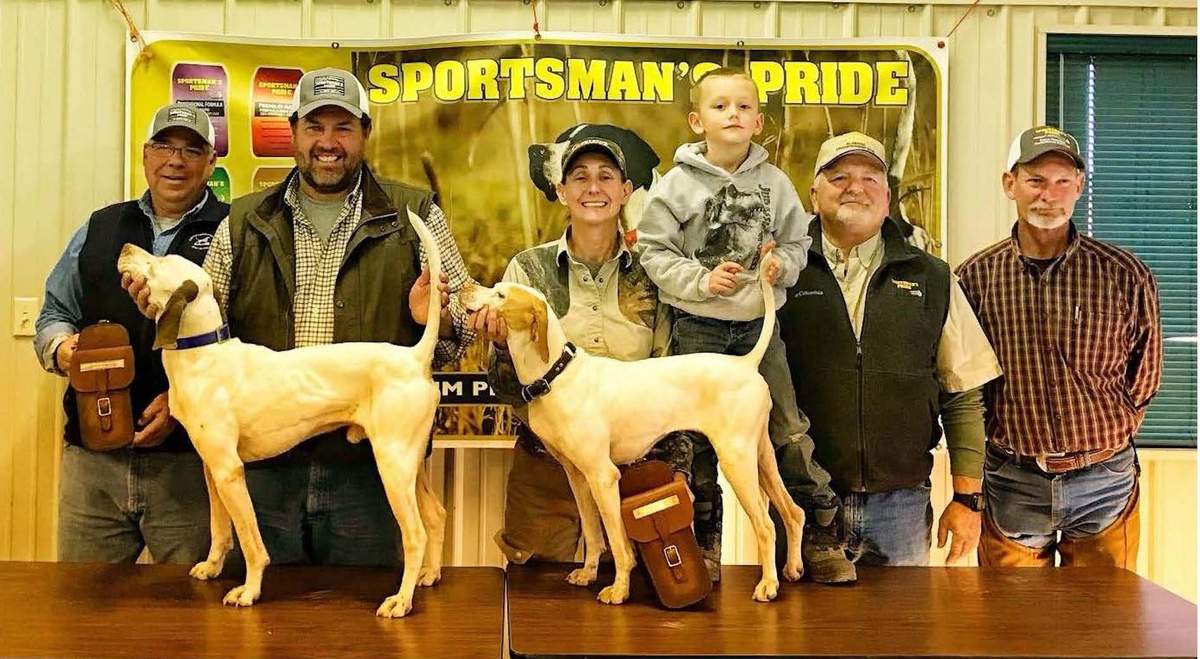 BLUE MOUNTAIN, MISS. -- The Region 6 Amateur Shooting Dog Championship was held January 15-17 at the Hell Creek Wildlife Management Area in Blue Mountain, Miss. Bird work occurred in every brace.
Over the three-day period, we had 30 canine competitors with a total of 59 coveys pointed. It was an exciting trial. I don't remember having personally attended a trial with this much bird work. Those in attendance were able to watch some of the best dogs in the field trial arena working birds each brace. Competitors for the trial came from the states of Alabama, Arkansas, Illinois, Kentucky, Mississippi, and Tennessee.
Occupying the judicial saddle for the Championship were Lavon King from Rockmart, Ga., and Brad Kennedy from Red Bay, Ala. Brad quickly stepped into the position when Alan Atkins, who was planning to judge, fell ill and was unable to attend. We appreciate the attention that these judges gave to each competitor, their handler, and scout.
Being a field trial judge requires someone who is respected by their peers, has experience in the competition, and can discriminate the qualities needed to be given the honor of champion and runner-up. Lavon and Brad more than meet these requirements. We were fortunate to have them as our judges.
THE WINNERS
Champion title was awarded to Southern Shadow's T Rex. This three-year-old white and liver pointer male ran in the first brace of the trial and set the standard high. He was credited with two good, solid finds and a back accompanied by a front-running race to take the top spot for owner Lance Servais of Cecil, Ala., and handler Brian Peterson.
Runner-up honors went to Cocklebur Drama Queen. "Ava" is a six-year-old lemon and white pointer female, owned by Bubba, Amy, and Colt Spencer of Bolivar, Tenn. Ava is handled by Amy. Ava was credited with five solid finds and two backs, accompanied with a commendable ground race.
We would like to thank several persons for assisting in putting on a great championship trial. First and foremost, to all the handlers and owners that competed. Secondly, to the Hell Creek Field trial Club for hosting. Club officers Jeremy Taylor, Tammy Taylor, and Brad Kennedy made sure the birds were bountiful, competitors needs were taken care of, served great meals, and that everyone had a fun time.
Tessa Hughes made some fabulous desserts and a delicious pork loin dinner for those arriving on Thursday night. Sportman's Pride generously sponsored the trial.
Last, but definitely not least, Brian Peterson for hosting a scrumptious pasta dinner on Saturday night for all attendees. Brian won this Championship last year. It takes many individuals to make a field trial a success and these people played an integral part.
Blue Mountain, Miss., January 15
Judges: Brad Kennedy and Lavon King
REGION 6 AMATEUR SHOOTING DOG CHAMPIONSHIP
[One-Hour Heats] -- 24 Pointers, 4 Setters and 2 Irish Setters
Winner--SOUTHERN SHADOWS T REX, 1682853, pointer male, by Skyfall--Miller's White Wall. Lance Servais owner; Brian Peterson, handler.
Runner-Up--COCKLEBUR DRAMA QUEEN, 1658664, pointer female, by Indian Creek Perfect Storm--Reedy Fork Katie. Bubba, Amy & Colt Spencer, owners; Amy Spencer, handler.