Result: Northeast Kansas Field Trial
Location: Onaga, Kansas
Post Date: Mar 25, 2021
Submitted By: Joe Worsham
The Northeast Kansas Field Trial Club held its spring field trial on March 25-28 at our home grounds near Onaga, Kan. The weather was very cooperative for this time of year. We experienced only a "fog delay" one morning.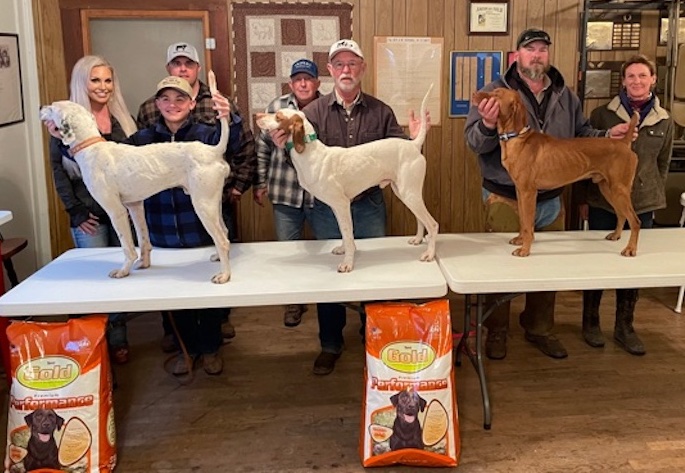 The first of April is traditional pasture burning time -- several landowners delayed their efforts in order for the field trial to run as normal. A number of landowners advised that they were seeing more native quail this year. Prairie Chicken sightings were way up this year as a pleasant surprise -- we saw chickens every day -- one bunch was hanging out on a lek each morning in the same location -- they were handled once.
The COVID virus made for lots of changes -- most notably was the absence of the Fairview Schoolhouse Association members. We had total access to the facility but the cooks avoided the event. We all really missed the home cooking and especially the pies!
We are blessed with a comfortable, renovated, and well maintained "One Room Schoolhouse" that serves the area well. Funds collected from the field trial meals as well as assorted gatherings throughout the year in addition to the semi-annual Biscuits and Gravy breakfasts, defray the ongoing costs of the schoolhouse. The walls are adorned with 4-H and field trial memorabilia of bygone days as well as retired "Kansas Field Trial Assn Dog of The Year" retired plaques.
The traditional Friday night Landowners' Banquet was given the year off. Several of our rancher friends stopped by to visit.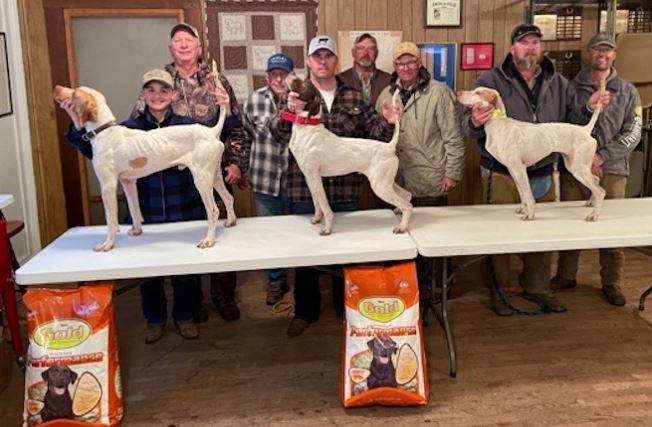 Special thanks to our judges all first, all first-rate field trailers. Their opinions were well received. The Midwest Field Trial Association Amateur All-Age Classic was judged by John George of Meriden, Kan., and Mike Harris of Clarksdale, Mo. These men came out of retirement to give us one good day in the saddle looking at the entries. We got to hear their reflections of how it used to be at Onaga and to hear once again on how great their dogs were.
The Dr. Boucher Amateur All-Age Derby Classic was presided over by Eddie Berendzen of Higbee, Mo., and Joe Worsham of Easton, Mo. Dr. Stan Wint of Gardner, Kan., joined Eddie Berendzen in watching the Northeast Kansas Amateur All-Age Classic. Keith Wright of Covington, Ind., was pressed into service to judge the Shooting Dog Stake with Dr. Wint. All were very attentive to their duties and little escaped their view. We appreciate the fine job they did and appreciate their dedication to the sport.
Richard Lewis was on hand as the Chief Dog Wagonmaster, always in the right place and ever helpful to all of the details of managing a field trial. Richard is one of the "Good Ole Boys" that you can really count on. The club is really enjoying the use of the dog trailer on loan from the Whetstone Field Trial Club via Jay Lewis.
Special thanks go to Nutri Source for the generous donation of dog feed for the winners of each stake -- we appreciate Dave Merrit's assistance in organizing this effort.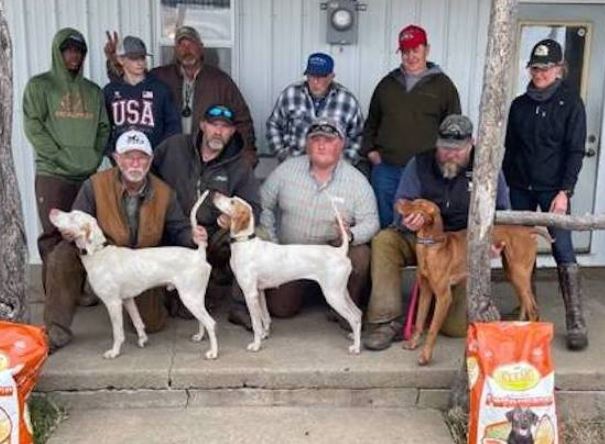 THE WINNERS
The Midwest Amateur All-Age Classic was once again hosted by the Northeast Kansas Club. We are pleased to be asked to host on a great venue for showing prairie races of all-age dogs.
The Classic was won by Bill Westfall's Westfall's Wheels Up, handled by Ryan Westfall. Wheels had a wide and searching race. He had a find with excellent style and perfect manners on a liberated quail.. He went on to a strong finish and was the winner of the stake. Worsham's Super Sport, under the whistle of his owner, Joe Worsham, garnered second place. Sport ran an exciting, up-front race with a good find on released birds. Sport faded to the far front as time expired. Dr. Laura Miller ran Millstar's Lion Rampant, Vizsla male, and run he did. He had a nice find on birds and secured third with a good ground race and perfect manners on his birdwork.
The Dr. Boucher Amateur Derby Classic, another sponsored event of the Midwest Field Trial AssociatIon. The Classic was won by Lynn Oxendine's pointer male Rebelator Sam which continued his winning ways. Sam ran a nice wide race and finished the stake impressively to the far front. Second was S F Hardfork, pointer male owned and handled by Larry Smith to a good smooth and up-front ground effort. Steve Auxier made it into the winners' circle with his young Intensive Turn'n N Burnin garnering third with a well applied and searching race.
The stake is a sponsored stake by the Midwest Field Trial Association in the memory of the affable Dr. Boucher, a longtime supporter of Midwest Field Trial Association events.
Northeast Kansas Amateur All-Age Classic was won by Keith Wright's pointer male Touch's Grey Street. His time on the ground reflected a good prairie race which was well applied and pleasing. Greg Street had a good opportunity on a flock of chickens that was ridden up by the gallery at the 5-minute mark. Grey Street went on to finish with a distant up-front cast to secure his win. Second was secured by another Wright enty and kennelmate, Touch's Indiana Joan with a solid prairie race. Joan ran a nice handling prairie race and continued to show to the far front. Her finishing cast was to the extreme as time expired. Laura Miller was in the winner's circle again with her Millstar's Lion Rampant who showed well on these Kansas prairies. His was a well applied ground race. Sixteen dogs were entered; very nice entry of top notch all-age dogs. Several dogs had bird work but in the eyes of the judges did not have the overall effort to move the winners.
The Open Shooting Dog Stake featured some good performances with solid races. Fourteen dogs toed the starting line for this stake. Dr. Stan Wint and Keith Wright were in the judicial saddles for this stake.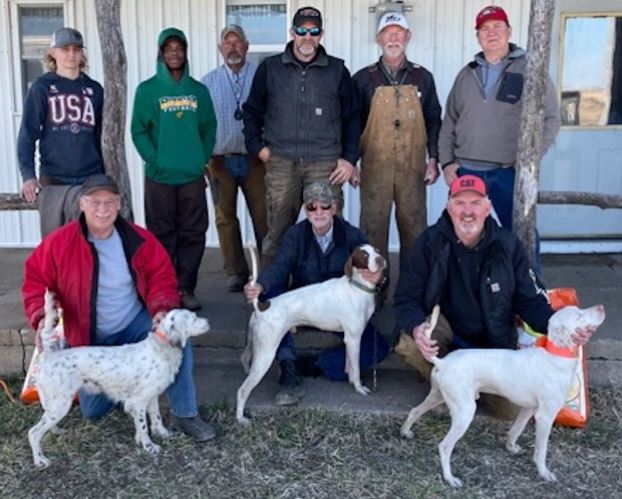 Jon Humphrey showed the smooth hunting efforts of Bromance. His effort was very smooth and was punctuated with two really nice finds on liberated quail. Dr. Pat McInteer's Nemaha Rio had a very good performance with three finds on quail -- his was a very good applied effort on the ground. Paul Roederer handled his setter female Roulette Rocket to a well deserved third place. Rocket was found pointing a flock of Greater Prairie Chickens and handled them like a veteran. Paul admitted that this was her first work on chickens -- he couldn't have been more proud.
The Northeast Kansas Club appreciates the entry from those attending and especially the judges who were very attentive in their official roles.
Onaga, Kan., March 25
Judges: John George and Michael Harris
MIDWEST AMATEUR ALL-AGE CLASSIC [One-Hour Heats] --
9 Pointers and 1 Vizsla
1st--WESTFALL'S WHEELS UP, 1680653, pointer male, by Westfall's Black Ace--Westfall's Quick Trick. Bill Westfall, owner; Ryan Westfall, handler.
2d--WORSHAM'S SUPER SPORT, 1680553, pointer male, by Touch's Knight Rider--Touch's Maswood Anne. Joe Worsham, owner and handler.
3d--MILLSTAR'S LION RAMPANT, 1675351, Vizsla male, by Lundy's Red Bull--C K Millstar's Wee Dram. Mike Chowning, owner; Laura Miller, handler.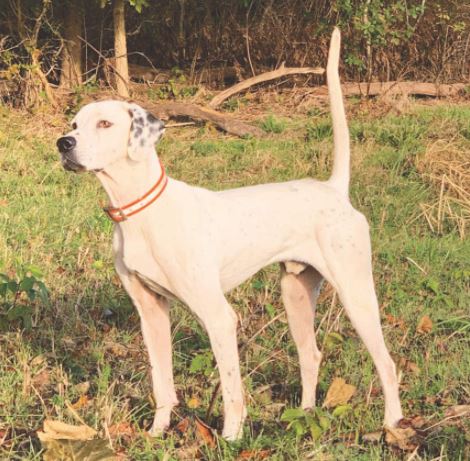 Judges: Eddie Berendzen and Joe Worsham
DR. BOUCHER AMATEUR DERBY CLASSIC -- 13 Pointers
1st--REBELATOR SAM, 1691941, male, by Lightning Rod--Long Legged Sandy. Lynn Oxendine, owner and handler.
2d--S F HARDFORK, 1688487, male, by S F Bandwagon--Deep Creek Reba. Larry Smith, owner and handler.
3d--INTENSIVE TURNIN N BURNIN, 1689661, female, by Coldwater Odyssey--Coldwater Jane. Steve Auxier, owner and handler.
Judges: Eddie Berendzen and Dr. Stan Wint
NORTHEAST KANSAS AMATEUR ALL-AGE CLASSIC
[One-Hour Heats] -- 15 Pointers and 1 Vizsla
1st--TOUCH'S GREY STREET, 1680120, pointer male, by Touch's Knight Rider--touch's White Assault. Keith A. Wright, owner and handler.
2d--TOUCH'S INDIANA JOAN, 1661285, poinater female, by House's Ring of Fire--Touch's Maswood Anne. Keith A. Wright, owner and handler.
3d--MILLSTAR'S LION RAMPANT, 1675351, Vizsla male, by Lundy's Red Bull--C K Millstar's Wee Dram. Mike Chowning, owner; Laura Miller, handler.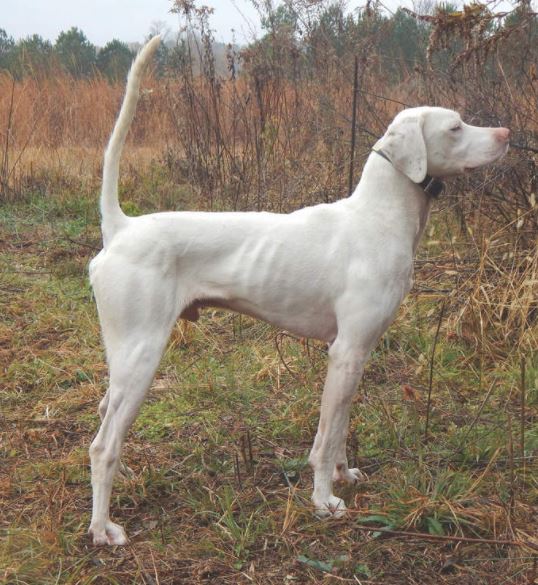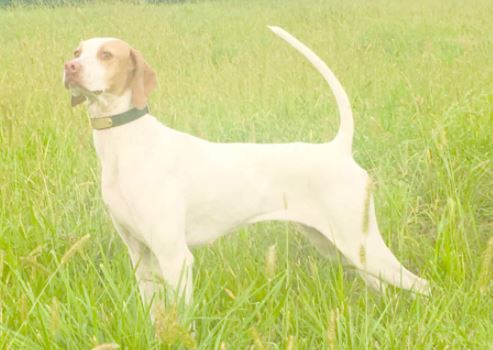 Judges: Dr. Stan Wint and Keith A. Wright
NORTHEAST KANSAS OPEN SHOOTING DOG --
9 Pointers and 5 Setters
1st--BROMANCE, 1668193, pointer male, by Tallokas Lane Change--Osceola Patty Cake. Jon Humphrey, owner and handler.
2d--NEMAHA RIO, 1668952, pointer male, by Nemaha Free Style--Wiggins Snow Rebel. Dr. Pat McInteer, owner and handler.
3d--ROULETTE ROCKET, 1686957, setter female, by Rhythm Rocket--Rocketing Hope. Paul D. Roederer & John Settle, owners; Paul Roederer, handler.