Result: Illinois Brittany Championships
Location: Cutler, Illinois
Post Date: Feb 6, 2021
Submitted By: Judy Graves
CUTLER, ILL. -- For the first time in several years, the gods shone down on us and provided the Southern Illinois field trialers with perfect weather and running conditions.
The State of Illinois had recently conducted a small burn providing us with good footing and the dogs with places to run and been seen. We couldn't have asked for any finer conditions, especially the third week in January.
We want to thank Nestl Purina for providing financial support as well as their excellent product for the winners.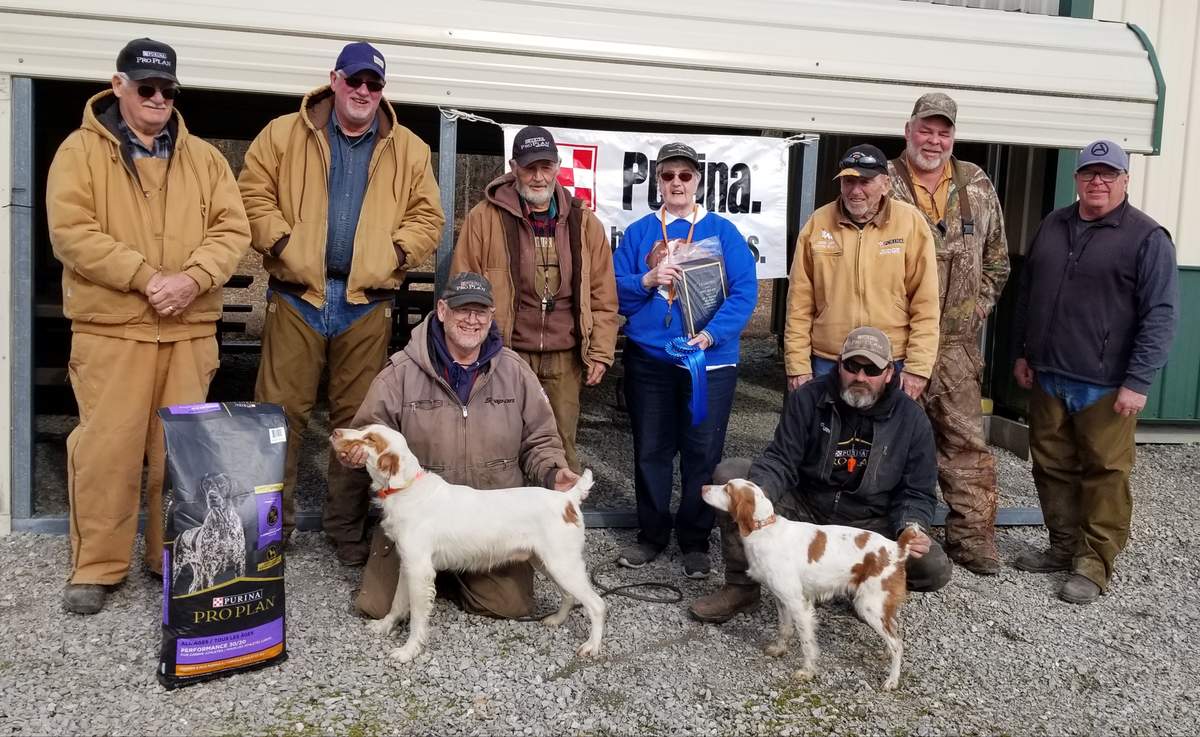 You may have heard of that phenomenal 94-year-old handler named Ray Trimble. Well, he is at it again. Brendi Brooks Cowboy Up (Tuff) was named champion in our 28-dog Open All-Age Championship. Ray and Tuff made it look so easy, Tuff having several perfect finds and running the way you would expect an all-age dog to run - always to the front.
Right behind him was a past ABC National Champion Ru Jem's Last Penny. Owner Jerry McGee ran the dog wagon and got to see Penny do her thing.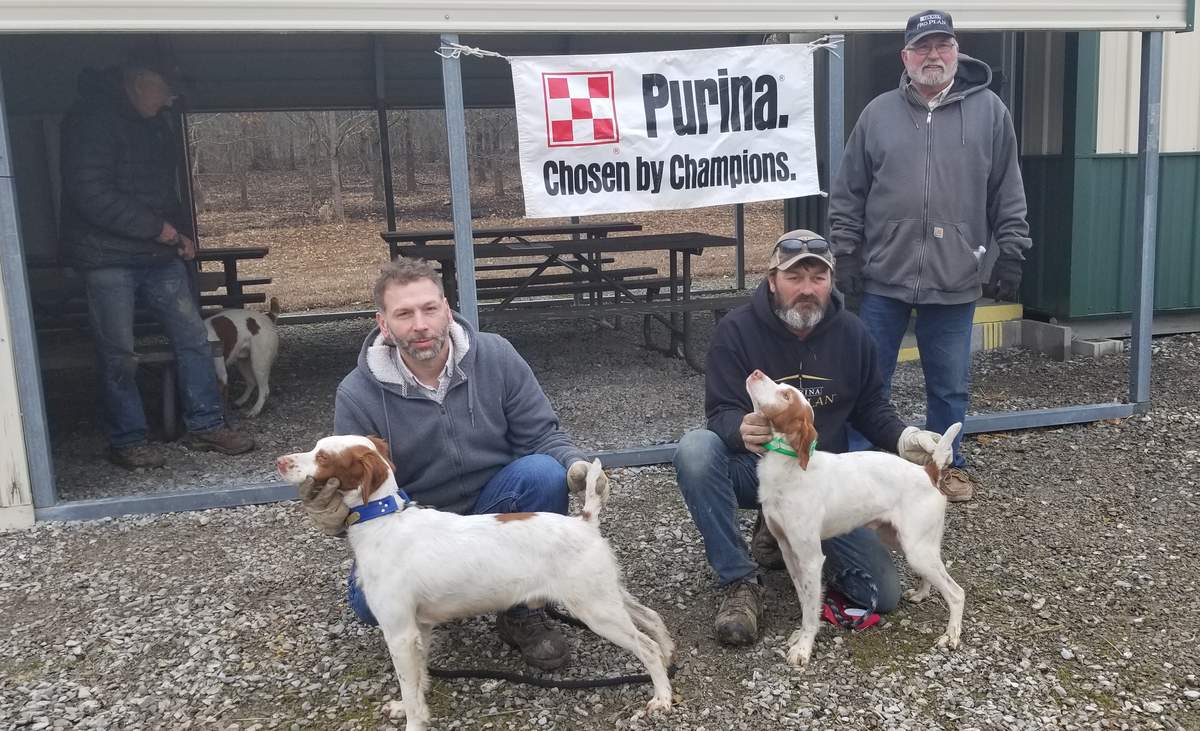 Bo Ackerman's Roustabouts All In, this past year's National All-Age Champion rounded out the winners' circle. We appreciate Kendell Schmidt and Hank Jansen for spending time in the saddle.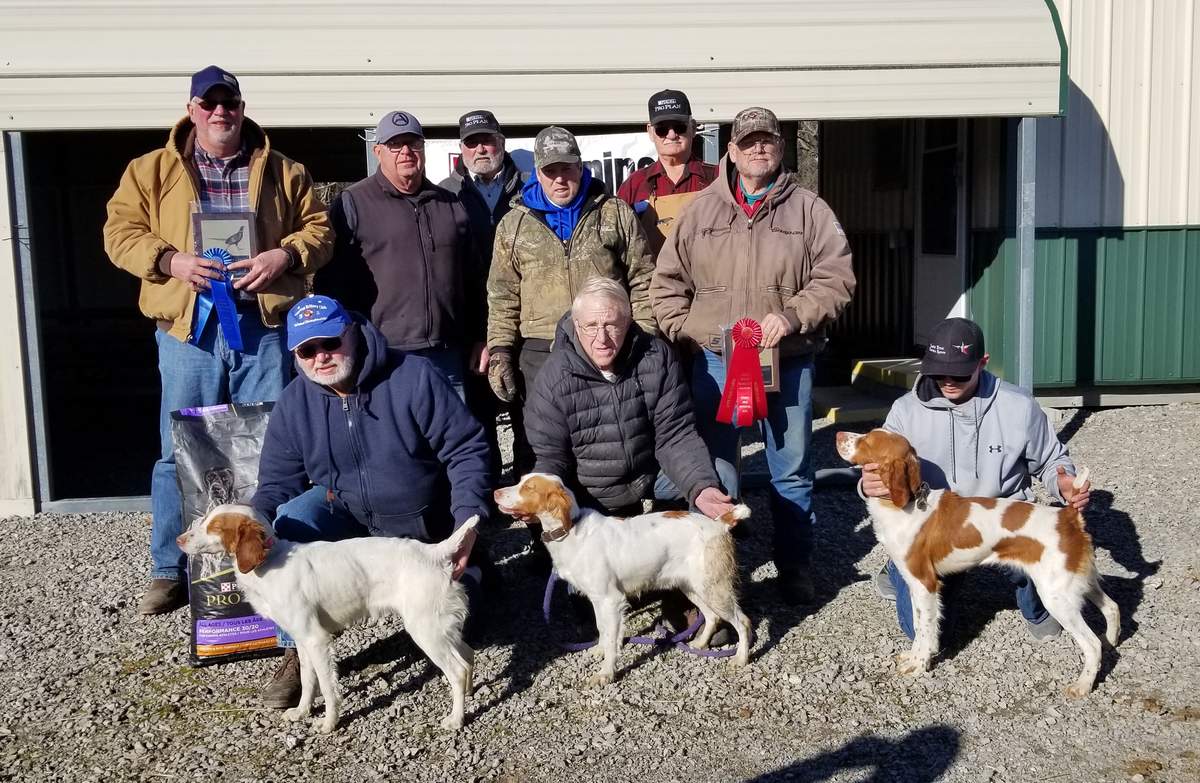 Hank and Kendell also looked at our Open Derby participants. Owner Tom Jagielski watched Tom Tracy glide Who Dat to victory. Joe Williams who is recovering from a new hip, was able to take his young dog Jowill's Dutchess of Destiny (DD) to a second place finish. Tom Tracy completed the winners' circle with Been There (Tip) and Cedar Valley Zeke (Zeke) finishing third and fourth, respectively.
Our Amateur All-Age Championship provided Judges Natalie Howard and Kirk Loftin a day and half running with hard decisions to make. Most all of the eighteen entries had birds with a few discretions.
Jack Alexander did it again with C V K's Spartan King (Leo), this year's Purina All-Age Dog of the Year. Joey Rogers ran Roustabouts All In to a runner-up finish. That remarkable team of Trimble and Tuff finished third and Stan Williamson ran Joe's Jowill's Sir Walter Raleigh to a fourth place finish.
Once again, we want to thank all those who came and participated. Ed and Donna Janulis shared the dog wagon duties with Jerry McGee. Dave Capstick was up every morning at 6:00 a.m. loading birds so Ed Graves could plant them on the course.
Mary Jo Trimble did double duty as road guard and fixed sandwich lunches for our judges since COVID rules prohibited us from serving our normal cooked meals in the clubhouse.
We also want to thank Tom Tracy and Chad Holman for bringing their fine string of dogs. With everyone working together, it was one, fine, competition.
Cutler, Ill., January 19
Judges: Hank Jansen and Kendell Schmidt
ILLINOIS BRITTANY OPEN ALL-AGE
CHAMPIONSHIP [One-Hour Heats] -- 28 Brittanys
Winner--BRENDI BROOKS COWBOY, 1667890, male, by Brendi Brooks Broadway Joe--Brendi Brooks Cowgirl Up. Ray & Mary Joe Trimble, owners; Ray Trimble, handler.
Runner-Up--RU JEM'S LAST PENNY, 1621183, female, by Trademark's A T M--Red Bud Zipper. Jerry McGee, owner; Tom Tracy, handler.
ILLINOIS BRITTANY OPEN DERBY CLASSIC -- 14 Brittanys
1st--JAGOUB'S WHODAT SAY WHODAT, 1688457, female, by Glade Run Irish--Jagoub's Spell Caster. Debra & Tom Jagielski, owners; Tom Tracy, handler.
2d--JOWILL'S DUTCHESS OF DESTINY, unreg., female, by Maxwell's Prickly Pete--Dakota Sage. Joe Williams, owner and handler.
3d--BEEN THERE, 1692589, male, by Rusty Ridge Where U Been--K Nine's On The Loose. Dr. Robert Rankin & Tom Milam, owners; Tom Tracy, handler.
Judges: Natalie Howard and Dr. Kirk Loftin
ILLINOIS BRITTANY AMATEUR ALL-AGE
CHAMPIONSHIP [One-Hour Heats] -- 17 Brittanys
Winner--C V K'S SPARTANKING, 1665065, male, by Maxwell's Outer Limits--Cedar Valley Lilly. Jack Alexander & Dr. Robert Rankin, owners; Jack Alexander, handler.
Runner-Up--ROUSTABOUT ALL IN, 1684343, male, by Maxwell's Outer Limits--Cedar Valley Lilly. Paul Rosevear, owner; Joey Rogers, handler.