Result: Cajun Open All-Age Classic
Location: Hickory Valley, Tennessee
Post Date: Feb 9, 2021
Submitted By: Amy Snider-Spencer
HICKORY VALLEY, TENN. -- The Cajun Classic started on January 25 after a one-day delay due to high water in the sand ditch which had to be crossed in every brace. The Cajun Classic took two full days of running; the Evangeline Derby, one day.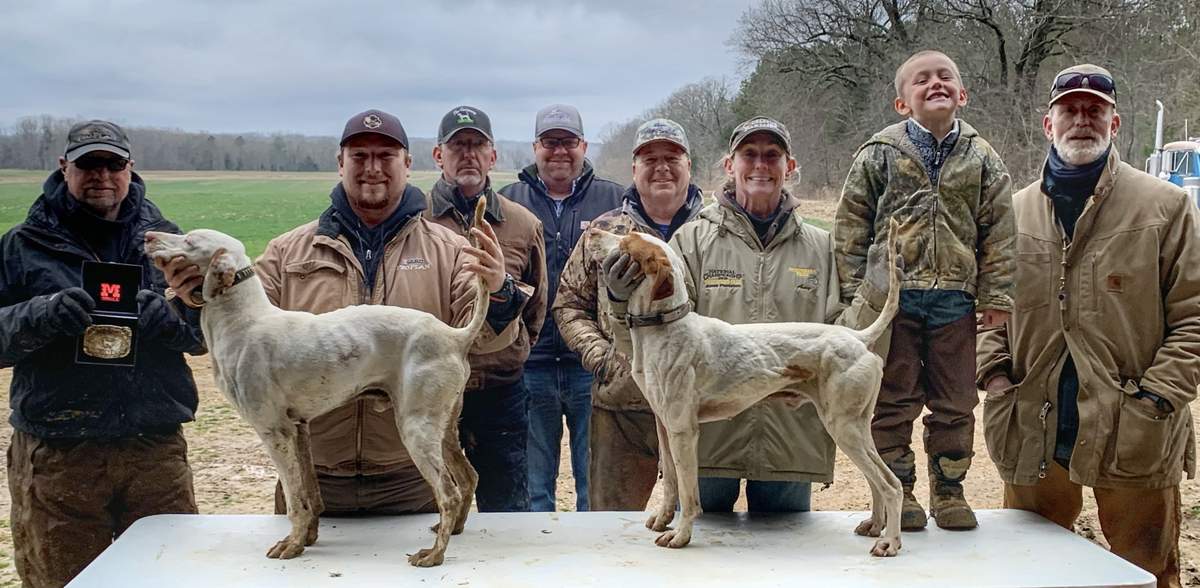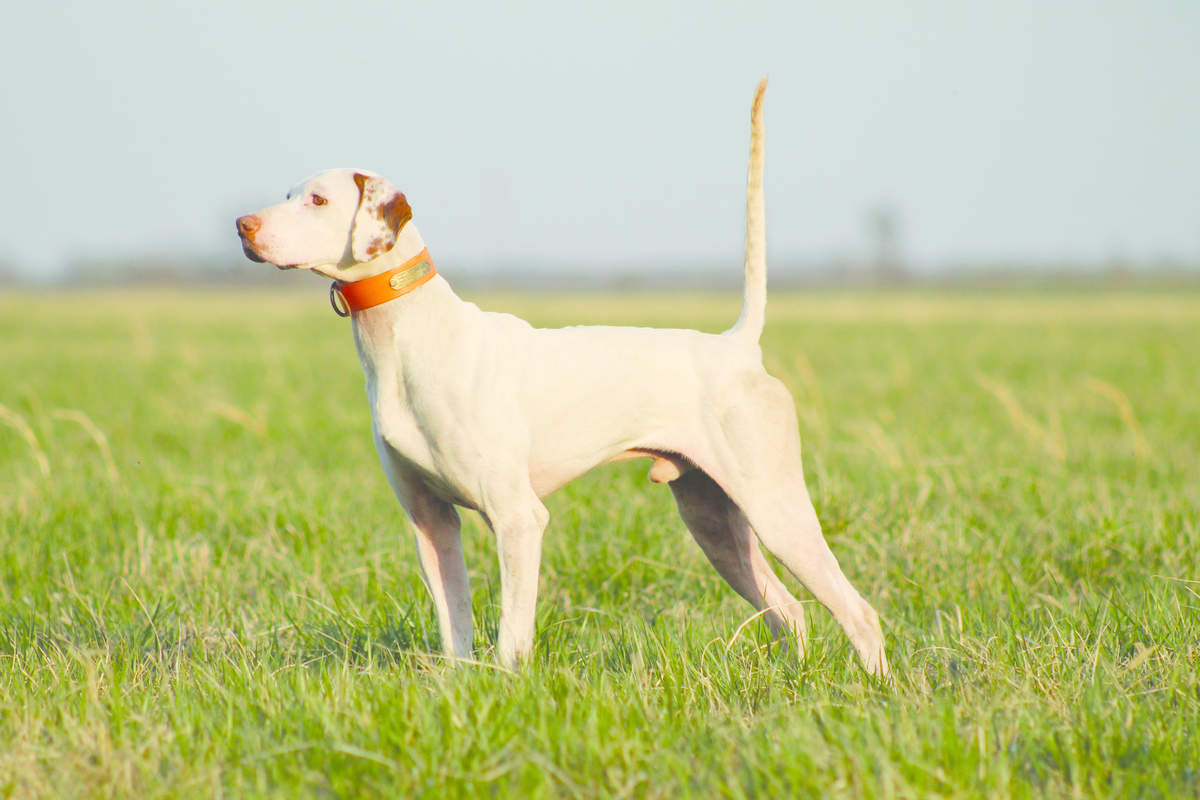 Every brace of the All-Age and Derby had bird work with Lester's Jazz Man gaining first place for owner Dan Hensley of Claremore, Okla., and handler Randy Anderson with two finds. S F Stetson was named second for owner Larry Smith of Altoona, Ia., and handler Larry Huffman with three finds. Third was Cocklebur King Tut, owned by and handled by Bubba Spencer of Bolivar, Tenn., with three finds.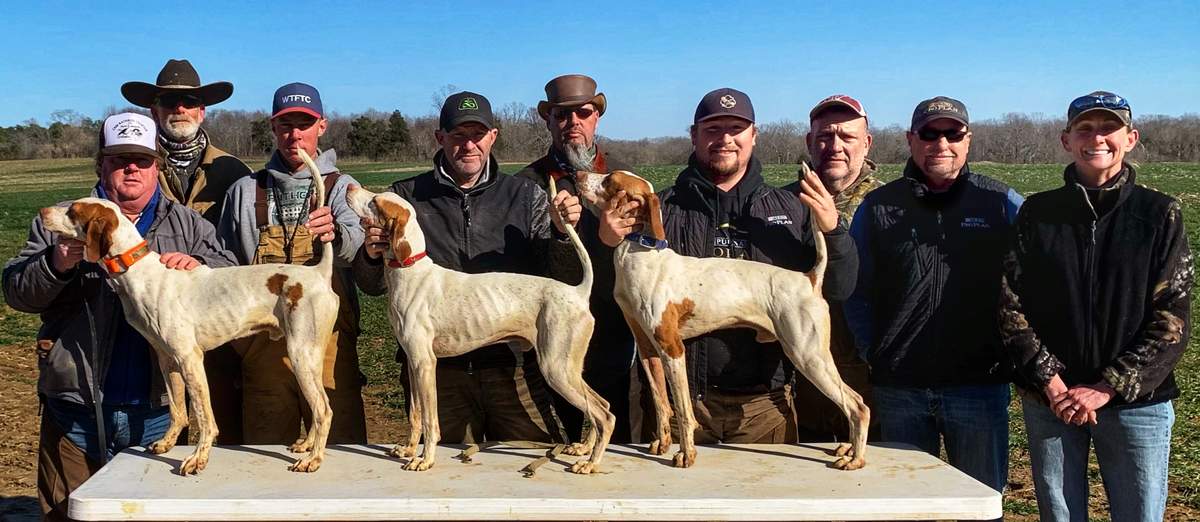 The Evangeline Derby was won by Beeler's Texas Jig, pointer male for owner-handler Scott Beeler with a big ground race. Second was Game Heir, also a pointer male, for handler Ike Todd and owner Dr. Fred Corder of Corinth, Miss., with one find. Third was World Class Bootlegger, owned by Michael Marietta of Pittsburg, Kan., for handler Randy Anderson with one find.
Appreciation is extended to the judges, Derek Bonner of Mooresboro, N. C., and Scott Griffin of Mini Hill, N. C., for their attentive evaluation the all-age contenders, and Chris Sellers, Selmer, Tenn., and Bubba Spencer of Bolivar, Tenn., who judge the Derby.
A big thank you to Amy and Bubba Spencer, Squeaky Powell, and David Wynn for making sure the trial ran smoothly. Also, thank you to the many landowners, Ric Peterson, Jock Weaver, Conrad Powers, and Phillip White, for the use of their property.
Additional thanks to Brad Kennedy and Sportsman's Pride for their generous sponsorship!
Hickory Valley, Tenn., January 25
Judges: Derek Bonner and Scott Griffin
CAJUN OPEN ALL-AGE CLASSIC [One-Hour Heats] --
23 Pointers and 1 Setter
1st--LESTER'S JAZZ MAN, 1652017, pointer male, by Lester's Snowatch--High Point Jesse. Dan Hensley owner; Randy Anderson, handler.
2d--S F STETSON, 1674396, pointer male, by S F Bandwagon--S F Rushhour. Larry Smith, owner; Larry Huffman, handler.
3d--COCKLEBUR KING TUT, 1678129, pointer male, by Touch's Smooth Rider--Cocklebur Stripper Candie. Bubba, Amy & Colt Spencer, owners; Bubba Spencer, handler.
Judges: Chris Sellers and Bubba Spencer
EVANGELINE OPEN DERBY -- 14 Pointers
1st--BEELER'S TEXAS JIG.[Placement pending.]
2d--GAME HEIR, 1691409, male, by Dominator's Rebel Heir--Game Snow. Dr. Fred Corder, owner; Ike Todd, handler.
3d--WORLD CLASS BOOTLEGGER, 1692522, male, by Miller's Speed Dial--World Class Makin Bank. Michael Marietta, owner; Randy Anderson, handler.