Result: North Country Open Shooting Dog Championship
Location: Augusta, Wisconsin
Post Date: Nov 2, 2021
Submitted By: Neil Anderson
The 2021 North Country Open Shooting Dog Championship was once again run on the Chippewa Valley Grouse Dog Association's (CVGDA) grounds in the beautiful Eau Claire County Forest.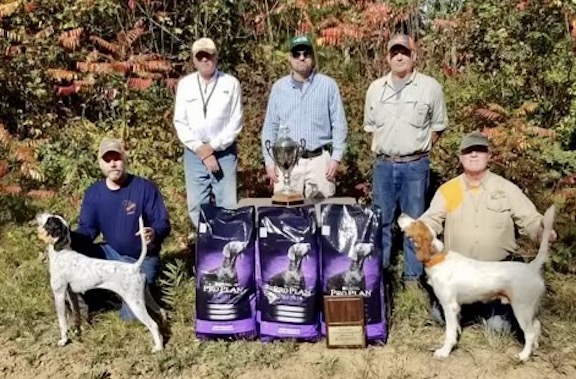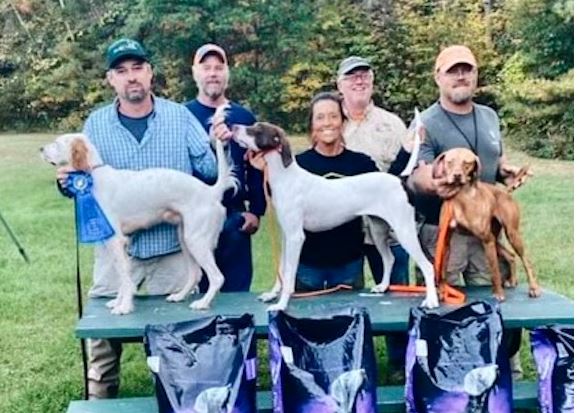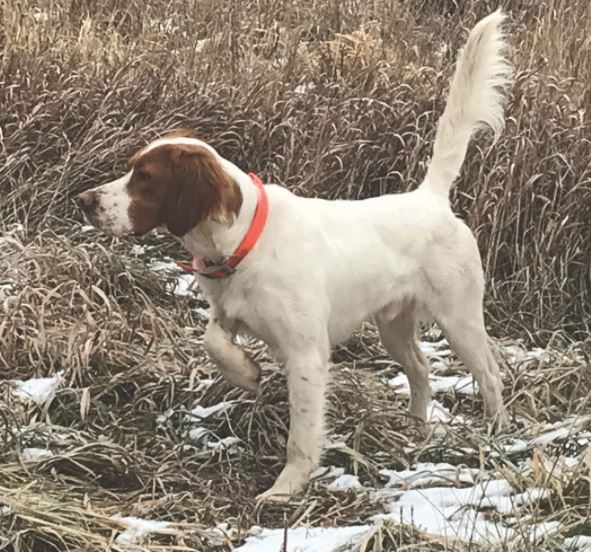 Traditionally, this trial has been run in the Namekagon Barrens on wild sharptail grouse. This marks two consecutive years that the trial has been run in the CVGDA's cover dog trial grounds. With the inability to acquire judges and horses this year, the decision was made to move the trial to CVGDA's grounds and once again it did not disappoint. These grounds flow. They let the dogs show and there's ample wild woodcock and grouse to find throughout the courses.
Many thanks is owed to the CVGDA and their hard work battling the bugs and the heat to get these grounds in quality form for the North Country Championship. Their hard work was obvious and course flow was silky smooth with ever present wild birds.
CVGDA members who put their time in and helped out included Brent Sittlow, Roger King, Denny Bowman, Mike Luebke, Rod Lein, Tom Goltz, and Randy Bruder. Roger King was also our lunch gopher.
The CVDGA elected to utilize a local restaurant to supply lunches. A classy move, keeping the funds local and helping out area businesses. One would be hard-pressed to find a better time in recent history to support local restaurants. Roger is a wonderful host for the trial attendees.
Judging the North Country this year were Minnesotans Ben Mergens and Ryan Hough. Ben has been a judge for many years and has ample experience judging multiple championships. He has an excellent eye for nice cover dogs. He is no-nonsense, judges with integrity, and is a pleasure to have around the trial grounds.
Ryan is a younger shooting dog judge and is no stranger to the cover dog world. He is ever present at cover dog trials and is always found busting his butt scouting for anyone who needs it, always helping the handlers find their dogs. With worn boot leather and earned grouse dog knowledge, he is a great addition to any trial. His eye for good cover dogs is acute and well earned from time spent.
THE WINNERS
The winner of this year's North Country Championship was a clear, standout victor. B K Rolling Dice is a fancy white and black female pointer that was handled by Bruce Minard and is owned by William Seimer of Hammersville, Ohio.
Dice deftly handled the course by evenly spreading out six finds with a beautiful forward race. Woodcock were moved at 15, 23, 35, 40, 45, and 55 while Dice charged forward and handled perfectly for Minard. Minard went to the female pointer each time on a line, found her standing beatifully, flushed her birds, manners perfect, and took her back to the course to break her away for her next find. The brace was ideal with Dice rocketing forward the whole time. The finds felt evenly scattered throughout. The final move Dice made after her fifth bird was a tremendous forward charge as her bell faded out. A collective sigh ensued as she showed to the front and stuck her final bird at 55.
If an ideal brace were to be described and one were to orchestrate it, this brace was the masterpiece we all seek. Well done Bruce and Dice.
The runner-up is no stranger to the winners' circle. Mike Luebke's Fearless Fred is a hard-charging, intelligent male setter that is eye-catching and always in the right place. The connection between Mike and Fred is clear when they flow through the woods. Mike keeps Fred forward and Fred does the rest.
Fred was braced with Rod Lein's Pete and they both shot out of the breakaway fast and fancy. At 35 Fred was found dug out on a hog's back off of the course with a pair grouse pinned. The birds blew out one at a time and Fred stood like a statue. Fred is beatutiful on point. High tail, high head and lofty, with excellent manners. Fred charged forward the rest of the brace ceaselessy searching. His finish was strong and tireless.
Augusta, Wis., September 25
Judges: Ryan Hough and Ben Mergens
NORTH COUNTRY OPEN SHOOTING DOG CHAMPIONSHIP
[One-Hour Heats] -- 15 Pointers, 9 Setters and 1 Brittany
Winner--B K ROLLING DICE, 1685683, pointer female, by Railhew Explorer--Railhew Mrs. McGoo. William S. Siemer, owner; Bruce Minard, handler.
Runner-Up--REBELLIOUS FEARLESS FRED, 1667542, setter male, by Keystone's Red Recession--Tim's Setter Rosie. Mike Luebke, owner and handler.
OPEN DERBY
The Derby was ran on a multiple course format.
First place was I'm Easy Money, setter male owned by Kyle Peterson of Rush City, Minn., and handled by Ryan Hough. Easy has placed four times this year and had the only bird work in the stake. Second was handler Tom Waite with Dale Creek Movin Maeve, a fancy female pointer with a very strong race. Maeve is owned by Andrea Ward of Burlington, Wis.
OPEN DERBY -- 18 Entries
1st--I'M EASY MONEY, 1693862 , setter male, by Jetwood--I'm Blue Who. Kyle Peterson, owner; Ryan Hough, handler.
2d--DALE CREEK MOVIN MAEVE, 1692730, pointer female, by Boumeester's Duramax--Oday Nation. Andrea Ward, owner; Tom Waite, handler.
3d--OLSON VIZSLA FARM'S KENZIE. [Placement Voided].