Result: Region 6 Amateur All-Age Championship
Location: Blue Mountain, Mississippi
Post Date: Jan 24, 2019
Submitted By: Tessa Hughes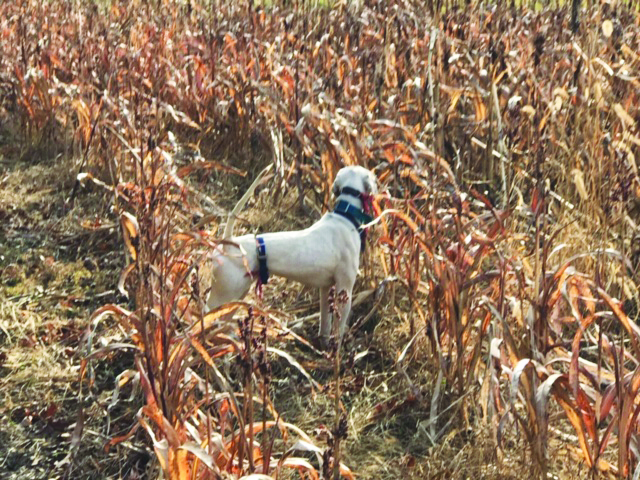 Nosam's Full Ride Winner of the Region 6 Amateur All-Age Championship
BLUE MOUNTAIN, MISS. -- Nosam's Full Ride, young white and lemon pointer male, and Mason Ashburn of Trenton, Tenn., swept a field of 32 dogs to seize the Region 6 Amateur All-Age Championship title.
Touch's Indiana Joan, four-year-old white and orange pointer female owned and handled by Keith Wright of Covington, Ind., took the runner-up honors.
The trial was held December 6-8, 2018 at the Hell Creek Area, Blue Mountain, Miss. The running opened on a chilly and rainy Thursday afternoon. The temperature did not climb above 45 and the day was largely overcast.
Jon Lam of Makanda, Ill., and Jim Lawless of Sparta, Ill., were in the judicial saddles. Both judges gave every dog their full attention.
Joe Hughes, president of the Alabama Field Trial Club, was on hand to assist Angie Williams, secretary/treasurer of Region 6, with the running of the stake.
Hughes, Ronald Thrasher, and Brad Kennedy served as marshals, helping handlers and judges very capably. Jack Griffin, game technician with Mississippi Game & Fisheries, was, as always, very helpful, moving the dog box, making sure the clubhouse, grounds, stables, and kennels were in great shape, and guarding the road crossings.
On Friday night the participants gathered for a fish fry sponsored by Sportsman's Pride and Brad Kennedy in the clubhouse. On Saturday evening waterlogged participants gathered again at the clubhouse for a catered dinner and a silent auction. Proceeds from the auction went to Region 6.
Many thanks to Brad Kennedy with Sportsman's Pride for all he and his company do for our sport!
The Winners
Nosam's Full Ride, white and lemon pointer male, wowed everyone with his extremely fast and aggressive race. A beautiful dog, he swept the country hunting and really put on a show. Leaving the game warden's house, it was clear he knew what he was there to do, find his handler some birds, and he made it happen! Full Ride made some beautiful casts in his hour, garnering an impressive two finds, one at 8 and one at 19. Full Ride also suffered an unproductive at 58. However, he handled his two game contacts in a mannerly fashion, looking like a master on his birds, with his head and tail held high.
Touch's Indiana Joan put on a dazzling performance to garner runner-up honors with finds at 14, 38 and 53. She too suffered one unproductive in her hour. She ran an impressive ground race for her handler Keith Wright and was on the second course after lunch with a breakaway from the game warden's house, concluding at the clubhouse. Indiana Joan was very mannerly on all her birds, and looked lovely on point.
The Running
Rester's Amazing Grace (PF/Cecil Rester) and S F Flagship (PM/Larry Smith) started off the Championship. Away from the clubhouse, both showed themselves as fleet of foot with Grace having two finds, an unproductive and a back of her bracemate. Flagship had a find at 12 along the dirt road before we went into the piney woods, a stop to flush at 36 and was picked up after a breach of manners.
Touch's Indiana Joan (Wright) was covered earlier. Pointer female Pennie Shadow hunted hard but was lost at 31, with handler Blake Kukar asking for the retrieval unit.
Hendrix's Touch Up (PM/Burke Hendrix) and S F Bandwagon (PM/ Larry Smith) were running strong at the beginning of their brace, sweeping the big fields past the clubhouse. Bandwagon had a very nice find at 8 in the big field just past the bear trap. However, he suffered an unproductive at 10. Touch Up had a find at 18 with Bandwagon backing. Touch Up then went on to have a stop to flush at 19 coming out of the long stretch of piney woods before we crossed Hell Creek. Touch Up ran a nice race with another find at 59 in the last field before we cross Hell Creek coming back toward the clubhouse. Bandwagon had another find at 24 but then was lost, handler requesting the retrieval unit.
Cocklebur Drama Queen (PF/Amy Spencer) left the clubhouse well but had a mishap with her birds at 5 and was picked up. Touch's Fire Dancer (PM/ Wright) was scratched.
Phillips Off Line (PM/Mike Small) and Dialed In (PF/Jim Pendergest) started us off on a cold and misty Friday morning. Off Line ran a good race, suffered an unproductive at 35 and had a very nice find at 45. Dialed In ran a stunning ground race but also suffered an unproductive, this at 33.
Rester's Super Chief (PM/Cecil Rester) and S F Saltwater (PM/Smith) left from the game warden's house. (Touch's Big Whiskey, pointer male, Keith Wright, was scratched). Chief ran a very nice race with a find at 5, a divided find at 20, and a final find at 45, with a good finish. Saltwater hunted hard with a divided find at 20.
Both Pendy's Good Grace (PF/Matt Pendergest) and Hendrix's Signature (PM/ Burke Hendrix) were away strong from the breakaway, Signature was lost after 10. Good Grace had a beautiful ground race, with everyone sitting up in the saddle, but she went birdless.
The first brace after lunch -- Small's White Stryker (PM/Small) and Mohawk Mill Pirate's Legacy (PM/Gary Winall) -- was away from the clubhouse. Winall called point for Legacy at 30 but no birds produced on the flush; however, he pointed where quail feathers were on the ground. Legacy went on to have another find at 47, a find at 54 but he had a mishap on his bird work and was up. Stryker had a strong race but finished without bird work.
Nosam's Full Ride (Ashburn) was covered earlier. Pointer male Kennedy's Chocolate Chip was lost shortly after the breakaway with Brad Kennedy asking for his retrieval unit.
Saturday morning again started very cold with rain.
Shearjoy's Big Money (SM/Betty Shearouse) and Hodges Beast Mode (PM/Burl Hicks). Shearouse called point for Big Money at 11 with Beast Mode backing. Unfortunately no birds were flushed, although both dogs handled themselves well. Money suffered a second unproductive at 50 and was up. Mode went on to finish his brace with a very nice ground race but no birds.
Pointer male Misty Morn Masked Man returned to Hell Creek with handler Joey McAlexander intent on seizing victory again after his win the week before at the Alabama Amateur. Bracemate Rebel Pirate (PM/David Williams) started strong leaving the breakaway as well. Point was called at 5 for Masked Man in the field below the game warden's house but no birds were flown. Unfortunately, Pirate did not honor Masked Man and was up. Masked Man went on to run the country, with a find at 17 just after we came out of the piney woods headed toward the 20th Century Crossing. At 58 McAlexander called point for Masked Man in the long bottom on the left side. After a thorough attempt at flushing no birds were found and he was up.
Gary Winall was back in the next brace with pointer male Mohawk Mill Image, and Chris Cagle was up with setter male Shag Time Bo. Cagle called point at 5 past the bear trap with Image backing; no birds were flushed. Image went on to run a strong race, carrying his edges nicely. He suffered an unproductive at 44, then tallied a nice find at 48 in one of the side fields after the wire bridge. Shag was lost at 20, with handler asking for the retrieval unit.
Due to the miserable weather, the remaining braces on Saturday were delayed until Sunday morning.
It was bitterly cold and the fields were full of water for the first brace Sunday morning. Cagle had scratched setter male Shag Time Scout. Glory B, pointer female handled by Pat McPherson, ran as a bye. She hunted hard but produced no birds and was up at 50.
Rebel Maiden (PF/Williams) and Shearjoy's Unforgiven (SM/Shearouse) were in the second brace leaving from the game warden's house. Maiden and Unforgiven worked hard for handlers, with Unforgiven suffering an unproductive at 25. Both dogs went birdless.
Old friends David Williams and Gary McKibben were in the last brace of the stake, Williams with pointer female Rebel Dreamer, and McKibben with pointer male Coldwater Spectre. Both dogs ran strong races but located no birds.
[I was under the weather and not able to attend this trial, so we have cobbled together a report from the notes provided by Angie Williams, Joe Hughes, and the judges.]
Blue Mountain, Miss., December 6
Judges: Jon Lam and Jim Lawless
REGION 6 AMATEUR ALL-AGE CHAMPIONSHIP [One-Hour Heats] --
28 Pointers and 4 Setters
Winner--NOSAM'S FULL RIDE, 1676194, pointer male, by Whippoorwill Mayhem--House's Snow White. T. Mason Ashburn, owner and handler.
Runner-Up--TOUCH'S INDIANA JOAN, 1661285, pointer female, by House's Ring of Fire--Touch's Maswood Anne. Keith A. Wright, owner and handler.