Result: Region 14 Amateur All-Age Championship
Location: Mortlach, Saskatchewan
Post Date: Oct 11, 2019
Submitted By: Dave Noell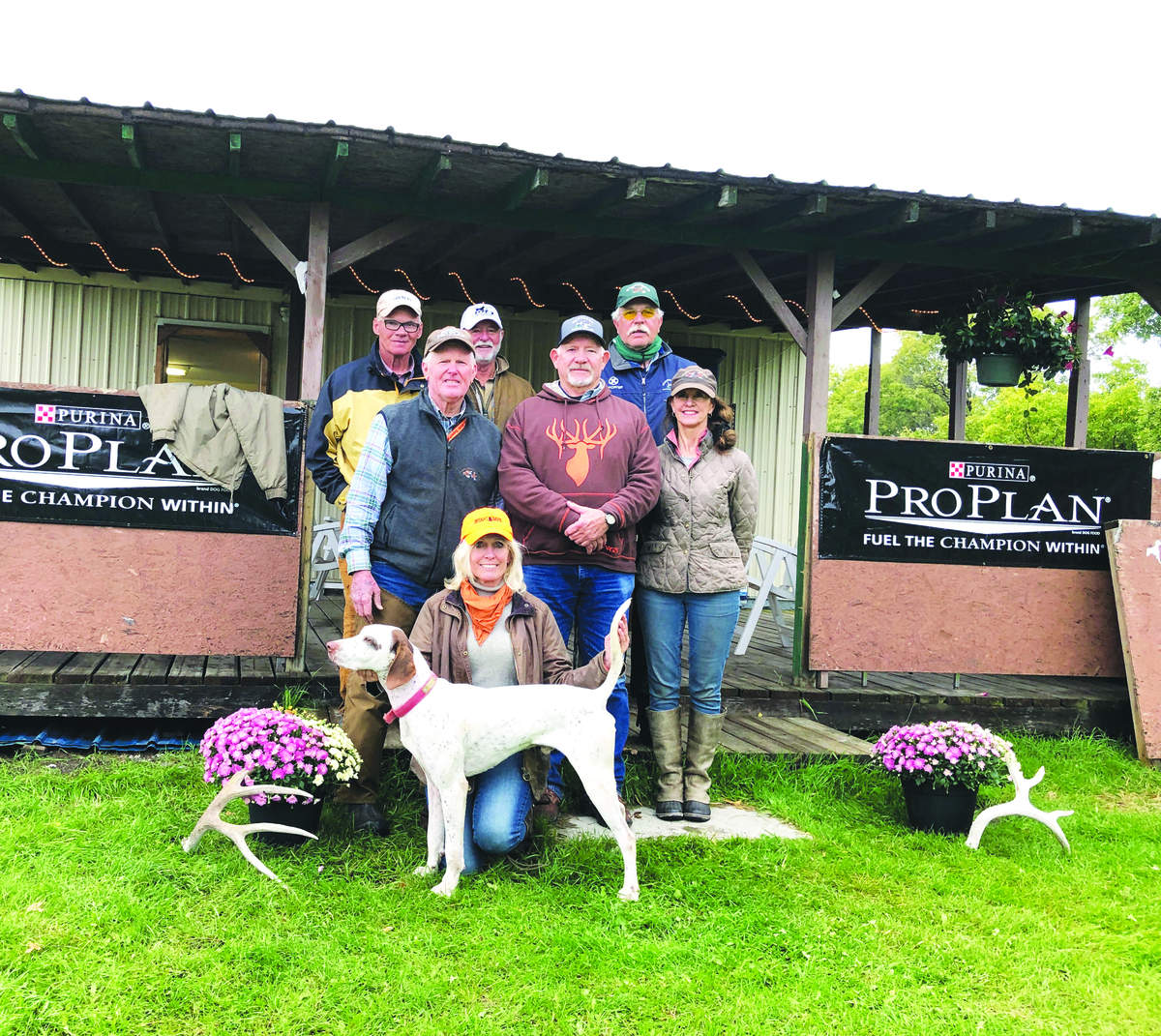 Championship Winner Marques Armed Robber is posed by Ruthann Epp. Middle, from left: John Ivester, Judge Harold Chadwick and Shannon Nygard. Back: Larry Smith, Joe Worsham and Lou Qualtiere.
MORTLACH, SASK. -- It takes a special place to bring field trialers from across two nations together every year. The grounds at Mortlach are such a place. It facilitates friendships that are renewed each year when we meet to run two of the best all-age championships available to amateurs. This year was no different when you consider that people from Alabama to British Columbia came to run their dogs and take part in the fellowship with those who share their passion of an all-age dog.
Many have described in words, including this reporter, the grandeur and scope of the grounds. Suffice it to say that words cannot truly capture the scope of the grounds. It is not an understatement to say that the stage is limited only by a dog's ambition. Wherever a dog reaches, it can be witnessed and appreciated.
The crew that runs the Championships at Mortlach are a well oiled machine. Many years of running them has resulted in everything being handled without anything being missed. There are four husband and wife teams that keep things running seamlessly. Lou Qualtiere and Jeanette Heise, Linda Henderson and John Raymond, Dawn Feist and Sheldon Rogers and Ron and Linda Bender. Also Brenda Ochosky helps every year doing whatever needs to be done. Together they make it look easy.
It was heartening that the number of entries increased noticeably from last year's running. It is a long trip to get here and the Region certainly appreciates everyone who came.
The weatherman was kind, offering pleasant weather until the last morning. Rain fell for the last three braces.
Judges were Harold Chadwick from Utah and Greg Sand from Kansas. Harold is the AFTCA trustee from Region 9. He has many years of experience and was kind enough to come judge both championships. Greg also has many years of experience and judged this stake last year as well. They gave every dog their attention.
This year provided the judges with a tough choice between two superlative all-age performances.
Both dogs delivered with what most years would be an easy choice for being named the champion. Marques Armed Robber became this year's champion. He ran the final morning in the 14th brace. There was a light rain and a definite chill in the air. It did not diminish Robber's effort in the least. He runs with both grace and speed. His hour included three finds, all on sharptails, all on a limb. The finds at 22 and 26 occurred along caragana rows The final find came in an expansive hay meadow heavy with alfalfa at 39. When John Ivester was riding to his dog, he flushed a coyote which flushed a sharptail. John said he could tell his dog really wanted to go with the coyote but a verbal reminder kept the dog standing. More sharptails lifted as well. Truly a test of a dog's manners. Robber's finish took him the length of a long treerow.
Oh, did I mention that after the first find it was noticed that Robber had a small number of porcupine quills in his nose? Quite a performance!
The runner-up put on a stellar effort as well. B K Damascus Sureshot ran in the fifth brace. She was far to the front immediately. Her connection to Sergio Velez is quite amazing to watch. During the hour she was always several hundred yards away searching the country for a bird. She had a find at 31 on sharptails. Also just before time she pointed maybe six hundred yards dead ahead on course. The Huns left shortly after and only Sergio was able to know there were birds. I doubt there are many dogs named the runner-up that have delivered a more compelling hour.
THE RUNNING
Canadian Elhew Jack (Clark Lundgren) and S F Saltwater (Larry Smith). [A small point of privilege. This reporter's first field trial experience was facilitated by Clark. He put me on a safe horse and exposed me to this wonderful sport. I normally scout for him but being the reporter precluded that today.] Jack hunted at good range, handling well. He pointed at 31 but there were no birds home this time. Saltwater never really got going and was picked up at 37.
Elkland's Delite (Lou Qualtiere) was picked up at 31 after two unproductives. Northwoods Charles (Bill Owen) had a moderate forward race with finds on sharptails at 27 and 52.
Jurnee's Callaway (Sheldon Rogers) and Gin'n Tonic Live Wire (Dave Noell) started strongly, reaching to the front. Live Wire started to shorten and was picked up at 32. Callaway ran a good all- age race but went birdless.
Greypointe Oso (Doug Meyer) had an unproductive point at 32 and then a mishap on birds at 50. Rocky Knoll Annie (Pat Lockhart) hunted diligently but only managed an unproductive at 58.
B K Damascus Sureshot's (Velez) effort was described earlier. Greypointe Islamorada (Meyer) ran a big all-age race to go with a find at 28 and a stop to flush at 33. The judges thought this performance worthy of mention at the announcement.
Marques Lucky Lady (Ruthann Epp) had some difficulty finding the front and was picked up at the half. Phillips Off Line (Mike Small) ran an all-age race but had only an unproductive at 36 for his hard work.
Erin's Full Throttle (Ivester) and Small's White Stryker (Small) ran big all-age races but the only time they were seen standing was at 15. Stryker was pointing and Throttle was backing. This stand proved to be barren. Each dog finished the hour trying to get a bird.
Manteo's Ace of Spades (Paul Falkowsky) and Greypointe Kilogramo (Meyer) started in a tighter area that demands the dog handle. As the course opened up, Kilogramo was pointing. He withstood Ace's failure to honor. After flushing the sharptails, all in order, the stage was Kilogramo's. He went on to have a find at 32 and an unproductive at 44, completing his hour.
Marques Handsome Ransom (Ivester) and Greypointe Ligone (Meyer). Neither dog found their groove during this brace. Ransom was picked up at 25. Ligone was leashed a minute later.
Poncho's Monte Carlo (Gerry McLarney) was back to defend his title. He could only manage an unproductive point at 17 during his hour. S F Benchmark (Smith) was picked up at 41 after an unproductive point.
Worsham's Super Sport (Joe Worsham) was not often seen ahead during his run. Walden's Ridge Play Boy (Epp) managed only an unproductive at 15.
B K Pablo Escobar (Velez) and S F Bandwagon (Smith). Sergio scratched his dog in order to make the long drive home to return to work. Bandwagon gave a good account on the ground but his only stand was barren at 29.
The weather changed to a light rain for this morning brace. Neither Chipper Jones (Epp) nor S F Stetson (Smith) could find a bird in spite of their best efforts.
Marques Armed Robber's performance was detailed earlier. Worsham's Silver Comet (Worsham) ran strongly but was missing from the front quite a bit. Joe Worsham decided to pick up at 50.
Marques Dixie Darling (Epp) and Knight's White Lady (Bill Owen) broke away at the head of chicken alley and Lady took full advantage. She had sharptails at 2 and again at 8. Both finds were well executed. She had an unproductive point at 10. She spent the rest of the hour hunting with ambition. The judges mentioned her effort as one that impressed. Darling had trouble finding the front and was up at 35.
Mortlach, Sask., September 7
Judges: Harold Chadwick and Greg Sand
REGION 14 AMATEUR ALL-AGE CHAMPIONSHIP [One-Hour Heats] --
26 Pointers and 4 Setters
Winner--MARQUES ARMED ROBBER, 1659975, pointer male, by Reloaded--Dialed In. John Ivester, Jr., owner and handler.
Runner-Up--B K DAMASCUS SURESHOT, 1671685, pointer female, by Wiggins Elhew Damascus--Wiggins Miss Tres. Sergio Velez, owner and handler.