Result: National Amateur Prairie Chicken Shooting Dog Championship
Location: Wisconsin Rapids, Wisconsin
Post Date: Nov 30, 2021
Submitted By: Frank LaNasa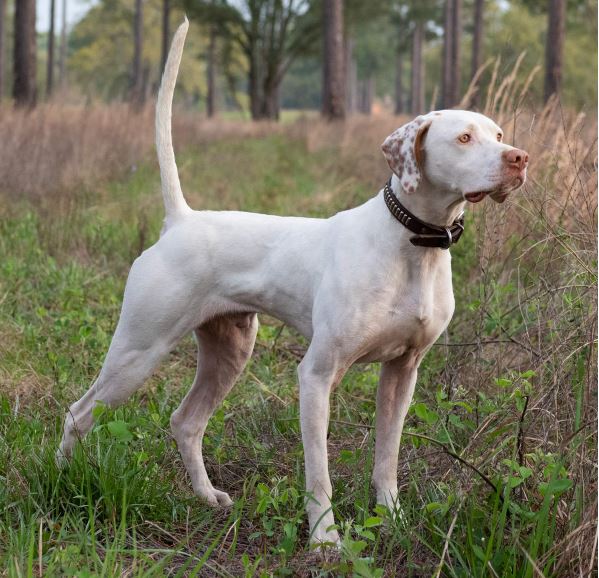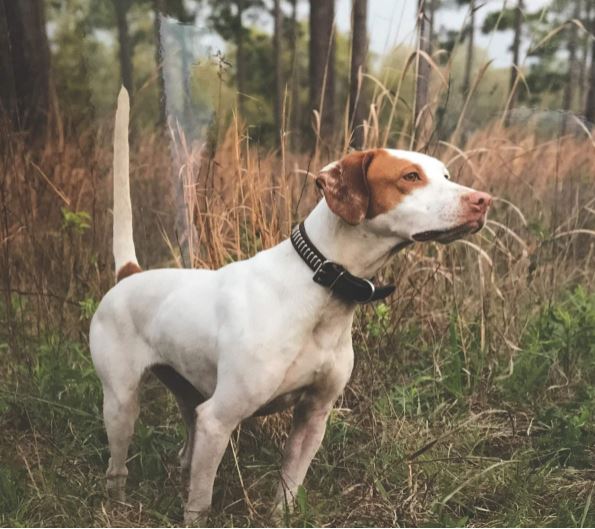 It was a welcome sight to see the competitors back at the Buena Vista Grasslands for the 2021 National Amateur Prairie Chicken Shooting Dog Championship. Last year's event was cancelled due to COVID restrictions on public lands in Wisconsin.
With 32 canine competitors, the event took three days to complete under the watchful eyes of Judges Joe Worsham of Easton, Mo., and Frank Vicari of Hampshire, Ill.
Birds were seen on all courses. The cover was really quite good other than course No. 5, which presented an extraordinary cover challenge for both handlers and dogs, but as sort of a tradeoff the course consistently produced strong bird numbers.
Mark Johnson and I chaired this event and were on hand throughout the trial to marshal and assist handlers in any way possible. The behind-the-scenes work is done with extraordinary results by Ed Liermann who also chairs the National Prairie Chicken Championship that follows this event.
It is hard to overestimate the positive impact Ed has had on these two events. His involving the top decision-makers of the Wisconsin DNR (who attended our event, rode and saw dogs point and handlers flush prairie chicken), local wildlife managers, volunteers and apprenticeship students, also including instructors of local colleges offering wildlife management curriculum, past wildlife personnel, local landowners and business owners makes for an extraordinary banquet and auction evening during the event.
Auction funds are used to provide support for the Buena Vista grassland management, education scholarships for DNR students and to help make these events a memorable event for all participants. With his work Ed has given field trailers a blueprint on how to make field trials a win-win opportunity for local business and wildlife by giving back for the opportunity to perform on these wonderful venues.
It was great to see George and Ann Irhke. It was their vision that put this venue on the map. They helped at the road crossings and anywhere else they saw a need. While Ann was busy assisting documenting the auction, George kept busy accumulating auction goods. Many locals and friends attended the Saturday meal and auction making for a fun and really successful event.
Both of our judges, Joe Worsham and Frank Vicari, are well versed in field trial decorum and performance having both spent significant time in the field with top-flight competitors and in judge's saddles. Their presence and positive input made for a smooth event and decisions well received.
Gary Wolfe drives the dog wagon and long ago became a member of the field trial family. He takes time off to come over and work the trial. His presence and friendship make it a better event for sure.
It is no secret to those who attend this event that the challenges of weather, cover and prairie chickens will make for a difficult opportunity to excel. There are few grounds in the nation that challenge the qualities required of the shooting dog standard quite like the grasslands at Wisconsin Rapids. With that challenge in mind, amateurs brought their bird dogs to the line with the hope that this was their time.
THE RUNNING
The Highway (SM/Dave Moore) and Chief's Rising Sun (SM/John Mathys). Rising Sun started strong, wider and deeper than his bracemate. Crossing Griffith Road, Highway began to grab more country. Sun scored on a covey of chicken at 25 just before Harry Story Crossing. Both dogs worked the country but to no further avail.
Jumpstart (PM/Frank LaNasa) started strong and just got stronger until handler picked up at 35. GF Texas Ranger (SM/ Allen Dunbar) scored nice finds at 8 and 26 and added a stop to flush at 40. His performance was consistent throughout the hour.
Boumeester's Evangelist (PM/Rich Boumeester) had an unproductive at 5, hunted earnestly, reaching at times throughout his hour with no further contacts. Thumper's Anything But (PF/Mike Duvall) hunted the hour at a more moderate range without any game contact.
Erin's Rebel Attraction (PM/Brian Sheehan) had unproductives at 8 and 30 to end his bid. Pioneer B (SM/Marion Brown) got stronger as the hour progressed but couldn't score on birds.
Oak Grove Scarlet (PF/Doug Reisner) and Erin's Tin Lizzie (PF/IS/ Mark Johnson). Lizzie was picked up at 20. Scarlet's error on game ended her bid.
Southern Confidence (PM/F. LaNasa) and Millstar's Lion Rampage (VM/Laura Miller) were turned loose directly into 30 mph gusting winds and freezing rain. Neither dog backed away from the challenge and put on a show for the entire hour. Chicken were not pointed but not for a lack of effort.
Strut Nation (PM/R. Boumeester) and Cedar Creek Talon (ISM/Ed Liermann). Talon scored a nice find at 14 with Strut backing. Strut was gone at 20 and Talon was picked up at 50.
Notorious King Ransom, (PM/J. Mathys) and Erin's Country Rebel (PM/Sean P. Derrig). Rebel started with a beautiful find on a covey of chicken at 4. At 16 King got aggressive on a covey, putting them into the air ending his bid. Rebel finished his hour lacking the jump he started with.
Setter males Grouse Feather Witcher (Allen Dunbar) and Stone Free B (Marion Brown) followed. Free B started well, crossed Griffith Road. Shortly after the watering hole Free B established point and was blown into a covey, ending his hour.
Cheyenne Nation (FP/F. LaNasa) ran a consistent forward aggressive race, never scouted. At 55 she crossed lake and made a strong move deep to the front where she pointed. A covey was flushed in front of her impeccable manners. She finished strong. Stellar's Natural Diasaster (PF/M. Duvall) ran a nice forward race but without any game contact.
Nine To Five Nation (PF/D. Moore) and Millstar's Saltire (VM/Laura Miller). Saltire had a stop to flush at 10 on a single. At 20 Saltire was pointed to the right of the course along a treeline, Nation came into the area and pointed. The chicken lifted from behind Saltire and in front of Nation, both handlers shot. After a short discussion Nation was in harness. At 40 Saltire had a stop to flush coming out of heavy cover and shot over all in order. At 48 despite a focused relocation no birds could be produced. Crossing Lake into lighter cover Saltire finished strongly to the front.
Erin's Wild Rum (PM/Mark Johnson) and Mac Golva B (SM/M. Brown) were filling the country when Golva scored wide to the left on the course at 15. At 45 both dogs 300 yards apart were pointing. Johnson could not produce for Rum, but Dr. Brown was able to put chicken into the air after numerous relocations. Both dogs finished their hour.
Northern Confidence (PM/F. LaNasa) and Harg's Diamond Draw (PM/Sean P. Derrig) started well. At 25 point was called for Confidence off to the left. While going to him Draw came into the area putting the covey into the air and giving chase. Confidence joined in the pursuit ending his bid as well.
At 20 both Notorious Dominator's Heir (PM/J. Mathys) and Desoto's Hidden Gem (PF/D. Moore) were pointing 200 yards apart, Heir's an unproductive and taken on. Gem moved up on her own while handler was on an extended flush. Both dogs were taken on and finished the hour without further contact.
Cedar Creek Sixgun (ISM/E. Liermann) and Boumeester's Duramax (PM/R. Boumeester). Duramax ran an outstanding race, always forward, strong, aggressive and hunting every step but no birds could be produced.
Confident Nation (PM/F. LaNasa) and Wibaux Sun B (SM/M. Brown): Sun B erred on birds at 14 ending his bid. Confident Nation started strong and stayed strong for the hour. He was pointed out numerous times far to the front holding his pattern. At 19 point was called and a single bird was flushed directly in front of Nation's stylish find. His manners were perfect. Nation went right back to his attack making a significant move around a half section piece before crossing Griffith Road and driving forward. He pointed at 40. No birds were produced. He continued to make strong forward moves, crossing Lake and going deep to the front. The hat was raised at 50. A large covey continued to rise from all around the dog whose demeanor remained unflappable throughout. He finished deep into the course at the same pace and strength he started.
Wisconsin Rapids, Wis., September 24
Judges: Frank Vicari and Joe Worsham
NATIONAL AMATEUR PRAIRIE CHICKEN SHOOTING DOG
CHAMPIONSHIP [One-Hour Heats] -- 19 Pointers, 11 Setters
and 2 Vizslas
Winner--CONFIDENT NATION, 1684546, pointer male, by True Confidence--Southern Songbird. Scott Jordan, owner; Frank LaNasa, handler.
Runner-Up--CHEYENNE NATION, 1681417, pointer female, by Strut Nation--Erin's Amazing Grace. Scott Jordan, owner; Frank LaNasa, handler.