Result: Region 2 Amateur Walking Shooting Dog Championship
Location: Felton, Delaware
Post Date: Nov 27, 2021
Submitted By: Andy Bogar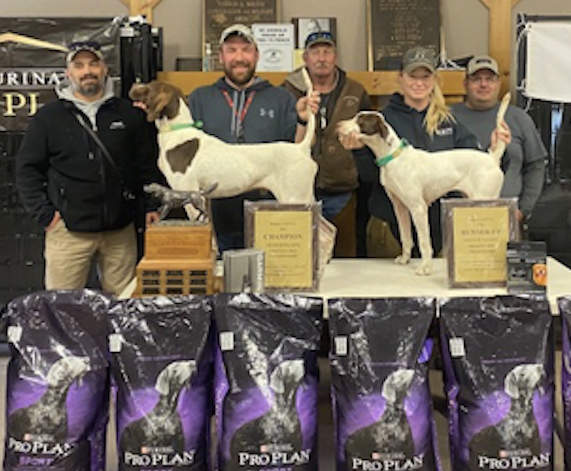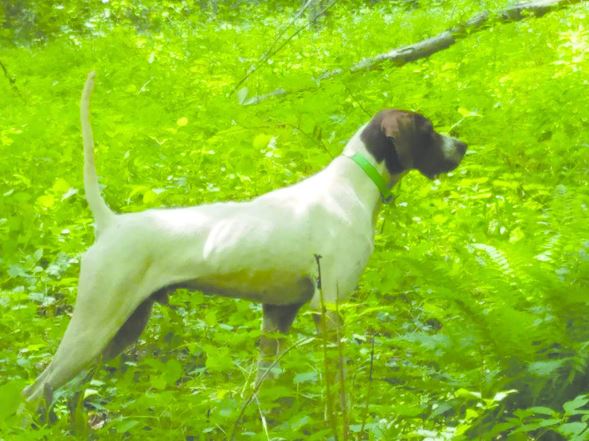 The Ridgerunners Bird Dog Club hosted the Region 2 (AFTCA) Amateur Walking Shooting Dog Championship November 6-7 at the Ralph D. Kellam Dog Trial Area located on the Norman G. Wilder Wildlife Area near Felton, Del.
This facility is a top-notch field trial site equipped with a large clubhouse, full kitchen, bathrooms and a large barn with horse stalls and a bird pen. The grounds make for easy walking and present several different types of cover for dogs and handlers to navigate. There are areas that you can really show a dog and areas where a dog has to handle to stay on course. The field trial community is lucky to have this type of venue and the state of Delaware is commended for the work they do to keep these grounds looking good.
Several persons were instrumental in the success of this trial. Roger Dvorak has run trials on these grounds for years and was a tremendous help with the logistics of the trial. Roger was also on hand through the entire weekend planting birds for every brace. Without Roger's help it would have been hard to pull this trial off.
As always, Dean Avillion stepped up big time to help with just about everything. Dean hauled his sided by side to the grounds to be used by the bird planter and helped with all the set up and clean up.
The kitchen was managed by Catherine Avillion and Dean Deritis. We had a smoked brisket, meatball subs, breakfast casserole, homemade mac and cheese, coleslaw, peanut butter pie and all the fixings. It was all fabulous and helped make the trial a top-notch event.
In addition to the great volunteers that helped make this trial a success we also had two of the field trial community's top sponsors. Purina, an ever-present supporter, stepped up again with some very generous donations. The winners of this event are fueled by Purina Pro Plan. Garmin donated an Alpha 10 handheld tracker for the champion and a bark collar for the runner-up champion. We should all value the support our sponsors give us and return the favor by being good consumers of the products they have to offer.
It was a pleasure to have Bart Hastings of Seaford, Del., and Joe Lordi of Atco, N.J., agree to handled the judging duties. I rode every brace of the trial with these two gentlemen and I can assure you they both gave every dog their undivided attention while keeping a good positive outlook throughout the trial.
Bart is no stranger to these grounds and no stranger to the judge's saddle. I have heard him tell many stories of trials here going back to the 1980s. Bart didn't just stop contributing to this trial as a judge he also donated fresh oysters and clams for everyone to enjoy.
Joe Lordi has been active in field trials for nearly thirty years with much success. He has reported the National Pheasant Shooting Dog Championship for the last eleven years and judged it once. Joe has also reported and been a part of running many other championship trials along with weekend stakes. Needless to say, we had an excellent pair of Judges and their decisions were well received. Thank you, gentleman!
THE WINNERS AND OTHERS
Judges named Double Deuce Zeke the Champion. Zeke is a well built white and liver pointer owned and handled by Doug McMillen of DuBis, Pa. Doug and Zeke have been on fire recently and Zeke was crowned champion of this event this past spring at Warriors Mark Hunting Preserve in Pennsylvania. This title makes Double Deuce Zeke a four-time champion.
Running in the 5th brace on Saturday, Zeke was braced with Jerry On Fire handled by Dean Avillion. Zeke had the first find of the brace at 7 near the pond. At 12 Jerry was found pointing in the islands with Zeke backing from a good distance. When Jerry's bird was flushed it flew directly over the heads of both dogs, causing a bit of anxiety for everyone watching, but both dogs handled the pressure well. Following the find in the islands both dogs continued hunting strong to the front but showing enough to make handling manageable. Jerry continued on to have another find at 23 and Zeke was able to gain some distance to the front. Jerry was picked up at 26 due to a breach of manners while his handler was flushing.
With the course to himself Zeke went on to have finds at 29, 42 and 48. His find at 28 was on a covey of birds running in a narrow strip of corn and it took a nice relocation to get them pinned down. When Zeke wasn't pointing birds with championship style he was consistent in his hunting efforts, covering ground with a long and powerful strides. It was Zeke's consistency on both bird work and ground race that propelled him to the top of the field.
At the conclusion of the final brace judges knew they had their champion. But the runner-up was a different story. Two dogs were so close in the judges' eyes that a callback was in order to sort out some details.
The idea of a callback became quite the buzz among the trial participants. But it was a welcome decision and showed just how determined Bart and Joe were to make the right call between these two dogs. I commend both judges for going the extra mile!
Braggabull (Emmy), handled by Doug McMillen and owned by Mark Hughes, ran in the second brace and finished her hour with six finds. Emmy is a white and liver pointer female and hunted hard with a fast snappy gait while handling very well.
No Limit (Zoey), owned and handled by Thor Kain, ran in the 6th brace and finished her hour with four finds. Zoey is a white and orange setter female who also has a fast snappy gait and showed a little more range in her ground race than Emmy. Both dogs showed impeccable style while on point and each had one very minor bobble on their first finds.
Anticipation filled the air as the callback for runner-up champion broke away just after noon on Sunday.
No Limit and Braggabull, as well as their respective handlers, were charged up and ready to run. After crossing the ditch just past the breakaway Emmy crossed the road towards the left side of the cornfield and Zoey stayed the course ahead. Emmy's bell went silent not far after the road in the left hedgerow while Zoey was seen far forward rimming the woods. While Doug was making his way to Emmy, Thor called point as Zoey was spotted standing near the pond. Emmy ended up with her first find at 7 while Zoey tallied her first at 8. As Thor was watering Zoey, Emmy was cut loose and stopped again several hundred yards down the left hedgerow. This resulted in Emmy's second find at 10. Both dogs were let loose again, with Zoey being a bit farther down the course. Zoey made a nice move into the islands and quickly established point in a cover that had been holding birds, Emmy being hot on her tail locked up hard and backed Zoey from a good distance. Thor made a good flushing effort but could not produce a bird and after an attempted relocation Zoey was credited with an unproductive.
Leaving the islands both dogs had settled into the pocket a bit and began trading finds. Emmy had a back at 18 and finds at 21 and 25. Zoey had a find at 18 and backs at 21 and 25. This was turning into quite the show and I can honestly say was one of the most exciting braces I have ever watched. Both handlers were focused, both dogs were determined and the gallery was dead silent. At 32 we turned the back corner and headed towards the second creek crossing. At this point the judges felt confident in their decision and ordered both handlers to pick up the dogs.
Both Judges commented to me that this was a very difficult decision. But after splitting hairs, they named Braggabull (Emmy) the runner-up champion. This win gave Braggabull her second runner-up champion title.
Others that finished the hour or deserve recognition in order of running are the following:
In the first brace, Super Storm Liz, handled by Thor Kain, finished with finds at 8, 10 and 35 and backs at 40 and 48. Liz was braced with Mohawk Mill Pirate, handled by Ashby Morgan. Pirate had finds at 40, 43 and 48 and an unproductive at 38. Pirate was carried for a while and put down a nice all-around effort.
In No. 3, Super Storm (Thor Kain) had finds at 7, 30, 35, 45, 50 and 57 and an unproductive at 7. Super Storm's ability to find birds was not a question but he handled a little too ruff at times to beat the winners.
No. 4 had Glassilaun War Paint (Jamie Nee).War Paint had finds at 12 and 55. His find at 55 was a beautiful relocation on a running bird.
In No. 8, Little Wing Inked Up (Bo Manounis) had finds at 2, 14, 20, 22, 33, 44 and 52 and a unproductive 10. Inked up had one of the best finds of the stake at 2 on a covey of 20+ birds. But on this day he lacked some intensity on several finds which kept him out of contention.
Brace No.11 had Grouse Hill Pepper (John Capocci) did not finish her hour but the judges asked to make sure she got some recognition. She was absolutely scorching the course and had finds at 12, 25 and 28. All her finds were pointed with supreme manners and she was making some of the best moves of the weekend. But unfortunately, pepper had a run in with a rouge quail at 45 minutes and had to be picked up.
Thanks to all who attended and entered dogs!
Felton, Del., November 6 -- One Course
Judges: Bart Hastings and Joe Lordi
REGION 2 AMATEUR WALKING SHOOTING DOG CHAMPIONSHIP
[One-Hour Heats] -- 13 Pointers and 9 Setters
Winner--DOUBLE DEUCE ZEKE, 1673940, pointer male, by Double Deuce Peter--Funseeker's Holiday. Douglas E. McMillen, Jr., owner and handler.
Runner-Up--BRAGGABULL, 1670091, pointer female, by Bully Bragg--Bullerina. Mark Hughes, owner; Douglas E. McMillen, Jr., handler.