Result: Northeastern Grouse and Woodcock Championship
Location: Frankfort, Maine
Post Date: Nov 13, 2019
Submitted By: Russell Ogilvie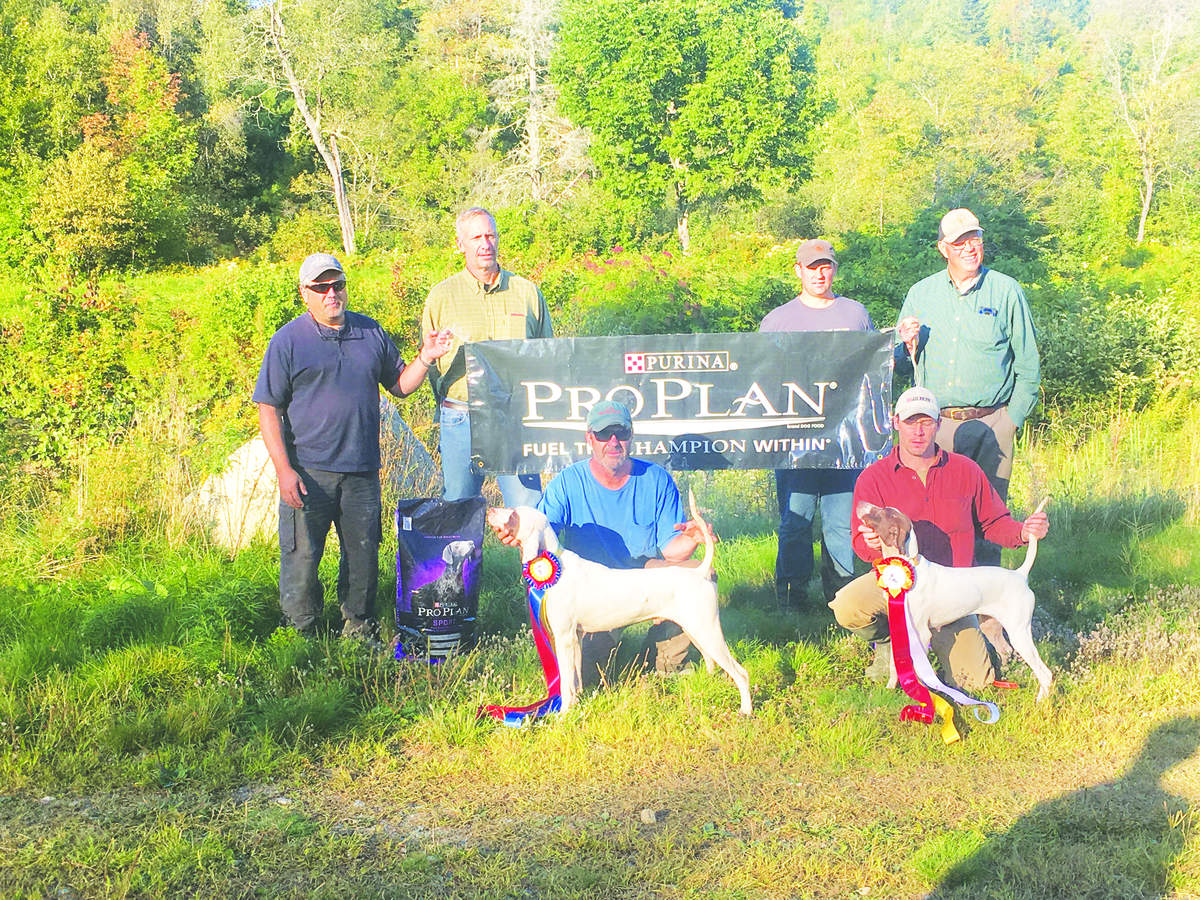 The Winners. From left front: John Stolgitis with Daddy's Little Boy Butch and Russell Ogilvie with Grouse Hill Annie. Standing: Al Robbins, Brian Breveleri and Jeremy Estep, the judges, and Joe Dahl.
FRANKFORT, ME. -- Winner of the 2019 Northeastern Grouse and Woodcock Championship came out of the 15th brace on Beaver Bog course.
Daddy's Little Boy Butch, five-year- old white and liver pointer male owned by Paul Scott of Wallingford, Conn., and handled by John Stolgitis, was braced with Movelle's Chewy (Forrest). Both dogs broke away strong but did something that no other dog had done all trial. When they returned from their initial casts, they dove into the alders on the right side of the course.
Both dogs stopped at 5 but at different locations. Chewy could just barely be seen from the course with Butch being deeper and a little back. Both handlers quickly flew a woodcock.
The dogs were returned to the course and sent forward. Chewy worked to the left and Butch to the right. The beavers had once again worked their magic to increase the size of their pond. The dogs have two choices, work to the left and cross the dam or circumvent the pond to the right and meet up front. Chewy chose the first option while Butch took the latter. After we made the beaver dam crossing, both dogs showed to the front and worked the cover. Chewy stopped at 20 but Forrest could not produce a bird. Chewy, having a strong run going, stopped at 32 in a likely spot. Forrest again could not get anything to fly and picked him up after a lengthy relocation. Stolgitis took Butch forward and into the cut. Butch's bell fell silent at 55 but nothing could be flown. Butch was sent on and he dug into the thick growth with his bell falling silent at 58. Stolgitis was able to find him and this time a grouse took flight to cap a very strong ground performance.
The runner-up came from the 10th brace on Costigan Farm course. This course is known for having birds but can be difficult as you can lose a dog's bell quickly over the hill.
Grouse Hill Annie, white and liver pointer female, is owned by John Capocci of Katonah, N. Y., and handled by John Stolgitis. Annie was braced with Cairds Little Macy Mae (Bob Little).
Both dogs broke away at the top of the hill and shot forward. Macy ended up working to the left side of the course and Annie went deep to the right. Both dogs glided in an out of bell range for the first twenty minutes. With the dogs settling in, the handlers got them through the alder run without any excitement and then headed back along the stream. Each dog worked the cover as they searched for birds. As the handlers, judges and gallery cut back up the hill, both dogs were deep to the right and the bells fell silent at 34. The handlers found the dogs and a woodcock was flown. Both handlers fired and a divided find was declared. Both dogs were led back to the course where once again they powered forward. Annie and Macy fed off of each other and they motored through the course but could not come up with another bird.
The judges had a long discussion and had Annie edging out Macy with a little better ground race.
On behalf of the Mid-Coast Maine Field Trial Club, I would like to thank Purina and Greg Blair for supporting our Championship.
A huge thank you to our judges -- Brian Breveleri from Massachusetts and Jeremy Estep from Pennsylvania. They took time away from their families and work, not to mention lengthy drives to get to the grounds. In turn, they were rewarded with hours of walking through thick brush, over beaver dams, up and down hills to watch dogs run.
As many of you know, most of our courses are run on public land. A thank you to the town of Frankfurt for allowing us to use the land to host our trial. The remainder of our courses are on private land which had been managed for upland habitat. We could not hold a trial without such places.
The club would also like to thank the owners, handlers and dogs for making this trial a success. Once again, the steak and lobster feed was topnotch!
Finally, I would like to thank the club members and anyone who helped out with this year's trial. Looking forward to next year!
The Running
Springbrook Maximus (Ogilvie) and Chasehill Baby Bella (Stolgitis) broke out hard and raced forward. As mentioned before this course holds birds but you can lose the bell quickly over the hill, which is what happened to both dogs. The bells went silent and both handlers had a long search. Max finally moved on his own close to the gallery with Ogilvie taking him forward. Stolgitis called for the retrieval device to find his dog on point with a woodcock in front. Max stopped again only to be lost on point once again. He was picked up as well.
Mooselook Mac (Little) and Glassilaun War Paint (Tobiassen) had nice runs going with "Bat" stopping first at 24 without any success. Mac pointed at 34 just to the left of the course. Little could not produce a bird and Mac was relocated. Mac moved forward and quickly stopped again. Little still could not get a bird to fly so Mac was sent on. Mac was unable to pin the bird as it had run up next to the gallery and took flight. Bat stopped at 40 next to the field but nothing was flown. Tobiassen collared his dog after a relocation. Mac finished the hour without a bird.
Wild Apple Pippen (Little) and Panola Bacon (Stolgitis) broke away on Beaver Bog. Pippen stopped next to the Beaver Bog but nothing was home. Pippen pointed at 14 but was sent on. With both dogs across the dam, Bacon stopped at 22 but nothing could be produced.
Stolgitis tapped him on and Bacon slammed on point at 24. This time a grouse took flight with all in order. Bacon moved forward and stopped again at 29. This stop turned up nothing. Bacon, running a strong forward race, took a bad turn when he ran into an object causing severe bruising and a nervous drive to the veterinarian. Pippen finished without any bird work.
Wild Apple Siri (Rizza) and Squirt (Dubriske) had the second run at Costagin Farm. Both had nice ground races but were unable to connect.
Wild Apple White Lighting (Doherty) and Wynot Atom (Robbins) took to the woods. Both dogs worked well for the first 20 with "Myke" going over the hill and the retrieval unit was called for. Atom stopped at 35 in the area where grouse had been seen earlier in the day. Atom was relocated several times and Robbins decided to pick him up.
Guardian (Chip/Flewelling) made it across the dam and stopped at 23. Flewelling could not get anything to fly. Chip pointed again at 38 deep to the right. A long search through a swampy area produced a grouse, Chip standing. Chip had another unproductive at 43 with a moderate race. Mooselook Fionn (Little) finished the hour birdless.
Brace No. 7 -- Wild Apple Jonathan (Doherty) and Duck Hook (Stolgitis) -- started off on day No. 2. Both dogs burned off some extra energy before settling in. Jonathan got to work with a stop to the left of the course near the stream at 25. Doherty located Jonathan and a woodcock was flown. "Brutus" stopped deep to the left along the stream at 28. As the handler made his way toward him Brutus started up on his own and went forward. Jonathan crossed the stream and stopped on the hillside at 38 where Doherty flew another woodcock. Jonathan would highlight the hour with another stop at 50 where he had his third woodcock find. Brutus finished the hour without any bird work.
Chasehill Little Thudd (Doherty) and Chasehill Little Izzy (Stolgitis) took to Blueberry Hill. Thudd handled well for the first half then he went over the hill and the retrieval unit was requested. Izzy had a nice forward race. Stolgitis made it into the cut where Izzy's bell fell silent at 59. A grouse blew out when he stepped in front of her with all in order.
Elhew Snakecharm (Doherty) and Dust Devil Mazie (Fried) had a go at the Beaver Pond. "Charlie" came up blank. Mazie had a stop in a boggy area at 35 but nothing could be produced.
Brace No. 10 was reported earlier.
D C's Sadie (Cluney) and Wild Apple Hard Cider (Doherty) had made the turn into the woods from the blueberry field where Cider stopped in the open hardwoods at 12. With the dog in full view, a pair of grouse blew out in front of her which was too tempting and ended her day. Sadie continued with the course to herself. She had a stop at 22 in a likely spot but nothing was home.
Cairds Lefty (Little) had a quick stop at 4 but with nothing home. West Hill Oh Geez (Dubriske) had a nice race going. Both dogs finished the hour without any action.
A cool start to the final day of the running.
Tilden Pond Sam (Townsend) ran with authority and handled well for a first-year shooting dog. Sam's bell fell silent at 22 to the right of the course. Townsend found Sam standing and flushed a woodcock for him. Sam was a little too excited and took a step that ended his day. Wild Apple Spot On was not pleasing Doherty and he was picked up at 37.
Calamy's Soul Man (Robinson) and Chasehill Spec (Stolgitis) had the morning run at Blueberry Hill. Both dogs moved effortlessly through the woods. Spec was at the edge of the bell and stopped in the cut. A long search was conducted with the retrieval unit called for. With the course to himself, "Elwood did not have a big enough drive on this day and was picked up.
Brace No. 15 was noted previously.
Cairds Remi (Little) and Chasehill Oscar (Stolgitis) took to the hillside at Costigan Farm. Remi stopped in the alders to the left of the course at 19 where Little produced a woodcock for her. Oscar stopped at 14 but started up on his own. He stopped at 28 on the hillside with a bird being moved. Remi stopped at 29 but started up as Little was searching for her. Oscar suffered his second unproductive at 36.
Bear River Victory (Little) broke away with True Choice (Fried). "Tory" went the hour without any bird work. "Dee" hunted the cover. She had a stop just inside the cut where bird was called but was not seen by either judge.
No. 18 -- Magic Mist Sydni (Dahl) and Wild Apple Calvados (Doherty) -- had the last go at Beaver Bog. Both dogs ran well but not well enough for the handlers. Without any bird work, Sydni was picked up at 43, "Brandy" at 50.
Ruff Grouse Lilly (Christopher) had the Costigan Farm course to herself. Being alone, Lilly ran a more moderate race. She stopped in the alder bottom at 25 but nothing could be produced. She stopped again at 32 without any action. Lilly finished the hour hunting all the way.
Frankfort, Me., September 16 -- One Course
Judges: Brian Breveleri and Jeremy Estep
NORTHEASTERN GROUSE AND WOODCOCK CHAMPIONSHIP
[One-Hour Heats] --

Winner--DADDY'S LITTLE BOY BUTCH, 1655649, pointer male, by Chasehill Little Bud--Richfield Stella. Paul Scott, owner; John Stolgitis, handler.
Runner-Up--GROUSE HILL ANNIE, 1659647, pointer female, by Chasehill Little Bud--Walnut Hills Elhew Gypsie. John Capocci, owner; John Stolgitis, handler.