Result: North Country Walking Shooting Dog Championship
Location: Danbury, Wisconsin
Post Date: Nov 25, 2019
Submitted By: Paul D. Crook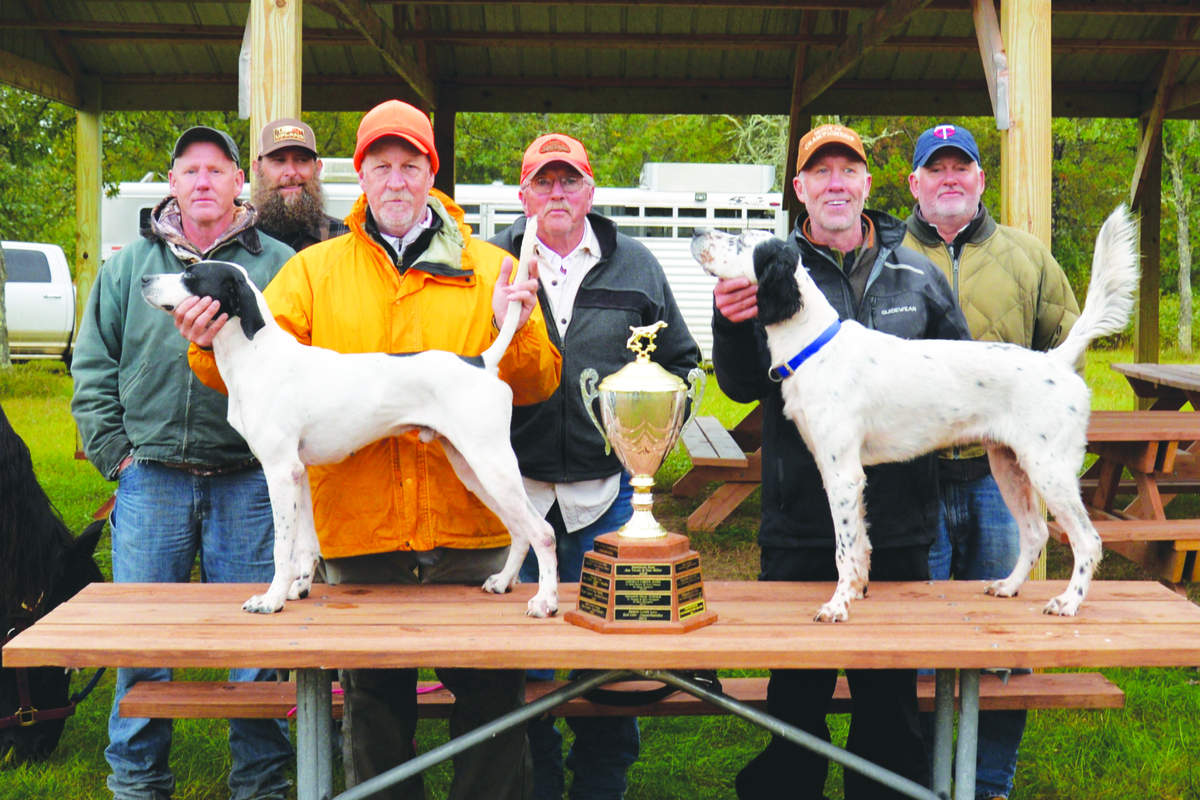 Championship Winners. From left: Judge William Frahm, Paul Cook, Bert Benshoof with Go Peter B, Rod Lein, Ian MacTavish with Cold Creek Kevinator and Judge Ben Mergens.
DANBURY, WIS. -- I believe there is only one place east of the Mississippi where you'll find a championship run on native sharptailed grouse -- the Namekagon Barrens Wildlife Area in northwest Wisconsin.
Twenty years ago I first spent time here sitting in a small blind, counting dancing male sharptails on their lek. A few years later I was able to participate in prescribed burns as a young conservation professional. The Barrens is avspecial place that offers a healthy population of sharptails along with just enough room to lay out continuous courses -- a premier venue to test true wild bird dogs.
This year's renewal of the North Country Shooting Dog Championship commenced on September 28 on these unique and well managed grounds.
This pine/oak barrens is about 6400 acres and has been actively burned and managed by the state.
Gratitude for such an amazing place goes to the Wisconsin DNR and property manager Nancy Christel along with her crew. Nancy also receives ongoing support from the Friends of the Name-kagon Barrens Wildlife Area, a non-profit group started to preserve and protect the area. These are the people working diligently to conserve the habitats that support these wild birds. When you see them, thank them and shake their hand. Better still, support their efforts! It's only right that a portion of each entry in this Championship did just that. Namekagon is a stronghold for the sharptailed grouse in Wisconsin.
Appreciation is also due to the Wisconsin Sharptailed Grouse Society. They have been actively involved in preserving this important game bird on these grounds and throughout Wisconsin.
This walking wild bird championship would not happen without the work of Rod Lein. All logistics were handled by Rod with the support of the host club, the Chippewa Valley Grouse Dog Association.
Thank you to Loyall dog food for their continued support of the club's wild bird trials.
Ian MacTavish and Dennis Lutynski graciously provided mounts for judges and scouts.
Judges William Frahm of Minong, Wis., and Ben Mergens of Inver Grove Heights, Minn., were attentive to each brace of dogs. They know what it takes to win a wild bird championship. Their experiences with their own winning dogs is an asset and their decision was well received. Our sport is in good hands with judges like these two gentlemen.
Nearly half of the dogs competing handled sharptails, further validating the worthy performances of the champion and runner-up.
THE WINNERS
Emerging as a first-time champion from the seventh brace, the first brace on the second day of running, was five-year-old white and black pointer male Go Peter B, handled by Rod Lein and owned by Bert Benshoof of Roseville, Minn. Pete laid down a driving, forward race, perhaps the best run of the stake, making just the right moves when Rod called for him. Just before time he faded away, out of sight to the front and was found standing in heavy oak scrub with several sharptails well located and put to wing in front of him. A perfect finale for his hour.
The judges awarded runner-up to six-year-old white, black, tan and ticked setter male Cold Creek Kevinator, bred and handled by amateur owner Ian MacTavish of Afton, Minn. Cold Creek Kevinator already knows the winners' circle at Namekagon, having been named runner-up here last year.
"Kevin's" race was consistently forward with two well handled finds on these educated, jumpy birds.
Danbury, Wis., September 28
Judges: William Frahm and Ben Mergens
ABHA NORTH COUNTRY SHOOTING DOG CHAMPIONSHIP
[One-Hour Heats] -- 10 Pointers and 15 Setters
Winner--GO PETER B, 1659364, pointer male, by Go Johnny Go--Beaver Creek Lucy. Bert Benshoof, owner; Rod Lein, handler.
Runner-Up--COLD CREEK KEVINATOR, 1660454, setter male, by Shadow Oak Bo--Cold Creek Pearl. Ian McTavish, owner and handler.
OPEN DERBY
The Open Derby drew eight young dogs, run on the same continuous courses following the Championship.
The blue ribbon went to Northwoods Istanbul, setter male handled by Jerry Kolter. He had a beautiful relocation on a single bird and a solid race. It was the type of wild bird work you might witness from a seasoned shooting dog. Second was Northwoods Setter Tech Ringo, setter male owned and handled by Jeff Forsberg of Loretto, Minn. Ringo pointed a small group of sharptails in an opening and hunted hard for his thirty minutes. The white ribbon went to Hifive's Power Line, pointer male handled by Bruce Minard.
The number of wild birds properly handled in this stake is a testament to the quality of these dogs.
The weather was a barrage of wind and rain with only occasional breaks in the clouds. I witnessed several dogs with dug-up finds during a sideways downpour. It took a wild bird dog with some grit and determination.
If you've ever wanted to compete with your best dog in a walking wild bird championship, plan a trip to these unique grounds in northwest Wisconsin in late September. We look forward to seeing you all next year at Namekagon.
Judges: Rod Lein and John McKellop III
ABHA OPEN DERBY -- 1 Pointer and 7 Setters
1st--NORTHWOODS ISTANBUL, 1680580, setter male, by Erin's Hidden Shamrock--Northwoods Nickel. Northwoods Bird Dogs LLC, owner; Jerry Kolter, handler.
2d--NORTHWOODS SETTER TECH RINGO, 1680582, setter male, by Erin's Hidden Shamrock--Northwoods Nickel. Jeff Forsberg, owner and handler.
3d--HIFIVE'S POWER LINE, 1683486, pointer male, by Arizona's Six Gun Syd--Hifive's Sin Again. Robert Minard, owner; Bruce Minard, handler.