Result: Tar Heel Open All-Age Championship
Location: Hoffman, North Carolina
Post Date: Nov 19, 2019
Submitted By: Dwight Smith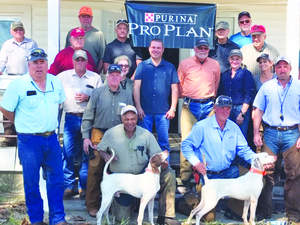 Championship Winners. From front left: Robert Henry, Mike Hester with Erin's Full Throttle, Tommy Davis with Dunn's Tried'n True and Luke Eisenhart. Second row: John Ivester, Judge George Kimbrell, Sandra Stone, Will Dunn, Judge Ray Joye and other well-wishers.
HOFFMAN, N. C. -- Dunn's Tried'n True, six plus years of age white and orange pointer male, was crowned the 2019 champion at the conclusion of the Tar Heel Open All-Age Championship by Judges Ray Joye of Marion, S. C., and George Kimbrell of Fort Mill, S. C. The white, orange and ticked pointer male is owned by Will and Rita Dunn of Lebanon, Ky. He was handled by Luke Eisenhart.
Pointer male Erin's Full Throttle was awarded runner-up honors. He is owned by John and Sue Ivester of Huntersville, N. C., and was handled by Robert Henry.
The Tar Heel was the first trial conducted on the Hoffman, N. C., field trial courses this season, and was a thrilling event that hopefully is a preview of the successful trials to be run on the Sandhills venue until late March.
Forty-one entries were drawn. All seemed capable of annexing the Tar Heel title on a given day.
The North Carolina Field Trial Association is the host of the Tar Heel which is an aged championship with lots of prestige and history.
There is always the question of the availability of quail on the Robert Gordon courses, and this year quail were plentiful. A pre-release program is used to make sure game is available for a successful championship. This year's release program, as was last year, was under the direction of association secretary John Ivester and from the evidence seen so far the pre-released effort was very successful. Ivester had a veteran crew to help him that included Mike Hester, Steve Mills, Robert Henry and others this reporter wasn't familiar with. A good job done by dedicated individuals proved fruitful.
The grounds were in excellent condition thanks to the North Carolina Wildlife Commission employees Lee Crisco and Brady Beck. Crisco is the man on site who takes care of any problem that might pop up. Cover on the ground is a little high in some people's estimation, but in this writer's opinion the cover is just right to protect and feed quail.
In addition to being secretary of the association, John Ivester was field trial chairman for the Tar Heel. He had little help. He had things well organized for the running and with the help of Sammy and Nida Giddens, lunches were taken care of and other chores that make a successful trial.
The Sandhills area of North Carolina had little rain during August and September so maybe conditions were not ideal for finding game, but rain came, showers really, during the needed time to help conditions. Temperatures were cool enough not to interfere with the performances of the entries.
Missed at this year's renewal was dog truck driver Larry McDonald who has recently been hospitalized. Alford Wood filled in for him. He, like McDonald had done for many years, was always in the right place at the right time.
Purina helped with support, as they do for many trials and championships. The Richmond County Tourism Development Authority is also a strong supporter of the North Carolina Field Trial Association that helps with financing the quail release program. Motel, food and other needed items by field trialers can be found in Richmond County, especially in the city of Rockingham located just fourteen miles from the field trial grounds.
One could not ask for a more attentive pair to evaluate the performances than Ray Joye and George Kimbrell. Ray is president of the North Carolina Field Trial Association. Joye is a likeable individual who has tons of field trial experience. Kimbrell, the son of trainer John Ray Kimbrell, was raised with a shotgun in one hand and a bird dog by his side.
THE WINNERS AND OTHERS
Dunn's Tried'n True (Jack) drew the ninth brace which put him on course No. 3 on the Robert Gordon grounds, a course that seasoned Hoffman handlers had rather not have because that course has been known to be hard to get a winning performance on. Jack must not have heard about that because he went right to work, racing along the long edges when he needed to then handling areas like the S turn with ease.
His first find came early in the hour, before the S turn, in tall cover, all in order at flush. Eisenhart and scout Tommy Davis gathered everything up and headed toward the S turn and the Kerry Field. Jack handled the country well, reaching far ahead where needed but showing in the right places at the right time.
At the road crossing where the course turns toward the new loop, Jack was found standing, again in tall cover, quail flushed as Eisenhart crashed through the five-foot high summer grass. Jack showed excellent manners around game again.
Scout Tommy Davis must have realized Jack was getting the job done because he was all smiles as he led the white and orange pointer forward to be released toward the Bill Andrews' water hole.
As already mentioned in this article, cover is high and lots of it, but the cover wasn't affecting Jack's application or his stamina. He looked just as strong and fast as he did at the start of the hour.
In the final minutes, Jack added icing to the cake by carding his third find. His performance was worth the trip.
The Tar Heel Championship is the Dunn pointer's 13th championship, including the National Championship (2019). He has a wash tub full of placements and championships to his credit as well as Purina Top Dog Awards showing consistency throughout his career.
Memories of Luke Eisenhart's youth flooded this writer's mind as Luke handled 15 all-age entries in this Tar Heel Championship, back to the days when he ran shooting dogs over these grounds, in some cases traveling with his grandfather, the icon Gerald Tracy.
Erin's Full Throttle drew the second brace and set the standard for this Championship early on.
Those familiar with the Hoffman area know about the long edges and hill country on course No. 2, then the sharp turn at the Christmas tree and then another sharp turn near Ledbetter Road. It is very difficult for a strong, hard-charging bird dog to make all those turns and at the same time hunt the country in a way to produce quail.
Throttle did all that except at one point he had about a 13- or 15-minute absence. Henry's scout, Mike Hester, played a major part in Throttle's performance by getting the Ivester pointer back to handler Robert Lefty Henry. Overall, Throttle had more than an acceptable ground effort.
His first find came near the Christmas tree, his second just before the McGee's Castle road crossing.
After Throttle's second find, he negotiated the area from the maze past the soldiers' camp on to McGee's Castle.
Past McGee's Castle, Henry called point and rode forward, dismounted and attempted to flush but to no avail. Henry asked Throttle to relocate. Throttle moved straight ahead and one single quail flew. Throttle stopped immediately, all styled up beautifully -- tall and proud. Henry flushed a large covey that was spread out like they were feeding, all in order at flush.
Judge Kimbrell told Henry he had 30 seconds left. Throttle was released, sped ahead then ridden for by Henry and scout Hester.
Robert's ability to keep John Ivester's pointers sharp and ready to win amateur stakes for John Ivester and open stakes when he handles is amazing.
Erin's Cold Justice, handled by Eisenhart, had several supporters in the gallery. His ground work was as good as any in the stake in this writer's opinion, and he had four game contacts that were all handled well. He did have an unproductive.
Game Wardon impressed with his hunting application and carded four well spaced game contacts and as far as this reporter could tell, all were in order.
Ace's R Wild drew the first brace, applied himself well and had riders watching his every move. He had two finds, but he was taken up after his second unproductive.
Touch's White Knight was getting the job done for Mark McLean, had two finds handled correctly, but was lost in the Naked Creek area.
Shearjoy's Unforgiven, a setter, had a good race but needed more than the two pieces of bird work, probably among other things.
The Tar Heel Championship was a great start for the North Carolina Field Trial Association, raising our expectations of what is to come during the 2019-2020 field trial season at Hoffman.
Hoffman, N. C., October 18
Judges: Ray Joye and George Kimbrell
TAR HEEL OPEN ALL-AGE CHAMPIONSHIP [One-Hour Heats] --
34 Pointers and 7 Setters
Winner--DUNN'S TRIED'N TRUE, 1655258, pointer male, by Miller's Dialing In--White Royal Pain. Will & Rita Dunn, owners; Luke Eisenhart, handler.
Runner-Up--ERIN'S FULL THROTTLE, 1643472, pointer male, by Erin's Stoney River--Erin's Pretty Penny. John & Sue Ivester, owners; Robert Henry, handler.