Result: International Endurance Shooting Dog Championship
Location: Conway, Arkansas
Post Date: Dec 6, 2021
Submitted By: John Van Horn, Jr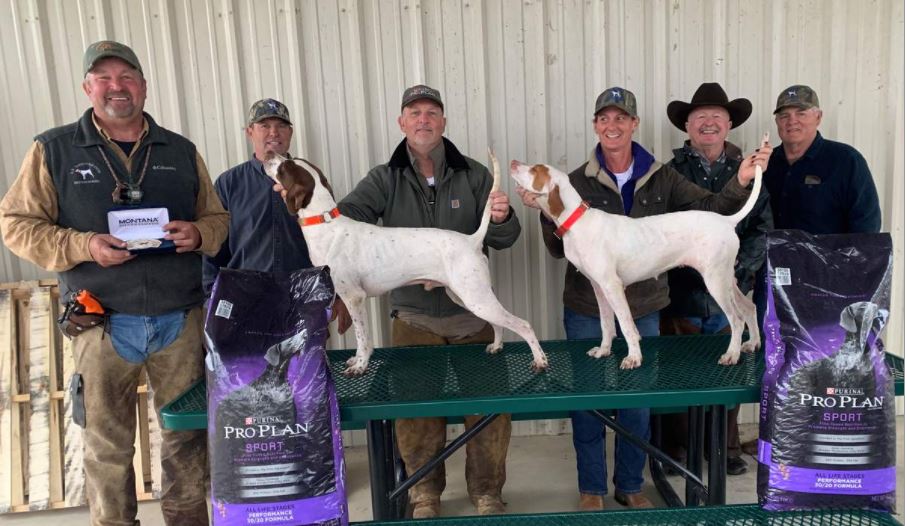 The Winners. From left: Shawn Kinkelaar, Ken Chenoweth, judge; Mike Lemon with Tug O'War, Laura Miller with Thunder Bolt's Storm, Bob Barker, judge; and John Van Horn, stake manager.
The 2021 running of the International Endurance Open Shooting Dog Championship was held November 20-21 on the Camp Robinson Area near Conway, Ark.
The Endurance was move from late February to the week before Thanksgiving this year. In the five years The Bear Creek Club has managed the event, we have only been able to have it three times. Last year, we had to cancel due to an eighteen-inch snow, global warming. Two years ago, we lost the event due to five days of torrential rain. Arkansas' weather patterns have always been slightly more stable in the fall. By late November we have had enough frost to make the cover more manageable.
This year the event was held in conjunction with the Texas Open Shooting Dog Championship, led by Virgil Moore. Moving forward both events have found a space at Conway on the week before Thanksgiving.
The Endurance was conceived by Delmar Smith, the late Charlie Jackson and C. W. "Chuck" Taylor and others to stress the stamina side of the pointing dog breed. Originally it was a three-hour stake held in Ardmore, Okla. Chuck Taylor changed it to a ninety-minute stake for economic reasons.
John Van Horn moved the stake to Camp Robinson, near Conway, Ark., when the Bear Creek Club took it over. The winners always have been the ones that finished the strongest, a true validation of the challenge the trial was set up to place on the dogs. It takes a lot of dog with a balanced nutritional plan to buck the cover, run in the heat and find game.
Lucky for us, dog owners are breeding those qualities into their strings now and Purina has formulated Pro-Plan dog food for hard working dogs. Both winning dogs are Pro-Plan dogs.
Entries were a little short of previous years this year. Our drawing was in the middle of the Texas Championship, which drew 44 dogs. A lot of the handlers looked at the heavy cover and the change of management plan initiated by the Arkansas Game and Fish and decided not to participate. Currently the CRCA is having meeting with the AG&F to resolve the differences. Hopefully my next report will highlight our progress.
Our judges were Bob Barker from Inola, Okla., and Ken Chenoweth from Joplin, Mo. Both judges have been involved with bird dogs and judged several championship stakes. Their results were well received and respected.
Day one was muggy and slightly overcast with a light frost in the morning. As the day progressed it quickly warmed to the low 60s. Birds did not move well, and scenting conditions were not ideal. The prerelease birds have been out since late August. Essentially, they are wild birds. Wild birds move and feed when things are most suited to survival. Apparently, they didn't know we were having a field trial and they didn't cooperate. Birds were ridden up by scouts and gallery but were not shown under judgment.
THE WINNERS AND OTHERS
Doc's Second Wind, a very promising setter male handled by Virgil Moore, finished the ninety minutes and hit the ground right. Unfortunately, he went birdless.
Day No. 2 started with a bang. Hale's Kickstarter, handled by Moore had a huge covey of at least forty birds at the 10-minute mark. Kinkelaar was next to call point in the general direction Kickstarter's birds flew for Tug O'War. All expected a single and all were surprised when another covey was produced. Kickstarter was up at 50 after an unproductive. Tug O'War went on to have another find and a strong forward race. The last 30 minutes stronger than the first hour, which is what the Endurance stands for.
Levi's Express Visa, setter male handled by John Van Horn, was next to show off. The setter put down a solid shooting dog effort with three coveys and a back.
Thunderbolt's Storm, a first-year pointer female handled by Shawn Kinkelaar was next to make her mark. Her first find was at the 10-minute mark buried up just off the horse path. Manners for flush and shot were outstanding. Her next find came at 35 just across the mountain. While the handler was riding down the mountain, she took the left edge of the course down the woodsedge. She swapped ends 250 yards ahead with Highway to Rebel Hell, her bracemate with Virgil Moore, backing. Kinkelaar was unable to produce birds and relocated. As Shawn turned to get his horse to go on the dog styled up to a point. Birds were produced, all in order. Storm was taken on and finished her time with fuel left in her tank.
A special thanks to Gordon and Cindy Hazelwood for the donation of a silver buckle to the winners. Another special thanks to Purina for their support. None of this would have been possible without Purina's financial help and their fine products.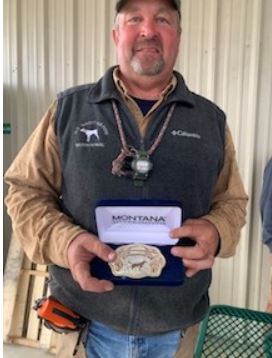 Handler Shawn Kinkelaar shows handsome Gordon and Cindy Hazlewood belt buckle.
Conway, Ark., November 20
Judges: Bob Barker and Ken Chenowich
INTERNATIONAL ENDURANCE OPEN SHOOTING DOG
CHAMPIONSHIP [Ninety-Minute Heats] --15 Pointers and 1 Setter
Winner--TUG O'WAR, 1668963, pointer male, by Sugarknoll War Paint--Nehawka Amazin Sue. Bjorn Peterson, owner; Shawn Kinkelaar, handler.
Runner-Up--THUNDER BOLT'S STORM, 1684304, pointer female, by Chelsea's Thunder Bolt--Lacey Underall. Dr. Thomas L. Jackson, owner; Shawn Kinkelaar, handler.