Result: National Brittany Open Grouse Championship Association
Location: Meredith, Michigan
Post Date: Dec 6, 2021
Submitted By: Kenny DeLong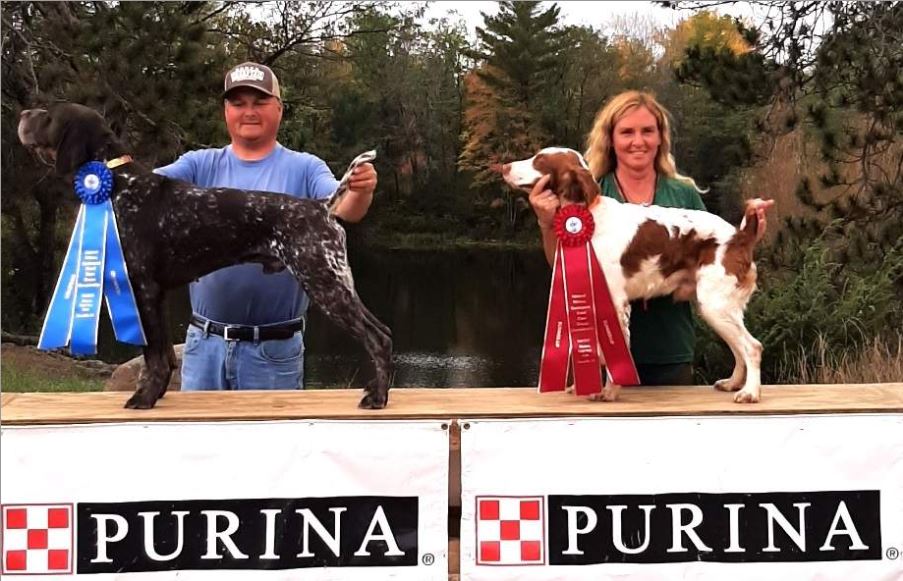 Continental Cover Dog Championship Winners. Shane Baxter with first place Bax Star's Doc Holliday, and Christy Helmes with second place K Del's Eagle Magnum Bullsseye.
Great Fall weather, high-class bird dogs, helpful, friendly folks, and bountiful grouse and woodcock graced the premier wild bird field trial venue in the country the second week of October. We had huge open shooting dog entry, and good numbers in the other stakes. Lots of helpful participants, food and fellowship made for and enjoyable event.
We thank our generous sponsor, Purina, and their extremely helpful representative, Greg Blair, for his support and the quality Performance dog food that winners look forward to.
Thanks also to our wranglers, the Hollister Family, for great, reliable horses and super service. Ongoing appreciation for the efforts of Chuck and Theda Langstaff for all their administrative work and tailgate lunches. The day-to-day operation of the trial was facilitated by the help of many who volunteered to marshal braces and move vehicles among the many countless tasks that are part of running a successful field trial.
Bird numbers were nothing short of spectacular! Over the four day trial, more than 70 grouse and 38 woodcock were moved, with several dogs in every stake (yes, even the Puppy) having bird contact, and giving the judges plenty to discuss when sorting out the winners among the dozens of charges contending for the coveted ribbons.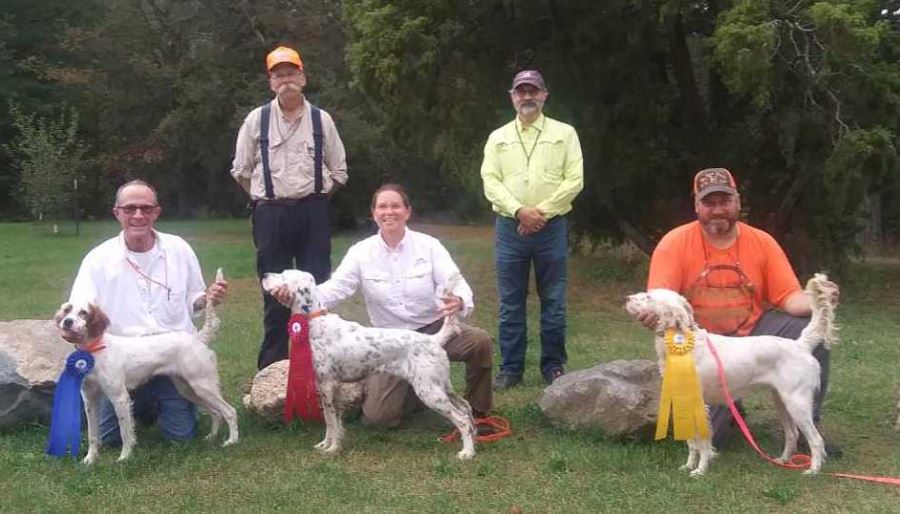 Open Derby Winners. From left: E J Jonsey with Kenny DeLong, Fireside Sally Forth with Tammy Chaffee and Dun Roven's Timber with Rich Hollister. Standing are Judges Bob Brickers and Tom Winters.
THE WINNERS
Fifty-five dogs contended over three days in the extremely competitive Open Shooting Dog Stake closely monitored by Judges Sean McKellip and Shane Baxter. First and third places both came from brace No. 16, running on course 5 in mid-morning on Friday.
Shady Hills Zeena, a snappy, driving, smooth handling pointer female handled by Marc Forman snatched the blue, staunchly nailing a sly, slippery grouse near the end of her half hour. Robert Ecker steered the setter male Grouse Ridge Larry (Ike) to quality grouse finds at 9 and 25, and was awarded the yellow ribbon. Asserting his way into the middle spot was the setter male Larry, also finding grouse and pointing nicely, aptly handled by Rich Hollister. Yup, y'all, the pros swept this one!
The inaugural running of the Continental Cover Dog Championship took place Saturday morning. The small entry yielded quality performances, and all entrants had worthy bird work. Judges did not award a championship title in what reverted to an hour Open Shooting Dog Stake. Named winner was Shane Baxter's German shorthair Bax Star's Doc Holiday with a mostly forward race, finds on grouse and woodcock, and the manners to remain staunch through interference from his bracemate. In second place was the even running Brittany K Del's Eagle Magnum Bullseye, handled aptly by Christy Helmes. "Bullet" was consistent in his application, and had two grouse finds--one while standing in water and another involving a very impressive and mature relocation to pin a sneaky bird.
In the Open Puppy, brace No. 3 that yielded the top two placements, and separating the pair was a tough task for the judges. Both the setter and the pointer put down dynamic, intelligent, forward races and had contact with a grouse in the last minute or two of the brace. In the end, Fieldstone Farms J (Lilly), setter female handled by Bobby Ecker took the blue ribbon on the strength of her race, and the young pointer male, May's Legacy of Jusice (Freedom), handled by Kenny Delong was a close second. Rounding out the placements was Ron Badley's nice running setter male, Dun Roven's Dudley.
The Open Derby ran on Sunday with 22 charges in a very competitive stake with plenty of bird work. Again the pros dominated, as top honors went to E J Jonesy, an impressive setter male, handled by the always famous and forever young Scott "Skeet" Chaffee. Jonesy ran on course No. 4 pointing woodcock at 7 and 12, then had a very nice grouse find just before the orange gate at the end of the course. The red ribbon was handed to Tammy Chaffee (these two are an awesome pair of pros indeed!), who handled the far-reaching but responsive setter female Fireside Sally Forth to a sweet find on grouse at 6. Rich Hollister expertly navigated the setter male Dun Roven's Timber through course No. 7, and was rewarded with a stylish grouse find just before time to take third.
We are thankful for the opportunity to do what we love and run our faithful four-leggeds over the best wild bird grounds in the good ol' USA. I have been trialing up here for 35+ years and the abundance of birds this fall is the most impressive in memory. We appreciate a cooperative DNR and a well thought out timber management plan, as well as the ongoing stewardship of our local DNR man Bruce Barlow.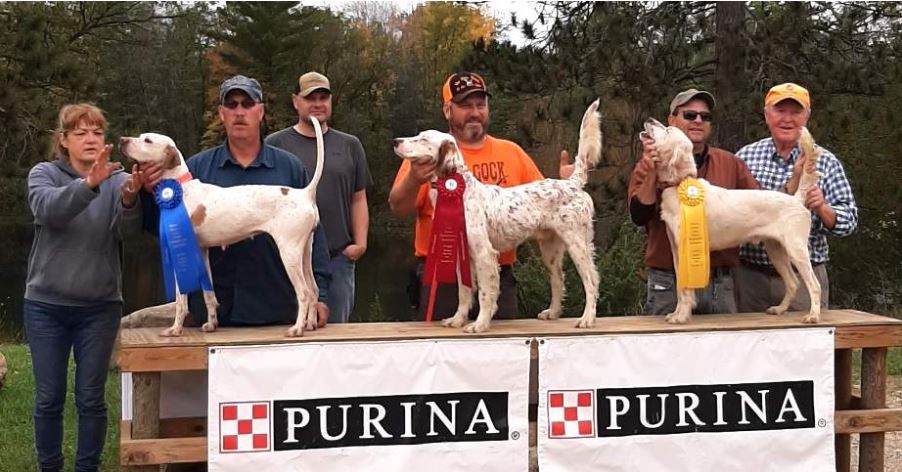 Open Shooting Dog Winner. From left: Shady Hills Zeena with owner Deb Nilbart and Marc Forman, Grouse Ridge Larry with Rich Hollister, and Dun Roven's Midnite Ike with Robert Ecker.
Thanks be to God for our many blessings.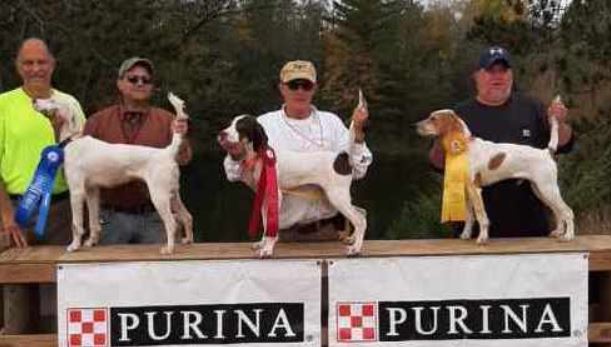 Open Puppy Winners. From left: Fieldstone with William Dellasandro and handler Robert Ecker; May's Legacy of Justice with Kenny DeLong, and Dun Roven's Dudley with Ron Bradley.
Meredith, Mich., October 8
Judges: Shane Baxter and Sean McKellip
OPEN SHOOTING DOG -- 18 Pointers and 37 Setters
1st--SHADY HILLS ZEENA, 1647955, pointer female, by Erin's War Creek--Brave Heart Cassie. Debra Nihart, owner; Mark Forman, handler.
2d--GROUSE RIDGE LARRY, 1673191, setter male, by Long Gone Boston--Grouse Ridge Merri. Paula Giulitto, owner; Richard Hollister, handler.
3d--DUN ROVENS MIDNITE IKE, 1685001, setter male, by Ponderosa Mac--Moonshine Cherry. Dr. Peter Millett, owner; R. J. Ecker, Jr., handler.
Judges: Tom Fruchey and Bruce Minard
CONTINENTAL BREED OPEN GROUSE CHAMPIONSHIP
[One-Hour Heats] -- 5 Pointers and 1 German Shorthair
[Title Withheld.]
1st--BAX STAR'S DOC HOLIDAY, 1688064, German Shorthair male, by Friedelsheim Freight Train--Bax Star's Stolen Heart. Shane & Christine Baxter, owners; Shane Baxter, handler
2d--K DEL'S EAGLE MAGNUM BULLSEYE, 1685769, Brittany male, by Magnum High Velocity--K Del's Eagle's Chance To Soar. Christy Helmes, owner and handler.
Judges: Scott Forman and Richard Hollister
OPEN PUPPY -- 1 Pointer, 8 Setters and 2 German Shorthairs
1st--FIELDSTONE FARMS J, 1695375, setter female, by Attitude's True Grit--Fieldstone Farms Cora. James P. Millett, owner; R. J. Ecker, Jr., handler.
2d--MAY'S LEGACY OF JUSTICE, 1695469, pointer male, by Faith's Maximus Justice--Chasehill Mighty May. Kendric DeLong, owner and handler.
3d--DUN ROVEN'S DUDLEY, 1697352, setter male, by Waymaker Kodachrome--Dun Roven's Martha. Ron Badley, owner and handler.
Judges: Bob Bricker and Tom Winters
OPEN DERBY -- 9 Pointers, 1 Brittany and 1 German Shorthair
1st--E J JONESY, 1693374, setter female, by Ponderosa Mac--Eldridge's Beauty and Beast. Taylor Kagley, owner; Scott Chaffee, handler.
2d--FIRESIDE SALLY FORTH, 1694393, setter female, by Ponderosa Mac--Winterset Black Betty. Mary B. Esser, owner; Tammy Chaffee, handler.
3d--DUN ROVENS TIMBER, 1695216, setter male, by Dun Rovens Drifter--Waymaker Hello Becky. Jack Harang & Kevin Hollister, owners; Rich Hollister, handler.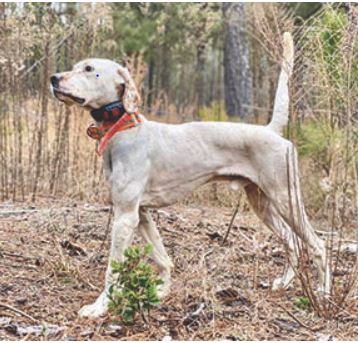 Dun Roven's Midnite Ike Third in the Open Shooting Dog Stake.