Result: Atlantic Sportsman's Club
Location: Nova Scotia
Post Date: Dec 4, 2021
Submitted By: Ian Corbett and Reporter Bruce Brownell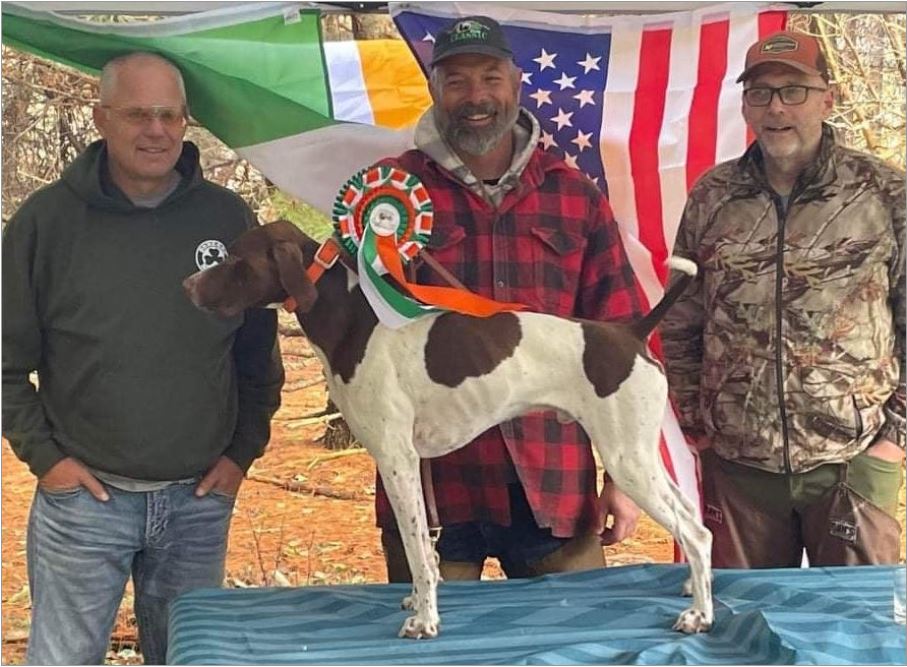 The Winner. From left: Judge Lester Turner, Doug Forgrave with Kelly's Rainey Stormy Knight, and Judge Ian Corbett.
A HUGE thank you to all the trialers who attended the inaugural running of the Irish Settlers Open Wild Bird Classic and a special thank you to pro trainer Craig Doherty and his wife Katie who drove up from New Hampshire, crossing the border with all the COVID red tape, not to mention the twelve-hour drive and a two-hour ferry crossing from St. John, N.B.
Also, a special thank you to pro trainer Robert Little from New Brunswick who faithfully supports our trials.
The winner, Kelly's Rainey Stormy Knight, German Shorthair pointer male owned by Doug Forgrave of New Brunswick, carded a solid grouse find just off the trail to the left near the Menchan Farmstead in fancy style. He ran a fast-paced race from the beginning to the end. At 45 he stopped again just off the trail to the left, but no bird was moved carding an unproductive. He gave Doug a workout reaching past his bell at times but finished his hour with steam in the boiler.
He was presented Sunday with $1,000 in cash, Limited Edition Irish Whisky glass and Irish Classic Cap. His bracemate commented to me later that Rainey's performance "embarrassed" his dog's run. It was a fun a brace to watch!
We saw a lot of great races, but unfortunately their dogs either had bad luck where birds were moved by their bracemate or flushed wild or finishing their hour birdless. Some were picked up for taking a few steps or moving up while flushing.
It's a different game this late in season, the cover is basically down allowing dogs to see the grouse or woodcock adding to the temptation to chase or move up. Many of dogs were hunted hard guiding and were not as polished for competition. Hard luck dogs like Champion Bear River Victory, owned by Christopher Clarke and handled by Robert Little. She was laying down a nice ground race along with multiple grouse finds only to make a mistake at the end.
There were other dogs like Cairds Dreaming Jeanie which was laying down a fantastic race only to go with a woodcock early in the brace. Cairds Cracklin Rosie had multiple grouse finds and a nice race. After discussion with the fellow judge Lester Turner there were two incidents. One of moving up while attempting to flush that I didn't see or the handler and another were a grouse was heard by Judge Lester Turner with Rosie in pursuit.
Craig Doherty had several dogs that were not in the right place at the right time where grouse was moved just minutes after their hour. Mooselook Texas Star, owned by Jack McNulty and handled by Craig Doherty, was laying out a fast race only to unfortunately encounter a woodcock on McBride Hill right on the trail flushing wild and Tex continued chase. These are just a few of the hard luck stories.
New trialer Donald Henderson handling Elmer's Always Been Crazy had a nice grouse find close to the trail only to make a jump on a woodcock just a few inches from his nose. Most definitely a tired flight bird. As a judge I personally feel for the handlers when bad luck occurs. We want to see dogs render solid efforts.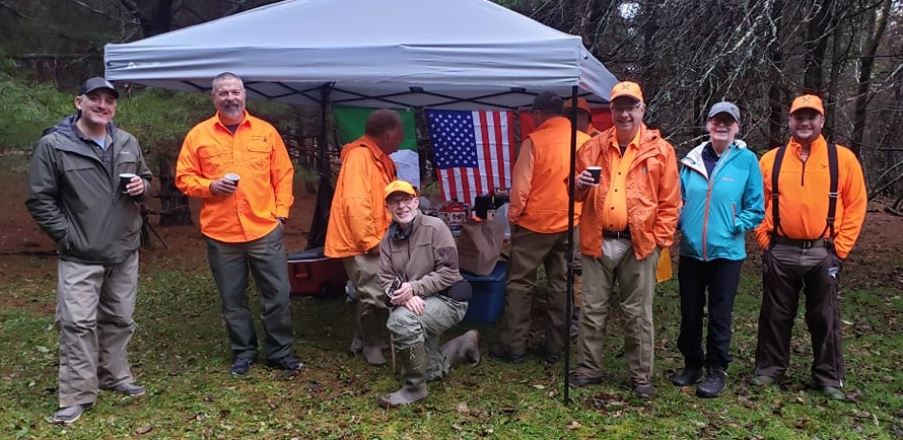 Gathering at the tent. From left: Johnathan Wilkins, Doug Forgrave, Christopher Clarke, Bruce Brownwell, Robert Little, Katie Doherty, and Donald Henderson.
The Irish Setters Open Wild Bird Classic is a tribute to the Irish who emigrated from Ireland to Nova Scotia in 1826 and made a life in North Queens, Nova Scotia. The small community of Caledonia was named after the vessel that brought them from St John's, Newfoundland after they were fooled by a sea captain telling them they'd arrived in St. John New Brunswick. Sea captain and local businessman Patrick Cought heard of their situation while in Newfoundland and brought them to Liverpool in the fall of 1826 where they stayed with local families. Not a small undertaking considering eighty in total needed room and board.
These families arrived in West Caledonia the following spring cutting a farm out of the forests and building a new life over many years. It's these old farmsteads where our trial courses wind through passing old stone walls, wells and foundations, reminders of the past!
Considering November 13th is late for woodcock we did move four in total on two of the courses. The star of the weekend was the ruffed grouse. Every course grouse was seen with numbers nearing 25 being flushed wild by the gallery or pointed by the dogs. There was enough to give every dog an opportunity to be shown on a bird. I personally would prefer mid-October to take advantage of our strong woodcock flights; however, between upland guiding and bird hunting the consensus is entries would be reduced and it's the entry that needed to be successful.
I arrived early Saturday morning to check on the cows making sure they didn't arrive back to our base field, the Donnellan Farmstead. Club member and reporter Bruce Brownell arrived helping me set up the tent and get the coffee and lunches organized.
At noon we arrived back to a homemade Irish stew prepared by my wife Shauna who is an excellent cook! There wasn't a drop left and it was a huge pot! I'm thinking next year she'll have to do the same! Saturday night we had a wonderful time at the Whiskey Teller Pub in Annapolis Royal. Great conversation and tasty meals were the highlight of the evening.
Craig Doherty and Katie was presented for farthest distance travelled award a Bottle of Famous Grouse Smokey, limited edition Irish Settlers Whisky Glass and some imports from Ireland.
To finish off, I Thank Lester Turner, club president, for his work helping organize and judging again this year. We are both stepping away from judging this coming year to hopefully run our dogs in the future event.
We have exciting news to share in the coming months along with new arrangements for local lodging reducing the daily travelling time to the grounds and meals along with banquet on site.
Another big thank you goes out the Grand National Grouse and Woodcock Invitational Championship committee for including us in their points circuit.
Finally, but certainly not least I thank John Foley and his daughter Rebecca for allowing us to use the Donnellan Farmstead for courses one, sixt and "base camp" for our trial. Check our website for updates WWW. Atlanticsportsman.com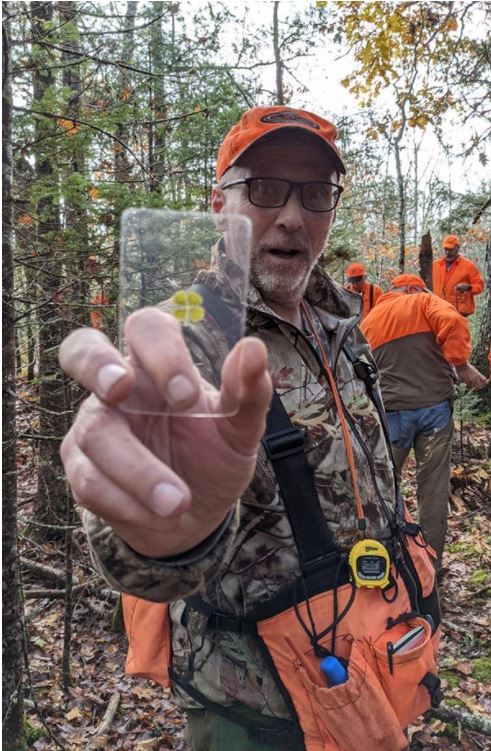 Judge Ian Corbett handing out four-leaf clovers.
Nova Scotia, Canada, November 12
Judges: Ian Corbett and Lester Turner
IRISH SETTLER'S OPEN WILD BIRD CLASSIC
[One-Hour Heats] -- 12 Pointers, 2 Setters, 1 Brittany
and 1 German Shorthair
Winner--KELLY'S RAINEY STORMY KNIGHT, 1690070, German Shorthair male, by Langleys Hunter--Bella Blooms Dill. Doug Forgrave, owner and handler.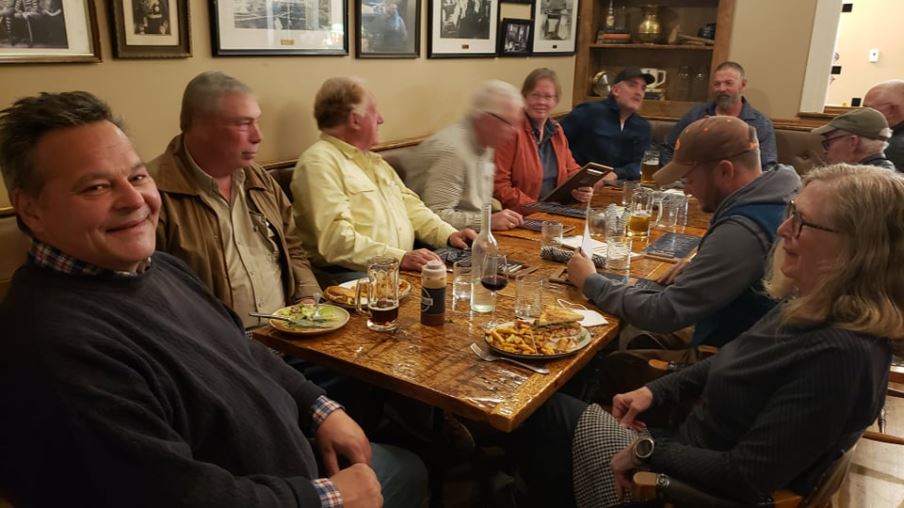 Enjoying the Banquet. Austin Parsons (left), (back row) Craig Doherty, Christopher Clark, Robert Little, Christine Parsons, Jonathan Wilkins, Doug Forgrave (far left), Lester Turner, Bruce Brownell, Donald Henderson, and Katie Doherty (right).