Result: Georgia Open Quail Championships
Location: Waynesboro, Georgia
Post Date: Feb 12, 2021
Submitted By: Nell Mobley, Jack Kimbrell, Bill Adams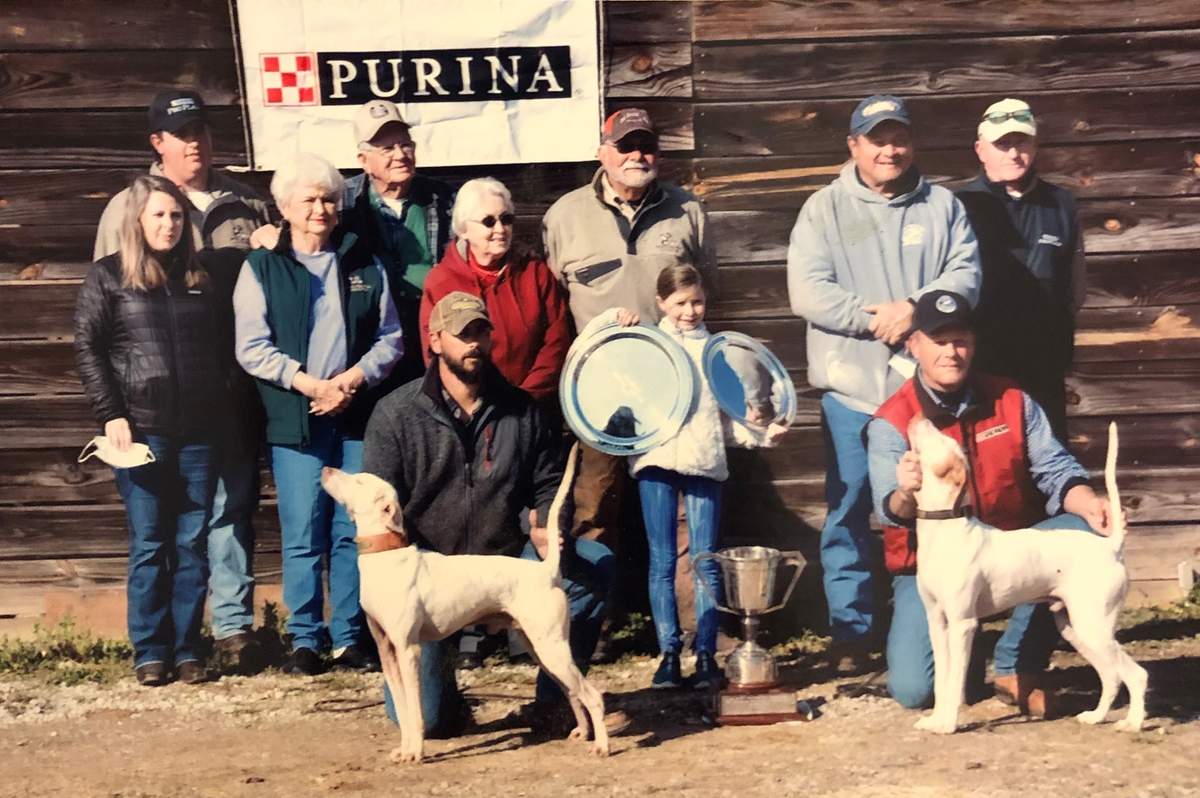 WAYNESBORO, GA. -- The New Year in Waynesboro, Ga. (The Bird Dog Capital of the World) welcomes owners and handlers to compete in the Championships, Derby and All-Age. The Georgia Field Trial Association has sponsored events since 1903.
They are held at DiLane Plantation. DiLane is owned by the U. S. Corp of Engineers and leased to the Georgia State government for the purpose of hosting first class trials.
Ryan Meckal is the resident manager. He and his staff prepare the three courses in an excellent manner to please owners and handlers.
Birds are released daily at 5:30 a.m. by Chuck Miller. The state requires that birds must be banded prior to release. Gene Ward has taken care of this job for a number of years.
I am happy to report that we did not witness any cases of the COVID-19 pandemic. State and local guidelines were enforced.
The drawing was held at the home of Nell Mobley on December 30 with a fine entry of 35 drawn for the Georgia Derby Championship and 53 for the All-Age Stake.
Conducting the drawing was Gary Futch, John Ray and Jack Kimbrell, and Chuck Miller. Chuck prepared the drawing sheets and Mary Kimbrell prepared the judges' books.
GEORGIA DERBY CHAMPIONSHIP WINNERS AND OTHERS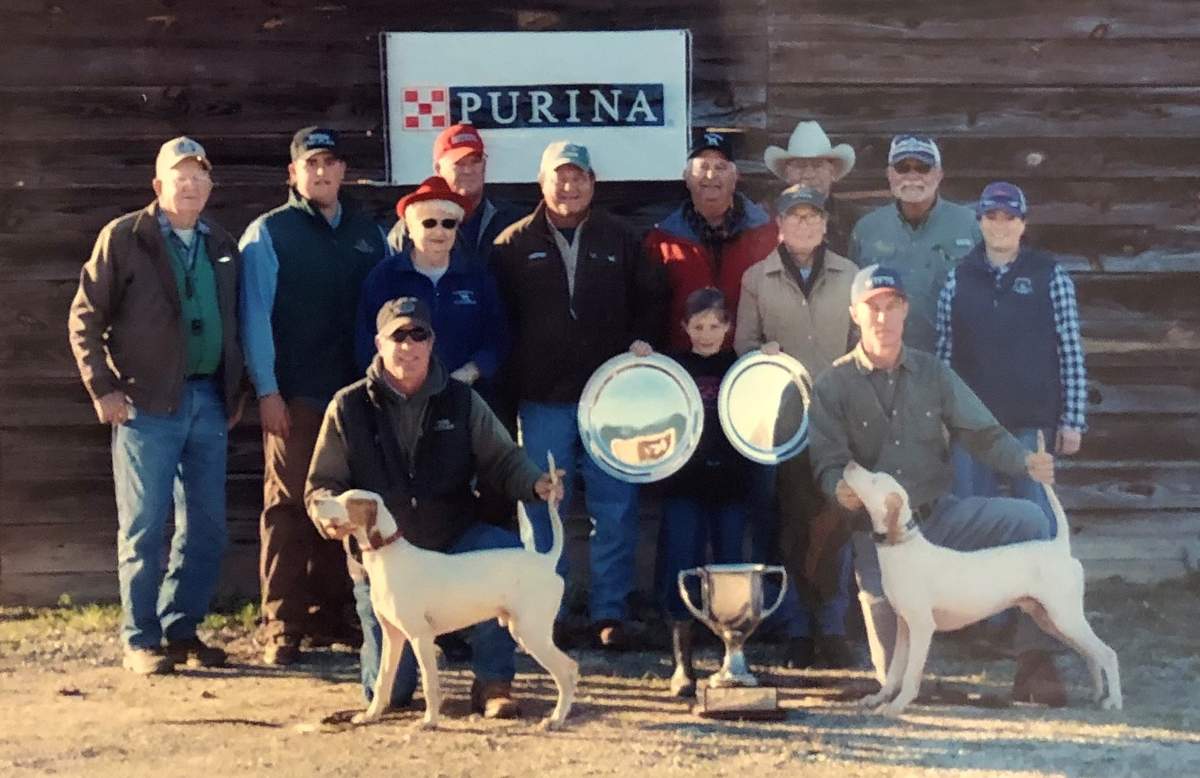 Riding in the saddles to name a champion and runner-up were Johnny Atkinson and Ray Joye of Marion, S. C. Both gentlemen have been involved with the sport for a number of years. Johnny recently retired from the banking business, and Ray retired from the paper mill industry. They rode attentively to name the best two dogs.
Game Heir was named champion for handler Ike Todd and owner Dr. Fred Corder of Corinth, Miss. The judges were quoted as saying, "Heir won it hard." He ran a sixty-minute all-age race, carding clean finds at 12, 25, and 47. This young pointer male can be watched for wins in the future all-age stakes. He was very classy and looked good running.
Ike Todd also took runner-up honors with Touch's Walk the Line for owner Keith Wright of Covington, Ind.. Line was always to the front with three well-spaced finds all in order. He was a classy youngster with a bright future.
Running in brace No. 1 was One of them Girls (Mark Haynes) and One Day Queen Bee (Lane Hodges). Girls ran a medium race with a divided find at 44 and completed the hour. Bee had a medium range forward race with finds out at 6, 16 and 37. She lacked style on the divided find and was taken up by handler.
High Drive Dart (Judd Carlton) ran a medium race with two backs and one no show of game, finishing the hour. Lester's Cash Master (Gary Lester) had four finds, losing style on one, with a medium race to the front.
Knight Hill Bill (Todd) and Lester's Titlewave (Lester) followed. Bill had one good find followed with an unproductive. He backed bracemate with caution. A nice forward race with a good finish to complete the hour. Titlewave had a nice forward race with one all in order find. He backed bracemate followed with a no-show of birds, completing the hour.
Rain and cold temperatures was the setting for brace No. 4. Touch's Whitey Ford was not pleasing Todd and harnessed early. Bobby DuBose requested the retrieval unit for his DuBose's Wonder Dog at 35.
Touch's One Night Standards (Haynes) had to her credit three nice well-spaced finds and one back. She ran a good forward race to complete the hour. One Day La Bandita (Hodges) ran a smooth medium race with one find and a back to her credit.
A heavy rain storm moved in for Miller's Ascension (Lester) and Carlton's High Voltage (Carlton). Ascension had two finds with a short race and taken up at 50. Voltage was picked up early following one good find. Rain was a bad factor throughout the brace.
A nice day with temperatures in the 50s greeted brace No. 7. Peak's Made Up Mind (Lester) ran a medium race with an unproductive and finished the hour to the front. Gain Rebel (Todd) had a medium race with a no-show of game on one point. The hour was completed with a forward finish.
Great Nation (Tommy Davis) had a mishap with birds and taken up. Como Thunder (David Russell) was running a good forward race with two all in order finds. Following a mishap with birds, he was harnessed.
DuBoses's What A Dog (DuBose) needed bird work to complement an average race. Lester's Show Boat Rex was not pleasing Gary Lester, resulting in early pickup.
Brace No. 10 was the scene of the runner-up, Touch's Walk the Line. Bonner's Hot Rize (Bonner) honored bracemate at one point with a good race but had no bird work.
Snowman (Hodges) was lost and tracker requested. Following a second no show of game, Carlton picked up Erin's Tin Star.
Lester's Boss Man (Lester) ran a medium race, finishing to the front. Todd chose early to harness Touch's Wild Finale.
Knight Hill Blue was off to a good race for Ike Todd. Following one good find, Blue went missing and did not return to judgment. A short race finishing the hour with no bird work was the luck for Carlton running Carlton's Outsider.
Erin's Prime Time (Derrig) was off to a good start with one find. As the race shortened, Derrig chose to harness. Conner's Triggerman (Fred Rayl) had two good finds and looked stylish on point and finished the hour.
Southern Nation was handled by Henry. Nation was not pleasing Henry resulting in an early pick up. The performance of Game Heir was reported earlier as champion.
Lester's Another Shock Wave was not having a good day. Following two unproductives and an erratic race, Lester chose to pick up. Erin's Silver Lining (Derrig) had no bird contact and not running to please handler resulting in a short hour.
Following a second show of no game, Rayl chose to harness Spencer's Rambling Justice. I'm Southern Smoke was lost early for handler Luke Eisenhart.
The last brace of the stake featured Erin's Country Rebel (Derrig). Rebel was running and handling well with two good all in order finds. A third find resulted in a breach of manners.
Waynesboro, Ga., January 2
Judges: Johnny Atkinson and Ray Joye
GEORGIA DERBY CHAMPIONSHIP
[One-Hour Heats] -- 34 Pointers and 1 Setter
Winner--GAME HEIR 1691409, pointer male, by Dominator's Rebel Heir--Game Snow. Dr. Fred Corder, owner; Ike Todd, handler.
Runner-Up--TOUCH'S WALK THE LINE, 1692248, pointer male, by House's Ring of Fire--Touch's Lemon Drop. Keith A. Wright, owner; Ike Todd, handler.
GEORGIA OPEN ALL-AGE CHAMPIONSHIP
On Tuesday, January 5, the first two of 53 contenders were released under the watchful eyes of Johnny Atkinson and Ray Joye. Regrettably, following the ninth brace, Johnny had to return home due to a death in the family. Jack Kimbrell was riding as the reporter; he stepped in to judge the remainder of the stake and Bill Adams assumed the reporter's duties.
Jack is no stranger to the sport and knows how an all-age dog should perform. The son of former professional trainer George Kimbrell and the grandson of retired professional John Ray Kimbrell, he has been around bird dogs all of his life. Jack is an energetic young man at 22 years of age. We can look to see him serving the sport in the future.
Named champion was Miller's Speed Dial, white and orange pointer male owned and handled by Gary Lester from brace No. 18 on course No. 3. Multiple stylish finds were recorded at 28, 44, 52 and 58. Speed Dial took to the course at breakaway, settling in with a top all-age race. When time was called, he could be seen out front running strong.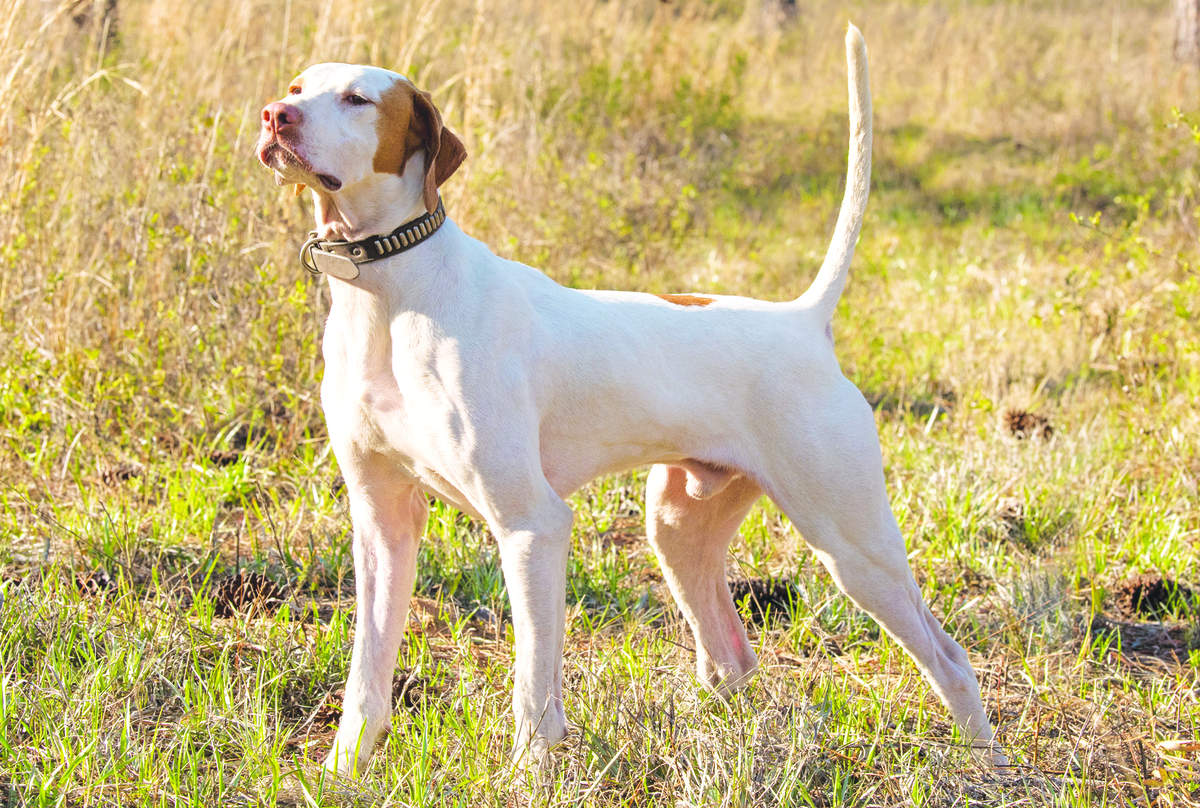 Strut Nation, pointer male owned and handled by Scott Jordan of Grant, Minn., was named runner-up. It is interesting to note that Nation was named champion here in 2019.
Nation was loosed on course No. 3 also. Nation had a nice find off breakaway with birds lifted. Another find occurred with good style at 13 followed with a fruitless attempt at 18. Covering the course with a good all-age race, point was called at 48 with all in order. The hour was completed with Nation to the front.
In brace No. 1 were two pointer males, Spencer's Rambling Justice (Rayl) and Marques Armed Robber (Henry). Justice went missing at 58 with no bird contact. Following a no-show of birds at 18, Robber went missing at 42 with a request for the retrieval device.
I'm a Southern National (Eisenhart) went missing shortly after breakaway with retrieval unit requested at 20. Erin's Wild Atlantic Way (Derrig) had multiple finds at 10, 15, 21, 27 and 31. At times the race was short but the hour was completed.
Handler Mark Mclean harnessed Touch's Gallatin Fire following a breach of manners on a back of bracemate. Lester's Slim Winder (Lester) had two orderly finds to his credit, finishing the hour with a medium race.
Brace No. 4 was abbreviated. (Swearingen's Great River Joe was not pleasing him and was picked up at 38. Dominator's Bull Market (Daniels) was picked up at 21 following his second unproductive.
Aces Are Wild (McLean) had a nice find at 15 but went missing at 31 with a request of retrieval device. Touch's Red Rider (Eisenhart) honored Ace at 15 but lost at 48.
Another short brace followed. Handler Daniels turned Dogwood Bill loose, Bill pointing at 6, all in order. He honored his bracemate at 8, but handler chose to end the hour at 23. Marques Big Luck had a fruitless attempt at 8, handler Henry requesting retrieval unit at 12.
Touch's Blue Knight (Watson) ran a good race but needed bird work. Senah Back in Business (Daniels) ran a medium race with all in order finds at 24 and 58 completing the hour.
Touch's Breakaway Fred (McLean) had nice finds at 7 and 10. The retrieval device was requested following his second unproductive. True Confidence had a nice limb find with birds seen at 8. Confidence went missing at 40, Eisenhart requesting the retrieval device.
Sand Hill Little Juney (Rayl) finished the hour with a medium race and had a good find at 11. Awsum County Justice (Eisenhart) was credited with a nice race and an all-in-order find at 19.
Erin's Lone Star Law (Derreg) and Dominator's Rebel Heir were drawn in the 10th brace. Law went missing at 25. Rebel Heir was pleasing Daniels who threw in the towel at 51.
Touch's White Water's race was short at times, suffering an unproductive at 17, followed by a nice find at 50. She was not pleasing (McLean) at 50 and was picked up before the hour ended. Lester's Boss Man (Lester) was picked up at 10 when he moved with the birds.
The performance of Strut Nation was reported earlier .Bracemate Miller's Stray Bullet (Daniels) backed Nation at 1 but was taken up at 21 for breach of manners.
Brace No. 13 was short. Touch's Malcolm Story (McLean) was lost at 16; Eisenhart's Dunn's Tried'n True lost at 18.
Miller's Bushwacker ran a nice race until 50, then Daniels called it day. Lester's Shock Wave (Lester) had nice finds at 3, 9, and 18, all in order with good style and a nice forward race. Bad luck with a second unproductive and up at 35.
Jerry Raynor's Erin's Copper River was lost at 27. Following fruitless attempts at 23 and 27, Shadow's Lord Magic (Eisenhart) was picked up.
Crown's Black Ice (Swearingen) was lost with retrieval unit requested at 33. Dominator's Rebel Squire was not pleasing Daniels and was up at 31.
Dunn's True Reign (Eisenhart) suffered an unproductive at 2 followed with a good find at 9. He was running nicely; however, Eisenhart requested his retrieval unit at 43. Touch's Joy Ride went missing and Mark McLean used the retrieval unit at 15.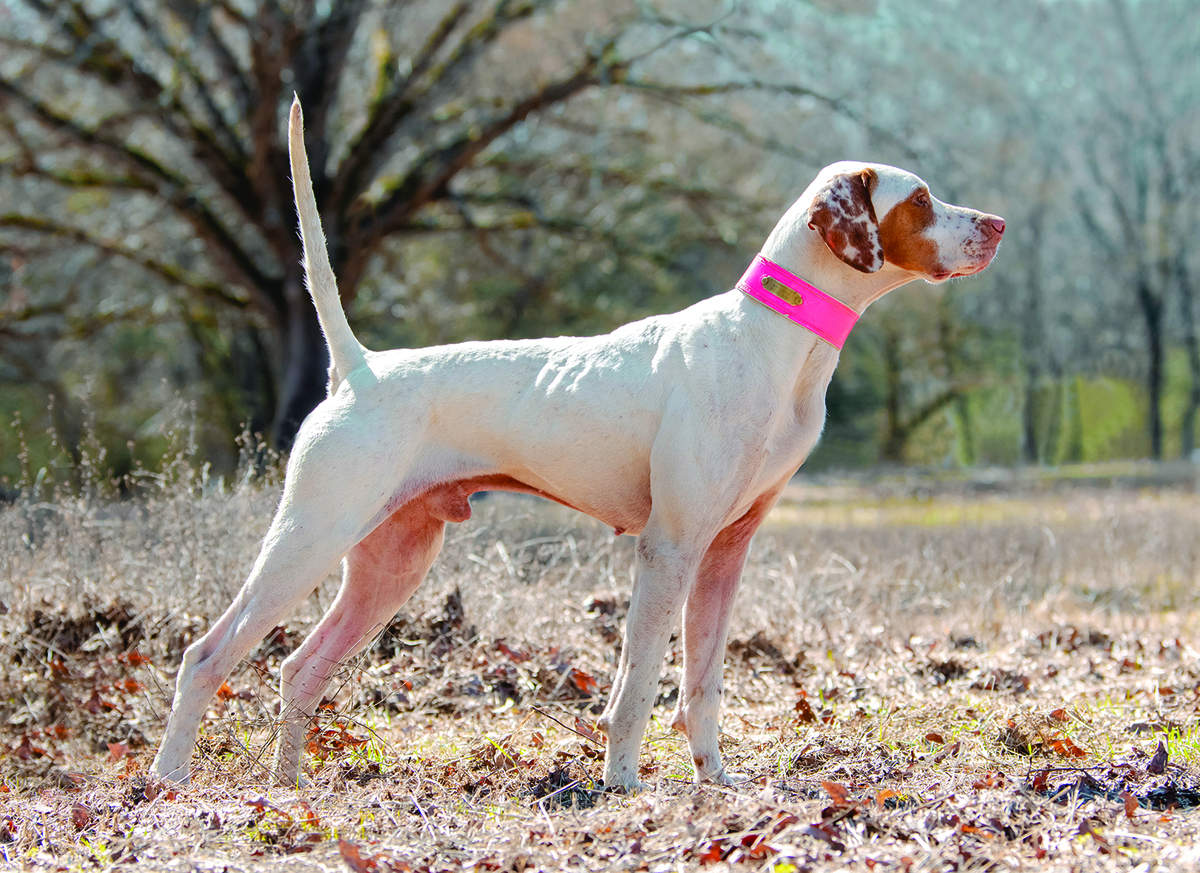 The performance of Miller's Speed Dial is recorded with the winners. Knight Moon (Eisenhart) had nice finds at 8 and 28 with a no-show of game at 17. As luck would have it, Moon was lost at 44.
Hirollins Macho Man (Swearingen) was off to a forward start with birds seen at flush at 15 and 25. Handler picked up following a second unproductive at 58. Confident Nation (Davis) had a good start, pointing nicely at 2, all in order. Covering the course, he scored again at 19 with good style. He honored his bracemate at 58, continuing on to finish the hour with a medium, forward race.
Rebel Cause was not pleasing Daniels who harnessed him at 32. Lester's Georgia Time (McLean) was lost, retrieval device requested at 32.
Miller's Blindsider was not pleasing Daniels following a second find at 21, resulting in a pick up. Touch's Folsom Blues (McLean) moved on birds when they flushed at 20.
Touch's Mega Mike had an unproductive at 21. McLean ended the hour at 28. Osceola's Rebel Chief (Eisenhart) had a breach of manners with a back at 21.
Miller's Unfinished Business (Daniels) exemplified good style on finds at 11, 16 and 42. Covering the course well he was out front when time was called. Erin's Prometheus (Eisenhart) pointed stylishly at 7, 16 and 55. The hour was finished with a nice forward race.
A short hour in the last brace on Friday afternoon. Lester's Storm Surge (Lester) was lost at 26. Dominator's Rogue Rebel (Daniels) did not produce game at 29. Jamie elected to harness him at 40.
Woodville's Yukon Cornelius (McLean) was off to a good start at breakaway. The setter pointed at 12 and 54 with birds seen in flight. His third point at 56 resulted a fruitless stand. The hour was completed at medium range. Sandy Hill Wally had a nice find at 19. He was not running to suit Raynor who conceded at 30.
Miller's Heat Advisory (Daniels) backed bracemate at 9 and was credited with a divided find at 16. Following a no-show of birds, handler chose to pick up. Sandwood Creek (Raynor) suffered an unproductive at 9 followed by a divided find at 16. Creek went missing following a find at 21 followed by a request for the retrieval unit.
JCL's Dal (Adams) ran as a bye. He was last seen at 5. The retrieval device was requested at 20.
Waynesboro, Ga., January 5
Judges: Johnny Atkinson, Ray Joye and Jack Kimbrell
GEORGIA OPEN QUAIL CHAMPIONSHIP [One-Hour Heats] --
48 Pointers and 5 Setters
Winner--MILLER'S SPEED DIAL, 1666636, pointer male, by Miller's Dialing In--old road lou. Gary Lester, owner and handler.
Runner-Up--STRUT NATION, 1658294, pointer male, by Game Strut--High Value Special. Sott Jordan, owner and handler.
SOME SIDELIGHTS
Nestl Purina Pet Care continues to sponsor our annual trials. Every year in September, Nell contacts Greg Blair (area manager for Purina) outlining what is needed. Dog feed certificates to the winners along with caps, lanyards and hand sanitizer arrive in timely fashion and are greatly apppreciated
Chuck Miller makes certain the Purina banner is hung acknowledging their generous support.
President Gary Futch was on hand to ride and marshal every day. John Ray Kimbrell continues to serve as stake manager. Jack Kimbrell was on hand for the duration of the trial serving anywhere that he was needed. Bill Adams was on hand to help along with Austin Sherman.
The Chamber of Commerce pays for our advertising in the American Field via taxes generated through hotel/motel revenue.
Vice-President Art Lively, along with his committee fried fish for the owners/handlers and officials on Monday evening. Owner of last year's Derby Champion Eddie Sholar hosted the dinner.
Coca-Cola furnished beverages for the two stakes as well as the Shooting Dog Stakes that followed.
Ashley Roberts, executive director of the Burke County Chamber of Commerce along with your writer prepared lunch boxes daily for everyone. Ashley and Nell also served dinner for the judges and other officials every evening.
At the beginning of the trial, Rev. Larry Jesion from St. Michael's Episcopal Church came to bless the dogs in a very impressive service at the beginning of brace No. 4 on course No. 1.