Result: Southern New England Woodcock Championship
Location: Arcadia, Rhode Island
Post Date: Mar 23, 2021
Submitted By: John Stolgitis
Almost one year ago to the date, Rhode Island, like many other states, was shut down due the pandemic and all of our lives were forever changed. Fast forward. Just like woodcock once again migrating north, life and field trials are slowly migrating back to normal.
The South County Field Trial Club hosted the inaugural running of the Amateur New England Woodcock Classic March 20-21 and a separate report will be filed. Bird numbers were very strong, once again showcasing Arcadia as the premier Spring woodcock grounds in the country.
Hosting a multi-day, multi-stake, multiple course wild bird trial can sometimes be quite challenging and there are many involved who need to be thanked. As with most trials there is a core group, many behind the scenes, that help to get things done. Bob Fleury is always there when you need him to help secure permits and anything else you may need. Lanny Dellinger also was a huge asset, helping cut courses, marshall and as head car mover. Many others helped to make this renewal a successful event.
As always a thank you to Greg Blair and Nestle Purina for their continued support of wild bird trials.
Judges, as anyone who has ever chaired a trial knows, are essential to a successful trial or championship. This year we were fortunate to have George Hetrick from Pennsylvania and Peter Kazic from Long Island, N.Y., to offer their opinions. Both men are avid grouse and woodcock hunters which usually translates to great judges. They gave every dog their undivided attention and the results they rendered were very well received.
Arcadia has four woodcock courses although only three were used this championship due to logging and habitat improvements on the course known as the Barber Farm. Each of the three courses had ample numbers of woodcock, often times too many.
There were 24 dogs drawn for this year's renewal. The draw was extremely well attended at the Chasehill Kennel office. Region 1 President Tim Cavanaugh oversaw the draw followed by a huge prime rib dinner prepared by the ever-lovely Jill Stolgitis.
WINNERS AND OTHERS
Chasehill Little Izzy was named champion. The five-year-old pointer female is owned by Erin Stolgitis and handled by John Stolgitis.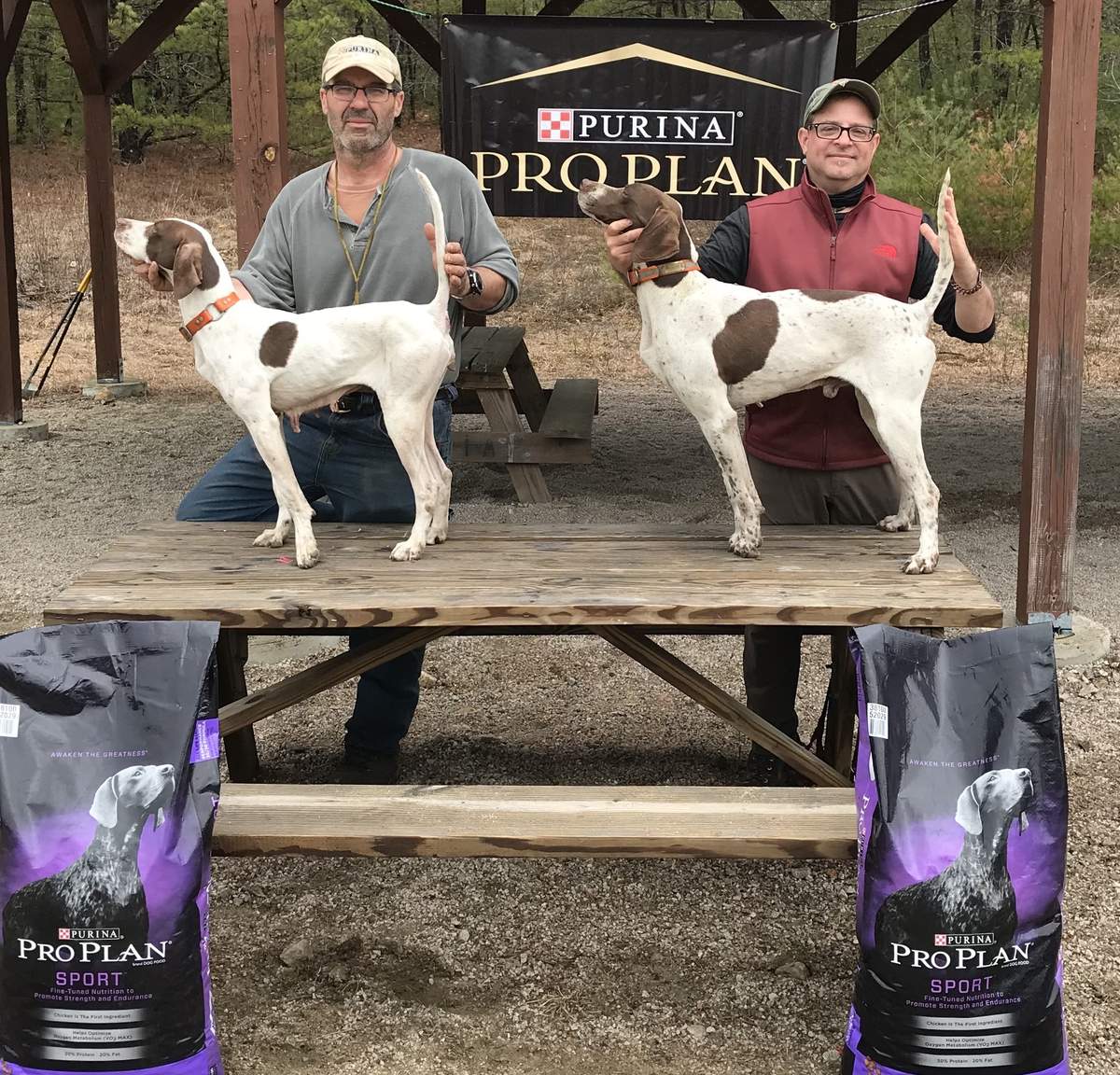 Izzy ran in the fifth brace on the Cemetery Course. The first half of the course is thick with laurels and multi-flora briars, nasty stuff but it holds birds! The second half consists of big valleys and more mature timber where you can really let them run. Izzy started and finished the same way, strong and to the front. She had one find in the last briar thicket on the course at 25 with exceptional style and manners.
Bo of Piney Woods was named runner-up for handler Robert Ecker. His owner, Rich Warters, was in attendance from Pinehuyrst, N.C., to cheer on his dog. Rich is in his eighties and one of the finest gentlemen you will meet in field trialing.
Bo ran on the course known as Pinetop. Pinetop is an abandoned ski area. The first half is all downhill and the second half parallels a swampy river bottom. Bo is a powerful physical specimen and he utilized that power his entire hour. He was officially credited with two finds and a stop to flush.
Several others challenged the winners, most notably Bud of Piney Woods (Bo's sire) which finished with two finds and is also owned by Rich Warters. Rich told me that this was Bud's last trial, that he was retiring him. It was great that Rich got to watch Bud find wild birds in his last trial.
Youngster Chashill Little Lily was also close. The Derby-age pointer finished with three finds and a back, but her race was not as strong as the winner's. Lily is owned by Harley McClung of West Virginia. Lily is Harley's first pointer and first field trial dog and he certainly got a nice one.
Arcadia, R. I., March 23
Judges: George Hetrick and Peter Kazic
SOUTHERN NEW ENGLAND WOODCOCK CHAMPIONSHIP
[One-Hour Heats] -- 14 Pointes, 9 Setters and 1 Brittany
Winner--CHASEHILL LITTLE IZZY, 1669623, pointer female, by Erin's War Creek--richfield Almond Joy. Erin Stolgitis, owner; John Stolgitis, handler.
Runner-Up--BO OF PINEY WOODS, 1661644, pointer male, by Bud of Piney Woods--Medlin's Dancin Abagail. Richard Warters, owner; Robert Ecker, handler.
JOEL COLLIER DERY CLASSIC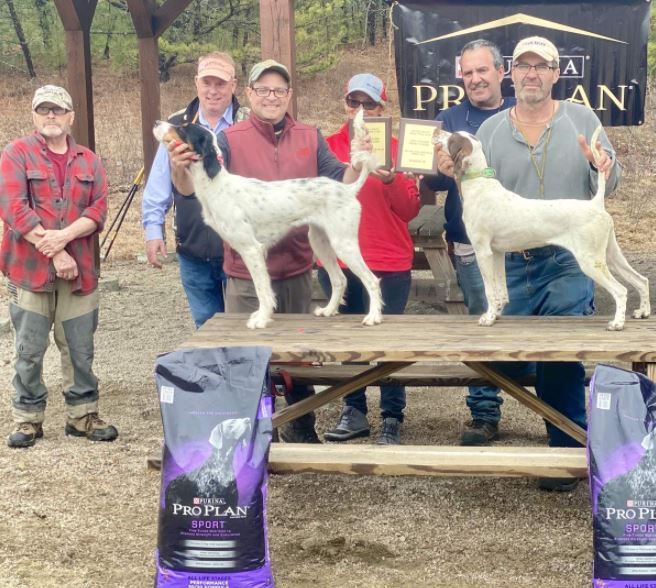 Nine youngsters competed in the Joel Collier Derby Classic. Judges for this renewal were Tim Cavanaugh and Lanny Dellinger.
Taking home the blue ribbon was Glassilaun Parabellum, a fast, fancy beautifully-pointing setter female. Her owner, Jamie Nee, was there to watch Robert Ecker handle her to her three-find win.
Runner-up honors went to Chasehill Little Lily. Lily is a classy pointer female sired by two-time Southern New England Woodcock Champion Chasehill Little Thud. She is owned by Harley McClung and was handled by John Stolgitis.
Judges: Tim Cavanaugh and Lanny Dellinger
JOEL COLLIER DERBY CLASSIC -- 2 Pointers and 7 Setters

Winner--GLASSILAUN PARABELLUM, 1688344, setter female, by Islander--Richfield Oakley. Jamie Nee & Sandra Smith, owners; Robert Ecker, handler.
Runner-Up--CHASEHILL LITTLE LILY, 1685587, pointer female, by Chasehill Little Thudd--Chasehill Baby Beannie. Harley McClung, owner; John Stolgitis, handler.
COVER DOG PUPPY CLASSIC
This year the club decided to add a Puppy Classic to our spring line-up. With the cancelation of all the Grand National events this Spring, the club thought it important to try to showcase these cover dog prospects.
Judges for the inaugural running were Chad Wheeler and Bill Bonnetti. To make the trial special, the club offered 100% payout.
Littermates, sired by Champion Panola Bacon and Champion Chasehill Little Izzy swept the placements. Chasehill Hidden Jewel took home the blue for owner Taddaki Terada. Alan Raiano was here to watch his young prospect, Chasehill Poison Ivy, take second place. Tim Cavanaugh's Little Miss Margaret took third. All three are very similar in their speed, application and conformation. Hopefully they all have bright futures.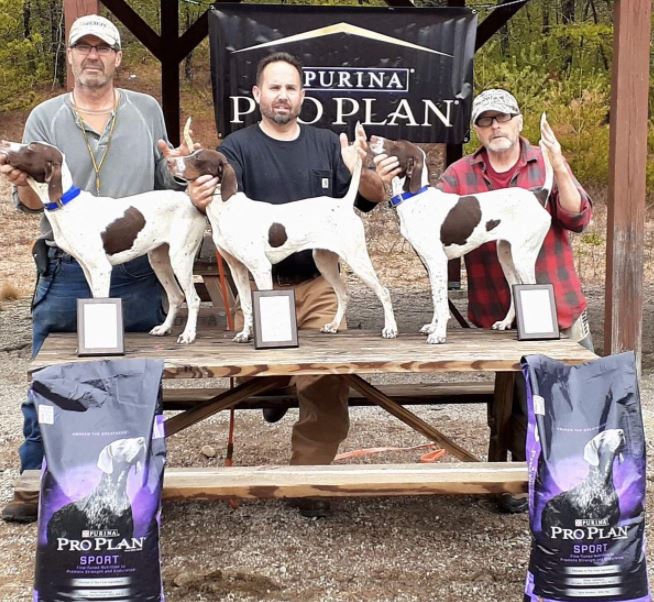 Judges: Bill Bonnetti and Chad Wheeler
COVER DOG PUPPY CLASSIC -- 8 Pointers and 2 Setters
1st--CHASEHILL HIDDEN JEWEL, 1692727, pointer female, by Panola Bacon--Chasehill Little Izzy. Tadaaki Terada, owner; John Stolgitis, handler.
2d--CHASEHILL POISON IVY, 1694453, pointer female, by Panola Bacon--Chasehill Little Izzy. Alan Raiano, owner; John Stolgitis, handler.
3d--LITTLE MISS MARGARET, 1693526, pointer female, by Panola Bacon--Chasehill Little Izzy. Tim Cavanaugh, owner and handler.