Result: Dominion Open Chicken Championship
Location: Mortlach, Saskatchewan
Post Date: Oct 18, 2019
Submitted By: Sheldon Rogers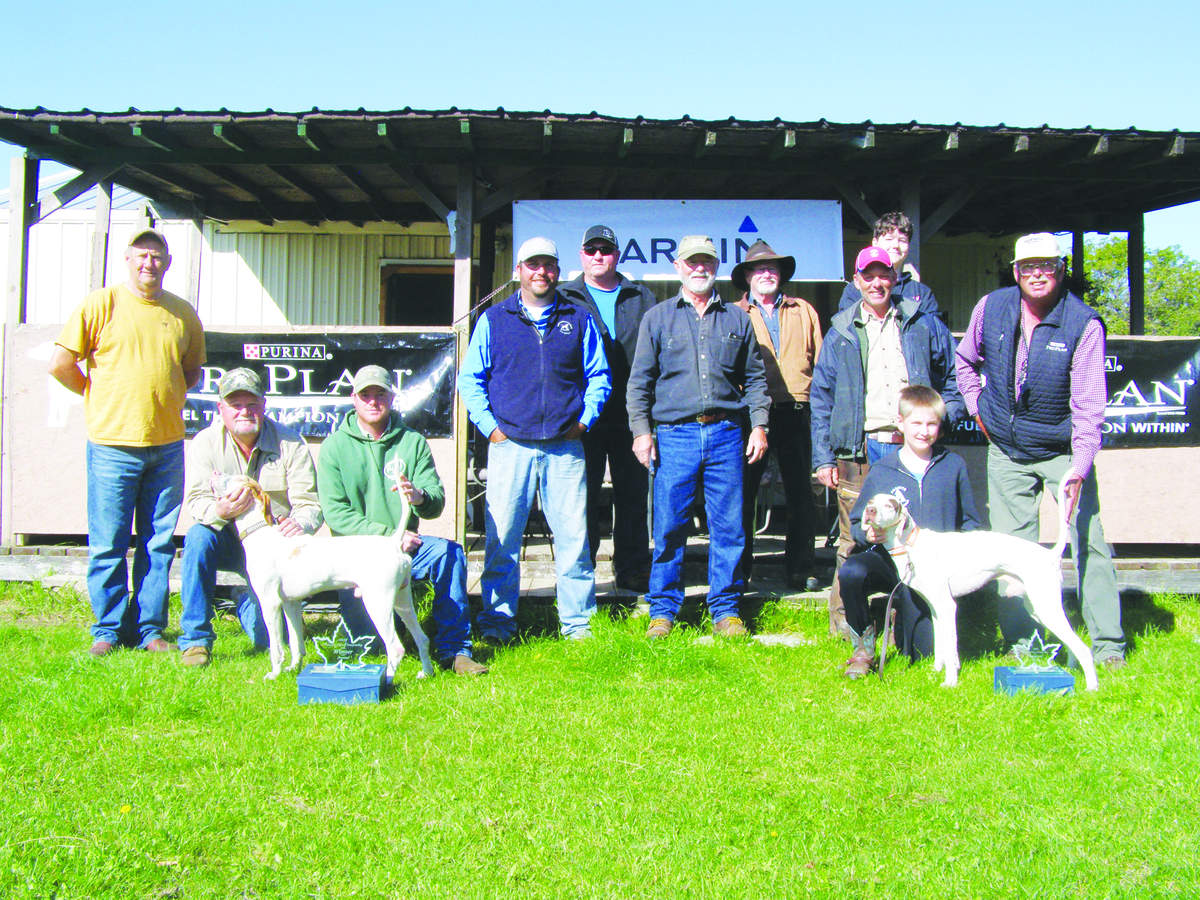 Dominion Championship Winners. Front, from left: Mark and Cody McLean with Touch's Blue Moon and Justin Rogers with Westfall's True Grit. Standing: Mike Jones, judge; Tony Reynolds, John Raymond, Joe Worsham, Ron Bender, Sheldon Rogers, judge; Hudson Shanks and Andy Daugherty.
MORTLACH, SASK. -- Touch's Blue Moon, having won runner-up in the previous Saskatchewan Open Championship, returned in this stake to capture top honors in the 2019 renewal of the Dominion Open Chicken Championship held once again on one of the top venues in North America, Mortlach, Saskatchewan, Canada.
Blue Moon grabbed the top spot early and never gave it up. The five-year-old white and orange pointer male owned by Frank Foley of Albany, Ga., carded one find on a large, tight-sitting covey of Huns in an open stubble field, showing poise and manners throughout, and finishing his hour going away in true championship fashion.
Named runner-up was Westfall's True Grit, four-year-old white and liver pointer male owned by Ryan Westfall of Liberty, Mo., and handled by Andy Daugherty. With a big forward race and his first stand being on a porcupine, the judges were hoping for more and with seconds to spare True Grit was pointed out reaching for the last available cover before time expired. At 59 the hat came off, a single sharptail taking flight through the flush, the brace finishing in dramatic fashion.
For years Mortlach has been the gathering place for many of the pro and amateur handlers alike. Wanting to come together and show off their "prairie all-age" dog, polished up over a summer of training, the seasoned vets can knock it out of the park on any occasion given a favorable draw. First year dogs show their true potential over the two championships contested here. Getting better each time they run, almost like they need to study it. The courses will pull them out to the limits and have them swap ends for all to see. Sending judges and handler into a canter attempting to cover the ground as quick as possible in hopes to witness a large covey of sharptail take flight upon flush or a nervous relocation on running Huns handled perfectly. A true championship performance.
To win a championship is one thing but to win one on the prairies, north of the border and on wild birds, is the dream of so many. Unfortunately, those days may be numbered. Our sport is changing. With our competing numbers of dogs being down, this tradition is in jeopardy.
For the last ten years I have felt this prestigious all-age venue was at risk given the changes to the agriculture and wild bird population always a concern. We have seen bird population increasing over the last three years as it seems the birds have adapted. Now we need the participants do likewise.
If you have that dog with the potential to truly perform on the prairies either south or north of the border, don't wait until it's gone.
A special thank you to Garmin for providing a top of the line collar to our champion and Purina for generously sponsoring these Championships providing dog food to the winners. Our banquet on Sunday night gives us the opportunity to thank the landowners and participants. In attendance were Les and Donna Eastmond who provide the hay and oats and on whose land the clubhouse sits.
Gordon and Marg Ward, along with Cam and Colleen Campbell, who allow us to run on their land to the west of camp, and the Adams and McLarens, both have land to the east. We can not thank them enough for without their help and the use of their land these trials could not continue.
Occupying the judicial seat this year was Mike Jones of Strathmore, Alberta. With over 25 years of competing and judging he is being called on often across the prairies. This is his third time judging for us here and he always has the respect of the handlers. He has a keen eye for the type of dog that is required to win and always gives the contenders his undivided attention.
To help out this year his judging partner was your scribe, Sheldon Rogers. Having competed and won here, I never get tired of watching these dogs put on a performance and always enjoy taking on this assignment.
To put on a successful trial you need a good support to make sure everything is running smoothly, and although the total numbers volunteering were low, the quality was unsurpassed. Ron and Linda Bender arrived weeks earlier and helped to set courses, hauled water and general upkeep of the grounds. Ron marshalled every day and knows this place like the back of his hand.
I am especially grateful to Dawn Feist for the work she puts in before, during and after. Every successful trial needs a good organizer; Dawn makes it look easy. From organizing and driving the dog wagon to preparing snacks, lunches and suppers. Not to mention preparing for the drawing, judges' books and handling both banquets. She is by far the cornerstone of these trials' success.
The Winners

Our champion came from the first brace. Fencing and crop issues changed our traditional setup.
The first course started a half mile ride to the south for morning breakaway creating a challenging swing up to Miller's hole then back on course more familiar to the competitors. This particular start, with strong wind at their back, made for a nervous breakaway.
Worsham's Silver Comet (Worsham) and Touch's Blue Moon (C. McLean) started strong up the left side with scouts watching intently hoping for a swing back to the front. Comet was back first, crossing in front then wide to the right as he grabbed the bull pasture fenceline to the end a half-mile away. Blue Moon showed heels as he crossed far to the front and was seen cresting the hill before disappearing down the Campbell's north-south hedgerow dead to the front.
Point was called for Comet at 15 after finishing his cast along the fenceline but no birds could be put up. Blue Moon never missed a step, taking the treerow to the end before turning east heading on to Miller's hole but his progression would be stopped in the open stubble field at 28, looking solid and tight. And for good reason as the approaching handler put up a large covey of Huns, 10-12 birds total, Blue Moon solid throughout.
Both dogs made the swing east for a bit then north and found the headwind a challenge. Comet was in and out and finished the hour strong but could not get pointed again. Blue Moon, although shortened, never missed the available cover and was always forward. He did the best given the circumstances. This was his only flaw in a so far perfect performance. It was soon forgotten in the last 15 minutes after crossing the road and swinging back east.
With an arguably bigger cast than his first, this time set out for all to see, a dot on the horizon at 55 before disappearing. An additional five minutes was needed after time as both scout and handler split up to find him. Judges pointed him out at 1:05 on his way back to reconnect.
Runner-up Westfall's True Grit (Daugherty) competed in brace No. 12 with Neely's Power Play (Gates) on course No. 2 in the afternoon heading along the lake bottom before turning north through the rough pasture and on to the north end.
With half of chicken alley to begin the hour both contenders started down the first available hedgerow. First to be seen through the small gaps as they made their way to the lake was True Grit with Power electing to change hedgerows a couple times before taking one to the end. True Grit stayed focused as he directed his efforts to one. Daugherty was quick to point him out deep at the end, swinging to the front before disappearing along the lake bottom.
At 22 both made their way back to the two track and were sent on up to Guningham's section north of Ira's pasture. Power Play stayed close to the trail and was in and out until stretching out to the west. Grit took the long way around as a standing half cut oat crop was in the way sending him wide left heading south before swinging west. This would take some patient handling as Daugherty rode on to the right side, hoping Grit would stay in the pocket.
At 29 Grit did just what was expected as he was pointed out to the front heading up to the Eastmond's pasture. The cover was shorter here so dogs could be seen reaching for the distant objectives far to the front.
Grit was seen entering the rough pasture first and heading for the lake. Power Play, with a gradually shortening race, gave handler the opportunity to collect him eventually making his way to the wagon at 41. True Grit continued his forward race after leaving the rough pasture. His first stand at 45 yielded a porcupine. Both dog and handler dug in and showed just how to hunt the hedgerows at the north end but could not get stopped. At least not until 59 as True Grit was on his way to the last small chokecherry bush on the horizon the hat came off. True Grit swapped ends in a low spot of second growth alfalfa. A lone chicken took flight after a lengthy flush, the dog standing high and tight throughout.
Other Contenders
In brace No. 2 were Dream Chaser (Daugherty) and Neely's Standing Ovation (Gates) starting up horseback ridge with purpose. Dream Chaser, handling well throughout the hour, carded a find early at 21 on Huns and again at 55 with chicken taking flight upwind with more leaving as the handler dismounted. He was steady through the shot. Standing Ovation, although looking impressive for the first 15, never reconnected with the retrieval device out by 48.
Westfall's Black Ace (Daugherty) and Chinquapin Legacy (Gates) were set to start the next brace but Black Ace was put back in the wagon as a late scratch. Legacy dealt with a headwind and a hard rain to start, making it tough early on. The wind would lead to a couple back casts ending his bid early before turning up to the rough pasture by the half.
As the weather settled in to a steady drizzle, Bad Prairie Valley Girl (McLean), as a bye, was a late scratch on the line.
The weather from the end of the morning braces settled and we started the afternoon with brace No. 5 in perfect conditions with the strong morning wind dying down to the perfect breeze out of the north and a mix of sun and cloud.
Westfall's Castaway (Daugherty) and Summerlin's Harvest Time (McLean) took advantage and reached from the start. Handlers sat tall in the saddle pointing them out before disappearing along horseback ridge. By 10 Castaway was rewarded with a nice find on Huns handled with plenty of style and manners. Harvest Time would eventually evade both scout and handler until they regrouped along the fenceline where he was seen last. Both rode north as the course went south with Harvest Time eventually seen coming back to the wagon in harness by the half. Castaway struggled after watering at the dug out. He was last seen taking in the alfalfa field to the left. He was eventually spotted with scout in hot pursuit but going in the wrong direction.
Westfall's River Ice (Daugherty) and Game Throne (Gates) both struggled early but eventually settled in, showing well at times. Neither could get birds pointed down chicken alley and handlers elected to pick up as they felt they did not have enough to beat the morning braces.
Shadow's Lord Magic (Gates) and Manteo's Ace of Spades (Daugherty) started day No. 2 wide to the left. They eventually thought better of it and regained the front, Ace back first with a big move up the hedgerows. Lord Magic back second but quickly got stopped in the alfalfa at 15. No birds could be produced and eventually he was picked up by 35 just past Miller's hole. Ace could not get birds in the air on his stand at 25 and was also in harness shortly after.
Ace's R Wild (McLean) struggled early as he went west of the breakaway with the course heading north. Erin's Longmire (Gates) showed well at times but never really put it all together. His stand at 45 was his last after a lengthy flush and relocation came up empty.
Both Touch's Malcolm Story (Gates) and Worsham's Silver Sport (Worsham) ran well with the speed and range we were looking for but they could not get birds pointed today.
Shadow's Next Exit (Gates) had a find early along chicken alley and looked good doing it. He followed it up with an unproductive at 10. Westfall's Black Thunder was not pleasing Daugherty and was up early.
Touch's Mega Knight (McLean) ran a big race to start, showing along Ira's pasture then up to the water trough. Each cast topped the last until he was gone, reconnecting just before he was out of contention. He saved one more impressive move to the old yard site before chicken alley where he was found standing at time, high and tight with chickens put up on the flush. Lester's Georgia Time (Gates) also made a run at the title with his own performance. His find came early with Huns just before horseback ridge. His race was forward throughout and was only lacking a strong finish as the country opened he could not use it in the way he needed to bump the top two.
Brace No. 12 was reported earlier.
Touch's Folsom Blues (McLean) and Hendrix's Signed Copy (Gates) were forward throughout but never made the type of big moves along the hedgerows as some of the other competitors and could not press the leaders. Both were up by the half.
Lester's Private Charter (McLean) and Tee's Wild Man (Gates) suffered the same fate as each was unsure of themselves early. Both were in and out until the road crossing and into the wagon.
Touch's Gallatin Fire (McLean), as a bye, had a good first 10 but disappeared into the corn and never regained the front. The retrieval device was requested at 30.
Mortlach, Sask., August 27
Judges: Mike Jones and Sheldon Rogers
DOMINION OPEN CHICKEN CHAMPIONSHIP [One-Hour Heats] --
29 Entries

Winner--TOUCH'S BLUE MOON, 1661242, pointer male, by Touch's Knight Rider--Whippoorwill G M A. Frank Foley, owner; Cody McLean, handler.
Runner-Up--WESTFALL'S TRUE GRIT, 1663635, pointer male, by Erin's Brave Heart--Westfall's Irish Bell. Ryan Westfall, owner; Andy Daugherty, handler.