Result: Saskatchewan Open Chicken Championship
Location: Mortlach, Saskatchewan
Post Date: Oct 11, 2019
Submitted By: Sheldon Rogers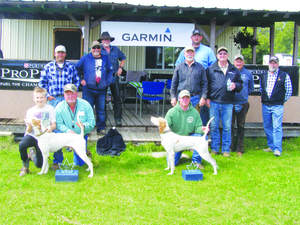 Saskatchewan Open Championship Winners. Front (l-r): Justin Rogers and Mark McLean with Lester's Private Charter and Cody McLean with Touch's Blue Moon. Standing: Tony Reynolds, Pat Lewis, judge; Ron Bender, Joe Worsham, Jason LaFrance, judge; Cecil Rester and unidentified participants.
MORTLACH, SASK. -- The 2019 running of the Saskatchewan Open Chicken Championship concluded August 26 when Lester's Private Charter, four-year-old white and orange pointer male owned by Dr. Reuben Richardson of Doerun, Ga., and Bruce and Karen Norton of Norman Park, Ga., and handled by Mark McLean, was named champion.
The championship event was held once again north of Mortlach, Saskatchewan, Canada. These grounds are well known to all and are known as a true test of a dog. Plenty of birds throughout all the courses and great weather throughout made for a great renewal.
Private Charter put together a very strong forward race that used the grounds to the extreme, carding one stellar find on Huns. The judges deemed his hour was what they wanted to see, showing up at all the right times and in all the right places.
Runner-up was Touch's Blue Moon, owned by Frank Foley of Albany, Ga., and handled by Cody McLean. The five-year-old white and orange pointer male also carded one find on a large covey of Huns. His hour was very similar to the winner and could have easily been named champion, making the judges' deliberate in the saddle for some time.
Judges for this year's renewal came from the surrounding provinces -- Pat Lewis of Ste Anne, Manitoba and Jason LaFrance of Lamont, Alberta.
Both men each year leave home and do their summer training in Saskatchewan so their knowledge of the true "prairie all-age" dog combined with the type of habitat and bird's habits/tendencies have been acquired in the saddle making them a good fit here. Each set out a good pace allowing the handlers to show their dogs and gave them their full attention throughout.
Thanks to Purina for sponsoring this trial and covering some of our costs as well as providing dog food to our winners. As well, Garmin provided a top of the line collar to the winners.
Thank you to the SAFTA group who, for many years, gave up their time each summer, built strong relationships with the landowners and for carving out a bird dog sanctuary, if you will, creating a great venue for us to run a dog.
For anyone who has ever made the trip up here, we thank you. It has been that support over the years that has led to the success of both open and amateur trials at Mortlach. It has strengthened our sport in Canada and has truly been the meeting place for many giving us a lot of memories and friendships that will last a lifetime.
The Winners
With brace No. 7 using plenty of course, it looked like brace No. 8 could take advantage of a bit more of chicken alley, but it was a long way to the strong finish all judges want to see.
Lester's Private Charter (McLean) and Neely's Standing Ovation (Robin Gates) started along the sand road along horseback ridge. Both dogs had an edge to draw them to the front but the course swings south in a half mile and both dogs were up for the challenge.
Private Charter, after finishing the treeline, moved across to the edge of the crop. He made his way to the front independently and headed toward the pasture. As we made the swing southeast toward chicken alley, Private Charter showed sporadically through the gaps in the bluffs. Standing Ovation, not seen for some time, then was spotted standing just before the turn at 30. After a lengthy flush and relocation, birds could not be produced ending his day early.
Shortly after, Private Charter's scout called point along the fence near the choke cherry bluffs. As the judge rode up the dog was high and tight and a covey of Huns took flight, all in order. Mark released his dog toward the treerows on chicken alley and the dog seemed to follow the plan appearing briefly at the front edge of the trees before disappearing once again.
As we crested the hill where Private Charter was last seen McLean was quick to point him out along the treerows heading toward the lake and as it often does, the lake seemed to pull the dog deep and forward. Private Charter took advantage with what seemed to be a never ending all-age cast. With five minutes left, the course headed west toward the small hedgerows and Private Charter continued his effort finishing the hour strong and to the front.
For the entire hour Charter would disappear and reappear on course, in the right spots, seen hunting the likely objectives solidifying his top spot.
Runner-up Touch's Blue Moon (C. McLean) was in the sixth brace with Lester's Georgia Time (Gates). Both dogs broke away from chicken alley toward the lake and did so in spectacular fashion, hitting objectives along the way and never once turning back. The view from the high ground allowed the privilege of being able to watch the entire breakaway unobstructed.
Blue Moon separated himself from Georgia Time at the road crossing down the path toward the hedgerows. Again, Moon ran his line strong, deep into the corner of the lake. When the gallery arrived at the hedgerows, Georgia Time grabbed the last hedgerow and hunted it thoroughly. Moon was out of sight. As we turned to the west, point was called by scouts at 22 along the lake bottom exactly where he was last seen before the turn. A large covey of Huns was flushed in front of the stylish pointer.
Georgia Time made some nice moves, shortening at times, but had no birds.
Moon continued to run a strong all-age race for the entire hour and handled kindly the entire time.
The Others
The first brace -- Bad Prairie Valley Girl (McLean) was short throughout the hour and had a nice find at 10. Handler picked up at 48. Neely's Party Girl (Gates) ran a nice forward race but never showed any huge moves, suffering an unproductive at 27 and was picked up shortly after.
Game Throne (Gates) was picked up at 9. Westfall's Castaway (Andy Daugherty) ran a strong forward race using the larger hay fields to show well. He had a nice find at 36 on a difficult single chicken and a stop to flush at 42. He ran the treerows the way we wanted to see it. At 50 he would get stopped in the alfalfa as a large covey of sharptail began lifting all around him. Before his handler could get there a couple more steps would put up a large covey of Huns to end his day.
Westfall's Black Ace (Daugherty) ran perhaps the strongest race of the trial so far with a beautiful limb find on the treerows heading toward the lake at 15, but then was lost along the lake, the retrieval device called for at 54.
Summerlin's Harvest Time (McLean) hunted well across the alfalfa at times short but acceptable. He had a nice find at 16 and finished the hour.
Chinquapin Legacy wasn't pleasing Gates and was picked up at 9. Westfall's Black Thunder (Daugherty) ran a nice all-age race for the entire hour. He suffered an unproductive at 32 and finished without birds.
Ace of Spades (Daugherty) broke away toward horseback ridge and was under a covey of Huns at 2. Touch's Mega Mike (McLean) ran a big all-age race. He had to be ridden for hard a few times and finished the race with no birds.
Touch's Blue Moon (C. McLean) and Lester's Georgia Time (Gates) were previously detailed.
In No. 7, Worsham's Silver Comet (Joe Worsham) ran a big all-age race for the first 30 but was lost at 50, eventually brought back by the scout at time.
Folsom Blues (McLean) showed flashes of brilliance when running the edges and treelines but seemed to struggle in the large heavy alfalfa fields at the end of his hour. He had perhaps the find of the stake at 31, heading toward the road on the mile-long treelines south of the bull pasture. Blues was picking up the second to last treeline and never turning back. Just before the swing to Miller's hole point was called deep and to the front. After a long ride for the judges and handlers, the flushing attempt in the heavy crop along the treerow eventually produced his birds that had walked off on him, Blues standing tall through wing and shot. As the course swung back toward the alfalfa again, Blues struggled. He eventually crossed the road and showed heels again reaching for the sand ridge east of camp, finishing his hour strong and forward.
Lester's Private Charter (McLean) and Neely's Standing Ovation (Robin Gates) were covered earlier.
Brace No. 9 produced a brilliant race by Tee's Wild Man (Gates). Westfall's River Ice (Daugherty) made some very nice moves but did shorten at times. Neither dog had bird work.
Worsham's Super Sport (Worsham) ran with intense speed and distance but had difficulty navigating the course at times. He was fun to watch when he was visible to the judges but eventually was lost at time. Touch's Malcolm Story (McLean) was short and picked up at 20.
Hendrix's Signed Copy (Gates) had an unproductive at 13. Touch's Gallatin Fire (McLean) had a stop to flush at 19. Both dogs did a nice job but knowing the judges had a couple dogs, handlers elected to save them for the next one, Signed Copy in the harness at 30 and Gallatin Fire soon after at 45.
In No. 12, both Dream Chaser (Daugherty) and Ace's R Wild (McLean) broke away strong and looked good for the first 15 as they made their way to the lake. Wild ran the outside edge and was found standing between the last hedgerow and the crop edge at 23. A large covey of Huns was put up shortly after the flushing attempt started with dog high and tight. After the release, about 100 yards up, Wild stopped again. There was no comfort in Mark's dismount but the dog was intense and had to be believed and sure enough, two chickens flushed right in front of the stylish dog. Dream Chaser found himself in the wagon by the half. Wild seemed to have trouble settling in to a forward pattern after his finds. He ran fast but wide, not handling kindly, and was picked up at 55.
Shadow's Lord Magic (Gates) and Touch's White Knight (McLean). The breakaway was exactly as you would want at an all-age prairie trial, unfortunately it was the last time we would see White Knight. The retrieval unit was called for at 25. Lord Magic made the turn and headed up toward the treerows with point called at 21. As Gates went in to flush, quite the commotion ensued with the handler quickly grabbing his dog and pointing out the hissing badger to the judges. Magic suffered an unproductive at 42 and struggled to buck the stiff wind after the turn, collared at 50.
Westfall's True Grit (Daugherty) and Shadow's Next Exit (Gates) broke away from the road toward horseback ridge. Both dogs ran the edge of the crop with Next Exit seen under a covey early and finding himself on the way to the wagon. True Grit ran a strong first 20 but shortened through the heavy alfalfa. Once reaching the cut hay flat his race picked up again. Strong and forward once more, Exit carded a find at 50 on chickens and finished the hour strong. A prairie performance that pressed the winners.
Erin's Longmire (Gates), as a bye, was short and lateral throughout while bucking a strong headwind. Pickup came early at 21.
Mortlach, Sask., August 24
Judges: Jason LaFrance and Pat Lewis
SASKATCHEWAN OPEN CHICKEN CHAMPIONSHIP [One-Hour Heats] -- 30 Entries
Winner--LESTER'S PRIVATE CHARTER, 1668186, pointer male, by Ransom--Nilo Discovery. Dr. Reuben Richardson & Bruce & Karen Norton, owners; Mark McLean, handler.
Runner-Up--TOUCH'S BLUE MOON, 1661242, pointer male, by Touch's Knight Rider--Whippoorwill G M A. Frank Foley, owner; Cody McLean, handler.
Judges: Dave Nelson and Sheldon Rogers
OPEN DERBY -- 6 Pointers
1st--WESTFALL'S WHEELS UP, 1680653, male, by Westfall's Black Ace--Westfall's Quick Trick. Bill Westfall, owner; Andy Daugherty, handler.
2d--WESTFALL'S MANDALAY, 1682881, male, by Strut Nation--Erin's Amazing Grace. Bill Westfall, owner; Andy Daugherty, handler.
3d--RESTER'S CAJUN CHARLIE, 1683364, male, by Dunn's Tried'n True--Rester's Redial. Cecil Rester, owner and handler.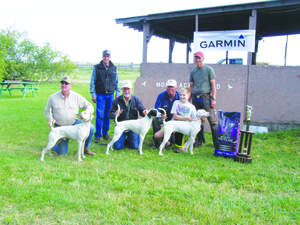 Open Derby Winners. Front (l-r): Cecil Rester with Rester's Cajun Charlie, Joe Worsham with Westfall's Mandalay and Andy Daugherty and Justin Rogers with Westfall's Wheels Up. Standing: Judges Dave Nelson and Sheldon Rogers.